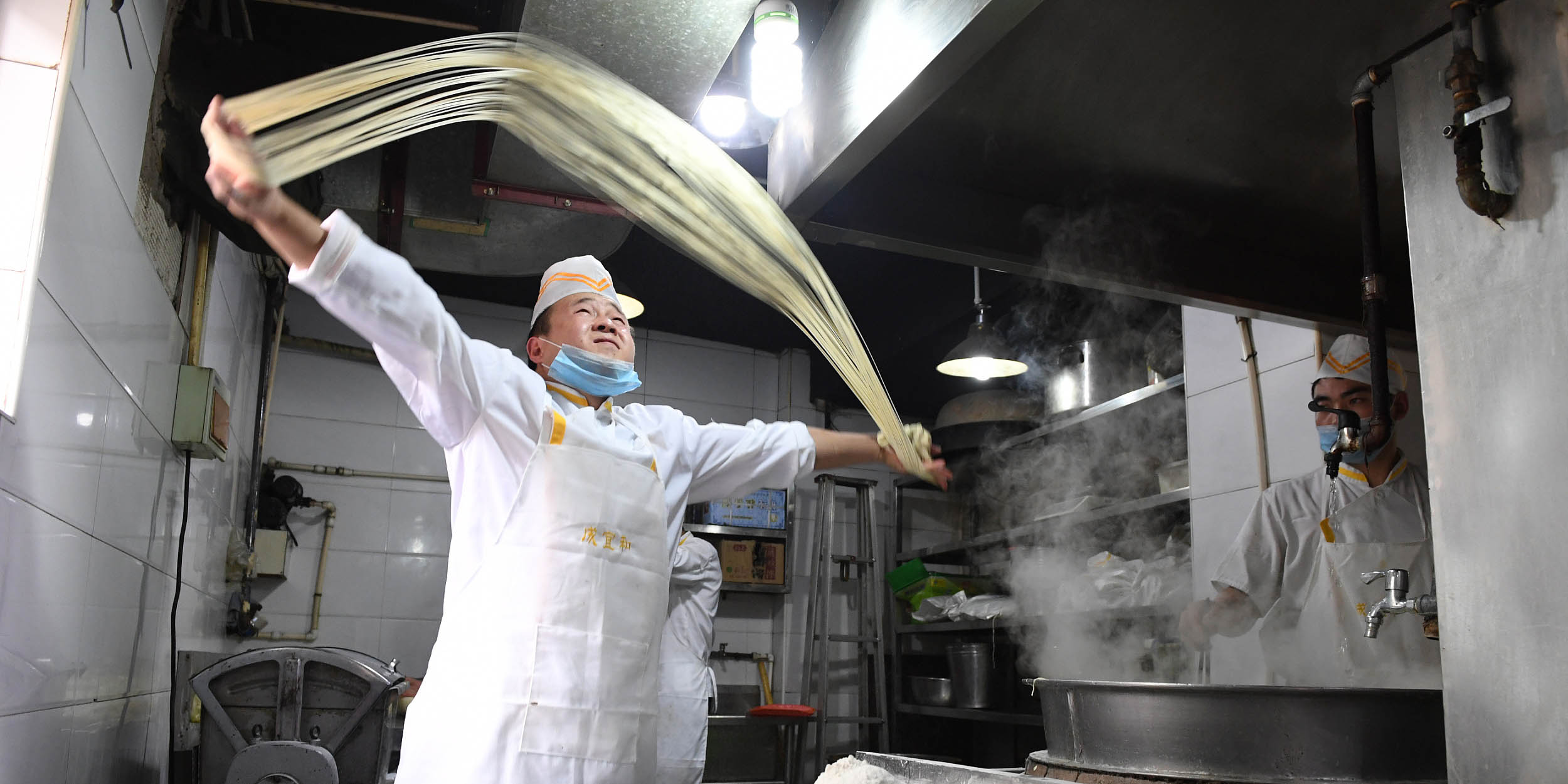 NEWS
Gansu Plans to Standardize Lanzhou Beef Noodles
Local authorities seek to bring conformity and raise the profile of the province's signature dish.
A Chinese province wants its signature noodles to taste and appear the same everywhere within its borders — and it's planning on an ordinance to make it happen.
The northwestern province of Gansu plans to standardize how Lanzhou beef noodles are made and prepared through local legislation, Beijing Business Today reported Tuesday. Relevant provincial authorities have started drafting the ordinance, the report said, without disclosing the specifics.
Lanzhou beef noodles are named after Gansu's provincial capital, where the dish is said to have become a hit after being introduced from the central province of Henan. With a history that can be traced back to the Qing dynasty (1636-1912), it is characterized by hand-pulled noodles, clear broth, and toppings of beef, radishes, and chili oil.
Today, the dish can be found at Chinese restaurants around the world thanks to its easy cooking procedure. In China, there are more than 500,000 Lanzhou noodle restaurants, with annual combined sales of over 400 billion yuan ($58 billion), according to media reports.
Despite their popularity, a standardized mechanism that defines the food quality, operation, and branding of Lanzhou beef noodles is yet to be established, resulting in the food, services, and experiences offered at the 500,000 restaurants across the country varying significantly.
With the new ordinance, Gansu aims to "facilitate the standardized and scalable development as well as the unified branding of Lanzhou beef noodles," authorities said.
Gansu is the latest regional government to encourage the development of its local specialty. After seeing its trademark snail rice noodles go viral, Liuzhou City in the Guangxi Zhuang Autonomous Region launched a training school in 2020 to help students learn how to prepare the dish.
The announcement from the Gansu government has received mixed reactions, however. Some culinary experts believe it will help solve prevalent malpractices in the industry, such as the overcharging of consumers and poor hygiene conditions, but opponents argue the government has gone too far by planning to issue an ordinance.
"Frankly speaking, I'm not an advocate of governments making laws about any particular type of food," Zhang Yi, consulting CEO and chief analyst at market research firm iiMedia, told Sixth Tone. "References and guides suggested by industry associations or other self-regulatory organizations would be a better way of guiding the development of a market. Legislation should not impact the innovation and development of the market or consumers' pursuit of better services."
Editor: Bibek Bhandari.
(Header image: A chef makes Lanzhou hand-pulled noodles at a noodle house in Lanzhou, Gansu province, Oct. 17, 2017. Yang Yanmin/CNS/VCG)