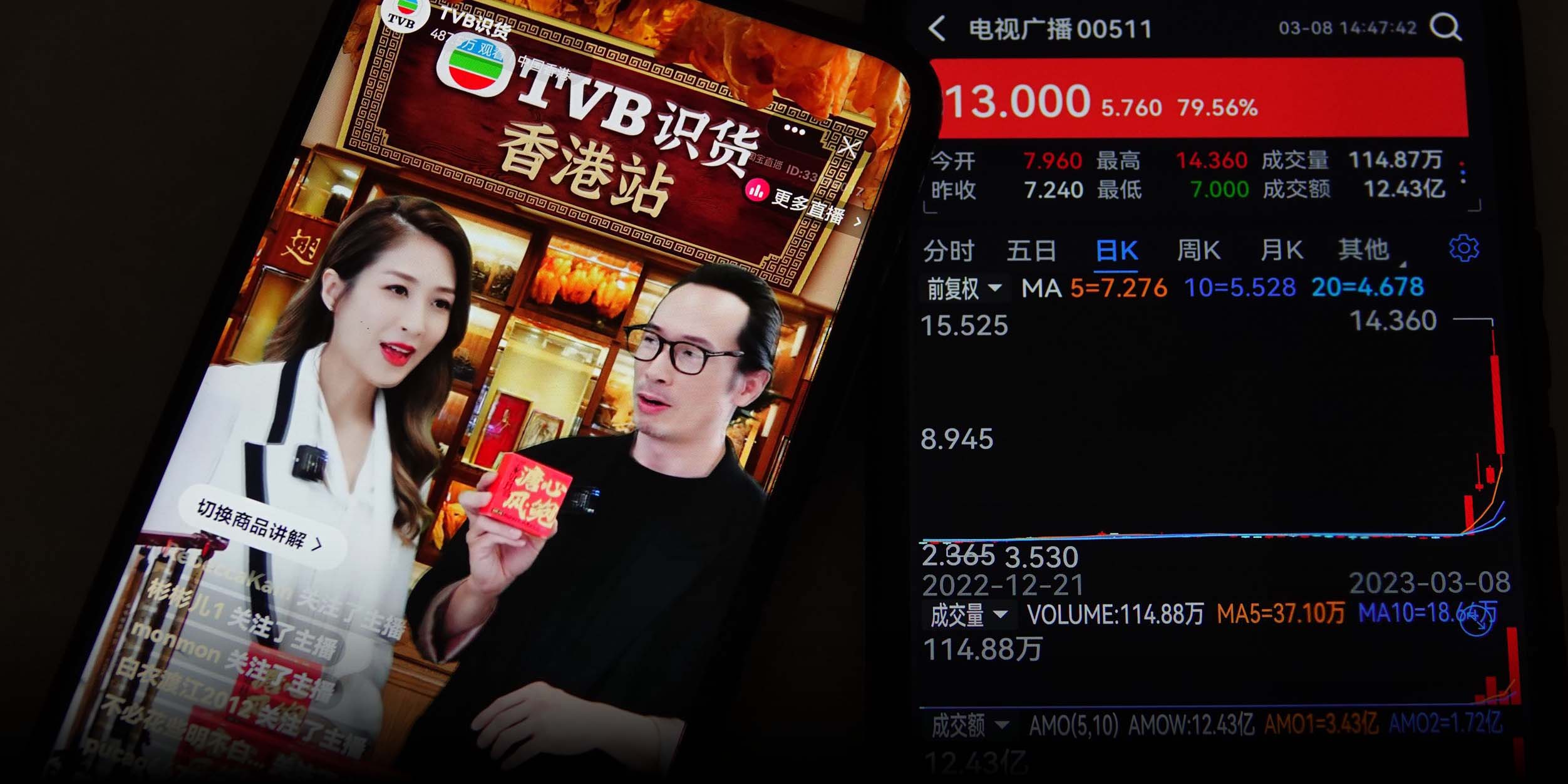 NEWS
Hong Kong TV Company Deploys Stars as Salespeople on Taobao
The television broadcasting company is evoking nostalgia while trying to cash in on the mainland's e-commerce livestream boom.
A broadcasting giant from Hong Kong is aiming to reclaim its past glory by attracting new audiences in the Chinese mainland through e-commerce livestreaming, becoming the lucrative sector's latest arrival, joining bankrupt CEOs and regulation-hit education groups who have done so to raise their profile and bring in much-needed cash.
Television Broadcasts Limited (TVB), known for producing some of the most popular Hong Kong dramas — including "Forensic Heroes" and "Heart of Greed" — kicked off its first livestream on e-commerce platform Taobao on Tuesday, selling food, cosmetics, and other daily necessities. The six-hour show, featuring two of the company's popular stars Moses Chan and Sharon Chan, raked up 4.9 million views and 23.5 million yuan ($3.37 million) in sales, according to the company.
TVB's foray into Taobao comes at a time when the company is seeking alternate sources to gain revenue amid years of operating deficits and increasing competition. Last year, the company debuted its e-commerce show on Douyin, or TikTok in China, amassing some 1 million followers and its e-commerce revenue rose 26-fold in the first half of 2022 compared with the same time the previous year.
After Tuesday's livestream on Taobao, TVB said its shares soared by 85% the following day. The company plans to host 48 livestreaming shows for their target audience this year.
Since its first introduction to the mainland in 1983, dramas and movies produced in Hong Kong have had a strong presence in the country's entertainment industry. Several classic crime dramas and celebrities have gained immense popularity among people, especially those born between the 1970s and 1990s.
"Beyond the gripping plots and great acting skills, the city's prosperity and its unique culture attract people to the show, and watching them is an eye-opening experience," said Liang, a 30-something resident from Guangzhou who has watched the dramas since his childhood. "The cultural products played a strong role in the mainland's appreciation of the city."
But such public interest has waned in the past decade as homegrown industries and foreign dramas gained wider appeal. The loss of its aura is also reflected in livestreams involving Hong Kong celebrities, with actor Joseph Lee criticized for his lackluster performance during a 2021 broadcast.
Now, TVB is also inviting famous celebrities from hit Hong Kong dramas to its livestreams to attract viewers, evoking nostalgia through the representation of classic Hong Kong dramas. And while some fans were excited, others questioned whether such tactics would help the company regain its footing.
"It'll be hard to maintain the growth and it's not conducive to the artists' careers in the long term when they lose their sense of mystery in front of the audience," a user on microblogging platform Weibo wrote.
Zhang Yi, CEO and chief analyst of market consultancy iiMedia, told domestic media that despite reaching millions on platforms like Taobao through its new initiatives, TVB could still face challenges. He said it was difficult to achieve desired results in the e-commerce livestreaming sector due to immense competition.
"For the time being, the company is at a disadvantage compared to other professional operators, and doesn't have user and consumption analysis or a supply chain, among other things," Zhang said.
Editor: Bibek Bhandari.
(Header image: The first livestreaming show of TVB on Taobao Live. IC)