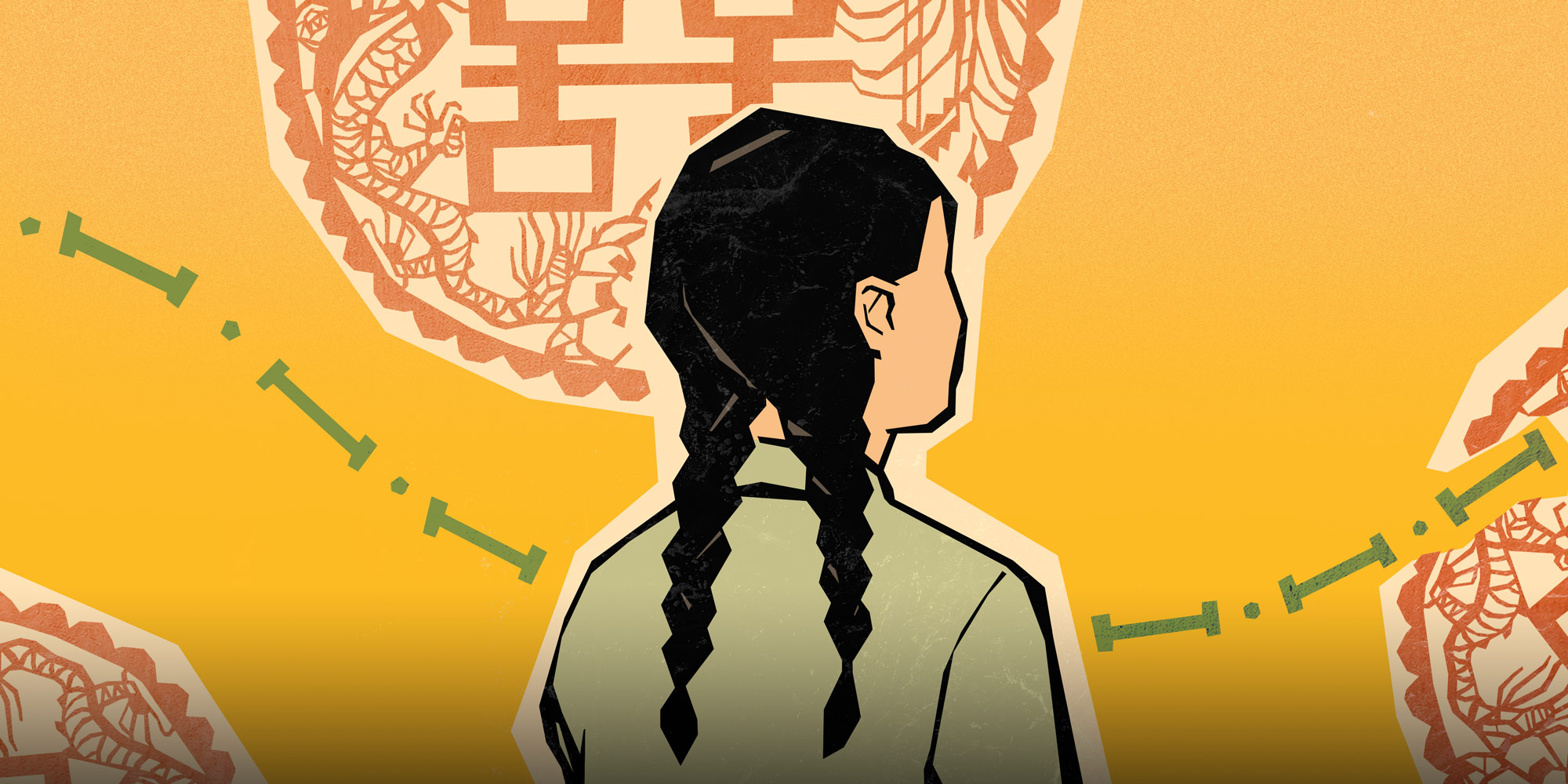 SIXTH TONE ×
A Vietnamese Bride's Chinese Dream
For Vietnamese brides, cross-border marriages are like a lucky draw: some good, some not.
My given name is Phuong. I'm 30 years old and come from Vietnam. I married a man in China five years ago and we have a son and daughter together.
I'm just an ordinary woman in a mixed-nationality marriage, but when I'm referred to as a "Vietnamese bride," it implies that I am different from other foreign women who marry Chinese men and live in China.
Crossing over
I come from a village in Binh Thuan province in southeastern Vietnam, near Ho Chi Minh City. It is a mountainous area near the sea, and there are frequent natural disasters such as floods and rainstorms. I'm the seventh of nine children, five boys and four girls.
My parents are relatively open-minded and worked hard so we could go to school, despite there being so many of us. I was a good student and finished top of my grade in the college entrance exam.
However, rather than university, I decided to attend teacher training college. I only needed a little money for some clothes, food, housing, transport, and books, and the school would allocate me a job after graduation so I wouldn't need to look for one.
My parents have three paddy fields which together total a little over 2 mu (1,300 square meters). If there isn't bad flooding, they can harvest three times a year and earn more than 5,000 yuan ($700) to support our family of over 10 people.
In my third year of college, I was assigned to an internship at an elementary school one hour away by bus. I had to get up at 5 a.m. to teach at 7 a.m., then I worked a part-time job in a café or restaurant, often getting back to college at 11 p.m. where I made lesson plans in my dorm.
Working part-time took up a lot of my energy. Because I stayed up late preparing classes, my lessons were sloppy, I had trouble getting up in the mornings and was often late for my internship.
Not having enough to eat also left me with little energy for classes, creating a vicious cycle. My college teacher criticized me for coming back late and always hanging around with friends, saying I wasn't acting like a real teacher. I didn't tell my classmates about my part-time job because I was worried that they'd look down on me.
I had one roommate whose family was well-off, and the others often liked to hang out with her. I didn't have time to join in, however, and they constantly ridiculed me. One day, someone accused me of stealing my roommate's necklace, which I hadn't. It turned up under my pillow, though I'd been away from college the whole day.
I told my teacher everything, but she didn't believe me. From then on, I was branded a "scoundrel" and "thief." My deskmate went to sit with someone else and I didn't have any friends. I became isolated and felt depressed, so I asked for some leave and went back to my hometown.
I never returned to college and my family helped handle the withdrawal process.
I followed one of my older sisters to Ho Chi Minh City and found a job there printing stamps. In the factory, I met my boyfriend Trung. After paying for rent, water, and electricity, we sent more than half of what was left of our salaries home.
But often, that left us with little money to eat, so by the end of the month, Trung and I usually bought bread for a little over 3 yuan from a roadside vendor for lunch and then went to work. Then we'd just cook some rice with fish sauce at home in the evenings. Life was hard, but full of hope, and sometimes, I fantasized about married life.
In rural Vietnam, girls typically get married in their early twenties. Trung and I had been together for eight years. I was 26 years old and dreamed of handing out betel nuts to our families while dressed in a bridal ao dai — Vietnam's national dress.
But Trung's parents were firmly against the idea. They said I was too old to have children and that my family lived too far away, and recommended some young, pretty local girls to Trung. His father even said to my face, "Anyone will do, just not her."
In July 2015, my mother was swept away in a flood, and I never saw her again. In addition, increasing pressure at work and a lot of other frustrations meant that Trung and I often argued. We broke up at the end of that year. Trung returned to his hometown and married a girl younger than me.
During the following two or three years, a few men showed some interest in me, but I had a lot of hang-ups about love and marriage. Talking about it often made me cry.
In 2018, I went home for Lunar New Year. When visiting family, I heard about a cousin who had married a man in China. She often posted pictures and videos, went traveling all over, and even started a business selling Vietnamese clothes.
One day, the cousin's mother came to our house and asked if I would consider marrying a Chinese man. She said she would find me a decent home, at least as good as her daughter's. I agreed — not because I wanted to marry into a good family, I just wanted to get away.
After Lunar New Year, I quit my factory job. I collected my final paycheck and used the money to get a passport. I then flew from Ho Chi Minh to Hanoi, accompanied by my "arranger," the cousin who had already married. Then we took a bus to the northern border province of Lang Son from where we crossed into China's Guangxi province.
Family honor
Those of us who marry Chinese men all hope to meet a good person from a decent family. But this kind of international marriage is like a lucky draw — full of surprises, some good and some not so good.
Getting off the bus in Lang Son, my cousin and I met the man we had arranged to take us into China. We rode on the back of his motorcycle through the mountains. It was cold and rainy, and our shoes and trousers were covered in red mud from the road.
After around 15 minutes, we were deep in the mountains and the motorcycle couldn't go any further. We had to walk.
We followed a small path to the border, crossed the fence and walked for a while before we were met by a Chinese woman who was waiting for us. She took us to a house in a small village, where several Vietnamese brides who had arrived before us were waiting. We rested that night, had something to eat, and the next day climbed into a minibus together.
We were blindfolded, so I could only feel the minibus trundling along the road. We changed vehicles three times in all. It was a bumpy ride, and I felt a little carsick while one of the other women even threw up. We only had bread and water, and someone would even watch us when we went to the bathroom.
I didn't know how long it had been, but every time I was jolted awake, I nodded off again. Hungry and thirsty, we didn't dare or even know how to communicate in Chinese. Moreover, we were afraid that the police would arrest us — so we just did whatever the driver said.
Whenever we came to a checkpoint or the bus stopped, I started sweating in fear.
Only after looking at a map later did I realize that we had driven across half of China. Our destination was Jian'ou City, in the southeastern Fujian province — 1,800 kilometers away. My cousin took me to her house to rest for the night and the next day, we went to meet potential suitors.
When I say meet, it was more a case of seeing whoever had offered the highest bride price, since the "arranger" took 30%. The first family was willing to pay 130,000 yuan and had built a new three-story house. The groom, however, was mute.
The next family offered 100,000 yuan and had a two-story brick house. The suitor was in good physical shape, had a junior high school diploma, was five years older than me, and looked to be freshly shaven.
The first time I saw him, I felt nothing; my only concern was the bride price. After weighing it up, I decided to marry him. I really love to talk, and though I couldn't speak Chinese, the thought of a future with someone mute seemed a fate worse than death.
The family handed over 50,000 yuan of the dowry. My cousin took 30,000 yuan and the other 20,000 yuan was sent to my family who used it to repay the people who helped me cross into China.
I wouldn't receive the remaining 50,000 yuan until after we were married. I figured that I'd put 10,000 yuan aside for myself, just in case the family treated me badly and I needed to return to Vietnam.
The remaining 40,000 yuan I planned to send to my family in Vietnam, who should have built a new house long ago, with the rest of the money going to pay for my younger siblings' schooling.
I don't speak much Chinese. Before I came to China, I learned a few words of Mandarin for daily communication, but I didn't understand any of the Hokkien dialect they spoke at home.
When I first arrived, I didn't talk much. When my husband called me to go eat together in Mandarin, I'd go out. If I needed to communicate, I'd use a translation app and show my husband or text him on WeChat. There's an automatic translation function in WeChat. Though the translations aren't very accurate, it gets the message across.
Since I wasn't in the country legally, we didn't hold a wedding. In June 2019, I discovered I was two months pregnant and returned to Vietnam with my husband. There, we got the marriage certificate and had a big wedding at home.
We still had someone smuggle us back into China, but I wasn't as scared that time because I was with my husband.
Basically, Vietnamese girls who travel to China to marry make a big fuss on their first visit to the bride's home. Marrying into a good family is considered a noble thing in our country. Not only do we slaughter pigs and chickens, and drink all day, but we also invite a group of singers to the house.
Not doing so or not returning to Vietnam at all implies you are not doing well and your family will lose face.
Going home and visiting my family should have been a pleasant experience, but I couldn't enjoy myself. They only cared about whether my husband had money, how much the dowry was, and what gifts I bought them.
They didn't care at all about my happiness. My husband doesn't speak any Vietnamese, so he was mostly quiet and just handed out money. When it was time to go back to China, he gave the remaining Vietnamese currency to my father and older brother, who were preparing to build a new house. We only kept about 600 yuan for the trip back.
It felt more like I was being sold off than married.
After we got married and I gave birth, I realized that I didn't think like my parents anymore. I didn't want to be like them, always with hands outstretched, living off government handouts or the money from their daughter's dowry. I wanted to work hard to build a better life for my daughter and to live with dignity.
That was my last trip to Vietnam. It was no longer my home, my debts were paid, and I didn't want my daughter to be influenced by the backward ideas there. I became more and more determined to obtain legal identity in China.
Green dream
Back in China, we prepared all our documents — ID cards, passports, Vietnamese marriage certificate, proof of the child's birth — and visited the police station, paid a fine since I had no legal documents, and filled out a lot of forms.
I also underwent a physical examination. I'm now living here legally, but I still have a knot in the pit of my stomach, since I don't have a green card yet.
I did some research and found out that a green card is very important for our children's education and also allows me to work legally and receive social security, health insurance, and so on.
I'm in a Facebook group for "Vietnamese Brides," where we refer to those who have a green card as "golden phoenixes." Most of them are well-educated and their husbands are rich.
One of the women in the group shared a story about a Vietnamese girl who married a university teacher after studying in Beijing, and got a job at the university as well as a green card.
She often posts about her daily life in Beijing — beautiful photos, scenery, and food. Those of us without green cards privately comment that she is a "sparrow who has become a phoenix." When she posts pictures on her social media accounts, we comment about her in a private group, both out of envy and jealousy.
People often share rules on how to get a green card in the group. I clearly remember that you need to have been married for at least five years, have continuously resided in China for at least the same length of time — with a minimum of nine months out of every year in the country — and have a stable life and place of residence.
According to Vietnam's Law on Residence that went into effect in 2007, if a family member fails to cancel the household registration (ho khau) after he/she moves abroad for more than 90 days, the commune and township authorities will cancel it.
Looking at the combined regulations of both countries, most Vietnamese women like me who have married a Chinese man and moved to China these years are stateless for the first few years. When people ask me what my nationality is, I don't know whether I should say Chinese or Vietnamese.
There are many Vietnamese like me in this state of limbo. I managed to pay the fine and get the documents required to become legal, but many families don't have the money or the legal expertise.
Those women don't dare go out and meet other people because of their status as illegals. All they can do is wait until the police check their identity or someone reports them to the authorities, after which they'll either be deported back to Vietnam or fined.
Police discovered one woman in our village and the family didn't have the money to pay the fine. In the end, she had to go back to Vietnam, while her two children remained in China without their mother.
Since their father left to find work, the children wander around the village all day, covered in dirt looking like they haven't bathed in months. They even steal things from other people.
At the end of 2020, I had my second child, a son. The way my mother-in-law treats my daughter and son are completely different. When my daughter was born, I was the one that had to look after her.
But with my son, my mother-in-law is happy to help lend a hand. She picks him up and does not want to put him down, though I still have to take care of my daughter alone.
Baking blind
It was always my dream to open a bakery. In Vietnam, bread is called banh mi and we eat it three times a day.
Vietnamese bread is usually cut lengthways down the middle and filled with fried egg, ham, roast meat, cucumber and cabbage, then some coriander is added. Then, tomato juice or mayonnaise drizzled over the top and it's served wrapped in a napkin or newspaper. It costs about 100,000 dong ($4).
I hadn't eaten it for a long time after I moved to China. Later, I saw another Vietnamese woman married to a Chinese man selling it online. I bought 10 of them for 30 yuan, and my relatives all said it had a unique taste and liked it. I made some calculations and since we had a spare room at home, I thought I could buy an oven and bake my own.
I originally planned to start my business when the children were a bit older, but due to the COVID-19 pandemic, we were struggling financially. My husband doesn't have a regular job, and often goes out on odd jobs for a few days, earning less than 2,000 yuan a month — not even enough to pay for milk powder for my son.
I decided to use the rest of the dowry to buy an oven for 13,000 yuan as well as a few hundred kilos of flour and other ingredients.
My husband used his ID card to organize the business license — just for this, I had to go to three or four places with him, each time always missing some documents. I can't read Chinese and can only speak some basic words and understand some everyday phrases. I listened to him as he gestured and used the translation app to determine the documents we needed.
After more than a month of back and forth, the bakery was finally open, and the pandemic situation had improved a lot. My husband went to the city to look for work, and I began getting busy too.
I say it was a bakery, but it was actually just a spare room on the first floor of our home. It was equipped with an oven and a makeshift stainless-steel counter, as well as bags of flour and packaging in one corner, and several pack baskets for carrying the bread.
Though basic, it was spotless. I cleaned the room every day and disinfected everything. The children have to wash their hands before coming in and aren't allowed to touch anything. Since I'm making food, I have to be responsible for the health of my customers.
I never formally learned how to make bread — instead, I watched videos online. If there was something I didn't understand, I asked my friends and family on Zalo, a Vietnamese social media app.
It took four tests before officially starting. The first time, the oven wasn't preheated and so the bread was burnt on the outside and uncooked inside. The second time, I left it in too long and burnt it again, while the third time it was cooked but not fluffy enough.
My family looked forward to my bread every day, but after each mistake, I'd throw the burnt results away. My mother-in-law sighed as she picked it up, saying: "Don't waste it; you can still eat the inside."
My father-in-law told me to stop if I couldn't do it, and suggested I get a refund on the oven. I argued with them about it and stormed out.
I walked out of the village, avoiding any roads with a lot of people and turned down an empty country path. As I wiped away the tears, I cursed all the years of pain.
I wanted to go back to Vietnam or at least get away, but I didn't have any money and I couldn't go back without a visa. I didn't even have my ID with me to get a hotel room somewhere.
Going back to Vietnam was impossible: my residency had been canceled and no one would recognize me as Vietnamese. Thinking about the children — and the fact that my son wasn't even fully weaned — I returned home.
I didn't open the door to the bakery for a week — I just didn't have the courage to start kneading dough again because I was afraid I'd fail again. But after so much effort and money, you can't just give up before you start.
I watched a lot of videos online, but I couldn't see anything different from what I'd been doing. Then I spent 200 yuan on online classes, and had a one-on-one with a teacher via video chat.
I realized that the amount of each ingredient needed to be measured down to the milligram, that there are special mixing techniques including clockwise and counterclockwise motions, and the time that dough should be left to rise must be strictly controlled. I also learned to test the softness with my hands — each step had to be done properly.
In addition, I had to take into account the weather. On rainy days, there's more moisture in the air, so you need to add less water, while on sunny days you don't need to knead the dough for as long.
On my fifth attempt, the bread was finally up to scratch. The next step was to increase the scale of production.
At first, I made bread three times a week, at least 200 loaves each time. I had to get up at 3 a.m. to knead the dough so that it was fresh. I'd knead for an hour until there was no excess flour left on the board, then leave it to rise for another hour. Next, I shaped the dough into small pieces, then pressed them into longer strips before putting them in the oven.
I did everything on my own while my family was still fast asleep. When bored, I livestream on my phone for a while, and a few people join to watch me make bread. It's usually people who get up early to work like me, or people on a night shift curious to see what I'm doing.
I speak Mandarin with some words in Hokkien dialect, so they struggle to understand. But I just do it to entertain myself and escape the monotony.
Now that I knew how to make bread, I had to consider sales. Luckily, I had the help of my good friend Hoa, a Vietnamese woman married to a man in another village. Her family makes sausages.
I started trying to sell bread like her on Douyin and WeChat, but few people bought any. It also turns out that opening a store selling fresh food on e-commerce giant Pinduoduo requires a 10,000-yuan deposit. I didn't have that kind of money, so I abandoned the idea.
Every day, I made 200 loaves and sold no more than 60 of them myself. I then paid postage to mail them. Though I negotiated a discount with the express delivery service in the village, my bread is classified as short shelf-life food since it doesn't include additives.
When you include the cost of the bags for packaging and boxes for delivery, and exclude my labor costs, I sold 10 loaves for 28 yuan, earning me less than 8 yuan — which was a little over 60 yuan a day.
When my husband is away, we don't have any way to transport the bread to sell in the city. Whatever I didn't sell, I gave to relatives in the village and we have a few at home each day. By the time I made another batch, what we hadn't eaten was already moldy, especially in the rainy season, and had to be thrown away.
I asked Hoa to help me sell them, giving her 150 loaves at the price of 1.8 yuan each, and then I sell the remaining 50 myself. Each week, I make 600 to 800 yuan. I use the money to buy flour and other materials, and some new clothes for my children.
I'm constantly trying to improve the packaging, choosing different preservative packs, and adjusting the ratios to make sure that the bread doesn't go moldy during transportation.
Over the next few months, I burnt several batches because I was busy feeding the baby or I forgot to turn off the oven. In addition, there were new problems with the machinery from time to time. I couldn't read the instructions and couldn't find the customer service so had to sort it myself.
Despite many mishaps, I'm still optimistic about the future. I look forward to my husband coming home to help, the business doing well, and my two children growing up.
Every time I take my kids into town, I take a detour to the bakery. I hope to have one of my own someday. I named my small bakery after myself, but since my Chinese isn't perfect, I had some problems communicating with the person designing the logo. After struggling to explain for several days, I still wasn't satisfied with the design.
That said, I firmly believe that if a problem can be solved then it won't stop me from moving forward.
On my phone I keep a note that reads: "Hôm nay là 18/7/2022, cách xin được thẻ xanh còn có 711 ngày." (Today is July 18, 2022. Days until I can apply for a green card: 711.)
As told to Wang Xiansi.
A version of this article originally appeared in Investigation 107, a student media publication at the Beijing Foreign Studies University School of International Journalism and Communication. It has been translated and edited for brevity and clarity, and published with permission.
Translator: David Ball; editors: Xue Yongle and Apurva; illustrations: Wang Zhenhao.