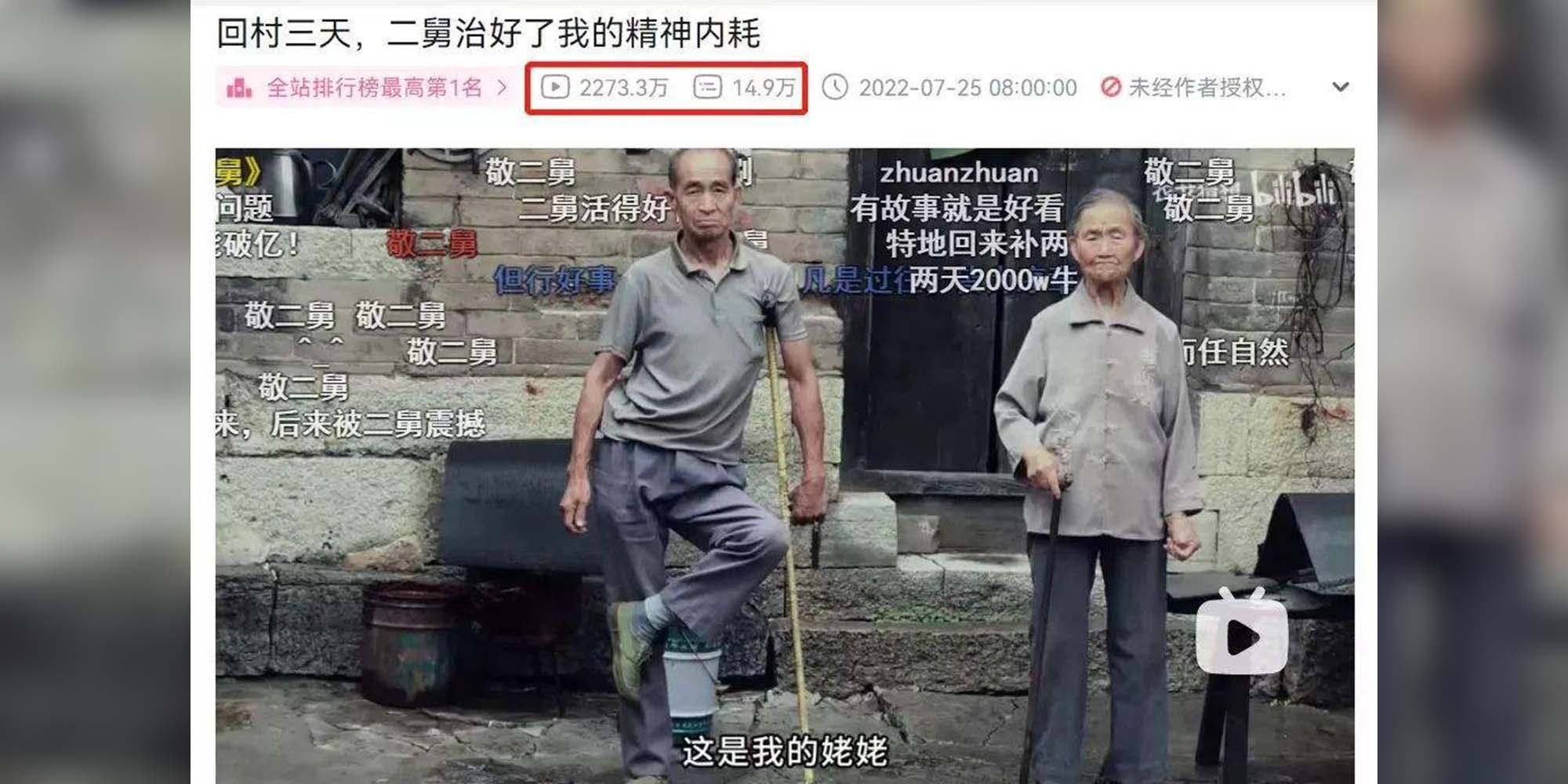 NEWS
Disabled Man in Chinese Countryside Inspires Disillusioned Youth
A viral video of a 66-year-old man's life story of him overcoming the odds has left millions of viewers reflecting.
In the fictional novel "To Live," famous Chinese writer Yu Hua portrayed the struggle of an old man in the countryside in the wake of major historical events such as the Chinese Civil War and the Cultural Revolution. The protagonist, Fugui, decided to stay alive with a glimmer of hope and determination despite enduring the loss of his family one by one.
Thirty years after the novel's publication, many Chinese social media users this week said they've found a living example of Fugui: a disabled 66-year-old man called Erjiu from a village in the northern Hebei province. His life story, turned into a short film by his nephew, has won the hearts of millions and sparked discussions over cultural production and consumption.
In the 11-minute film, Tang Hao, a content creator and former history teacher at a tutoring agency, described how Erjiu, which translates as second-oldest uncle, coped with life's struggles following an accident that resulted in him no longer having the use of his leg. Tang shot the film during his three-day visit to his uncle's home, which he said has cured his "mental exhaustion."
"I've met some major figures throughout my life but it's only through Erjiu that I've discovered all the beautiful and powerful traits of our nation," Tang said in the film.
The video tells the story of how Erjiu was a promising student but dropped out of school and decided to learn carpentry after treatment for a fever went wrong and left him with a lame leg. He then made himself "the cripple everyone in the village can't live without" with his kindness and hard work. The man later quit carpentry to become a full-time caregiver to his ailing mother and became a part-time handyman repairing "almost everything other than laptops and smartphones" for the villagers.
The video has gone viral since its release Monday, with over 34 million views on leading video streaming site Bilibili as of Friday afternoon.But some critics have, however, questioned the authenticity of Erjiu's story and highlighted "questionable" details in the video.
Responding to the accusations, Tang told domestic media that he stands by his uncle's story. And many viewers said Erjiu's experiences and optimism can help them see through their own issues.
"We've not been dealt with the worst cards and we should try to play the ones we have as well as we can," Yan Yidan, a product operation specialist in an internet company, told Sixth Tone, adding she was touched by the protagonist's carpe diem philosophy after watching the video. "I won't accept the ordeals and I've learnt to face them head-on."
Sun Jiashan, associate professor at the China Academy of Art, believes the reason the video went viral is because it responds to the general anxiety of young people facing poor employment prospects and limited space for development. Their tributes to Erjiu and their likes and forwards of the video on social media project that anxiety.
Facing heavy pressures from work, family, and other relationships, millions of Chinese youngsters, especially those living in major cities, have grown more anxious and inclined to "lie flat." A 2021 report showed people between 16 and 34 share the highest level of anxiety, while a June survey by a recruiting site said 85% of the respondents faced a certain degree of pressure at work.
Teng Wei, director of the Center for Contemporary Cultural Studies at South China Normal University, told Sixth Tone that the popularity of the short film is reflective of such feelings which were fueled by uncertainties.
"The materialistic and spiritual pressures people have faced in the past three years are unprecedented," Teng said. "We need those motivational messages more than ever, but we are also more wary of those messages than ever."
"Many people born in the '80s and '90s, like me, came out of the countryside to work and live in the city." Tang told Sixth Tone. "Deep down, they still have a deep connection to rural China, and they are easily touched by a story about an old man in the countryside."
The viral film is also seen as a signal of the shifting public interest in content consumption over the recent years, as people are more intrigued by stories of ordinary people instead of the rich and famous. Erjiu's widespread recognition echoes the success of Zhang Tongxue and Li Ziqi, vloggers who became popular for documenting rural life and showcasing their daily happiness.
"The viral nature of this video showed how empty and superficial our artistic creations currently are," Song Weijin, a well-known scriptwriter, told local media, urging those in the TV and film industry to reflect.
Li Bingqian, an online video producer who previously worked in the film industry, told Sixth Tone that it would be difficult to imitate the short video's success in a mainstream movie production.
"While many professionals have noticed the trend, it's difficult to land the project given the lackluster interest among investors," she said. "The valuable lesson, though, is that they should pay more attention to the short-form videos to better grasp public demand."
Tang, the filmmaker, said he had declined requests to send the story to the big screen. In the wake of widespread attention, he added that Erjiu and his mother, who the filmmaker refers to as grandmother, have already moved out of the village.
"Erjiu hasn't had an easy life. I shared his story, and people listened and were touched — these together constitute a beautiful story," Tang said in his personal Bilibili account Tuesday. "Let him live peacefully and quietly with grandma in the small mountain village. That would be the most beautiful end to this story."
Editor: Bibek Bhandari.

(Header image: A screenshot from the video shows erjiu and his mother. From Bilibili.)