A prolific vlogger from a village in southwestern China has become a hot topic online, where Chinese netizens are debating her suitability as a cultural ambassador for the country.
Li Ziqi, a 29-year-old Sichuan native with over 55 million followers on social media, began making videos on Chinese video-sharing platform Meipai in 2016 after giving up her life as a migrant worker in the city to return to her village and live with her grandmother. Li's videos are an escape from the relative chaos of urban life: Against a soundtrack of comforting traditional Chinese music, Li gracefully performs the daily work of a farmer, from harvesting vegetables and tending chickens to building an earthen oven and making her own soy sauce.
Among Chinese netizens, Li isn't the most popular web celebrity. Instead, it's her international appeal that has landed her in the spotlight. Li boasts 27 million subscribers on short-video app Douyin and 21 million followers on microblogging platform Weibo. She also has 7.6 million subscribers on YouTube, where almost all of her videos accumulate over 1 million views in the first week after they're posted.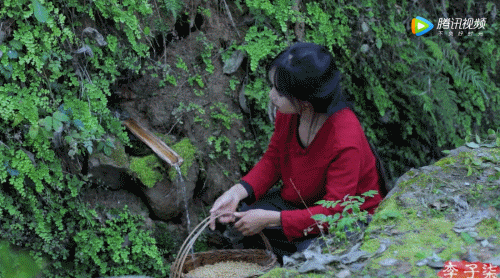 A GIF shows Li Ziqi rinsing beans in water from a natural spring. From 腾讯视频
On Dec. 5, a widely circulated article on social app WeChat argued that Li's videos and her global influence on YouTube could reasonably be considered a "cultural export." The article included comments global viewers had left under Li's videos. They said they enjoyed the pleasant, tranquil lifestyle presented in the videos and appreciated the beauty of rural China, while thanking Li for sharing traditional Chinese culture. With more YouTube subscribers than major foreign media outlets like CNN and the BBC, Li is one of China's most successful cultural exports, the author wrote.
Many domestic internet users applauded the article for recognizing Li's value as a cultural ambassador. "The foreign cultural influence of Li Ziqi's YouTube channel is on par with over 1,000 CGTNs," one netizen wrote on Zhihu, China's Quora-like Q&A platform, referring to the international label for China's state broadcaster. Others like the well-known commentator Wu Xiaobo have compared Li's cultural clout to that of the Confucius Institute, a government-backed organization for spreading Chinese culture abroad.
Among Li's many supporters, however, are some who view her international popularity as doing harm to China's image — presenting the country's bucolic side, now largely in the past, rather than its industrialized present. "(Foreign viewers) will think we all live like this," read one representative comment on Weibo. Critics further argue that Li's videos are inauthentic since she now has a team working behind the scenes to produce them.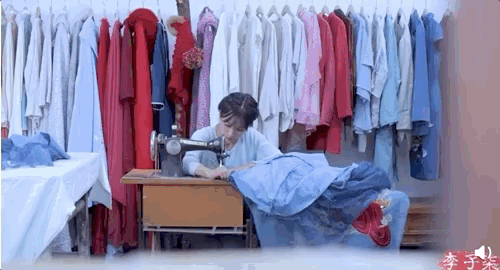 A GIF shows Li Ziqi making her own clothes. From 腾讯视频
The debate has become more heated in the past week, with a Weibo hashtag translating to "Is Li Ziqi a cultural export?" viewed 880 million times by Monday evening. The discussion has even prompted state media outlets like Xinhua and China Central Television (CCTV) to voice their support for Li.
"Li Ziqi is just there quietly doing farmwork and sometimes chatting with her grandmother in Sichuan dialect, yet this has attracted people from all around the world to learn about traditional Chinese culture … and come to like Chinese people and this country," read a commentary from CCTV. The author went on to characterize Li's seemingly unintentional contribution to disseminating Chinese culture as "a miracle."
According to Yu Gui, a Beijing-based researcher on Chinese pop culture, the discussions about Li mostly revolve around two questions: First, why is Li so popular with international audiences? And second, do her videos actually succeed in promoting Chinese culture?
The answer to the first question may lie in Li's grassroots approach to her videos. For years, Yu told Sixth Tone, the best-known examples of China's soft power, including the hundreds of Confucius Institutes around the world, have been tied to the Chinese government, usually in some overarching or top-down capacity. "Now, however, the energy Li Ziqi reveals so explosively has shocked everyone," he said. "Her influence is silent and imperceptible — it guides foreigners to curiosity and love in an organic way."
Many people attribute Li's success to her spontaneity and knack for telling small but poignant stories that diverge from the grand narratives Beijing normally relies on to promote Chinese culture.
"The main reason I think she's very popular is because the world that she lives in, the world she shows, is completely different than a lot of her audience's world," said Raz Galor, an Israeli content creator who posts videos about the rise of China. For years, the Beijing-based streamer and his production team have analyzed and experimented to determine which videos can reveal the most about China while also generating traffic and engagement. "A lot of (videos about China) just talk about the epic-fast bullet trains, 5G, Chinese tech, Chinese developed cities," Galor said in a popular video about Li, adding that such content tends to be less popular because its inherently impersonal approach "lacks a bit of touch."
Li may even be causing Beijing's bigwigs to rethink Chinese soft power. "We need to innovate in terms of the way we inherit our traditional culture," said a commentary Xinhua published Friday. "Li is doing that."
"China has tried for so many years to promote our culture globally but made little progress, and that's because of a lack of spontaneity and focus on Chinese people's daily lives," Zhang Xiaoming, director of the China National Center for Culture Studies under the Chinese Academy of Social Sciences, said in a recent interview with The Beijing News. "China needs more Li Ziqi," he added.
On the question of whether Li's videos should be considered a cultural export, Yu, the researcher, is in favor. He disagrees with the view that the vlogger is reinforcing backward stereotypes and antiquated impressions of rural China, arguing that such criticism reflects a lack of cultural confidence and tolerance among the Chinese public.
"Many criticize Li for not promoting the side of China that's urban and highly advanced — the side they'd prefer," Yu said. "But there really shouldn't be 'superior' or 'inferior' forms of cultural output."
Editors: David Paulk and Bibek Bhandari.
(Header image: A screenshot from one of Li Ziqi's videos. From Bilibili)