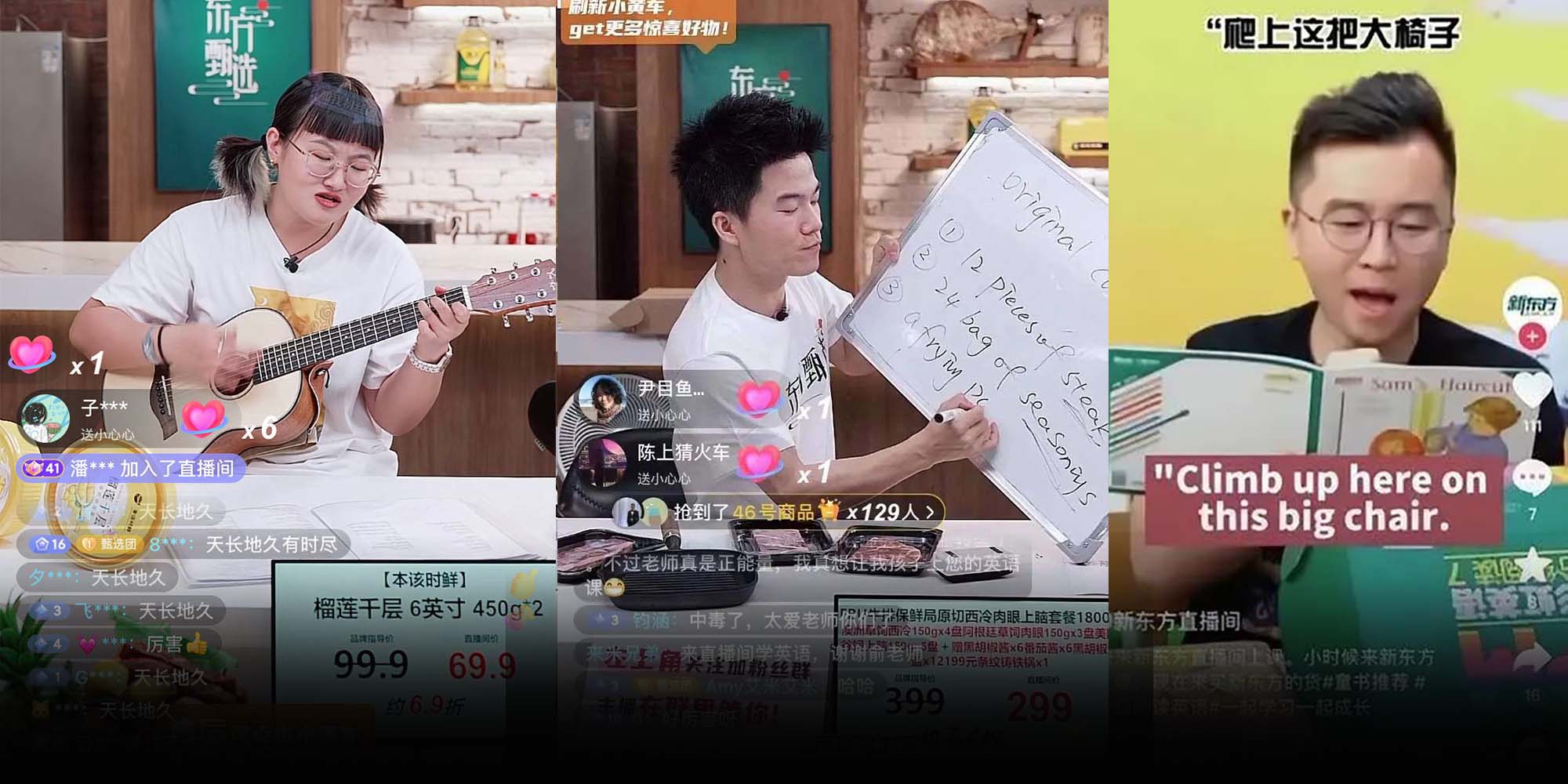 NEWS
Their Secret Sales Weapons? Language Lessons
After a crackdown on after-school tutoring, New Oriental pivoted to online sales. It went poorly until their teacher-turned-livestreamers began offering free English lessons while pitching encyclopedias.
"If you want to listen to English, I can speak English all the time," livestreamer Dong Yuhui said in English, trying to sell an encyclopedia. "It enriches my knowledge and expands my horizons," he told his online audience.

The 29-year-old former English teacher went viral last week in a mashup of a shopping channel and an English lesson. He's the first breakout star for New Oriental, the English tutoring company trying to reinvent itself as an agricultural marketing company in the wake of a crackdown on after-school tutoring.
Dong gave the struggling company its best week since starting its pivot in December. The hashtag "New Oriental livestreamer" drew over 190 million views on social microblogging site Weibo, and the company's account on Douyin, the Chinese version of TikTok, tripled its follower count from 1 million to 3 million over the weekend. The favorable attention boosted the company's stock, which doubled from the day before Dong's stream to 9.6 Hong Kong dollars ($1.18) as of Tuesday afternoon, reaching its highest price since June 2021, while about 75% down from an August 2020 peak of around 40 HKD.
"The transformation of New Oriental is worth taking seriously," said Wu Jingcao, a chief analyst at Sinolink Securities. "But it's too early to tell how successful their livestreaming business will be, even after the buzz the bilingual shows have brought them. We'll need to continue observing their revenues, profits, and GMVs and then come up with our judgment," he told Sixth Tone.
New Oriental Education and Technology Group is one of China's earliest and largest private education providers. After the central government announced the "double reduction" policy to ease the burden on students and their families in July 2021, restricting most out-of-school tutoring and limiting prices on what was left, New Oriental ended classes for students from kindergarten through high school. Late last year, Yu announced that the company would pivot to selling agricultural products online.
The move to online marketing made sense for New Oriental, in theory. Founded in 1993, it built an English teaching empire on showmanship. Founder Yu Minhong rose to fame, and the company's teachers emulated his energetic teaching style. Meanwhile, the QVC-like e-commerce livestreams have exploded since the pandemic shuttered many retail outlets, with leading livestreamers posting daily sales figures in the billions on key sales holidays.
As a livestreaming company, New Oriental stumbled out of the gate. Yu headlined its broadcast, and made about 4.8 million yuan in sales ($712,000) — a far cry from the amounts reported by top streamers. But it was a good day, given that the daily sales volume fell below 100,000 yuan on some days during the last six months, according to the Beijing News.

According to data analysis service provider ChanMama, New Oriental's gross merchandise volume surpassed 20 million yuan during their livestream on Saturday. GMV is a measure of goods sold by an e-commerce company that includes sales made on behalf of third-party merchants, and is typically much higher than the platform's own revenue.
But to the beleaguered company, Dong's breakthrough felt like victory.
"We used to have even less than 100 people watching our livestreams. But we've been persisting in what we do," said Dong, who tutored around 500,000 students over a period of eight years with New Oriental, during a livestreaming session last week.
"We taught enthusiastically in the classrooms, waving our arms and giving classes to kids in high spirits," he said. "We experienced pain, but pain is a kind of power. It gives us the desire and strength to change our status quo. We are now recommending healthy food and advocating a healthy lifestyle."
In addition to switching between Chinese and English, Dong and a few other colleagues, who were also previously teachers at New Oriental, play musical instruments and sing, share their thoughts about life, while selling agricultural products and books.

Yu said on the stream it was a sudden inspiration that led his livestreamers to use their old English teaching skills when promoting the goods, leading to the company seeing an increase in their fans..
"This is what teachers are supposed to look like," said Wu Wei, a consumer in Beijing. "I've been impressed by how knowledgeable these livestreamers are. They can quote the classics anytime they want."

Shanghai mother Fan Yilin told Sixth Tone she was a fan of New Oriental when she was a student. "Many teachers there are strong academically and have attractive personalities," she recalled. "They lead classes in a relaxing and fun way."

Fan said, "It's a shame that my children won't be able to have classes from such teachers. But it's still a comfort that at least New Oriental can survive with their livestreaming business that is hopefully growing."
Editor: David Cohen.
(Header image: New Oriental's bilingual livestreamers. From Weibo)