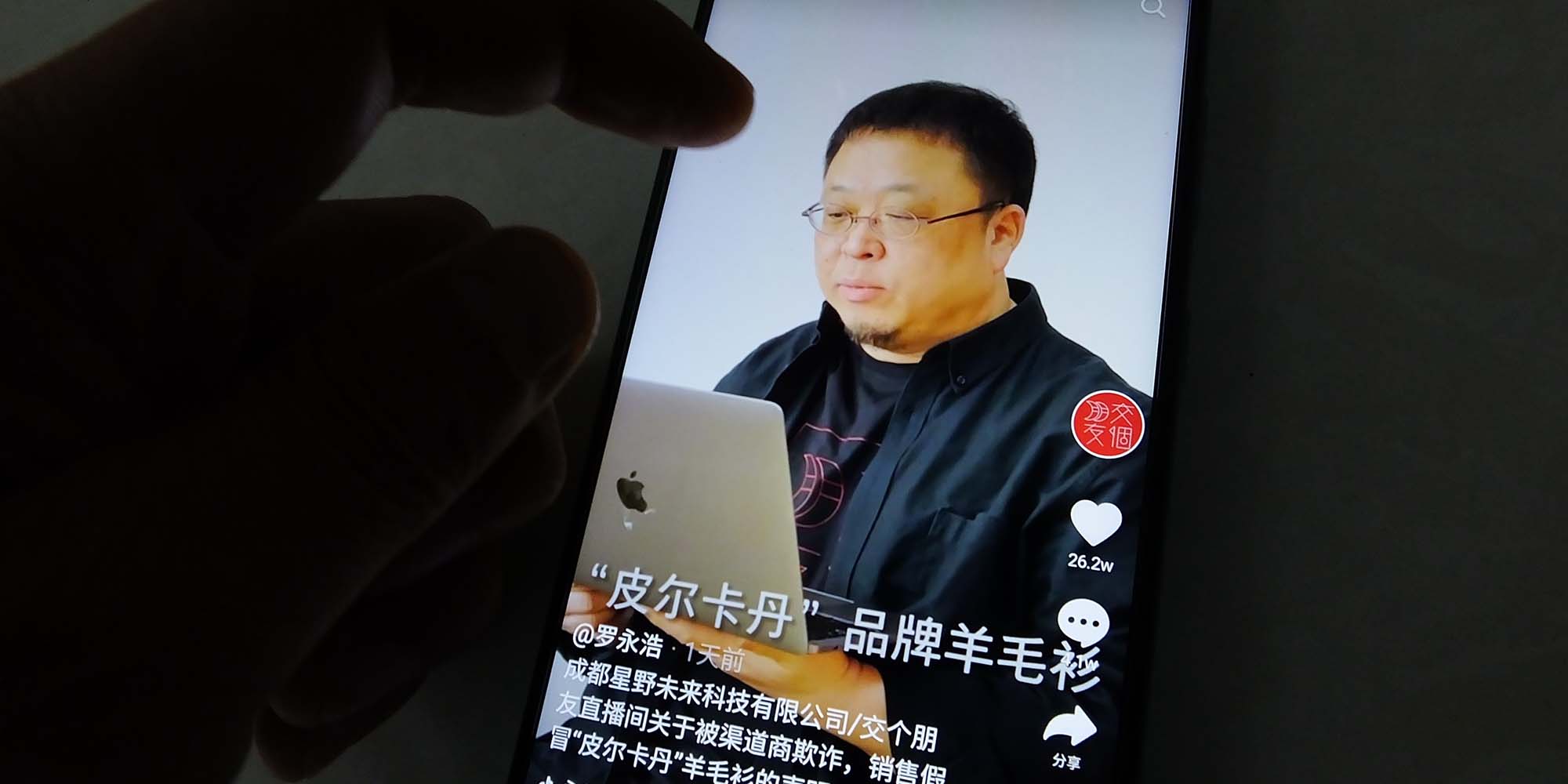 NEWS
The Once and Future CEO
Smartisan founder Luo Yonghao has been an online celebrity, a smartphone maker, and $89 million in debt. Now he's starting the cycle over again.
From online celebrity, to hot gadget CEO, to bankruptcy, and back again.
Luo Yonghao, best known as the founder of failed smartphone maker Smartisan, is lining up for another ride on the wheel of fortune. He announced Sunday that he plans to quit all social media in order to focus on a new device company that will develop augmented reality products.
"The past 13 years have passed in the blink of an eye and I will officially exit from all social media platforms and immerse myself in a business again," Luo wrote in a Weibo post Sunday with a screenshot of his first post written in 2009. On Monday, he posted a letter and an interview with domestic media LatePost in which he described his plans.
In 2012, Luo founded Smartisan Technology, launching several smartphones, a custom Android-based operating system, and a messaging app dubbed Bullet Message over the next six years.

The brand impressed critics and won fans for style and innovations, but Luo didn't keep up in a competitive market and the company got into deep financial trouble between 2018 and 2019, defaulting on payments to suppliers. In November 2019, Luo told local media that his company owed more than 600 million yuan ($89 million) at the peak, and he was put on a "consumption blacklist" by a local court in Jiangsu, barring him from buying many luxury goods. In China, key corporate officers can be held accountable if their company fails to repay debts.

After several attempts in other business sectors, Luo went back to his original product: his own personality. He was widely mocked for a pivot to livestreaming, seen as an unserious industry, but Luo made headlines with a successful debut on short video platform Douyin in April 2020, garnering more than 48 million views in three hours, a record high for the time.

"I don't feel disappointed about myself as I am trying every way to clear the debt, and I am making honest money as a livestreamer," Luo said in a Weibo post after his new career move. Over the past three years, Luo's Douyin account has hosted nearly 200 livestreaming shows, and helped clients make 937 million yuan in sales, according to short video database Xindou.
But the 50-year-old entrepreneur still sees himself as a device maker. On Monday he said he would walk away from his online profile to focus on a new company. In an interview with LatePost on Monday, he said the new company will focus on developing augmented reality hardwares in the next three to five years, and will wait for the market to mature before attempting a consumer product.
Luo told LatePost that he is on the verge of paying back his debts. He expects the debts to be settled as early as November.
Luo wrote last October on Weibo that he will "immediately" start a new business after all debts are paid.
Luo's social media business will outlive his personal profiles. Staff told domestic media that Luo will still show up in the livestreaming room as a guest, and he intends to continue working as an advertising spokesman to repay his remaining debts and fund his new company.
Luo's exit has attracted wide discussions on social media, with his fans bemoaning the farewell and wishing him luck under his post.

"It's sad that he is leaving, because I've had so much fun with what he has said," Zhang, a 25-year-old smartphone aficionado, told Sixth Tone, "but it's good to see him go back to where he truly belongs."
Editor: David Cohen.
(Header image: Luo Yonghao during a livestreaming. IC)