SHANGHAI — Shanghai's thousands of boutique cafés bustled with people until the two-month lockdown dented business. Now, as the city reopens, many café owners are mulling post-lockdown strategies amid uncertain anti-virus measures or are still waiting for the crowds to return.
Three coffee shop owners Sixth Tone spoke with said they were now expanding takeout services unlike pre-lockdown days, when they gave little attention to it. However, another owner said that he would still prefer to stick to serving coffee drinkers at his café despite recent hiccups.
"Small cafés are not here to provide fully standardized and fast coffee," said Daodao, owner of Me Time Coffee, which resumed business Wednesday. "Coffee can taste better when dining in and it allows customers to experience the ambience better."
Though Me Time is planning to deliver more takeouts now, Daodao said she will eventually scale back when the city resumes in-person dining fully.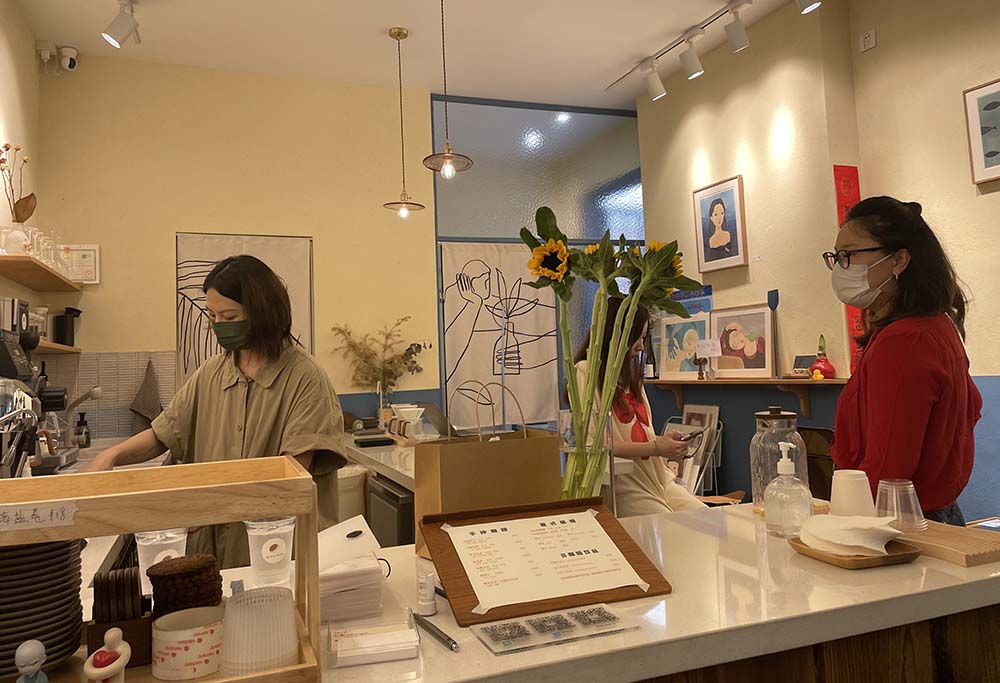 Daodao works at her coffee house on the first day of reopening in Shanghai, June 1, 2022. Luo Meihan/Sixth Tone
Shanghai is known for its coffee culture and cafés that date back to some 200 years ago when the city opened to international business. Now, the city is said to have over 7,000 cafés, with about half of them independent boutique cafés and 35% chain brands, according to an industry report released last year.
And while big chains may have contingency plans to combat uncertainties, the lockdown has dealt a severe blow to self-run coffee shops. The four independent café owners told Sixth Tone that they suffered losses ranging from around 50,000 yuan to over 200,000 yuan ($7,475-$29,900) during the two-month shutdown, which includes rent, labor costs, and wasted materials such as coffee beans.
Three of them said they haven't received subsidies on rental costs from their private landlords yet. The city's economic recovery plan announced Sunday includes a six-month rent waiver for small and micro businesses that lease state-owned properties and appealed to private landlords to reduce rent and offer subsidies.
Some café owners said they were stretching their savings, while others were selling coffee products to regular clients and those within their residential compounds. But that income would hardly make up for their monthly revenues averaging over 100,000 yuan.
Winston, founder of COTD LAB, said his café had been in a "terrible state" before finally opening Thursday. When he visited on May 26, it was dusty and moldy. Some of his supplies, including milk and coffee beans, worth over 100,000 yuan had gone bad, too.
"It used to be glowing and shiny, but now it has turned into a gray and dull store," he said.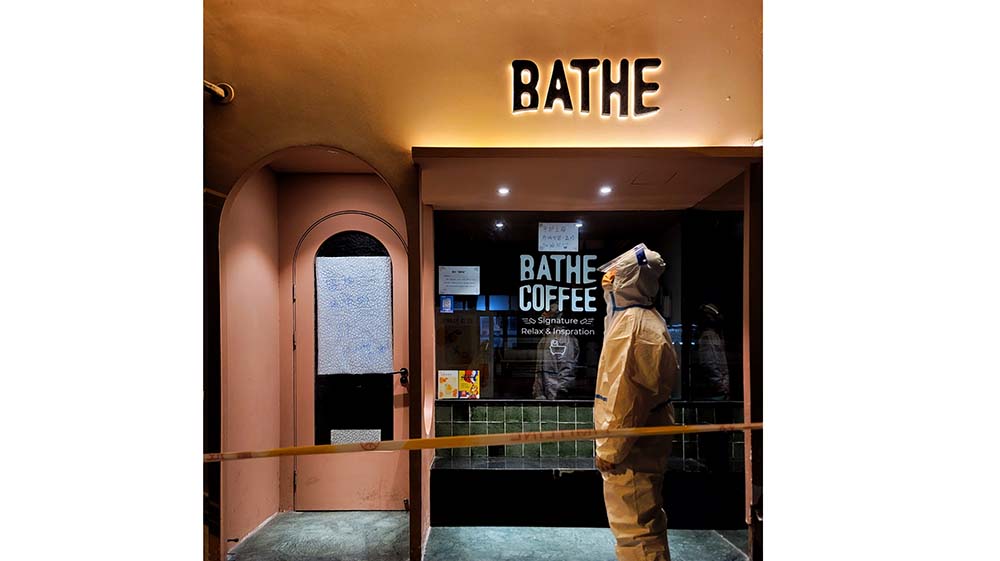 Li Weiqin as a community volunteer in a hazmat suit stand in front of his coffee house in Shanghai, April 14. 2022. Courtesy of Li
As the café culture picked up in recent years, entrepreneurs like Winston and Daodao didn't hesitate to open their own shops. China's coffee consumption has increased by 15% over the years, compared with a world average of 2%, and the country's coffee market size is expected to grow by about 92% in 2025 from last year.
Li Weiqin, owner of Bathe Coffee, has witnessed how the coffee drinking habit has reached the wider public in Shanghai, as more diversified small coffee shops have popped up in the city since 2016.
"In around 2014, boutique coffee shops in Shanghai set a certain threshold for consumers," he said. "At that time, drinking coffee was like tasting wine. Many people did not know how to place an order."
The 29-year-old said he capitalized on the trend and opened his coffee shop three years ago. His customers include high school students, young females, and older women.
Li said he also hasn't been told by local authorities to resume business. He said he would not put more focus on takeaways after the lockdown, as his shop mostly offers special blend coffee that requires it to be drunk straight away for a better flavor.
"Whether our revenue can recover to the pre-lockdown level depends on whether dine-in service is allowed," Li said. "A coffee shop is more of a place to connect with people. If you order coffee online, it's nothing more than just getting a drink. It doesn't add any story or plot to your day."
Editor: Bibek Bhandari.

(Header image: Crowds gather at Shanghai's streetside cafés in Shanghai, June 1, 2022. Luo Meihan/Sixth Tone)