SHANGHAI — Coffee culture in Shanghai is more than just drinking coffee — it's about the cafés, too.
China's commercial capital is dotted with thousands of cafés, brewing in the chic alleyways and streetsides of the former French Concession to the waterfront area in the Bund and everywhere in between. Catering to a wide range of coffee connoisseurs, there are cafés where a bear claw hands out coffee from a hole in the wall, some with a cave-like ambiance, and others with minimalist décor fit for a caffeine kick and a selfie click.
According to consumer review platform Dianping, Shanghai is now home to 7,673 coffee shops, including boutique coffee houses as well as domestic and international chains, all of whom are competing for a slice of the city's coffee market. Research published earlier this year by Chinese media platform Yicai even noted that Shanghai reportedly has more coffee shops than any other city in the world, including New York City, London, and Tokyo.
But in an era of intense competition, will boutique cafés with minimalist decor and minimum capital hold up to major domestic chains like Luckin Coffee and international market leaders, including Starbucks and Tim Hortons, which are expanding their Shanghai footprint? It depends on who you ask.
Huang Xiaochuan moved to Shanghai from his native Guangzhou in 2018, and after a few stints as a barista at a few cafés, he opened Pace Coffee next to a residential compound in downtown Jing'an District. The 25-year-old said he was drawn to the prospect of owning a café because of the city's "great coffee culture" that wasn't limited to the young demographic, unlike in his hometown.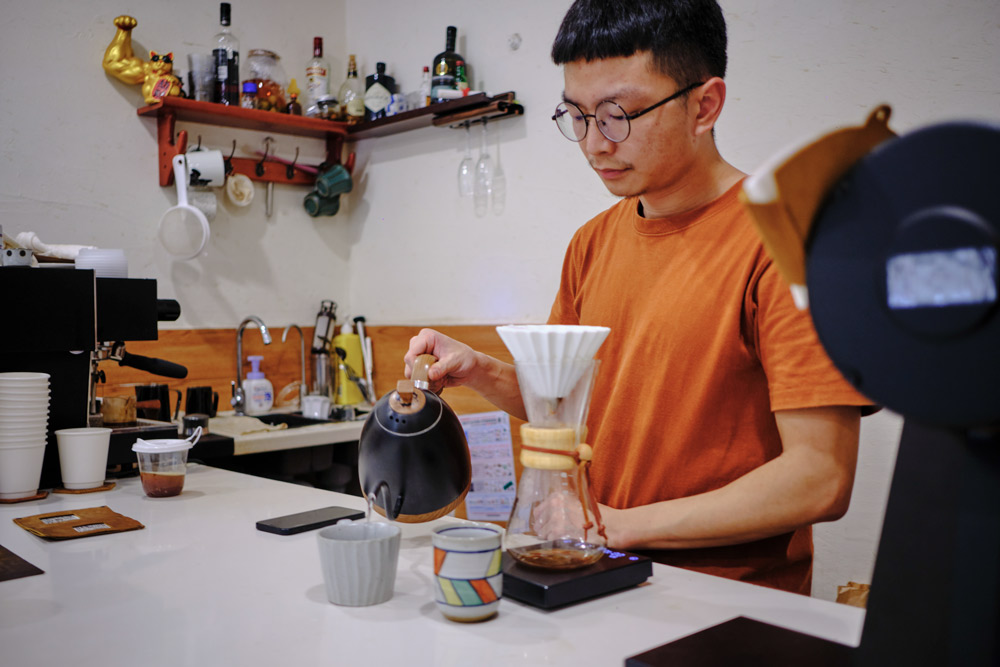 Huang Xiaochuan at Pace Coffee in Shanghai, Sept. 29, 2021. Wu Huiyuan/Sixth Tone
However, the chemical engineering graduate acknowledges the limitations of his self-run business. The hours are long, the funds are limited, and the competition tough — so much so that the opening and closing of coffee shops along Shanghai's streets have become a common sight.
"Once you open a coffee shop, you realize that it cannot be as perfect as you pictured it, and you need to devote an excessive amount of energy to it," Huang said, adding that consumer demands and tastes are becoming more diverse.
And it is Shanghai's growing coffee culture, as well as the expanding consumer base, that has also added diversity in the city's café scene. Apart from independent, self-run stores, the city has been a successful brewing ground for local boutique chains such as Seesaw, Manner Coffee, and M Stand, which were founded between 2012 and 2017.
Now recognized by its minimalist decor, Manner started in 2015 as a two-square-meter hole in the wall in the same district as Huang's Pace Coffee. Over the years, its business has only expanded — Manner now has 165 shops in Shanghai and 29 in other cities such as Beijing and Suzhou, as well as investors such as tech giant ByteDance and food delivery app Meituan, putting its value at an estimated $28 billion.
Meanwhile, Seesaw is valued at around $1.6 billion and owns over 30 stores in major cities, while M Stand is worth $6.3 billion with 60 stores nationwide. The once high-flying Chinese chain Luckin Coffee was operating as many as 4,507 stores in 2019, before a fraud scandal cracked the company's image.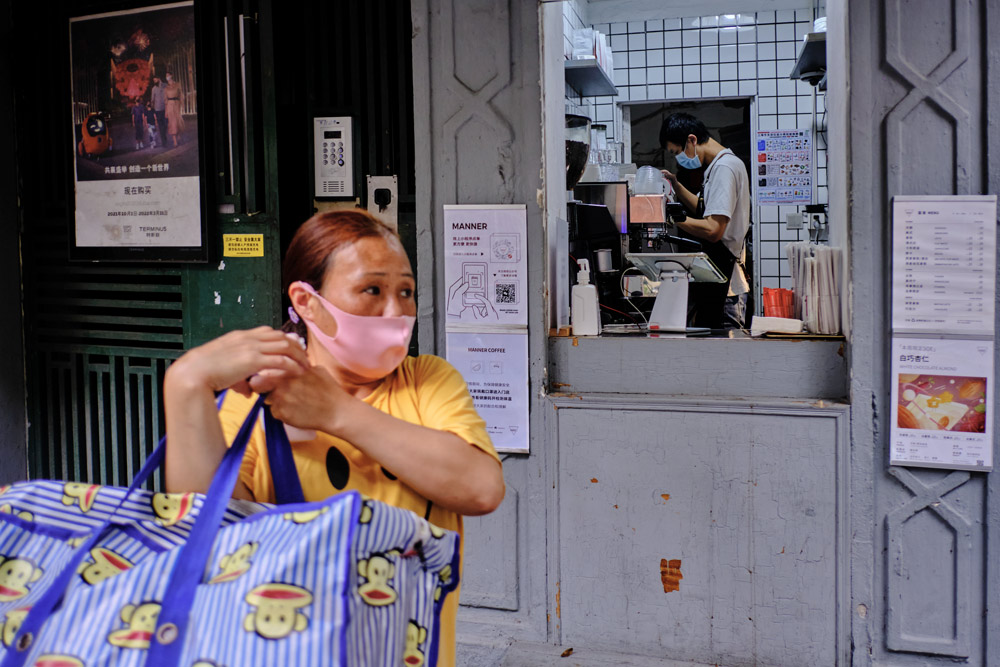 A Manner Coffee outlet in Shanghai, Sept. 29, 2021. Wu Huiyuan/Sixth Tone
But the success of some local players are only a fraction of those achieved by international giants that have picked Shanghai as their gateway into the Chinese mainland market. Starbucks now has 5,100 stores in the Chinese mainland since it opened its first store in Beijing 22 years ago, while its Canadian competitor Tim Hortons has opened around 200 outlets since 2019, with 2,500 more planned across the country over the next five years.
California-based Blue Bottle Coffee, known among some as "the Apple of coffee," is also currently mulling where to found its first mainland location in Shanghai.
The responsibility to aid the expansion of key market players has been entrusted to the likes of Zino Helmlinger, senior director and head of retail of eastern China at the CBRE Group, which claims to be the world's largest commercial real estate services company. When the French executive first landed in Shanghai 13 years ago, he recalled Starbucks as the only visible coffee brand. But over the years, he has witnessed the city's and the country's coffee-drinking habits change.
According to domestic think tank Qianzhan Institute, China's coffee consumption has increased by 15% since the mid-2010s, compared with a world average of 2%. Meanwhile, the country's coffee market size is expected to reach 21.7 billion yuan ($3.4 billion) in 2025.
"Coffee is a highly competitive and over-saturated business segment," Helmlinger told Sixth Tone. "Starbucks changed the habit of drinking tea that was deeply rooted in Chinese culture. They let off the sparks that became a fire. Right now, it's a wildfire in Shanghai."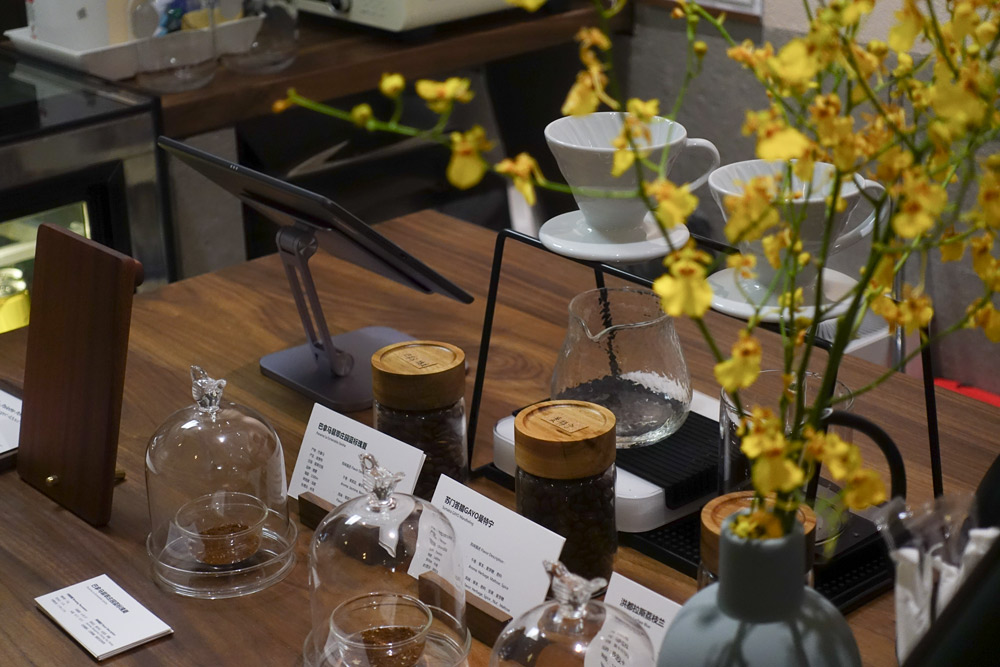 Coffee beans on display at Jojo Tang's PPT Café, Shanghai, Aug. 21, 2021. Courtesy of PPT Cafe
However, though Helmlinger works on behalf of the "big guys," the avid coffee consumer is empathetic toward small coffee owners, too. He said the new breed of entrepreneurs are willing to take risks, even if that means competing with multinational giants.
"It's hard to develop your customers, it's hard not to get eaten by the competition, and it's hard to anticipate cannibalism," he said. "There are a lot of bold people in Shanghai who are ready to try and ready to lose."
Shanghai native Jojo Tang is one of those risk-takers. Before coffee shops flooded the city's neighborhoods, otherwise stacked with xiaolongbao, or steamed soup dumplings, and noodle shops, she grew up in a coffee-drinking family. Giving up her auditor job, she opened a dog-friendly café named Pawer Point Coffee last June and another called PPT Café this August.
The cafés' names hint at Tang's past desk job — PPT is a commonly used shorthand for Powerpoint presentations — stating that she wants her customers to "forget about PPTs" once they walk into the space. The coffee shop is also partnering with a nonprofit to showcase art made by kids with autism, blending business with social cause.
"I hope people can realize that there are other ways to enjoy life outside work, such as with pets and art," she said. "The competition in Shanghai is quite healthy. Coffee shops are branching out into different specialties and the business environment is inclusive."
That's what some specialty coffee shop owners are focusing on instead of directly competing with the bigwigs. Huang believes his "community focused" shop attracts a different demographic compared with chains, which mostly serve "fast coffee" targeted at office workers.
Huang acknowledged that he may face stiff competition in the future and also the threat of business upheavals, referring to coffee shops that he worked at that have shut their doors due to rising rental costs, overhead costs, or even a change of heart on behalf of their owners.
"When you see most coffee shops in Shanghai are backed by capital, it's become a question of how small coffee chops can survive," he said. "Many dream of opening a café, but once you do, it's overwhelming because you need to take care of so many trivial things. I won't be unhappy if I'd have to close my coffee shop one day, because I've already realized my goal of opening one."
Editor: Bibek Bhandari.
(Header image: Customers at Pace Coffee in Shanghai, Sept. 29, 2021. Wu Huiyuan/Sixth Tone)