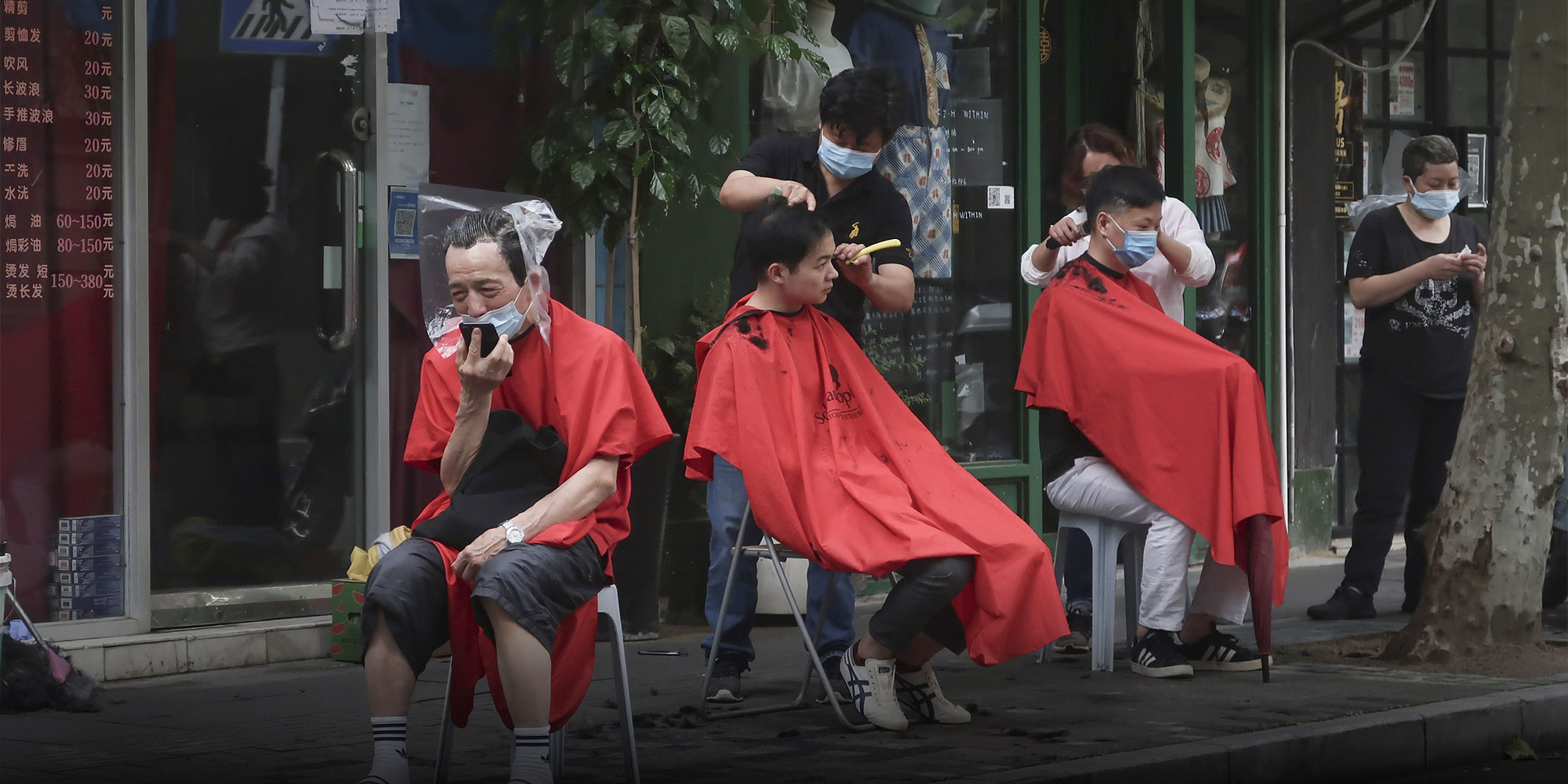 NEWS
Shanghai Reopening Diary: Dogs, and Barbers, Outside on Last Day of Lockdown
Rolling coverage of a city trudging toward normalcy.
After almost two months of total lockdown, Shanghai is gradually reopening. On this page, Sixth Tone will bring you regular updates on the city as we're seeing it.
May 31, 2022
Giving Street Haircuts on Lockdown's Last Day
Shanghai announced Monday evening that all residential compounds in low risk areas will be open from June 1, and the neighborhood committees will not be allowed to block residents from entering and leaving the community. This means that the reopening of Shanghai is really happening.
However, with most Shanghai residents' hair growing like weeds for more than two months, many worry their hairstyle is not ready to meet friends and colleagues.
Days before the official return to work, hundreds of hairdressers have been seen working on the street, especially in downtown Jing'an District. Katie Zhang is one of them. In normal times, she charges 480 yuan ($72) for a haircut at a Jing'an salon. But during lockdown, she's been trimming hair alfresco to help neighbors, charging as little as 50 yuan.
In a phone call with Sixth Tone on Monday evening, Zhang described running a hair salon on streets without a proper mirror and a shampoo station over the last month. This interview has been edited for brevity and clarity.
I started working in late April, when we couldn't leave our compounds. One of my clients is a police officer. He negotiated with my neighborhood committee, and entered my community with a work pass. I was allowed to cut his hair in the outdoor public space within the gate. I took the chance to serve some neighbors. Later, my police friend also took me to another community where a friend of his lives. I was also approved by the neighborhood committee there to do some business temporarily.
I started to go out to the street to do haircuts in May, after getting myself a work pass with the help of my police friend. Usually, I make appointments with customers who manage to go out. Some passersby will come and ask for a haircut, but my schedule has actually been filled by various customers and friends of customers on WeChat the day before.
I have been a haircutting machine in recent days, standing eight hours a day, cutting more than 30 people's hair a day. This is a new record for my 24-year career. Before, my busiest time of the year was the Longtaitou Festival in February, when I sometimes serve up to 20 clients. Chinese believe having a haircut on that day will bring luck.
Today, I set up a station outside the gate of an old client's residential compound. He prepared coffee and cigarettes for me, and then called out more than 30 acquaintances from his community for me to serve.
I feel bad for the condition of some people's hair. Some women who had permed big curls before have not taken care of their hair seriously in the past two months, and it has ended up very coarse and brittle. For those who had dyed their hair, new hair grows out, and it does not match the dyed color at all. I can't save their hair completely, since I can't do a perm on the street. I'm doing my best to style their hair with clippers.
I ask my clients to wash and blow dry their hair at home before coming to me for a cut. I am used to cutting hair when it is dry. I think it's better to adjust the styling after the hair has returned to its natural state. I know most hairdressers prefer to cut hair when it is still wet, but that way the styling from the shop is lost as soon as the client goes home and washes their hair.
It's fine that I don't have a shampoo station, but the hard part now is that there is no mirror. I need to walk around more often than usual, and check all the angles. Some clients get even more nervous than I do and keep asking me to take pictures of their heads during the haircut.
I met a lot of new clients within the past month. In general, everyone is very grateful for my work. I think people have become more united after this lockdown. Of course, there are still some nosy passersby who come over to inquire about my price. When they hear that it's higher than the one next door, they shout that it is so expensive. I have stopped talking to that kind of person. My price in the shop is much higher. I have already made a big discount for the special situation. I come out to work not only for the money, but to find something meaningful to do.
Tuesday might be my last day working on the streets. I miss my studio so much!
— Wu Peiyue; editor: David Cohen.
Even On a Leash, They're Happy to Be Outside
SHANGHAI — It's Monday afternoon at a riverside park in Xuhui District. Some people are taking a walk along the walkway. Some are chatting on a bench and looking at ships on the river, playing saxophone, or doing tai chi. Some younger visitors are skateboarding and picnicking with friends. And other visitors are chasing each other and wrestling, sniffing each other's butts, or barking at everyone who passes by.
Binjiang Park, on the west bank of the Huangpu River, is a favorite with Shanghai's canine population. After two months of very limited walks, they're settling back into their old routines.
Chen Kang lives just 15 minutes' walk from the park. Every day after dinner, he walks his dog in the park for about an hour, which was their routine for the two years, until 25 million Shanghai residents were locked down April 1, amid the country's worst COVID-19 outbreak since 2020.
"When hearing the news, my first concern was how my dog was going to do his business," Chen told Sixth Tone Monday. During the lockdown, residents of his apartment complex were not allowed to walk their dogs even in the courtyard. Many rushed to pick up grass and rocks to make an "immersive experience" for their dogs.
Chen did the same, but his 2-year-old adopted dog wasn't buying it. After two days watching his black-and-white country dog hold it in, he decided to let him out alone to pee and poo in the compound.
"I felt bad about not cleaning up his poop but I was also relieved that he didn't have to suffer," 20-something Chen said.
But a few days later, he was reported by a neighbor to the neighborhood committee who then sent a message in the building WeChat group ordering him to keep the dog inside. "Back then, there were quite a few infected cases in the compound and everyone was anxious," Chen recalled. "I don't want to bring more trouble to others, so I had no choice but to keep him home."
To his relief, after three more days, his dog learned how to pee and poo at home. "I realized dogs are better at adapting themselves than I thought. It's the human who doesn't have the resolution to make the change."
On Monday, the first day he was allowed to step out of his estate gate, Chen took his dog to their favorite park for walking and socializing.
"Everything seems normal here," Chen said, referring to the volume of people and dogs at the park. "When the coffee shops reopen, it'd be just perfect."
Liu, a 58-year-old Xuhui resident, has been dreaming about coming back to the park with her poodle Baobao since the middle of March. Her compound was sealed off nearly two weeks before the citywide lockdown. In mid-April, it was declared a "prevention zone," after which residents were allowed to walk the dogs within the compound.
"But the walk is definitely different," Liu said. "I only walked her five minutes and feared she might catch the virus."
Monday morning Liu finally received a pass, allowing a single member of her household to go out for three hours yesterday and today.
"I grabbed my bag, left my husband at home, and walked my dog out right away," she giggled. "I had to take the opportunity when it's there, because who knows what will happen tomorrow."
Baobao was making new friends at the park. One of them was a five-year-old crossbreed, visiting the park with owner Wang Jiaying.
They had spent three hours at the park by the time Sixth Tone met them.
"I think I'm probably happier than she is," Wang said. "I feel life has almost got back to normal."
In her normal life, Wang usually brings her dog to the riverside park at weekends. Sometimes she goes there alone, sipping an ice latte, sitting in the breeze. When the weather is nice, she goes daytime camping with her friends and their dogs on the grass.
"It's a way of life," 31-year-old Wang said. "It's cool, lively, and relaxing here."
Life has been difficult for Wang in the past two months during the lockdown. Every single day, she's anxious about what would happen to her dog if she's infected with COVID-19. During the lockdown, some pets of people taken to quarantine centers were left at home alone, or even killed by quarantine workers.
She came up with two options. She would either send the dog to a neighbor or leave it at home with enough food and water for two weeks.
But when she read online that all residents in the building where an infected individual lived would all be transferred to centralized quarantine, and people would enter her apartment to disinfect it, she worried her plans might fail.
"Even though the government later clarified the rules, I still feel worried and uneasy," Wang said.
On Monday afternoon, the Shanghai government announced that the citywide lockdown would come to an end on June 1. "I hope it's really the end of it," said Wang. "Both my dog and I need freedom."
— Fan Yiying; editor: David Cohen.
May 30, 2022
Why Don't We Always Let the Weeds Grow?
I live in the New Jiangwan neighborhood of Yangpu District. Today, after almost two months of lockdowns and quarantines, I finally had the opportunity to step out of my residential community gate. Other neighborhoods in the city are allowing residents to make shopping trips, but where I live, the only stores open are a handful of pharmacies. Still, no one wanted to miss their chance to step back out into the wide world.
Since the end of April, we were able to go downstairs for two hours every day. Yangpu has been the most locked-down district in the city since mid-May, so we felt lucky that we were even allowed to spend time in the courtyard most days. Our compound was divided into four groups, given two hours each for exercise.
Even so, we've seen winter turn to spring, and spring to summer. The birds grow louder and louder, and wild grass and flowers spring up. In the last few weeks, I've seen children trying to catch butterflies in the tall grass.
New Jiangwan was the first neighborhood in Yangpu to be allowed on the street. Thursday, shortly after 10 p.m., the neighborhood committee sent a message to the chat group with the new rules: Residents could leave the compound once every two days, for a maximum of two hours at a time. I set a goal for myself: No matter what, I was going out the next day. The past two months have taught me never to wait on these things; opportunities like this often only come once.
At 7 a.m., I woke up and welcomed my new beginning with an at-home COVID-19 test followed by a nucleic acid test. I got my entry-exit pass with my nucleic acid test. At that moment, my emotions were all over the place. I went home to get ready, even though the passes wouldn't take effect until 3 p.m.
First, I had to pick an outfit. I'd spent the past two months wearing pajamas, only tossing on a jacket and some pants when I went downstairs. I skipped right over my spring wardrobe. I was finally going to wear the summer clothes I'd pulled out over the past two weeks.
Then I packed my bag. During the lockdown, I'd pretty much only gone outside for COVID tests. It was enough to stuff my keys and phone into my pocket before heading downstairs. While I only had a walk ahead of me, I crammed my bag with a water bottle, an umbrella, a backup face mask, some disinfectant wipes, a shopping tote — what if I found a shop open? — and some snacks. I'd barely exercised while at home, and on the off-chance I got tired and couldn't go on, I'd have a way to replenish my energy.
My final preparation was psychological: I had to shift my mindset from listless to engaged. I slid my pass into a plastic sleeve and carefully placed it in my bag. Just looking at it lifted my spirits.
The moment I stepped outside the community gate, it was as though I could see the sun for the first time in months. As I filmed the moment with my phone, I sighed: "At last, I'm out." The security guard at the gate jokingly asked why I would say that on a livestream, but I wasn't livestreaming; I didn't even plan to post the video to social media. I just wanted a record of this important moment in my life.
The world outside was at once strange and familiar. All the shops were fenced off. I checked the dates on the fences and saw they were put up in May. The stores had been closed a long time by that point, so I'm not sure what the point of the fences was.
I left my community with a new friend from lockdown. Like me, she lives alone. We planned to walk to the nearest metro station, two and a half kilometers away. There's a shopping center there, though we knew it would still be closed. The road there had always been a pleasant green corridor. But after two months without cars or people, the medians had become veritable forests. The plants were showing off new blossoms with the exuberance of a ballroom of debutantes, each one more colorful than the next.
As we walked, we came across weeds and wildflowers sprouting from every crack in the city's surface — even the benches were shot through with sprouts. Lawns were a tangle of wild grass, dotted with flowers. When the wind rushed through them, they sounded like fields of grain. From a distance, the sight reminded me of the grasslands in my hometown in Xinjiang.
I guess they were weeds, but I couldn't stop looking at them. I hadn't realized how much I'd missed living things. If people just leave them alone, plants and animals thrive. That's not to say we should lock everyone up for the sake of other species, but maybe we should change the ways we interact with nature.
The hedges along the road had grown to almost my height. More remarkably, they were flowering for the first time I could remember. Normally, they're kept tightly cropped and trimmed. They'd never had an opportunity to bloom, and were seemingly intent on seizing their chance. The cherry trees, too, were sporting fruit. How had I never seen that before?
In a small park along the riverside, the seeds of wildflowers had mixed with their cultivated cousins to make beautiful matches. Some passersby plucked flowers for themselves; others harvested mugwort to hang during the coming Dragon Boat Festival. When we stopped to chat with an older woman, she shared some of her harvest with us — an unexpected windfall.
Elsewhere along the riverbank, we passed a small community vegetable garden. In it, an older gentleman was digging for potatoes. He told us that the rest of his vegetables had been stolen; the potatoes were all that was left. The garden had once been neatly manicured by area retirees. Now, it was overgrown with weeds, with hardly a vegetable in sight.
We walked, snapping photos all the while, for an hour before we reached the metro. The number of other people on the street began to rise, and traffic police were everywhere. The shopping mall was completely fenced off. Outside the barriers, people stood and snapped photos, probably thinking to themselves of the food and shops within, or perhaps of their life over the previous two months.
Like us, this was probably their first time outside their apartment compound in two months. There wasn't anything to do but walk around, but their excitement was palpable. As they took in the wild growth around them, taking photos all the while, they, like us, marveled at nature's magic.
My neighbor and I agreed that these scenes of unchecked growth were beautiful. Why should plants be pruned and trimmed to suit human plans? Why should anything be?
— Feng Jing; translator: Kilian O'Donnell; editor: David Cohen.
Shanghai Promises End to Lockdown for 96% of Population
Up to 96% of Shanghai's residents could be out of lockdown on Wednesday, the city government said in an announcement Monday evening. Shanghai announced that most people would be allowed to enter and leave apartment compounds from Wednesday "without any restrictions."
About 890,000 people will remain in lockdown, in areas which are still considered at risk of COVID-19 transmission...
May 27, 2022
Thanks for Saving the City. Now Move That Tent!
SHANGHAI — For weeks, thousands of delivery workers have been living on the streets to bring food and other essentials to Shanghai's locked-down millions. Many had to sign pledges not to re-enter their apartment buildings and wound up living in tents. Now that the city's opening up, they're being told to get packing, five delivery drivers told Sixth Tone.
Wei Xiao, a Meituan driver in Jing'an district, told Sixth Tone that he's been hiding since he saw police and police cars gathered at the intersection of North Baoxing Road and Yanchang Road on Thursday at 8 p.m., dispersing rough sleepers and asking them to put away their tents. Wei Xiao is a pseudonym to protect the source's privacy.
Two Ele.me drivers resting under a viaduct told Sixth Tone that over the past weeks, the government has sealed off many sleeping spaces under the viaduct with baffles to prevent the drivers from staying overnight.
"If you get dispersed here, you move to another place, and then get dispersed and move again. Sometimes you can't sleep all night, and you have to work the next day. This has been the case since the beginning of the lockdown," one of the two, surnamed Zhang, said.
A Shanghai-based documentarian told Sixth Tone he's heard many similar stories talking to drivers in Jing'an district last night. He has been following a group of delivery drivers in the past several weeks and documented their hunt for a place to stay in a Twitter thread on Thursday night.
"There were tents being told to move every now and then but yesterday was much more intense. Suddenly they have nowhere to go," he said.
Food delivery platforms Meituan and Ele.me announced in their apps for drivers Thursday afternoon that camping will no longer be allowed after June 1. "All delivery riders must find accommodation or return to the community, and are not allowed to sleep on the streets, bridges, and public places, and are not allowed to set up tents or sleeping bags in non-government or platform placement sites," the announcement wrote. "Riders who sleep on the streets will be urged to return, their e-passes will be canceled, and legal responsibilities will be pursued if they do not cooperate with law enforcement."
It's easier said than done. "For now, my residential compound won't let me in, and I don't know where the free hotels are," Wei said.
To avoid being noticed by the police, Wei set up his tent behind a stand of bamboo Thursday night. "The bamboo is very dense. My tent has a camouflage pattern. People can hardly see me," Wei told Sixth Tone. "Believe it or not, I set up the tent right next to a police station."
Wei said some of his driver peers encountered the dispersal yesterday, and had to keep moving around until they were able to settle down after midnight. "Police don't care any more after 12:00 am," Wei said. "Now, I can hardly see tents on the streets during the day."
Wei got a pass permit by registering as a full-time driver for Meituan, and started to work and live on the streets from May 10. Before the lockdown, Wei was a part-time Meituan driver and worked multiple hourly jobs to make ends meet in Shanghai.
Wei is upset about the wretched situation faced by thousands of delivery drivers like him. "If the deadline set by the platform is June 1, why do they start dispersing us now?" Wei asked.
— Wu Peiyue, Ye Zhanhang, Lü Xiao; editor: David Cohen.
Invitation to a Supermarket
It was a precious day out Wednesday for people living in Xinjing area, Changning District. The neighborhood announced a new round of PCR tests on Monday, and then residents with exit passes could go out Wednesday and Friday. The streets even got a little crowded. 
Many people headed to the supermarket. You need four things to get in: a green digital health code, a negative PCR result from within the last 48 hours, an exit pass issued by the same subdistrict, and an invitation card from the store.
The supermarket was the only shop open in the whole mall. With most of the lights off, the lobby looked spooky. The subway station right next door was closed too, with one of the entrances blocked with barriers and share bikes.
In front of Hema, part of a grocery store chain run by Alibaba, there were 15 to 20 people lined up, waiting for about 15 minutes to get in.
Some found themselves unable to enter, as they had failed to obtain an invitation card. These cards, which are issued by local residential committees, are in short supply.
Inside the supermarket, most of the shelves were empty. There wasn't much to choose from, but customers enjoyed the feeling of shopping and grabbed as much as they could.
The snacks and drinks section was the only area where the shelves were full. Every customer was only allowed to buy two of each item.
While most people went shopping, some just hung out on the street and tried to enjoy nature. Along the Xinjing river, several old men found their favorite spots and started fishing. 
Wang, 78, has been sitting here and fishing for over three hours, and has caught five big fish and three little ones. He is only allowed to be out for four hours each time by the community. With not much time left, he was hoping to get one more fish before heading back home.
Wang was in the navy in his 20s, and he's always felt a tight bond with the water. He said lockdown wasn't too hard, except that he couldn't go fishing.
This is his second time fishing since the lockdown began. The first was Monday, May 23. 
"When people reach a certain age, it becomes hard to stay home all day. I need to get out, walk, and do some exercise. Otherwise, there's not much I can do," said Wang. "I'm so glad that I can finally go fishing again and breathe in some nature. Just being here makes me happy."
— Chen Si; editor: David Cohen.
May 26, 2022
In-Person Classes to Resume June 6
Shanghai is set to resume in-person classes for most high school students on June 6 after more than two months of virtual lessons due to the COVID-19 lockdown, the city's education authority said Thursday. Similarly, those in their final year of middle school are allowed to go back to school on June 13.
The city's lockdown has disrupted class schedules for high school seniors preparing for the grueling college entrance exams, or gaokao. Those studying for the high school enrollment exams, or zhongkao, have also been affected.
Shanghai postponed both the gaokao and zhongkao by a month in early May amid a worsening coronavirus outbreak. The exams will be held in July this year.
Though students can return for in-person classes early next month, authorities also emphasized they wouldn't be mandatory for now. Students and their families can continue opting for online classes.
— Ni Dandan; editor: Bibek Bhandari.

May 25, 2022
View From a Pudong Mall
It was drizzling Tuesday afternoon, but that didn't dampen the spirits of some Pudong New Area residents from venturing to the mall. After all, they've been locked in for weeks.
The upscale Taikoo Li Qiantan is the first such venue to reopen in the city's financial district after nearly two months of lockdown. It opened its doors for visitors Friday.
This week, many residential compounds in Pudong have been gradually relaxing restrictions and allowing people to step outside for a limited time — though days and duration vary from one community to another. They can walk, bike, or use their moped — not their cars though.
A few supermarkets and convenience stores are open, along with the Taikoo Li Qiantan mall.
At Taikoo Li, the three entries into the shopping mall were not as busy as expected. Before entering, visitors scanned their health QR code and had their body temperature taken. They were then given a sticker, indicating they were good to go.
"It's not busy on weekdays," said a security guard. "But we received many visitors last weekend. Around 40 businesses in the mall have resumed operations —most of them are coffee shops, restaurants, and a few designer stores."
Most visitors walked around the mall and its outdoors space, taking photos and filming their first trip to a mall in weeks. Children in raincoats and boots splashed the rainwater in the puddles.
Inside, most shops kept visitors a few meters away from their entrance. The shops also had QR codes for people to scan and place their orders online.
A few people waited outside a designer store that was only allowing two to three customers each time. Some were waiting for their takeouts, as the smell of freshly brewed coffee wafted in the air.
"All of our pizzas are sold out," said Hao Jie, a member of staff at a restaurant serving Western food, adding they ran out of stock in just three hours after opening on Tuesday.
A receptionist at a restaurant serving cuisine from the southwestern Guizhou province said they were experiencing a staff shortage in the face of an increased demand for food. They were also having difficulties sourcing necessary ingredients for certain dishes.
"But the reopening is a good start," said the woman.
The mall has banned indoor dining but there is an outdoor space that allows visitors to eat or drink. A handful of people lingered there despite the drizzle, and all had their masks on.
While many had come to the mall for the first time since it shut in late March, some hadn't left at all.
A sanitation worker named Wang Xiafeng, along with some 30 others, have spent the entire lockdown inside Taikoo Li Qiantan. They lived in a designated area on the second floor and carried out their daily tasks despite there not being any visitors.
"I chose to stay because I want to be fully paid," she said. "For people like me, who are far away from home, the main purpose of life is to make money. Luckily, my income hasn't been impacted."
— Ni Dandan; editor: Bibek Bhandari.

May 24, 2022
A Day Out in One District
People chatting across a fence on a sunny day. A line at the grocery store. A strawberry ice cream handed to you at a convenience store door. It may sound normal elsewhere, but this last weekend in Shanghai, they felt like little miracles.
After a few false starts, the reopening of Shanghai has begun, one downtown district at a time. Many residents of Changning, a district just northwest of the city center, spent the weekend outside for the first time in just over 50 days.
This wasn't the first time people have been allowed out, but it's the largest scale move toward opening since the start of the lockdown. Across the district, communities allowed designated stores to open to locals, and issued exit passes allowing residents to go out. A few subway lines are even running, taking a few passengers to airports and train stations.
It came as a surprise to us. Shanghai has laid out a rough reopening timeline for the end of June, but details are scarce, and the great majority of the city is still locked down.
I got my pass Friday, and at first I wasn't sure what I could do with it: it says on the back that each household is to send only one person to the shops every other day, for no more than three hours, and asks you to write what time you leave so they can check.
The truth was a lot more accomodating. The next day, our "building monitor" handed us another pass and encouraged us to use them to take a walk — and we quickly found that we weren't alone.
There are checkpoints — I think they're at the boundaries of the district — at which police ask to see the passes. And stores seem to take the restrictions seriously, turning away people without a local pass. And at least one subdistrict in Changning changed its mind Monday, telling residents their passes had been suspended.
On our first walk, people seemed dazed. Last time we were out, the trees were bare; now it's the humid start of summer.
Many wandered in the middle of the streets, or stood taking pictures of once-ordinary scenes. Two women sat in a bus shelter, chatting as though it were a cafe table. Some streets were covered in the remains of months of delivery, with mountains of cardboard and styrofoam boxes cascading out of doorways. But by Sunday, the Shanghai spring felt a little more real, and we passed more people out for a promenade or a bike ride.
We seem to have the run of the district for exercise, but we're only allowed to shop in our own subdistrict, an area of about a square mile. It's got a few convenience stores and a small grocery store with a prohibitively long line. The official list for my subdistrict includes a supermarket, but it's not actually letting people in. Several nearby subdistricts even got to visit a Carrefour supermarket chain.
A few restaurants and delis were open for delivery, but wouldn't serve takeout to customers. You can go on an app and order a delivery driver to pick up some takeout and hand it to you.
So mostly what there is to do is to walk. And people are walking. For now, that's enough.
— Dave Cohen; editor: Bibek Bhandari.
(Header image: Barbers offer hair services to residents in Shanghai, May 29, 2022. VCG)