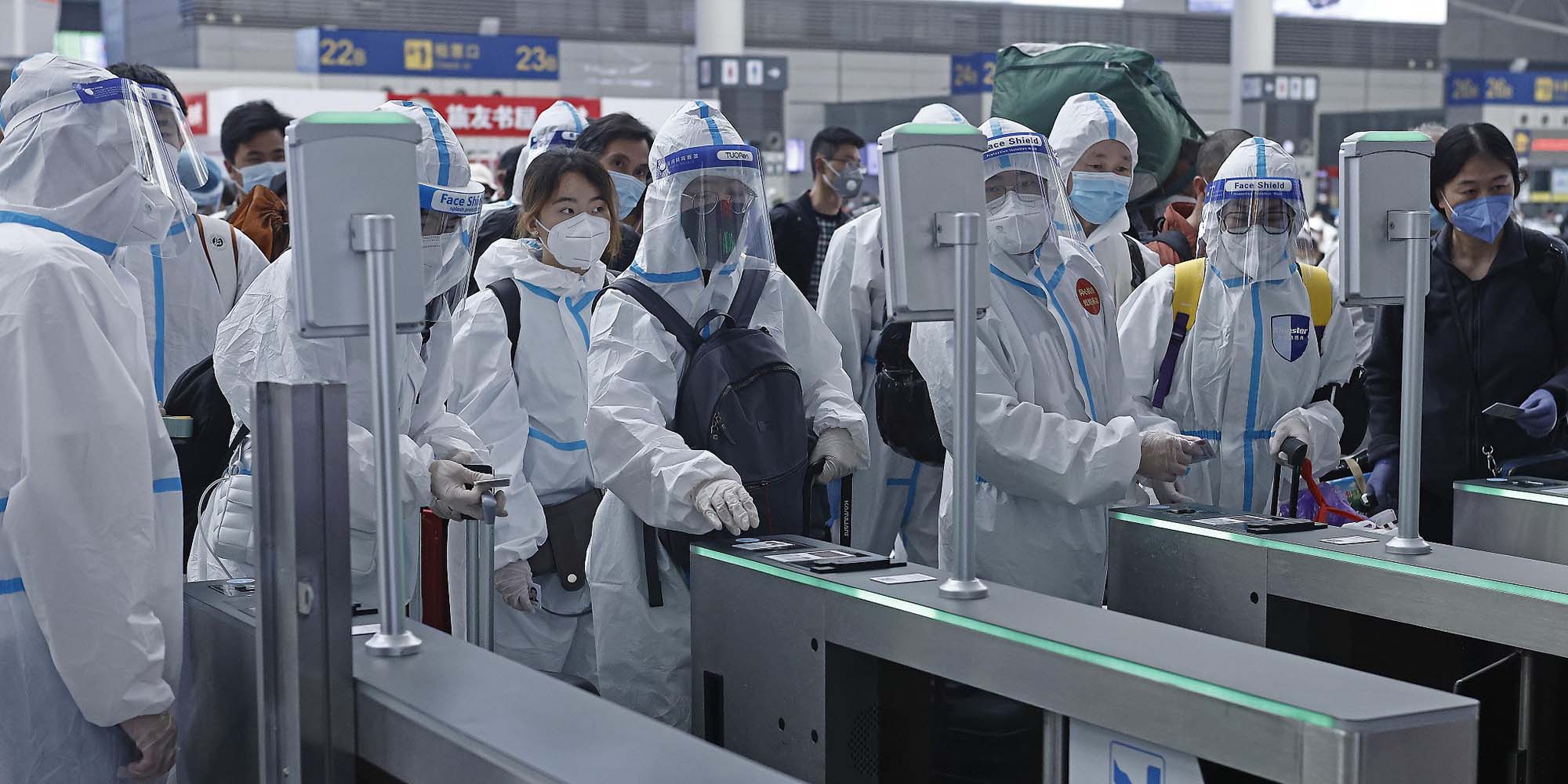 NEWS
Leaving Locked-Down Shanghai Is Hard. Returning Is Harder.
Limited transportation and unclear rules have kept many residents away from their homes.
When Yu Xiao left Shanghai for a vacation in the Tibet Autonomous Region, little did she know it would stretch for two months and she would be locked out of her hometown.
Shanghai has been virtually disconnected from the rest of China since a lockdown was abruptly imposed on March 28. What was supposed to be a staggered nine-day shutdown has now lasted for over 50 days, disrupting daily life.
Yu said all of the 10 flights she had booked from Lhasa to Shanghai between April and May were canceled. The flights were canceled from a week in advance initially to just within hours of departure time.
"I feel guilty for not being able to be with my family in my home city during such a difficult time," Yu told Sixth Tone, referring to the hardships millions of people have endured during the lockdown.
Many out-of-towners stuck in Shanghai have described multiple difficulties in leaving, and those willing to return to Shanghai from other parts of the country face similar ordeals. A trip to and from Shanghai has become incredibly difficult as only a handful of flights and trains operate.
On Monday, when the city government announced it would gradually reopen the city, only 16 trains carrying around 6,000 passengers departed from Hongqiao Railway Station, according to Sixth Tone's sister publication, The Paper. Fewer than 1,000 people arrived at the station that same day.
For context, Hongqiao Railway Station is Shanghai's busiest transportation hub, ferrying around 160,000 passengers on an average day.
With limited trains and almost no long-distance coaches running, Lu Xiongming has been unable to return home to Shanghai. The 60-year-old was in his hometown in the neighboring Jiangsu province to sell his apartment when the Shanghai lockdown was announced.
"I thought of taking a train first to Nanjing, which still had trains to Shanghai," said Lu, who moved to the city to live with his son's family 10 years ago. "But my son reminded me of the increased health risks on the long journey. I'm worried about putting my young grandchildren at risk."
In Lhasa, Yu said she frantically followed the developments in Shanghai from her hotel, trying to figure out a way to return to her apartment. Aside from checking in on the flights, she also attempted to call her neighborhood committee.
Neighborhood committees have mostly taken up the role of enforcing lockdown rules, as well as granting entry and exit approvals for residential buildings under their jurisdiction. Yu said she made "hundreds of calls" and was shocked to find out they had only let people out but hadn't allowed those from outside the city to move in. 
"Their line was always busy," she said. "They told me to first go to the front gate of the residential compound, and they would then help sort out the rest of the problem."
Yu said she was already losing patience and her savings. She was spending 800 yuan (around $120) a night for the hotel in Lhasa in addition to paying her rent in Shanghai.
"The landscape is amazing in Lhasa, but the prolonged stay there was another type of isolation for me," Yu said. "No one could share the same feelings."
Lu in Jiangsu said that he has spent the past month living with a relative there. He often calls his grandchildren in Shanghai but feels a void being in a place that was once home.
"I don't know what else I can do," he said. "My social connections are almost all in Shanghai. I feel lost."
Lu is unsure when he might be able to reunite with his family in Shanghai. Yu, meanwhile, said she decided to gamble and flew to Hangzhou, an hour's train ride from Shanghai, on Saturday.
"I feel I'm almost halfway home," Yu said, adding that she was still figuring out how to get into Shanghai after being away for more than two months.
And even if she secures a train ticket to Shanghai, she's worried about making it to her apartment. She lives 30 kilometers away from Hongqiao Railway Station, and there is currently no public transport running except for a few authorized taxis.
Yu is now debating if she would be willing to walk or try finding a taxi driver who might make her trip easier. But she is still worried about whether her neighborhood committee would then actually allow her in once at the gate after all that effort.
Editor: Bibek Bhandari.
(Header image: Passengers enter Hongqiao Railway Station in Shanghai, May 17, 2022. CNS/VCG)