When she applied for the job five years ago, Wang Rui thought it would be stable, relatively easy work. She didn't expect she'd wind up responsible for implementing China's zero-COVID policy.
"I'm now routinely working weekends," the 36-year-old told Sixth Tone between dinner and a late-night meeting Tuesday.
Wang is a wanggeyuan, or "community grid worker," in Quzhou, a city of around 2 million in the eastern province of Zhejiang.
Since the city's first Omicron cases were reported in mid-March, Quzhou has confirmed over 100 COVID-19 cases. The city rushed to lock down its residential compounds. The city's grid workers are on the frontline, responsible for maintaining order, making announcements, and arranging nucleic acid tests.
Wang's counterparts in Shanghai, a city of 25 million currently in its third week of lockdown, have it even harder. Few residents knew their community workers — known in the city as kuaizhang, or "block captains" — until the present general lockdown. These previously forgotten grassroots workers have been pushed to the brink of collapse in the city's fight with COVID-19.
On the frontline
Grid management was first introduced in 2004, when Beijing's Dongcheng District divided its area into a grid and recruited officers to patrol each cell of the grid and detect problems. Originally, these officers focused on issues with street lamps, trash bins, and missing manhole covers. One officer is usually responsible for one apartment complex, or, if the complex is larger, some of the buildings in the complex.
But their responsibilities have grown over the years. "We work to address conflicts among neighbors, and residents' complaints about infrastructure and facilities. There's also a huge amount of work when it comes to projects like the national census and 'creating a civilized city,'" Wang said. "During special periods like the coming Asian Games and the annual Two Sessions, there's additional work to make sure nothing goes wrong in our sector."
During lockdown, Wang is busy with organizing frequent rounds of COVID-19 testing and replying to residents' questions related to the ongoing pandemic. One of the most common questions, she says, is whether people who were away from the city can return.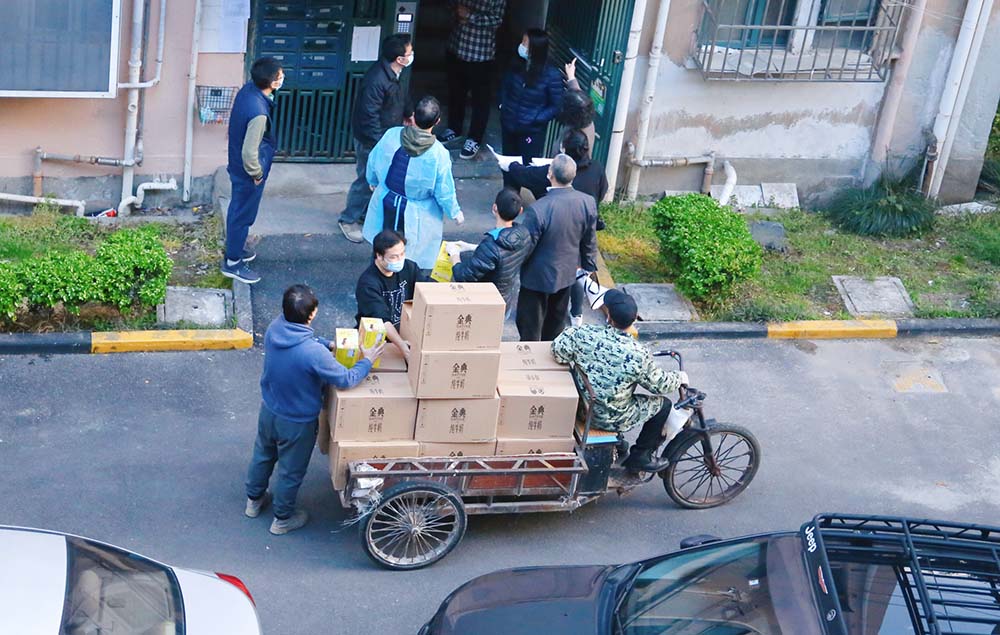 Grassroots workers and volunteers deliver groceries at a compound in Shanghai, March 26, 2022. IC
In Shanghai, block captain Li Yingjun managed 21 buildings, home to 270 households, in an old compound in downtown Pudong before he resigned at the end of last month.
Before he quit, he spent nearly two weeks inside the residential compound he worked in because of the severe outbreak of COVID-19 in the city. "Luckily, a warmhearted resident invited me to sleep at his home. I didn't have to sleep in the office."
Community workers are not assigned to the compounds they live in, to prevent favoritism. Many have spent the lockdown period camping in their offices.
"My health didn't allow me to work like that anymore. My family has a history of liver disease. I can't continue staying up late," Li told Sixth Tone. "And I had to leave my parents at home, with no idea how to arrange group purchases, asking their neighbors for food every day."
After the lockdown started, the 39-year-old said there were just two people in the compound office responsible for a total of 530 households. "They complained about the shortage of daily supplies and essential medicines. There were endless calls to answer."
Li said, "In a crisis like the pandemic, our job is more to comfort residents. If you're not familiar enough with the residents, how will they be willing or patient enough to listen to you? It's easy for you to get into a quarrel."
Tough job
Wang applied to take part in community work in 2017. She passed exams arranged by the district-level civil affairs authority. "I won't say it's a well-paid job. The income is all right. But most importantly, it's a very stable job," the woman said.
She's making around 4,000 yuan ($620) a month, which is a bit lower than the city's average. The job's biggest draw, says Wang, is that it offers an inside track into the civil service.
"In addition to stability, it promises career prospects," she said. "If you pass special exams arranged for grassroots officers, you can join the civil service," she said. "That means a significantly higher income. But there's an age limit, which is 35," she added.
Wang Rui has missed the age limit. Instead, she's hoping to be promoted to be the director of the residential committee. "I'm happy to work just inside communities for the rest of my career. But it's always better to have a goal in mind."
A college graduate, Wang previously worked as an accountant at a small business. When she joined the neighborhood office, she was one of seven grid workers. Now, there are 10, responsible for nearly 7,000 residents.
"In some parts of Quzhou, communities struggling to cope with the work of their full-time grid management officers hire residents to do the job. These temporary officers get stipends of around 1,000 yuan a month to provide support."
Each cell in Quzhou's grid is composed of 300 to 500 households, and the city employs around 20,000 grid management officers, including temporary officers.
Wang said the job was challenging for her at the beginning because she was too introverted to start a conversation with a stranger.
"But that's what we were supposed to do," she recalled. "When I started, I visited the 300-plus households in my sector door to door. Understanding their family and making everyone know I'm their grid officer are the basics of my job. They know who to turn to if they encounter any difficulties in their community life," she said.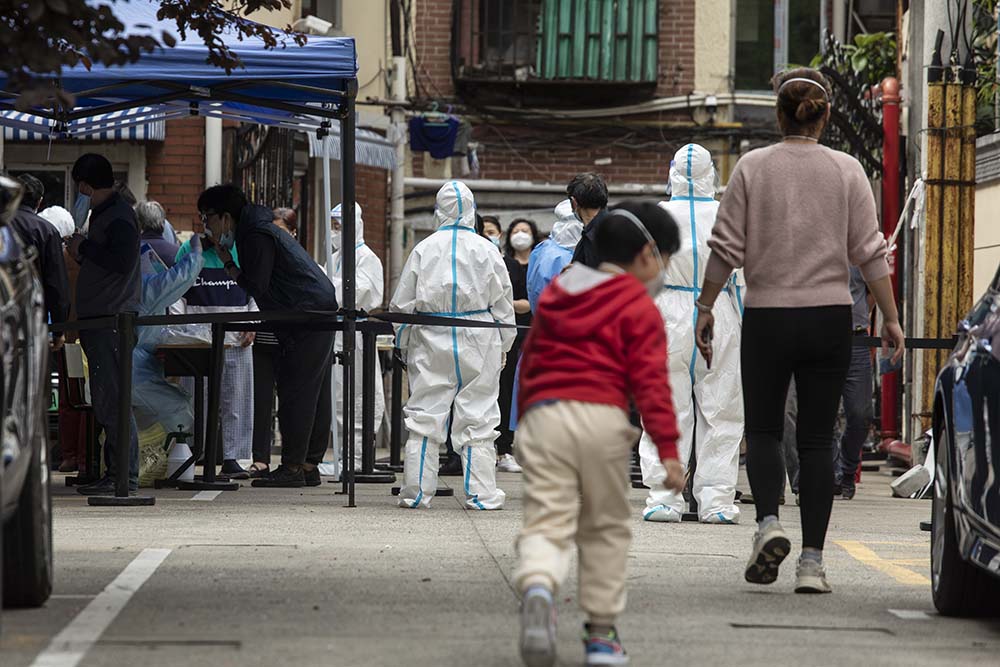 Residents take part in a round of Covid-19 testing during a lockdown in Shanghai, April 24, 2022. Grassroots workers and volunteers are responsible for keeping order. Qilai Shen/Bloomberg via Getty Images/VCG
Wang is in dozens of local groups in the messaging app WeChat. Many times a day, she replies to the questions residents ask there. But in special periods like the recent outbreak of COVID-19, Wang said she personally cannot cope with the workload and has to turn to volunteers for help.
"I'm managing a team of 40 volunteers. I gave them training on how to register people for the nucleic acid tests and how to arrange a line for the tests. It's not that difficult," she said.
Grid workers are evaluated based on metrics including feedback from residents in their district and the physical condition of the buildings. "The evaluation doesn't impact my income, but it's more about the sense of responsibility," she said. "You know exactly who are the residents you are responsible for and if anything goes wrong for them because of my work, I'll feel extremely guilty."
Inside track to the civil service
When COVID-19 first broke out in the central Chinese city Wuhan in 2020, grid management played a key role in the country's first lockdown. The job is very popular in the city: in mid-2020, 3,800 people applied for 38 seats in Hanyang District.
Wu Yufei, who became a grid officer last year in Wuhan, said she chose the job for its stability and ability to boost her chances of becoming a civil servant. "The grassroots experience will benefit me in my plan to join the civil service," the 27-year-old told Sixth Tone.
Wu worked two years in the real estate business before applying to work in grid management. "The competition in the civil service exam is too tough. It's easier to get to that goal by first taking a job as a grid management officer," she said.
Li, in Shanghai, said when he joined community work five years ago, he didn't see the job as a way up.
"I never thought about promotion. I chose the job just because it is stable. The income supports basic needs," he told Sixth Tone. He made 5,100 yuan a month, far below the city's average.
Before the pandemic hit, Li said, his sector didn't have WeChat groups bringing its residents together. Instead, he coordinated with representatives from each building. "They're almost all retirees, except one freelancer. Being the representative of a building requires lots of time and energy," he explained. "They help to deliver messages from the residential committee to every household in that building. And our old buildings don't have elevators. They visit neighbors door to door. These warmhearted neighbors don't get paid except for some small gifts we give them around the end of each year."
It was not until mid-March when the buildings in his block created WeChat groups for all the people living there to join. Li was in each of these online groups. "I tried to answer their questions while I continued to receive lots of calls in the office," Li said. "However, in Shanghai, many block officers are a mystery to their residents."
In other compounds, block captains have refused to join residents' WeChat groups. "There's so much going on and she didn't want to engage directly with residents. That would mean a lot more workload and pressure on her," a building representative in another compound in Pudong, surnamed Lu, told Sixth Tone.
"The pay for grassroots officers was never in line with what's asked from them," Li said. "But with the full support from the neighbors, I spent the past five years working happily in the community. If it weren't for the pandemic, I wouldn't have quit the job. I loved working in that community and staying close with those neighbors."
Editor: David Cohen.
(Header image: Two grassroots workers check the vegetables donated by other province in Fengxian District, Shanghai, April 7, 2022. IC)