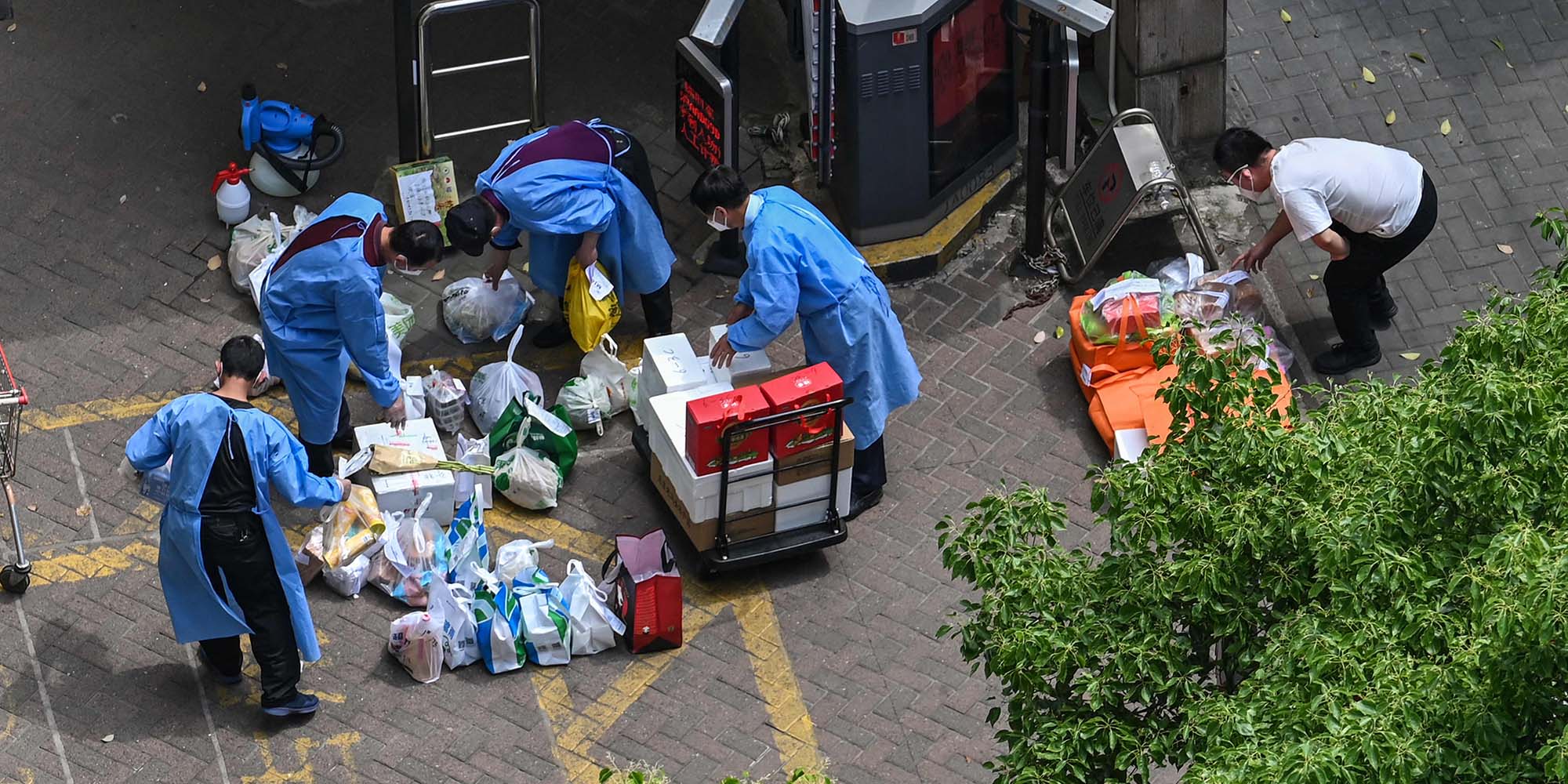 NEWS
Shanghai's Lockdown Rules Aren't the Same for Everyone
While some neighborhood committees allow residents to step outside, others are even prohibiting group purchases for daily essentials.
Shanghai resident Jiang Mina was waiting for government food rations Monday after her neighborhood community restricted bulk buying and ordered residents to stay indoors until May 15. Her community hadn't logged any coronavirus cases for the past 14 days and had previously enjoyed some leniency.
"The food left in my fridge can only support my family of five for another two days," she told Sixth Tone, adding they were allowed to make individual purchases but it was extremely difficult to secure them due to high demand. "We couldn't have survived without the government supplies."
Across the Huangpu River in Pudong New Area, Hu Qing received a similar notice Sunday evening. Her neighborhood also told all residents not to step out of their homes until May 15.
Daily coronavirus cases are dropping in Shanghai, and the level of restrictions have largely been dependent upon various neighborhood committees in the city's sub-districts lately. In the past few days, some have tightened measures to minimize the risks, with the aim of eliminating the virus in their communities in the coming week.
Jiang lives in a neighborhood in Xuhui District that has logged fewer than 10 COVID-19 cases among the 1,000-plus residents since March. Nevertheless, her neighborhood committee tightened restrictions over the weekend.
"Previously we were allowed to have activities within the neighborhood," she said. "We feel it's quite safe because we don't have any COVID-positive neighbors or need to deal with the potential risks that group purchases could bring."
In Pudong, Hu said residents can still make purchases through group buying in her community. On Friday, they were even allowed to go outside their compound for two hours to shop in some of the stores that have been allowed to reopen.
But Hu instead chose to walk her dog by the riverside and enjoy the afternoon breeze and sunshine.
"I have sufficient food supplies," she said. "My neighbors provided various resources for us to purchase what we need."
So far, Hu's community has only had four coronavirus infections, and she believes the neighborhood community has been generously lenient.
"There was basically no restriction on what type of commodities we can group purchase," she said. "We were having sports activities like badminton, basketball, and football before the most recent quarantine measures."
But the situation hasn't been the same for others.
Liu Fanle has stayed indoors since April 1. She lives in the downtown Jing'an District and said she's mostly unsure about the COVID-19 situation in her community.
"None of the households in my building were ever infected, but there are 40-plus other buildings and hundreds of other families living here," she said. "When I called the neighborhood committee for the information, they refused to tell me and said it involves people's privacy. I just want to know why I can't even take a walk in the neighborhood."
As most of her neighbors are older residents, Liu said her community has basically relied on government supplies. Many didn't actively participate in group purchases due to the minimum amounts required to participate, which some considered costly.
"In the past week, two batches of government supplies arrived. The supplies can support the basic demands of many people living here," she said. "But there's more than just getting fed."
Meanwhile, Hu from Pudong didn't have qualms about the recent strict measures. She said they have enjoyed little freedoms such as walking inside their compounds and were ready to temporarily stay indoors again.
"Most of my neighbors have been supportive of the latest move because it somehow gives us hope that we'll probably be able to get back to a normal life in mid-May," Hu said.
Editor: Bibek Bhandari.
(Header image: Workers receive deliveries at the entrance of a building in Jing'an District in Shanghai, May 8, 2022. Hector RETAMAL/VCG)