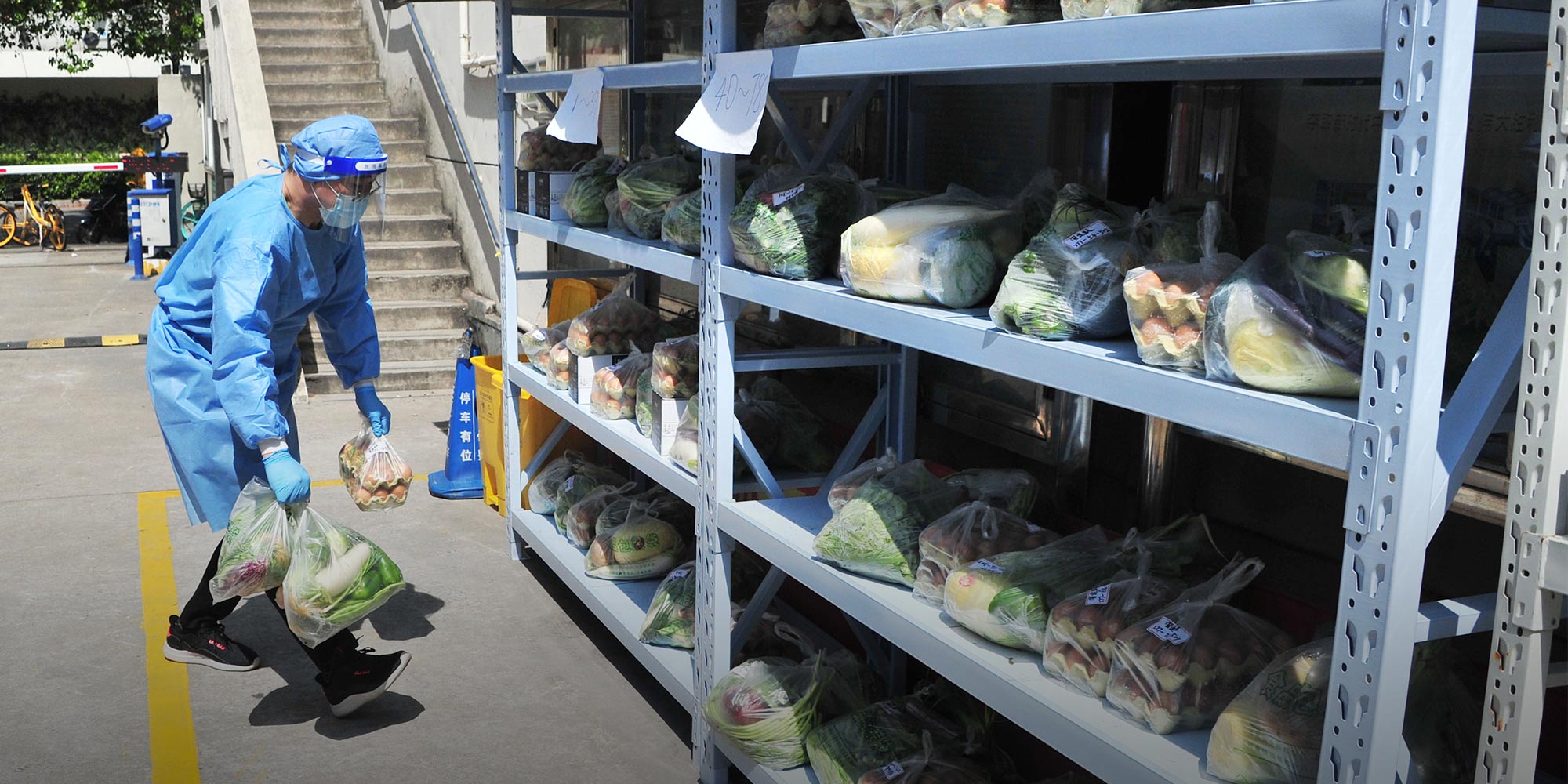 NEWS
'Group-Buying' Becomes a Lifeline for Hungry Shanghai Residents
Communities are banding together to place bulk orders directly with food companies, as e-commerce services in the city remain totally overwhelmed.
SHANGHAI — In the hours before her building went into lockdown on April 1, Ye Qiwei did the same thing as millions of others in Shanghai: She placed a huge grocery order via a delivery app.
The 33-year-old spent nearly 500 yuan ($80) on fruit, vegetables, and meat — far more than she'd need, she assumed, as the government said the lockdown would only last for four days.
She was wrong. Over a week later, her stockpile of food had almost run out — and the lockdown continued with no end in sight.
Many of her neighbors were in a worse position, Ye says. One 80-year-old in her building said he'd been living solely on plain rice for three days.
"I was scared when I heard about it," she says.
Buying more food was almost impossible. Like most of Shanghai's 25 million residents, Ye and her neighbors are banned from leaving their apartments. The only way to order goods was using online delivery services, but the system was totally overwhelmed.
Ye set her alarm for 6 a.m. and 8:30 a.m. each morning, so she could try to place an order as soon as the services started operating. It rarely worked. To date, she has only succeeded in ordering one carton of milk and six potatoes via the apps, she says.
So, like many communities in the city, Ye and her neighbors decided to band together and take matters into their own hands.
Ye, an advertising executive, has taken on a second role: as a neighborhood "group-buying" coordinator.
Ye has set up a special chat group on social app WeChat for anyone wishing to buy milk and eggs. Once more than 60 people have signed up, she places a bulk order directly with a food company, which delivers crates full of dairy products to the residential compound by truck.
"Group buying" has emerged as a lifeline for millions of people in Shanghai, as the city struggles to cope with a breakdown in delivery services that is causing acute shortages of essential goods.
The metropolis is experiencing China's largest single COVID-19 outbreak since the initial wave of infections that engulfed Wuhan in early 2020. Shanghai authorities confirmed nearly 25,000 new infections on Saturday — 23,937 of which were classified as asymptomatic — as case numbers continue to rise.
After initially resisting a full-scale lockdown, local authorities shut down the entire city in two phases starting from March 28. The vast majority of residents are still confined to their homes — or, in some cases, their residential compounds — and are unable to leave even to buy groceries.
The tight restrictions mean that online deliveries are the only way for residents to access food and other essentials. The city's logistics networks, however, have come under enormous strain as a result.
Demand for goods is sky-high, yet most stores, restaurants, and grocery markets remain closed. Online delivery services, meanwhile, are struggling to cope with the volume of orders, as thousands of drivers are themselves locked down.
The result has been widespread reports of food shortages. Many residents say they spend hours each day trying to place orders via delivery apps — often without success. Public unrest has grown, with reports of lockdown violations in some areas.
Local officials have pledged to fast-track measures to free up the supply of goods and allow thousands of delivery staff to return to work. In a press conference on Saturday, Shanghai's vice-mayor, Zong Ming, became visibly emotional as she acknowledged the hardship many have experienced.
"We have not done our work well enough, and there is still a big gap from everyone's expectations," Zong said. "We will do our best to improve."
In the meantime, communities have been banding together to form group-buying collectives — a model that has helped ease the supply crunch by bypassing delivery services such as Meituan and Ele.me.
The neighborhood where Ye lives — a cluster of around 50 apartment blocks on the western side of the Huangpu River — began forming group-buying groups earlier this week. More than 300 people have now joined Ye's milk and eggs WeChat group.
Coordinating the deliveries is a labor-intensive job. Each time, Ye has to collect money from each group member herself, then coordinate the entire buying process: liaising with the suppliers, informing residents of delivery updates, and organizing volunteers to deliver the goods to each member's front door.
"Sometimes, not enough people participate, other times residents don't pay in time," says Ye. "But when we see a delivery truck coming into the neighborhood, there's an uproar because we know the food is coming."
But Xu Wenwen, a resident of another neighborhood in the central Xuhui District, says the group-buying system has brought residents huge relief. Her compound has been locked down since March 18.
She has received three packages of food — two from local authorities and one from her employer, a multinational company in Shanghai — during the lockdown. Yet these still weren't enough to feed her family of five, Xu says.
"I lived in fear every day for a while, worrying about what I would do if I couldn't get food," she says. "I couldn't fall asleep until 3 a.m. and I had to get up at 6 a.m. to try and order goods online. But I failed every day."
In early April, Xu's community set up a group-buying scheme, which finally brought food deliveries to thousands of residents. "I can finally sleep well," Xu says.
The group-buying schemes, however, are also generating controversy in some parts of the city. 
After hearing some of his neighbors were running out of food, Zhao — a resident of another residential compound in Xuhui District — organized a vegetable group-buying scheme for his community. The number of members has risen from 20 to more than 400, he says.
But on Sunday afternoon, when Zhao and a group of volunteers went to receive a fresh delivery, the security guards and property managers at the compound refused to allow them to do so. They said group-buying was an infection risk and kept the compound gates closed, Zhao says.
"I understand they're worried that logistics and express deliveries bring hidden dangers of spreading the virus," says Zhao. "But we also need to eat."
The 100 bags of vegetables are still sitting on the street outside the compound, Zhao says. Zhao is calling for residents in the group to try and reason with the guards and residential committee.
"A lot of these vegetables were bought especially for the elderly," says Zhao. "I'll have to tell them now that we can't buy anymore."
Editor: Dominic Morgan.
(Header image: A volunteer checks food packages ordered through a "group-buying" scheme at a residential community in Shanghai, April 8, 2022. Yang Jianzheng/VCG)