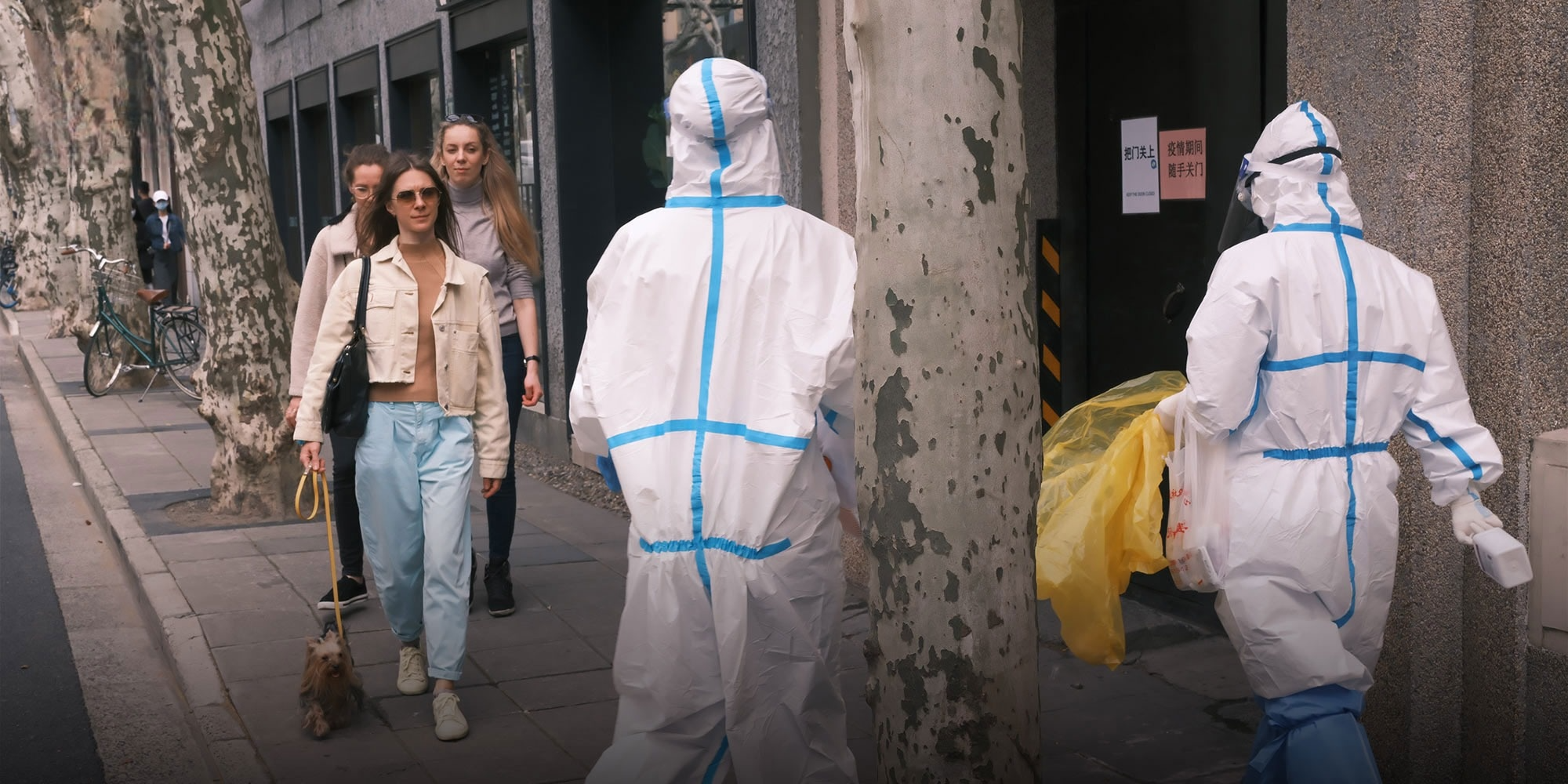 FEATURES
Eventually, China's Borders Will Reopen. Will Foreigners Return?
The pandemic interrupted immigration reforms and drove away many expat workers.
SHANGHAI — Longtime Shanghai resident Alex Shoer's life path typifies that of many foreigners living in China. He arrived, in 2011, for what was supposed to be a short period. And then he just didn't want to leave.
"I really liked it and then decided to stay for one year," Shoer, who is American, told Sixth Tone. "Every year after that I stayed for one more year." He eventually started his own consultancy in Shanghai, Seeder Clean Energy. He had no immediate plans to move away.
In early 2020, while Shoer was traveling in New Zealand, his flight back to China was canceled due to the recent outbreak of COVID-19. With no way to get to his apartment or his company, Shoer went back to the U.S. with the plan to return to Shanghai when possible.
Two years later, he still hasn't been able to.
Shoer now typifies another, growing group of people: foreign nationals who, until recently, called China home. Many left because of China's travel restrictions, which, more than two years into the pandemic, still make it nearly impossible for foreigners to enter the country — or, for those already in China, to visit family and return.
The net result has been a drastically reduced expatriate population. Though the government has not published its own figures, Jörg Wuttke, president of the European Chamber of Commerce in China, reportedly said at a recent forum that the number of foreigners in China has halved. It "could halve again this summer," he said.
Will China's pandemic-era exodus prove a reversible blip once — whenever that may be — the country reopens its borders? Before the outbreak of COVID-19, China's immigration system was moving toward reforms aimed at attracting more talented individuals from abroad. Companies, too, are still eager to hire more foreign workers.
Or will China's foreigner population, already small compared to many other countries, remain smaller still? Besides the effects of the pandemic, crackdowns on disingenuous visas and tutoring companies have shown many foreigners the door. And the exodus, in certain ways, reinforces itself. Some people might leave because those who left before them were their teachers, customers, or friends.
Reduced population
In Shanghai, the Chinese city with the most foreigners, the departure of many of them is obvious to those who have stayed. 
Jason Will, China head of relocation company Asian Tigers, which relocates staff for multinational companies, embassies, and consulates, said that the inbound business of Asian Tigers dropped by 30% year-on-year in 2020, while their outbound business rose "sharply" — the exact figure is proprietary company information — and continued to grow in 2021.
Statistics from China's National Immigration Administration show that the number of foreign arrivals and departures dropped to 4.53 million in 2021, only 4.6% of the 2019 level.
There has also been a big reduction in the number of foreign students, who, according to the latest available official figures, for 2018, totaled close to half a million. Harry Den Hartog, an architecture professor at Shanghai's Tongji University, said that most of his international students who left China during the winter break of early 2020 have not returned.
One of them, Yousra Essaadi, went to Morocco for what was supposed to be a short visit home, but hasn't been allowed back into China since. For over two years, she has taken online classes, which, in her timezone, happen during the night. "Before going to China, I was looking forward to getting into Chinese culture, discovering places, and learning from Chinese teachers and students, but now I'm just in front of my laptop," she said.
Guilherme Campos, former chair of the Small and Medium Enterprises Forum at the European Union Chamber of Commerce in China, said that European companies in China are having trouble recruiting foreign workers. The American Chamber of Commerce has reported the same.
China's international schools, which enroll many children of expatriate executives, will have lost 40 percent of their staff by the end of summer, when the new school year starts, the British Chamber of Commerce estimates.
Outside office hours, Edward Hart, a consultant in Shanghai, is a drummer who often plays gigs in the city's bars. He has noticed that "loads" of foreign musicians have left Shanghai in the past two years. "People get to a certain stage like, 'Well, I don't need to be here, but I do have to go and see my parents who are old,'" he said.
Business repercussions
Chinese businesses that mainly cater to foreign customers have felt the repercussions.
Pre-pandemic, a bar where Hart often plays was a top destination for overseas tourists, business people, and flight crews. But crowds have thinned. "Before it had a really good atmosphere on a Friday or Saturday night, and now it is kind of dead," Hart said, declining to name the bar to not harm its reputation.
After 23 years of operation, M on the Bund — an iconic restaurant with a sweeping view of the Bund, Shanghai's riverside promenade lined with colonial-era buildings, as well as of Lujiazui, the city's famous skyscraper skyline on the opposite riverbank — closed in February. The restaurant was popular among foreign residents, tourists, and visiting dignitaries, but in its final months, the restaurant welcomed only a few dozen guests a day — too few to make ends meet, a former M on the Bund waiter said.
The street in Shanghai where Koreans used to gather for a taste of home has become quiet. Its number of Korean restaurants has dropped from over 150 pre-pandemic to around 50, according to Xiangmin Piao, executive vice president of the Korean Chamber of Commerce in Shanghai. He estimates the city's current lockdown will lead to a further decline. 
Adam Degonda, the former marketing director of Kartel, a Western-style wine bar that closed at the end of 2021, said that Kartel's customer base had shifted from 80% foreigners pre-pandemic to 80% Chinese in 2021, but that the bar was reluctant to adapt. "We saw this big shift in clients' demographics," he said. "But the management was so used to the old ways," Degonda said.
Suspended immigration reforms
A few years ago, China was supposed to enter a new era when it came to immigration.
Since marketization reforms that started in 1979, foreigners have played an important part in China's economic transformation. China "developed from a country of limited migration into one in many ways defined through its global interactions," Heidi Østbø Haugen, a human geographer based at the University of Oslo, and Tabitha Speelman, a researcher at Leiden University in the Netherlands, wrote in a recent research paper about China's immigration policies.
However, while the number of immigrants increased, immigration policies lagged. "China's immigration management in the last decades has had a narrow focus on migration's economic benefits and, more recently, immigration control," Speelman told Sixth Tone. "Broader questions of migrant integration and societal diversity are hardly addressed in relevant laws and regulations. At the same time, pathways for permanent residence remain extremely limited, making it difficult for migrants to settle in China long-term."
In order to build an immigration system able to attract the global talent that the country needs, China had been trying to improve its immigration policies and management before the pandemic.
In April 2017, China rolled out a new work permit system and began using a points-based, three-tiered classification system to evaluate visa applications. According to an analysis of consultancy Dezan Shira & Associates, the new work visa application process is "simpler, clearer, and less time-consuming" than the old one.
The next year, China established the National Immigration Administration, the country's first national migration agency, which, according to Haugen and Speelman, indicated that "international mobility has risen on the central leadership's policy agenda" driven by "changes in Chinese leaders' aspirations and increased state capacity."
The NIA quickly went to work on new rules under which foreigners could gain permanent residence. In February 2020, seeking public feedback, the administration published a draft version which relaxed the rules so that more foreigners were eligible to apply. On social media, many Chinese people immediately wondered whether the NIA was setting its requirements so low it would affect the labor market. One controversial rule allowed unemployed foreigners with permanent residence status to enjoy the same social benefits as Chinese nationals. Another allowed them to transfer unlimited amounts of foreign currency abroad even though Chinese nationals are limited to $50,000 a year.
The draft rules were suspended, and there has been no progress since. The NIA's annual reports for 2020 and 2021 show that carrying out pandemic control measures at China's borders has become one of its biggest points of focus in the past two years.
Zheng Jinlian, vice president of the Center for China and Globalization, a non-governmental think tank focusing on globalization, international relations, and global migration, told Sixth Tone that the pandemic was a big blow to the NIA's work. According to her, the NIA was charged with developing a talent system that is competitive globally. But all policy reforms are "in vain" while controlling the pandemic is the top priority.
Added complications
While reforms aimed at attracting more foreigners are on hold due to COVID-19, actual policy changes have sent many home.
Previously, many foreigners managed to work in China illegally on short-term business or tourist visas. They often worked as freelancers, small business owners, or English teachers — in 2017, the government estimated only a third of the country's 400,000 foreign teachers had the right papers.
China had been cracking down on this group of people since before the pandemic, and the tightening of border controls, which includes not issuing or extending most short-term visas, has only accelerated this process. People on such visas, whether they were using them to work illegally or not, could not return to China or had to leave once their visas expired.
Yoon, a Korean entrepreneur, was among those who were forced to leave in 2020. He worked in China for over four years under business visas, first as a consultant and later as a restaurant owner in the southwestern city of Chongqing. After COVID-19 hit, he had to close his restaurant, as well as shelve his plan for a new Korean food stall.
Previously, Yoon had never had an issue extending his business visa, but his application for an extension was rejected after his visa expired in May 2020. Yoon, who requested to only use his family name to not harm his chance of returning to China in the future, had to leave the country.
In 2021, the NIA deemed 79,000 foreigners guilty of illegal entry, illegal residence, or illegal employment — dubbed the "san fei" ("three illegals"). Some 44,000 of them were deported. Others were fined, warned, or detained. Data for previous years are not available, but Mindy Hu, the CEO of VisaCare, a government-authorized visa agency, said that the government's crackdown on san fei foreigners intensified after the outbreak of COVID-19.
Speelman, the researcher, noted that the tighter implementation of immigration policies should be viewed as separate from China's zero-COVID policy. The country's immigration policies have long not been implemented as strictly as they are formulated on paper, she said. In recent years, the government has simply been "cleaning up" its lax enforcement.
Another policy shift that pushed many foreigners out of China was the country's radical remolding of its private tutoring industry. Many foreign teachers were suddenly out of work.
In May 2021, Sid, who is from Russia, lost his job as an English teacher because the tutoring company he worked at closed after a difficult year. The same month, China started to clamp down on after-school training institutions to reduce the educational burden on children and their parents. Sid, a pseudonym to not jeopardize future visa applications, was suddenly one of many teachers looking for work. Moreover, when he wanted to renew his work visa, for which he had been using non-existing job positions, he was rejected and had to go back home.
Lost status
There were already signs that expatriates had started to leave China before the pandemic. According to the latest available Shanghai government statistics, the number of long-term foreign residents in Shanghai dropped by 3.5% from its peak in 2015 to about 172,000 in 2018. During the national census in 2020, the government counted a little under 164,000 non-mainland-Chinese residents in Shanghai, compared to about 208,000 a decade earlier. Other regions saw increases compared to 2010.
A big factor in this trend, many interviewees think, is the disappearing advantage foreign workers enjoy in the Chinese job market, as more Chinese people return from abroad with English language and foreign cultural skills. Will, the China head of Asian Tigers, said that even though the relocation company's inbound business for foreigners decreased in 2021, its inbound business from Chinese returnees rose.
"China used to be a place that was exciting and wild. Any foreigner could easily get a job even as late as 2010," said Frank Tsai, the founder of China Crossroads, a platform for lectures by high-profile academics and business figures in Shanghai. "But before 2015, that was already less and less the case."
According to Campos, the former chair of the SME Forum at the European Union Chamber of Commerce, foreign companies have, over the past decade, slowly replaced their foreign managers with local hires because it saves money.
Shoer, the American entrepreneur, came to China in 2011 because he sensed it was a land of opportunity — an impression that has since waned. "It used to be easy to start a business, raise money, or find a new market, but now it's very competitive as it is a more mature market," he said. The competitive advantage of foreigners has gone down as that of locals, who are much more adept at navigating the country's business world, has gone up, he said.
Where foreigners — especially white foreigners — used to automatically enjoy a certain amount of respect and attention in China, people's attitudes have cooled. "China has entered a new development stage where foreigners are no longer considered 'special,'" said Speelman, the researcher. "Now, people are more neutral toward them, with positive as well as negative views."
What's next?
Despite these trends, experts believe that China's demand for foreign professionals will remain high and will spur the country to open its borders once COVID-19 policies allow.
Dan Wang, chief economist of Hang Seng Bank (China), told Sixth Tone that "China's market is growing so fast that relying solely on local talents won't meet the talent demand of the economy." Any negative effect of China's COVID-19 containment measures will be temporary, she said, as China will always remain an irresistible market to foreign companies.
The signs from the companies that survived are positive. The 2021 survey of AmCham Shanghai showed that 72% of its members with manufacturing in China said they had no plans to move any production out of China within the next three years. An additional 21% said they planned to relocate less than one-fifth. The 2021 Business Confidence Survey for European businesses in China also stated that only 9% of respondents were considering shifting any current or planned investment out of China, the lowest share on record.
Zheng, CCG's vice president, also said that as China globalizes more, its demand for foreign talents will increase. "China's conditions require us to be more open," she said.
Hu, the CEO of VisaCare, said the government's goal of improving its immigration system to better serve the needs of businesses remains unchanged, but that foreigners who do not meet the requirements to obtain work permits will find it harder to move to China even after border restrictions are lifted.
Over the past two years, some local governments, including in Shanghai and the southwestern Yunnan province, have relaxed rules regarding work permits to attract foreign workers. In theory, these measures should encourage more immigration once border restrictions ease.
But that might not happen anytime soon. With an unprecedented outbreak in Shanghai still not fully under control, the government is sticking with its zero-COVID policy.
Will they return?
Some foreigners stranded abroad are still waiting to come back to China.
Essaadi, the architecture student, left China a freshman and is now a junior. The disruption to her student life was depressing for a while. Worried that she wouldn't be competitive on the job market after graduating from a program consisting of mostly online classes, she has done four internships in Morocco. "I'm trying to do positive things and make myself busy so that when I graduate, the employers can see that I've been making efforts," she said.
Both Yoon and Sid have found new jobs back home, but both are waiting to return to China, where their partners still live. Both of them speak Chinese, like China and its cuisine a lot, and were planning to stay in China for the long term.
For others, their lives will have changed too much for a border opening to pull them back to China. "These years of disruption cannot undo the impact of decades of cross-border migration and exchange," Speelman said. "However, as they continue into their third year, it is now certain that China's pandemic-era border controls will have a major impact on mobility streams into and out of China in the foreseeable future."
Although Yoon wants to return to China, he knows it won't be easy. "Maybe my girlfriend will need to come to Korea first because I will need time to build new businesses in China again," he said. "I don't have any livelihood in China now." One of Essaadi's classmates from Morocco has transferred to a university in the U.S.
When Shoer went back to the U.S., he thought it would only be for the short term. After two years, he is no longer sure. He has continued to work remotely with his team in Shanghai, but while in the U.S. met his now-girlfriend, with whom he has been living together for a year. "Now it's harder to think about going back to Shanghai because I've kind of established my life here," he said. "It is too challenging to start over back there."
Editor: Kevin Schoenmakers.
(Header image: Three foreign residents walk towards two workers in hazmat suits, in Shanghai, March 31, 2022. Shi Yangkun for Sixth Tone)