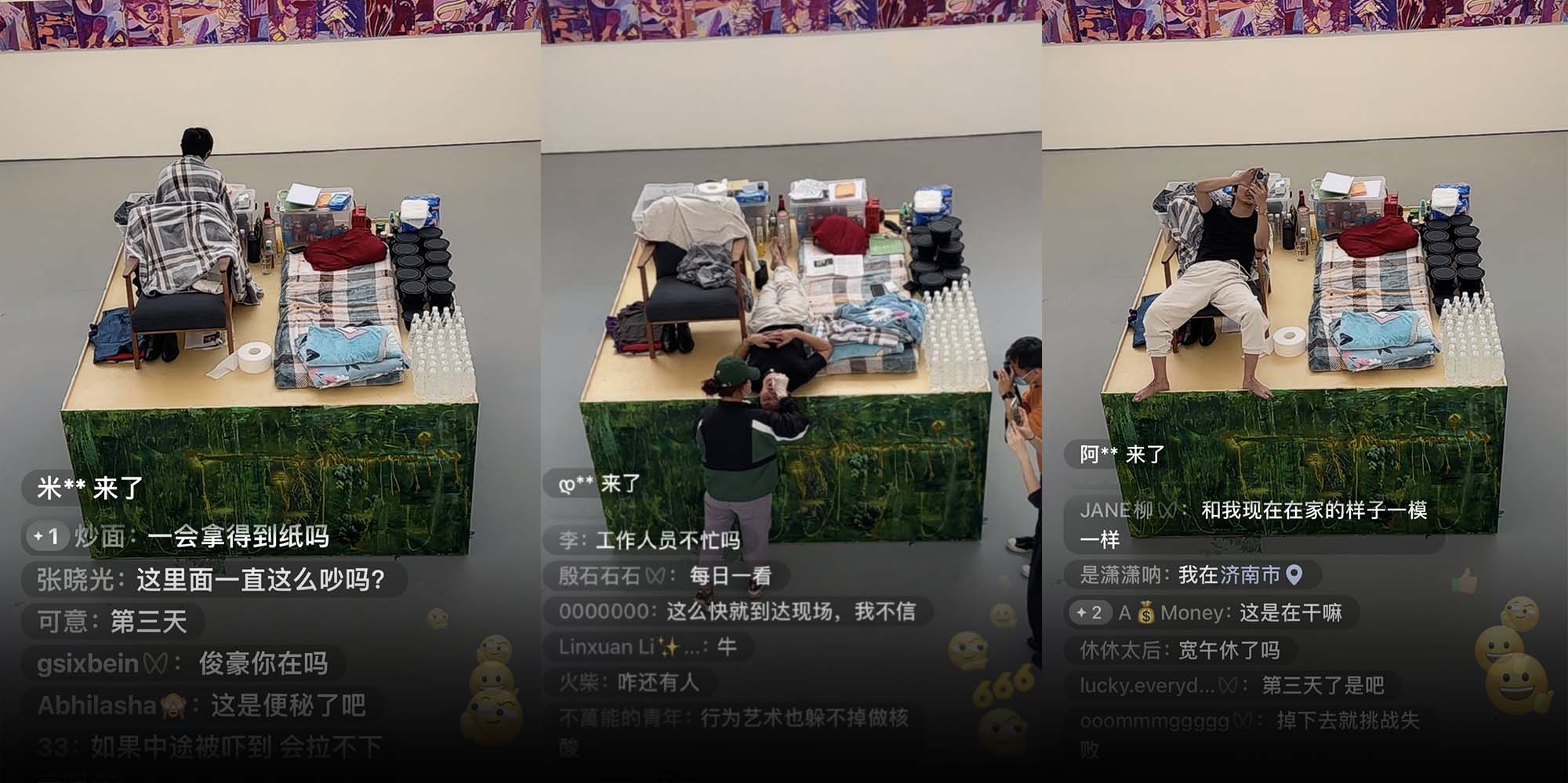 NEWS
A Beijing Artist Is Self-Quarantining in the Name of Art
Pang Kuan is livestreaming his 14 days of isolation around the clock from a gallery space.
It's been four days since Pang Kuan started to self-quarantine in a box-sized space — not because of COVID-19, but as part of his live performance art.
"I will eat, drink, play, defecate, and sleep on a 2.5 x 2.5 x 1.2 m platform for 14 days," the Beijing-based artist wrote on microblogging platform Weibo on Thursday, two days before the isolation art project started. "I have water, rice, wine, snacks, the most fashionable clothes, a sofa, and a toilet."
Though little known for his art, Pang is already a familiar name for his musical acts. He is part of rock band New Pants which gained popularity after winning the TV contest "The Big Band" in 2019.
It's unclear why Pang chose self-isolation for his round-the-clock live broadcasts from inside Star Gallery in the capital's 798 Art District. He has confined himself within a marked territory, with plastic boxes holding his essentials stacked up against each other alongside a portable toilet.
Pang's performance art mirrors the current times when tens of millions of people across China have been confined to their homes as authorities try to contain the surge in COVID-19 cases.
In Shanghai, 25 million people are in their fourth week of lockdown. Beijing, meanwhile, has ordered mass testing for the capital's 12 districts amid new infections. Local authorities in other smaller cities such as Hangzhou and Changzhou have tightened restrictions over a few cases.
Pang's show, though open to the public on its first day on Saturday, has since been closed to "cooperate with the epidemic prevention and control", according to a message he wrote on a piece of paper for his audience to see.
Now, he appears live on Star Gallery's WeChat video channel, 24 hours daily, and has amassed over 3 million views as of Tuesday afternoon. His daily life and activities are on display for all to see.
Peng is mostly seen lying down on the bedding, playing on his phone, and sitting on the sofa, while gallery-approved music serves as the soundtrack of his performance. He also stands up to stretch, often picks up a piece of paper and a pen to write, prepares instant meals, and then uses the bathroom as needed with little discretion. The artist was also seen taking a nucleic acid test in self isolation Monday. 
Star Gallery owner Fang Fang also makes special appearances on the screen time and again. He is seen wearing a gas mask, disposing of the artist's bodily waste.
Fang declined Sixth Tone's interview request.
Pang also doesn't interact with his audience during his livestreams, despite viewers flooding the broadcasts with comments. Many are amused by his performance, while others are confused. Some have also called the artist "a virtual pet" that they want to adopt.
But not everyone is fond of Peng's performance. A few art critics have condemned his act as "grandstanding," while others praised his courage.
"He may have taken up everyone's time and attention, but he has not taken up any material resources," Fang Jiashun, a Beijing-based museum educator, told Sixth Tone. "His actions have indeed brought new thinking and connections to everyone."
On Monday evening, Pang used Weibo to connect with his audiences. He updated about his food stock from rice and water to wine, and shared the difficulties in heating water due to the erratic power supply.
At the end of his note posted online, Pang wrote that he was running low on one essential daily need.
" I didn't bring enough underwear," he said.
Editor: Bibek Bhandari.
(Header image: Screenshots show Pang Kuan relieving his bowels , getting COVID-19 test, and playing with his cell phone at Star Gallery, Beijing, April 2022. From Weibo)