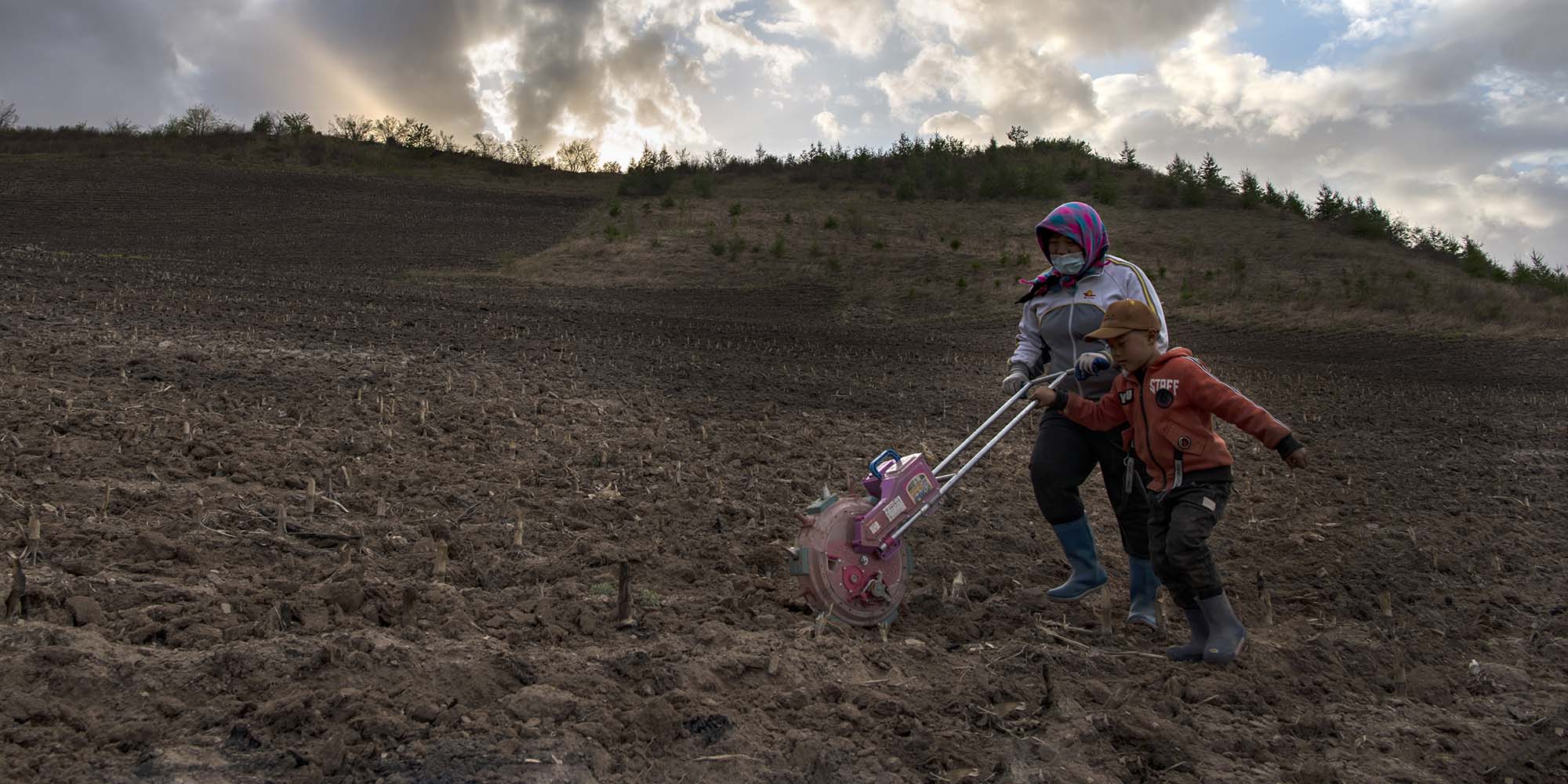 NEWS
In Locked-Down Jilin, Worries Sprout Over Delayed Spring Plowing
While workers from cities are likely to return to their farmlands on time, transportation of agricultural materials faces snags.
Spring plowing in Jilin province is just two weeks away. But material and labor shortages in one of China's agricultural heartlands due to the month-long coronavirus-related lockdown is posing threats to the region's timely corn plantation and production.
Many farmers and agriculture-related businesses in the northeastern province of over 24 million people have complained of difficulties in securing supplies, including fertilizers and pesticides due to the restrictions. The entire province was placed in lockdown around mid-March as COVID-19 infections started surging and topping the national tally.
Farmers and business owners Sixth Tone spoke with and those sharing their struggles online said that though the provincial government promised green channels for agricultural goods late last month, transportation in some areas still faced hiccups. They said such roadblocks in China's second largest corn production hub — Jilin accounts for about 10% of domestic corn production — could affect production and livelihoods.
Mu Jing, a pesticide dealer in Tonghua City, told Sixth Tone that shipping from neighboring provinces with virus outbreaks and other bigger cities in Jilin were both restricted, disrupting inland transportation and posing logistical barriers to secure supplies.
"Our goods haven't been delivered," Mu said. "The goods need to enter big cities to be transported to small cities. I am not sure when the highways to big cities will open."
On Thursday, Jilin reported 2,266 COVID-19 infections — the most after Shanghai — and its provincial capital Changchun is in its 29th day of a city-wide lockdown. Restrictions in other parts of the province still exist and vary depending on the locations.
But as the ideal period for plantation nears, policymakers, agricultural companies, and farmers are grappling to ensure that staple crops can get in the ground on time. And it's particularly urgent for corn.
Even Pay, an analyst covering agriculture at strategic advisory firm Trivium China, said that corn only grows once a year and requires a suitable time for planting — it's usually between the two weeks at the end of April and the beginning of May. Missing that window, she said, could prove harmful for the harvest.
"Farm labor is stuck in lockdowns, the logistics for getting supplies to farms have been snarled by lockdowns," Pay told Sixth Tone, listing the obstacles farmers faced. "Truck drivers are understandably hesitant to drive routes that will likely lead them to be quarantined. So it has been harder to get new shipments of seeds, agrochemicals, and equipment into Jilin from outside the province in recent weeks."
Amid complaints and distress calls from farmers and agro-based industries, the provincial authorities on Monday said that locked-down farmers in urban areas could return to their hometown farmlands from the following day. However, they were required to provide a negative COVID-19 test result and have had no close contact with infected individuals.
A Changchun-based community volunteer, surnamed Yang, told Sixth Tone that they were collecting information about migrant workers who had applied to return to their hometowns for farming since Tuesday. Those willing to return were asked to seek permission from their residential community leader.
"Arrangements for their return to their hometowns will be made soon but the specific time has not been announced," Yang said.
In Jiaohe County, 200 kilometers from Changchun, Du Fangli said she was hopeful that many of those who worked in her family farm would return Sunday. She said that over 20 young locals were being transported from Changchun in a bus, according to information circulating on the village chat group on messaging app WeChat.
"Our village head will go to the village entrance in person to receive them,"Du said. "Only old farmers are left in the village. It's impossible to finish spring plowing on time without the young returning."
But even with the young workers possibly arriving Sunday, Du said they're facing another urgent issue in getting rid of the crop residues on time. Authorities have banned stubble burning since 2010 due to growing air pollution, with the restriction only becoming stricter in recent years.
Du's village is implementing a complete ban on stubble burning for the first time this year. But she is worried.
"We are in a mountainous area, and it's not suitable for machine work," Du said. "Previously, the only way to get rid of stubbles was by burning them. We can't really start plowing with the stubble still in the field."
Along with farmers, analysts say that many stores supplying farmers — especially smaller businesses in county towns and villages — were running short on stock this year. According to Pay from Trivium China, there were other factors contributing to the delayed supply of agricultural goods other than the lockdowns, including the energy shortfalls that started last year.
"In particular, fertilizer is very energy intensive to produce," she said. "So when energy prices go up, fertilizer prices also go up. Usually, fertilizer prices fall to their annual lows during the winter, and retailers and farmers stock up ahead of spring. But this year, prices didn't really fall ... and many people waited, hoping that supply would rise and prices would fall."
Fertilizer and pesticide dealers like Mu said they were already facing difficulties in trying to secure supplies at a lower rate and then selling them for a profit. She said she had managed to overcome a similar crisis caused by the regional lockdown last February, but she was pessimistic this time.
"My income for the whole year is completely dependent on this single sale, it can't go wrong," Mu said. "Last year, I still had enough time to react. Now, I have less than two weeks remaining (until plowing), and my goods haven't even been shipped out of factories. There is no chance for me, I'm thinking of quitting."
Editor: Bibek Bhandari.
(Header image: A woman tills the land with a boy during planting season in Shulan, Jilin province, May 9, 2021. VCG)