China's northeastern province of Jilin is experiencing the worst COVID-19 outbreak in two years, with daily cases exceeding over a thousand for the third consecutive day.
The province reported a record 4,067 infections in total on Monday, with one-third being asymptomatic, which the country doesn't include in its COVID-19 tally, according to the National Health Commission. Meanwhile, a total of 5,154 cases were detected nationally.
More than 24 million people living in the province — including those in the provincial capital of Changchun and the city of Jilin — have been placed on lockdown to contain the spread of the virus.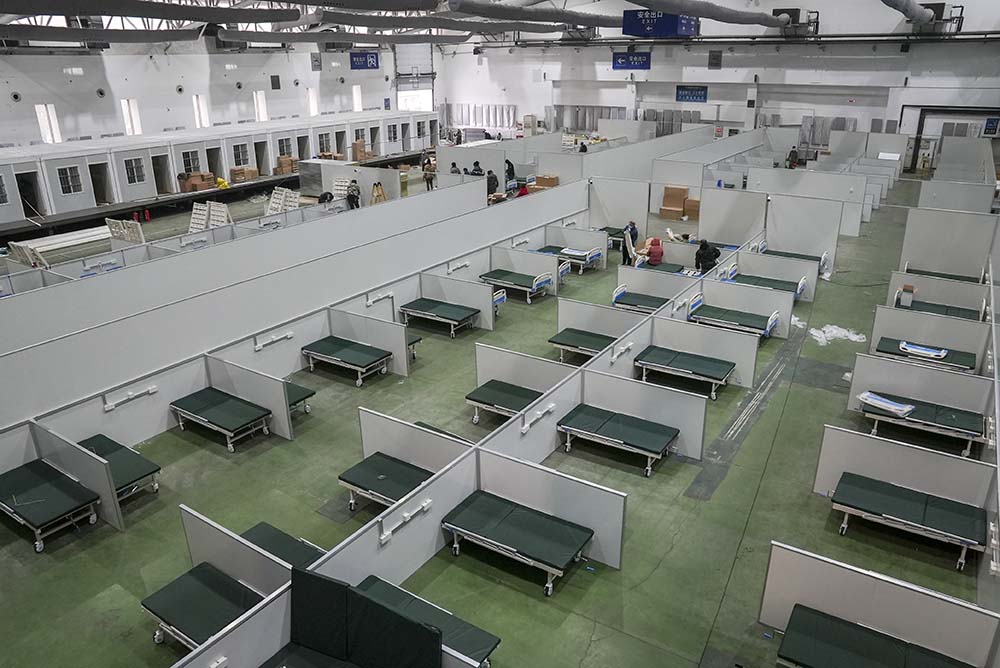 A temporary "shelter hospital" is under construction at Changchun, Jilin province, March 12, 2022. VCG
Zhao Qinglong, director of the emergency response office at the Jilin province Center for Disease Control and Prevention, said Monday that the BA.2 sublineage of the highly transmissible Omicron variant was causing the current outbreak, adding that it was 30% more infectious than the previously circulating BA.1 sublineage. He said there was a "hidden transmission" due to the increase in asymptomatic infections, making it easier for the virus to spread in multiple places and clusters.
"The number and scope of people affected by the epidemic in our province are relatively large because it's characterized by hidden transmission," he said, noting that the virus may have been spreading since late February.
Changchun alone has detected more than 2,700 COVID-19 cases in the current wave, with authorities ordering a lockdown Friday. Some 9 million residents are required to stay indoors, with one family member allowed to leave for groceries and other supplies every two days.
Provincial authorities emphasized Monday that the coronavirus cases were still rising, describing the situation as "severe and complicated." Officials vowed to achieve "zero social transmission" — or no community outbreaks — in a week through rigorous testing and control measures.
As of Tuesday, five temporary "shelter hospitals" — first erected during the early days of the pandemic in Wuhan — have been put into place in the cities of Changchun and Jilin to treat the influx of patients. The province has 22,880 hospital beds altogether, and officials said they only had enough medical resources for two to three days.
Editor: Bibek Bhandari.
(Header image: Residents wait to get their COVID-19 test at a residential community in Jilin, Jilin province, March 15, 2022. VCG)