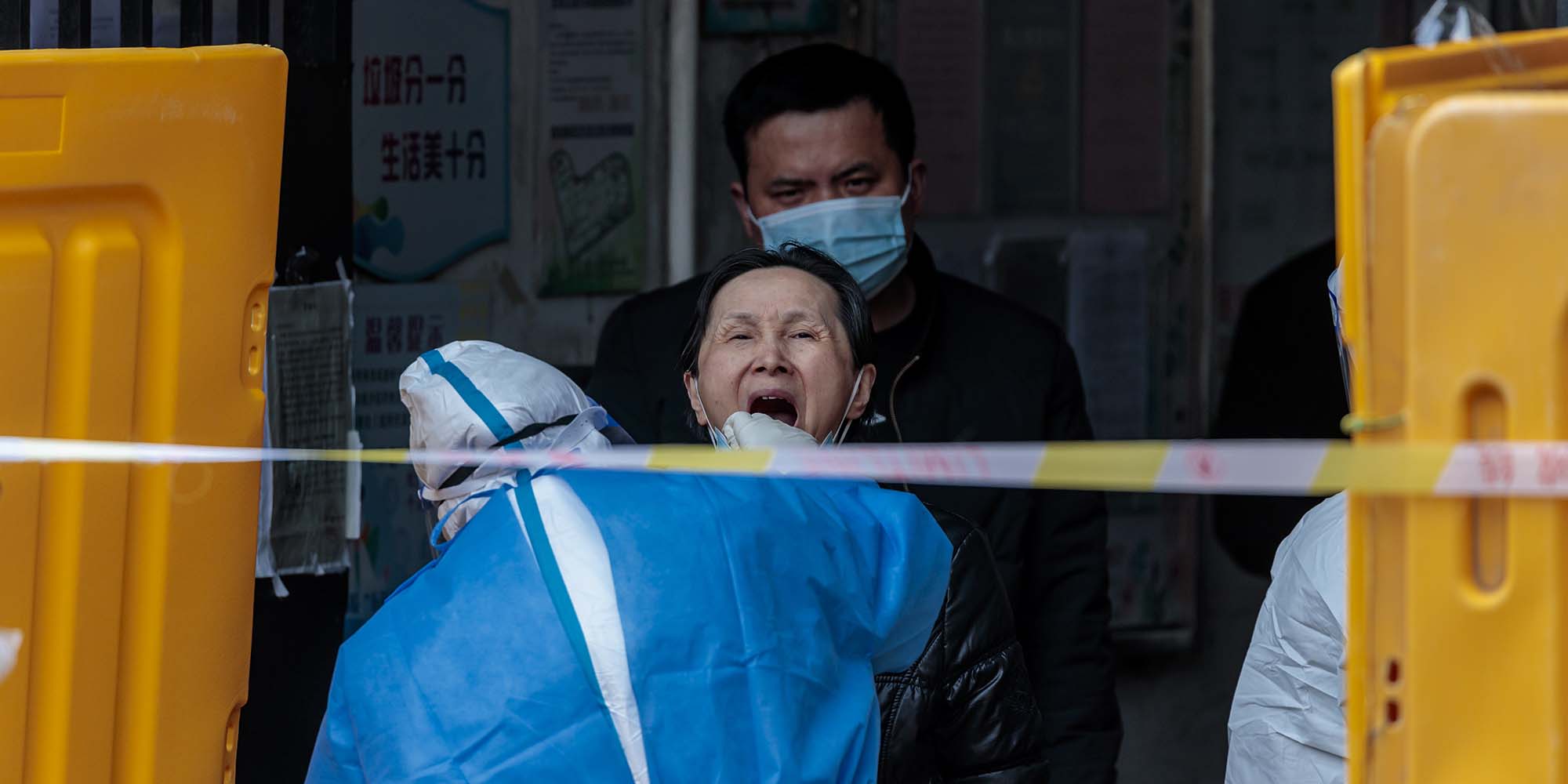 NEWS
Shanghai's Older Residents Lament Over Lockdown Woes
The city's elderly say they face difficulties from navigating technological requirements to accessing medical services amid COVID-19 outbreak.
As Shanghai divided the city into half for a two-phase lockdown Monday, the city's older residents have complained about a range of problems from difficulties in adapting to modern technology to keeping up with pandemic-related measures as well as ordering everyday supplies and securing their medical needs.
A resident surnamed Xiao from the Pudong New Area, which is currently in lockdown, said her 63-year-old father is an esophageal cancer patient who undergoes immunotherapy once every three weeks at a hospital on the other side of the city. They had already waited for seven days before the lockdown was announced Sunday night for the appointment and now would need to wait for at least another eight days.
"Despite my father being in a consolidation therapy period, we don't know if the half-month delay will have any impact," Xiao told Sixth Tone. "We're not sure whether the treatment will resume on April 5 when the lockdown is scheduled to be lifted."
Shanghai locked down districts east of the Huangpu River, which crisscrosses the city, from Monday through Friday, and will shut the remaining parts from April 1 to 5. Authorities said the move would allow them to test the city's population of nearly 25 million , as the city reported another daily record of 4,477 infections for Monday.
Authorities have been scrambling to erect makeshift hospitals and turn public venues into quarantine facilities to house the sick. But those living with other health ailments, especially older people, have added pressures to the city's health care system — those aged 60 and above accounted for 36% of its total population with household registration as of December 2020.
Another Pudong resident, surnamed Lu, told Sixth Tone that her 68-year-old grandmother is a uremic patient, and she requires hemodialysis treatment to clean her blood three times a week. But at least a dozen hospitals rejected her on Monday, citing COVID-19 cases in their community and a shortage of medical resources.
The day the lockdown started in nearly half of Shanghai, a personal online post shared with Sixth Tone highlighted the plight of one family seeking medical treatment for its older members. It spoke of a grandson who ultimately sought help from the police to pass medicines bought from areas currently not in lockdown for his grandparents, both aged over 90, who lived by themselves in Pudong.
Many senior residents living by themselves have often complained of difficulties adapting to technology during the lockdowns. A video of an elderly resident in Changchun, another locked down city in the northeastern Jilin province, asking a supermarket employee how to buy groceries online went viral online lately.
As of December 2021, about 11.5% of the country's over 1 billion internet users were aged 60 and above. Authorities have urged internet companies to provide senior-friendly versions of their services, though more settings need to be improved.
A 65-year-old resident, surnamed Zhou, who lives alone in Shanghai's Changning District, said she was struggling to keep up with ordering groceries online. She said it took her over 20 minutes to secure deliveries for a friend on Monday.
"My hands were sore and I was sweating," Zhou said, adding she tried to replenish her stock through online shops later that day but failed.
"The price of vegetables has increased three times. But you are the lucky one if you can buy vegetables," said another resident, Zhang Meixiu, who lives with her son in Minhang District. The 64-year-old said she was exasperated checking her phone all day long to order food and necessities.
A volunteer resident, surnamed Wang, has been assisting residents during mass testing for COVID-19 in one of Pudong's residential neighborhoods. She said her main task mostly involved helping the older residents register online through their smartphone or manually.
"Older people aged 70 or 80 and above mostly don't have smartphones, so we print out a QR code for them using their ID cards," said the 40-year-old. "They keep saying, 'I'm too old to figure this out, thank you.'"
Shanghai authorities said on Monday that they have ensured communities and volunteers care for the elderly, especially those living alone, ensuring their meals and medical needs during the lockdowns. They also require medical institutions and communities to meet emergency medical needs of residents, especially pregnant women and patients seeking hemodialysis, radiotherapy, and chemoradiotherapy.
Editor: Bibek Bhandari.
(Header image: Residents take COVID-19 test in a quarantined area, in Shanghai, March 28, 2022. Alex Plavesk/IC)