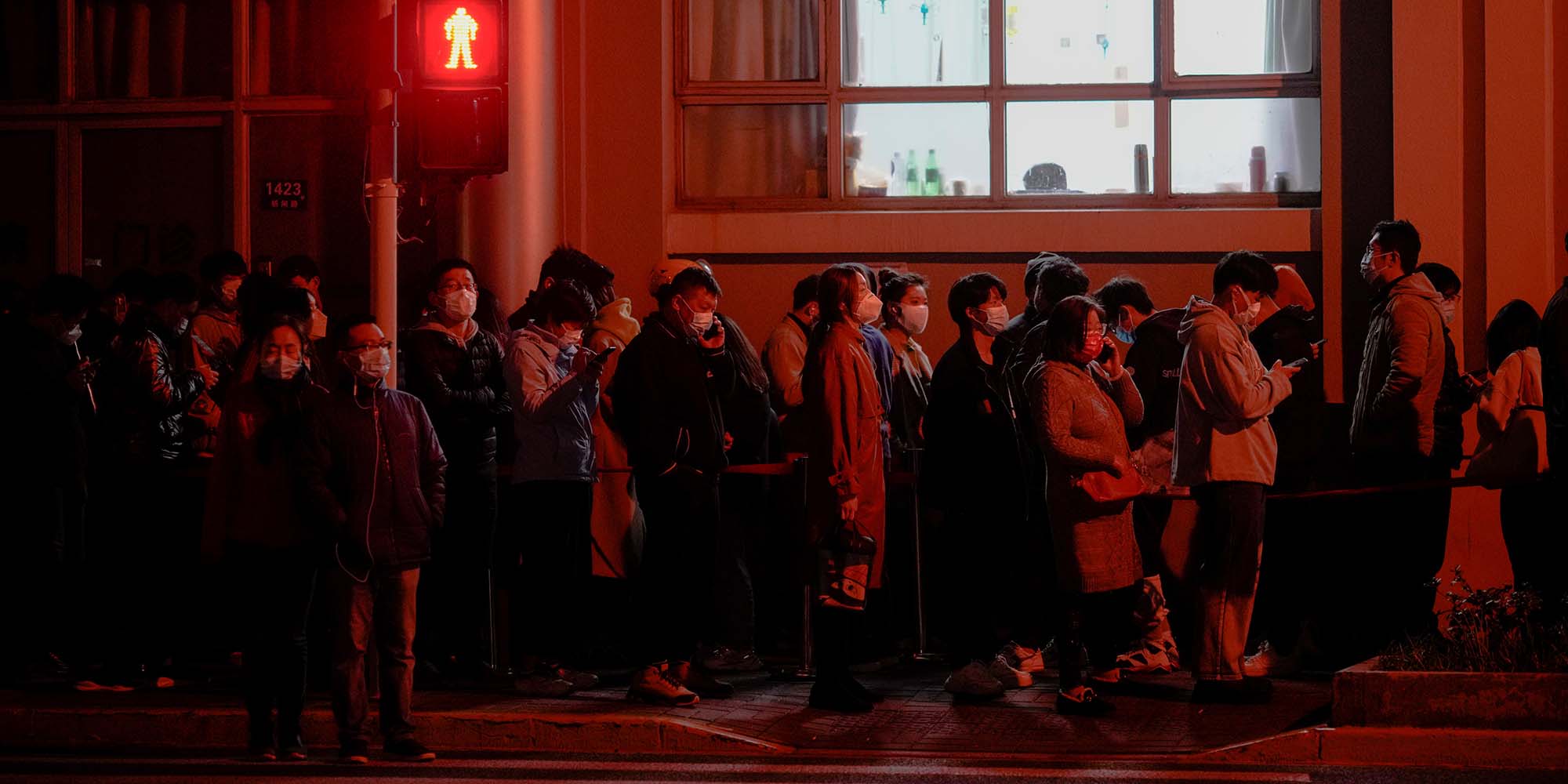 NEWS
One City, Two Lockdowns: Shanghai Faces Its Toughest COVID-19 Test
After dismissing lockdown possibilities, the city adapts to the country's pandemic control playbook to mass test its nearly 25 million residents.
SHANGHAI — At around 10 p.m. Sunday, Zhao Yuanqi rushed to her nearest grocery store just like thousands of others in the Pudong New Area to pick up whatever remained on the shelves.
Across the river, in Xuhui District, Lin Meng was finishing her daily yoga session at approximately the same time, and spent a stress-free evening before retiring to bed.
Both women live in Shanghai, but how they spent their Sunday evening provides a peek into how the city is fine-tuning tactics to fight its worst COVID-19 outbreak since the start of the pandemic two years ago.
Just after dinner time for many on Sunday, at around 8:30 p.m., the Shanghai government announced that they would enforce a lockdown in two phases. Areas east of the Huangpu River would be entirely locked down from 5 a.m. Monday until the same time Friday, while the other parts of the city with several downtown districts would be sealed between April 1 and 5.
It was a surprise move — though not entirely unexpected — after the city government time and again quelled rumors about such lockdowns amid mounting coronavirus cases. Police even detained two men for starting such rumors last week.
Citywide lockdowns started as a key virus-control measure since the early days of the pandemic in the central city of Wuhan, and have been effectively implemented in several cities including the cities of Xi'an, Shenzhen, and those in Jilin province most recently. But health experts and some officials said as recently as Saturday that such moves could prove costly for a city like Shanghai, a city of nearly 25 million people and the country's financial hub.
But the city adopted part of the central government's playbook, announcing a two-phase lockdown to test its entire population and eliminate any possible chain of COVID-19 transmission. On Monday, Shanghai logged another daily record of 3,500 infections for the previous day — also the most cases nationally — which have put a strain on the city's health care system.
During the lockdowns, residents will be barred from leaving their homes. Public transport and ride-hailing services will be suspended, and only those in public services and essential services such as health care and food delivery would be allowed to move around. Companies and factories have either suspended manufacturing or allowed their employees to work remotely.
"It was such a panic," 28-year-old Zhao in Pudong recalled the scene after the government's announcement Sunday. "Everyone just put whatever they could get in their bags and the line at the cashier was unbearable."
She gave up and went home.
Many in the city's locked down districts including Pudong — home to one of China's busiest international airports and ports which authorities noted would operate as normal — said they were caught off guard by the government's announcement, giving them little time to plan. Hundreds of thousands of residents there were already in lockdown, as officials sealed buildings with infected individuals or their close contacts.
"I was worried that I might get infected in such a group of people, and I couldn't sleep well last night," Zhao said.
But while half of Shanghai was in panic mode and stressed, those west of the Huangpu River crisscrossing the city — home to several downtown districts — scrolled online to gauge the situation and possibly what to expect. Some residents like 33-year-old Lin only woke up to the news Monday after she couldn't order breakfast on food delivery apps due to overwhelming demand.
"I wasn't concerned about food though," Lin told Sixth Tone. "I'm really worried about my mother who always volunteers to help residents in the compound. I'm anxious about what would happen if she got infected."
Those anxieties and uncertainties have already appeared online, just hours into the lockdown. In the non-locked down districts, reactions have been mixed — many shops were operating normally and there weren't any signs of panic buying yet.
A worker at a logistics company, surnamed Li, lives west of the Huangpu River in Baoshan District. The 23-year-old said she had stocked food and daily supplies, which were still in abundance in her neighborhood, and was hoping for the government to announce the lockdown due to rising COVID-19 infections.
"I commute by subway and bus every day, and I'm very worried that I would get infected," Li told Sixth Tone. "All I want now is the promised lockdown from April 1 because I really need a rest from work and a sense of security."
But some residents are growing anxious over the lockdown, especially those requiring medical assistance. Last week, a hospital apologized for not being able to admit one of their nurses after an asthma attack. She was referred to another facility and later died after not receiving immediate medical attention.
A college student, surnamed Wang, in Pudong New Area said he was asked to do COVID-19 test amid excruciating stomach pain Saturday, just so he could visit a hospital. Most medical facilities require patients to show proof of a negative test for the virus taken within the past 48 hours for non-emergency services.
He then called the hospital for an appointment only to find they had nine COVID-19 patients. The voice on the other end of the line told Wang they wouldn't accept him even though he had a valid negative report and instead told him to look for another hospital.
Disappointed and horrified, Wang decided to schedule an online appointment with a doctor who then prescribed him medication for enteritis, an inflammation of the small intestine.
"All I can say is that thank God it wasn't an emergency case or I could have died," Wang said.
Editor: Bibek Bhandari.
(Header image: People line up near a nucleic acid testing site outside a hospital in Shanghai, March 27, 2022. Aly Song/REUTERS/IC)