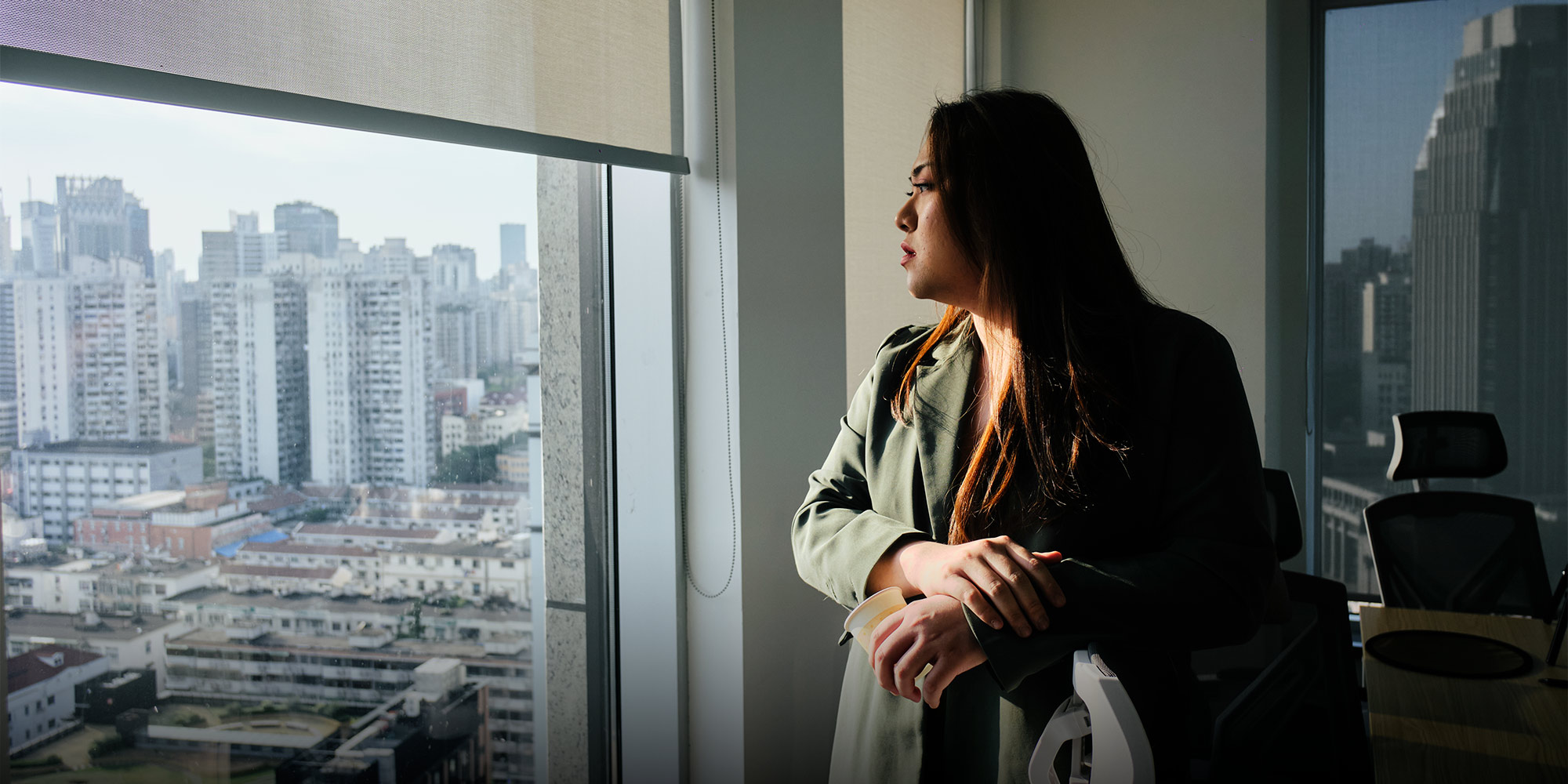 FEATURES
China's 'Anti-Sissy' Campaign Unleashes a Wave of Online Transphobia
A growing number of transgender Chinese were finding success as social media influencers. Then came a crackdown on "sissy" men.
For Lorde Cai, sharing her life as a transgender woman on Chinese social media was a source of joy and success. Until one day, it wasn't.
The 28-year-old began creating online videos in early 2020. Styling herself as Cosmopolitan Lady Cai, she found a niche creating makeup tutorials in which she appeared to transform from a scruffy, bearded man into a chic female office worker. She quickly attracted hundreds of thousands of followers.
But then, in late 2020, Cai told her fans she normally used the women's bathroom when she was presenting as female. The backlash was swift and intense. Netizens flooded her feeds with hostile comments.
As Cai hadn't undergone hormone therapy or gender reassignment surgery, the users said, she had no right to enter a female-only space. The reaction was so violent that Cai struggled with her mental health for months afterward.
"It was the only life-and-death moment I have had," she tells Sixth Tone. "They don't understand the meaning of transgender. They're afraid … which is understandable."
For transgender Chinese, this kind of online discrimination is nothing new. But the problem appears to be getting worse, as social media platforms intensify a crackdown on "sissy" influencers.
The campaign — which aims to tackle China's supposed "masculinity crisis" by banning effeminate male role models — stepped up a gear in 2021, with a string of high-profile users having their accounts suspended or shut down.
Transgender influencers say the anti-sissy rhetoric has led to a rise in transphobic comments on social media. Many fear becoming a target of abuse or losing access to their social feeds.
The clampdown is placing both the mental health and also the livelihoods of many transgender people under threat. A growing number of trans Chinese have launched careers as influencers in recent years, posting videos and hosting livestreams on platforms including Bilibili, Xiaohongshu, and Taobao Live.
The total number of transgender Chinese employed in these roles is unclear, as most users are careful not to openly state their gender identities in their account descriptions. However, Sixth Tone observed many users hinting at their identities through euphemistic usernames such as "Winnie who used to be a boy" and "I'm like Jin Xing"  — a reference to a famous transgender TV presenter.
Some Chinese influencer agencies have begun actively seeking to recruit transgender individuals, believing they can provide something different and edgy in a competitive marketplace. Yoki Xu, a former employee at a Shanghai-based agency, recruited several trans hosts to sell beauty products via livestream in 2019.
"They ascend very fast because of the image they present: their characters, looks, and backstories all make users more interested," Xu tells Sixth Tone. "If you're a regular pretty girl, you're just a pretty girl … But users watch trans hosts like they're reading a tabloid, and they'll start opening their wallets when they grow to trust them."
The voyeuristic curiosity many viewers display makes some in the transgender community uneasy. But the growing number of trans influencers has made a real difference in boosting the community's visibility, which experts argue will be beneficial in the long run.
"I always believe that social media helps increase the visibility of LGBTQ+ in China, which will lead to social acceptance of LGBTQ+ groups," says Yang Yifan, an associate researcher at East China Normal University who focuses on social media and sexual minorities. "Video-sharing social networking platforms certainly help present their daily life in a more vivid way."
Social media has also provided a useful source of paid work for transgender Chinese, who face deep-seated discrimination in the workplace. A 2017 report found that the unemployment rate in the transgender community was nearly 12% — nearly three times higher than the national rate at the time.
"The job doesn't have many technical barriers, and everyone can do it," says Huang Xi, founder of Trans Wellbeing Team, a nonprofit based in the southern city of Guangzhou. "In a way, it boosts employment, which is good for the community."
Yet Xi, who is nonbinary herself, worries that trans influencers are putting themselves at risk. By allowing agencies to pressure them into discussing their private lives online, they may leave themselves open to discrimination in the future.
"In the short term, you can do this for your livelihood," Xi says. "But in the long term, it's unclear whether this will have any impact on your family or career."
The anti-sissy campaign has only heightened these concerns. Both Xi and Cai, the makeup tutorial star, say the social media bans placed on a number of high-profile influencers during the second half of 2021 — such as Kang Yaya, Feng Xiaoyi, and Benny Dong — have stoked fear within the trans community.
Kang, Feng, and Dong have not come out as LGBT, but all three were famous for deviating from traditional masculine gender norms. Kang — a male college student who often cross-dressed as female fairytale characters in his videos — publicly apologized for being a "bad influence" after losing access to his account on Douyin, China's version of TikTok.
"I haven't considered my impact on society and teenagers — I have led them the wrong way," Kang wrote in a post on the Twitter-like social platform Weibo. "Me, as a male dressing up as a girl, has caused a bad influence. I want to apologize to everyone."
Another incident that raised alarm bells in the trans community came in January, when Jin Xing — China's most famous transgender celebrity — became embroiled in controversy. All the scenes featuring Jin were scrubbed from the popular reality shows "Shine! Super Brothers" and "Work for Dreams" without explanation. In a social post, which was later deleted, Jin called the removals "discrimination and abuse of power."
For Cai, the anti-sissy campaign may not be intentionally targeting the LGBT community, but the social media platforms' use of pejorative labels such as "sissy" is nevertheless stirring hatred toward sexual minorities.
"I don't think they should use words that have anything to do with being effeminate or femininity," she says. "It's making online bullying acceptable in real life because now people will have more reasons to bully you and attack you online."
Yang, the university researcher, says he has also observed an uptick in the use of abusive language referencing "sissy men" on LGBT dating apps. 
"I wouldn't say it's targeting the LGBTQ+ community," says Yang, referring to the clampdown. "But it has a negative impact on the LGBTQ+ groups, since they certainly feel pressure about expressing themselves publicly."
The toxic atmosphere online is discouraging some trans Chinese from using domestic social platforms. Wei Lai, a trans female from south China's Guangdong province, has been posting vlogs on YouTube documenting her struggles as a trans person and her journey to Thailand to undergo her gender confirmation surgery. 
Sharing her life on YouTube has boosted her mental health, Wei says, and she hopes to monetize her hobby one day. But she's reluctant to post similar content on Chinese platforms like Douyin, despite their massive user bases.
"Policies have been getting stricter in recent years, so much so that when male celebrities wear ear studs, they get pixelated," says Wei. "I'm scared that many LGBT content creators will be taken down."
Cai, however, says she refuses to live in fear. The firestorm of abuse she received in 2020 left her afraid of using public restrooms. But now, she has resolved to be completely herself, at least around the people she cares about.
During the Lunar New Year holiday, Cai came out to her extended family, and documented the experience in a vlog that she shared on video platform Bilibili. She has now stopped masking her gender identity on her accounts. If that means she faces pushback, so be it, she says.
"If my account is gone, I'll work behind the scenes," says Cai. 
Additional reporting: Zhuge Rongrong; editor: Dominic Morgan.
(Header image: Lorde Cai poses for a photo at her office in Shanghai, Sept. 17, 2021. Wu Huiyuan/Sixth Tone)