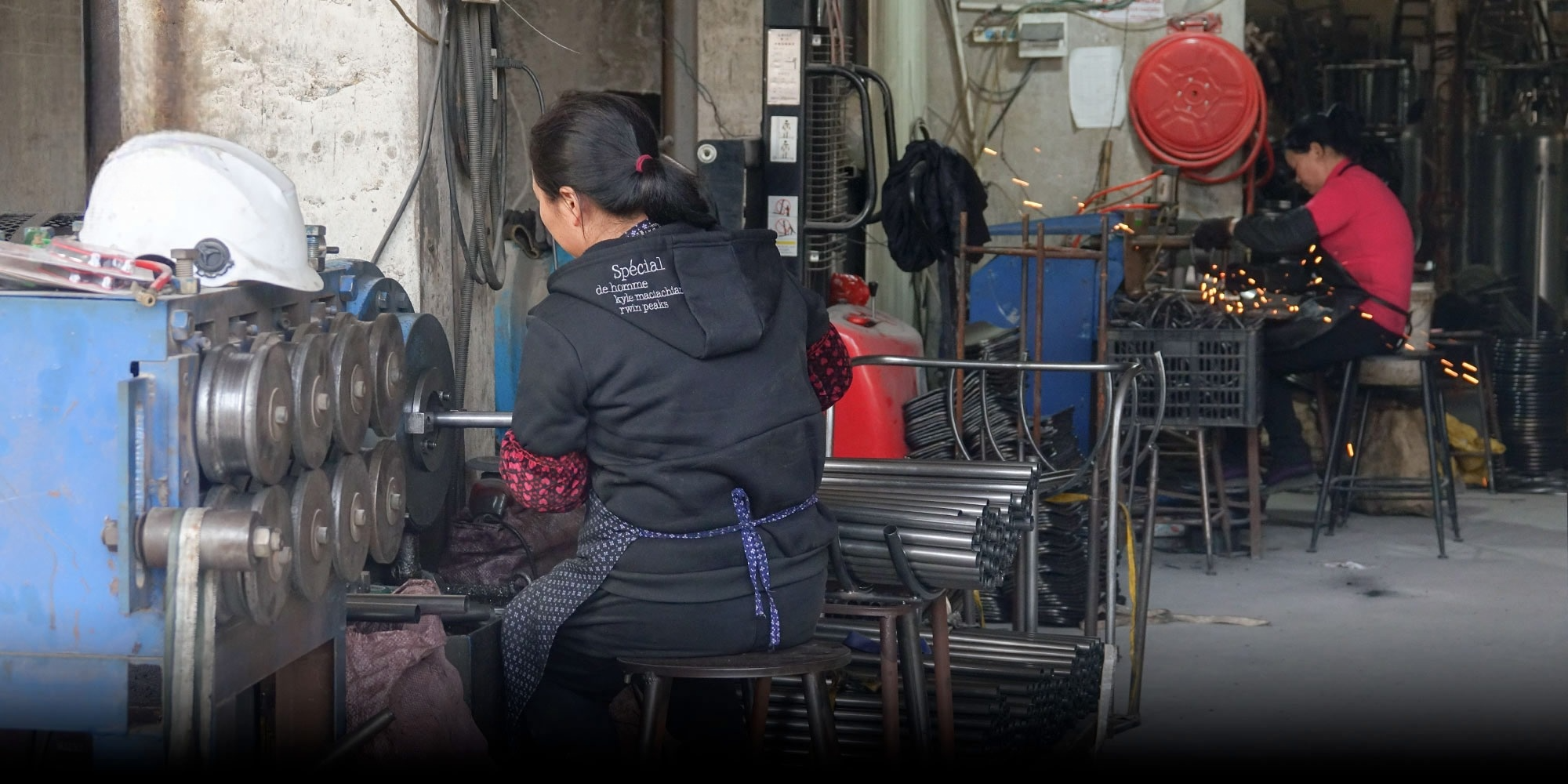 FEATURES
In Taobao Villages, Merchants Say They're Struggling with Livestreaming
As live-streaming disrupts China's e-commerce landscape, gaps between urban and rural sellers may be getting wider.
FUJIAN, East China – Liao Hancheng owes his career to Taobao. Like many of his neighbors in Shangqing Township in Fujian province, he was an early adopter of the vast e-commerce marketplace, building a business that sells furniture and small decorative objects on the app and other Chinese e-commerce marketplaces.
Liao's workshop occupies the ground floor of a converted house, with roll-up doors facing the street. It looks a lot like a two-car garage. Walk down the main street of the village, and you'll see dozens of workshops like his making fold-up chairs, dining tables, and bookshelves.
E-commerce made it easy for small manufacturers like Liao to sell directly to consumers, creating a wave of rural industry. "Taobao villages" like Shangqing have been touted as models of successful rural development. Taobao villages located in impoverished counties generated almost 5 billion yuan ($786 million) in sales in 2020, according to parent company Alibaba.
So it was a surprise to find Liao on a late January afternoon doing some very non-digital business: working the phones, trying to line up a few wholesale orders from established customers before the New Year. He's been forced to fall back on traditional business channels in recent years, he says, as his sales decline on Taobao.
When you ask merchants in Shangqing about business, the conversation quickly turns to the impact of livestreaming. Since the pandemic, entertainment-slash-advertising video streamers have come to dominate digital marketing in China. These online influencers combine entertainment and advertising. The most famous streamers, like Viya and "lipstick king" Li Jiaqi, operate via a QVC-style hard sell model. They offer viewers steep discounts on a rotating cast of products, charging brands huge fees to be featured, as well as a performance.
At the other end of the spectrum, rural streamers like YouTube-famous Li Ziqi and bamboo rat breeder Liu Suliang have shot to fame selling agricultural products with curated depictions of rural life.
Platforms like Taobao, Douyin, and Kuaishou have branded the new e-commerce model as a "rural revitalization" tool that allows farmers to build their own brands and sell directly to urban middle-class consumers. Livestreaming across all platforms generated over 1 trillion yuan ($158 billion) in gross merchandise volume in 2020, according to a study by Ping An Securities.
But in Shangqing and the surrounding Anxi County, small-time merchants say it's not that simple. Years of experience running stores on Taobao don't translate into success with this new model. When they go online themselves, rural merchants say, they can't keep up with younger, savvier urban streamers backed by professional production crews. When they try to work with established streamers, they're forced to make high-stakes bets that can wipe out profits as easily as increase them. And if they don't play the game at all, they fear, they'll continue to watch their market ebb away.
"The golden age has passed, and the market is getting softer," Liao told Sixth Tone, reminiscing about the days when thousands of consumers across the country ordered through his shop on Taobao. Things were best around 2015, he said. "The livestreaming sales boost just never happened to me."
E-commerce pioneers
Ten years ago, Liao and his neighbors in Shangqing were some of the first rural entrepreneurs to crack the e-commerce code.
Shangqing was once the poorest part of Anxi County. Nearby areas are famous for tieguanyin tea, sometimes called "iron goddess of mercy," but the land in the township isn't suitable for the profitable crop. During the '80s and '90s, villagers tended to migrate to cities to work in factories.
But around 10 years ago, several villagers turned metal welding skills they picked up in factories toward making iron furniture, and began earning money through Taobao. Young people who'd left for the cities rushed back to start furniture businesses. Across China, Taobao parent company Alibaba claims that there are nearly 3 million stores operating in Taobao villages, creating over 8.28 million jobs. In 2021, Anxi was the second largest county in selling agricultural products online, according to the company's Ali Research Institute.
But in recent years, intense competition has cut into profits.
"When there are more and more imitators, if you can't update your model in time, you won't earn much anytime soon," Liao said.
When Liao heard about livestreaming, it sounded like a good tool to revive his business. He'd heard that watching charismatic salespeople promote everything from lipstick to pans to fresh fruit had become a new leisure activity for many, and that consumers often buy more than they need if they like the livestreamers enough.
Live-streaming is now an essential marketing channel for most Taobao vendors, even in the countryside. In 2020, a total of 4,755 Taobao villages had rural merchants conducting Taobao live broadcasts, accounting for 87.6% of the total number of Taobao villages, and livestreaming sales on the platform totaled nearly 12 billion yuan, according to an Alibaba representative. On TikTok-equivalent Douyin, rural video creators' income increased 15 time in 2021. Competing video platform Kuaishou reported over 400 million yuan ($62 million) sales in agricultural products last year, up 80% from 2020.
However, Liao found he was out of pace with the trend this time. Liao opened the livestreaming function on Taobao several times, but the 40-something carpenter with a crew cut attracted no traffic. This made Liao more determined to pivot to the wholesale market, trying to make up for lower margins with volume.
"I hope those who are making good sales with livestreaming could order goods from me," he said. "Adapting to livestreaming trends myself? Maybe it's for the next generation."
The rural-urban gap
It's not just about age. Younger merchants in Anxi say livestreaming is pricing small merchants out of the competition for sales.
"At the beginning of the Taobao era, you just needed to source good products, post good photographs of them, and write a clever slogan," Yanzi, a wholesale tea vendor, told Sixth Tone. She spoke using a pseudonym to protect her identity. "A successful livestreaming sale requires not only a talented host with live sales skills but also a professional team to do technical support."
With a high ponytail and refined eyebrows, Yanzi is always in high spirits when talking to people. She sells tieguanyin, the local speciality.
Now in her 20s, she inherited the business from her parents seven years ago. She helped it pivot to e-commerce, opening a much broader sales channel.
However, sales on her Taobao shop have decreased over the past two years. With three young kids to raise, Yanzi is determined to find a "breakthrough" for her business. She believes the outlet is livestreaming.
Her two biggest sales in 2021 came through livestreamers based in the nearby cities of Xiamen and Quanzhou, Yanzi said. Both times, an Anxi friend turned to her for extra supply after a successful stream left them with more orders than they could easily fill.
After several failed attempts to host livestreaming rooms on Taobao and the Douyin, Yanzi concluded that she lacked the social media savvy to grab viewers' attention. The bargaining skills she learned from her parents didn't work. To master livestreaming, she would need professional help.
"The MCNs are a new type of middleman between us and consumers," Yanzi said. MCNs, or "multi-channel networks," are media agencies that train content creators and monetize their social media influence.
There are now well over 30,000 MCN agencies in the country, mostly based in cities. Almost all successful livestreamers are affailiated with these companies, often signing over control of their names and social media accounts. Even famous faces like Li Ziqi have limited control over their own profiles — when she had a falling out with her company, she disappeared from her own channel.
A typical livestream sale looks a lot like a TV shopping channel: hosts spend hours pitching product after product, all at steep discounts. For sellers like Yanzi, securing a spot at a livestreaming room hosted by the MCN companies is a costly bet.
MCNs typically ask for large deposits, sometimes 1 million yuan, according to several vendors at the wholesale market.
If it works out, a merchant can make a huge windfall in just a few hours of sales. But there is no guarantee, and if consumers don't take the bait, merchants often can't cover the cost.
Given the risk, those with enough capital are still willing to gamble. Anxi merchants believe those who don't keep up with new methods won't stay in business for long.
Although vendors in the wholesale tea market can sometimes convince the companies to take a portion of the sales instead of a deposit, the business is still risky. The MCN companies often require merchants to stock up before the event to be ready if they score a massive hit.
But if the sales fall short, the merchant is left holding the goods. The MCN companies don't lose any money.
Fed up with the passive situation, Yanzi asked her husband's family to invest in their own MCN in 2020. Successful tea merchants, they could afford to spend more on the effort than most.
To learn how, her husband, surnamed Xiao, sought help from fellow villagers who work for advertising agencies in the city of Xiamen. They hired several aspiring livestreaming hosts and livestreaming coordinators.
"So far, I have been losing money," Xiao told Sixth Tone.
Xiao worries that he doesn't understand what Douyin is looking for. The app's algorithms rank rooms based on factors such as how long users stay, whether they place orders, how long they watch before placing an order, and whether they comment or share. However, Xiao says, he is not sure whether factors such as the time when a livestream takes place, the location of users, and how active the account is would matter.
Xiao also admitted that they have tried "fake traffic," directing thousands of fake accounts into the room to boost its ranking. But as the algorithm becomes smarter, it is getting harder to fool.
"Until now, I feel like I've failed to understand the recommendation algorithm," Xiao said.
Workshops about e-commerce livestreaming are occasionally initiated by Alibaba and ByteDance, according to spokesmen at Anxi Ecommerce Association.
None of the vendors at the tea wholesale market Sixth Tone spoke to have attended these workshops yet. However, they all said they would go next time if they notice an event promotion.
"We have to keep up," Yanzi said. "Otherwise, we go backward."
Big companies have an edge
Experts say that despite fast internet penetration in rural areas over the past decade, rural merchants are at a disadvantage when it comes to navigating changes in platforms. The rising trend of e-commerce livestreaming may increase the already existing digital inequality.
"As livestreaming becomes a new form of e-commerce, it requires the seller to be more tech-savvy," Camille Boullenois, a consultant at Sinolytics, a research-based consultancy focused on China, told Sixth Tone. "While some small players can thrive on it, medium and big companies that have more resources to pay staff specializing in marketing and dedicated to it full-time have more chances of benefitting."
Indeed, Anxi County's biggest merchants seem to be doing fine.
Bama Tea originated from Anxi and opened its first brick and mortar shop in Shenzhen in 1997, and was the top-ranked oolong seller on marketplaces Taobao, Tmall, and JD for years. It's gained the upper hand in the shifting trend. Bama started to experiment with e-commerce livestreaming in 2020, and has achieved great success on Douyin and Kuaishou, chairman Wu Qingbiao told Sixth Tone.
Rather than working with MCN companies, Bama recruited TV hosts and young graduates with broadcasting degrees, training them as streamers who specialize in selling the company's products, Wu said.
Wu said Anxi is more advanced in e-commerce than any tea-producing area in the country, as it has thousands of locals active in online sales. The "clustering effect" helped tieguanyin become renowned across the country and pushed locals to develop an industry chain from tea picking and processing to packaging. "But in the end, it was more beneficial to the leading companies," Wu said.
"Too many market players led to vicious competition, and some have been eliminated," Wu said. He added that some local tea merchants have begun to source tea from other provinces, and are trying to sell it using the e-commerce model they have mastered over the past decade.
Easy or not, everyone in Anxi seems to be trying livestreaming.
Wang Guozhen, a tea factory owner who supplied tea to Bama, told Sixth Tone that even old tea farmers are taking an interest, asking tech-savvy children or grandchildren to help — especially if they've moved to cities.
"They're making small-scale sales occasionally," Wang said. "But it's not their main source of income."
Editor: David Cohen.
(Header image: An iron chair workshop in Shangqing Township, Fujian province, Dec. 30, 2021. Wu Peiyue/Sixth Tone)