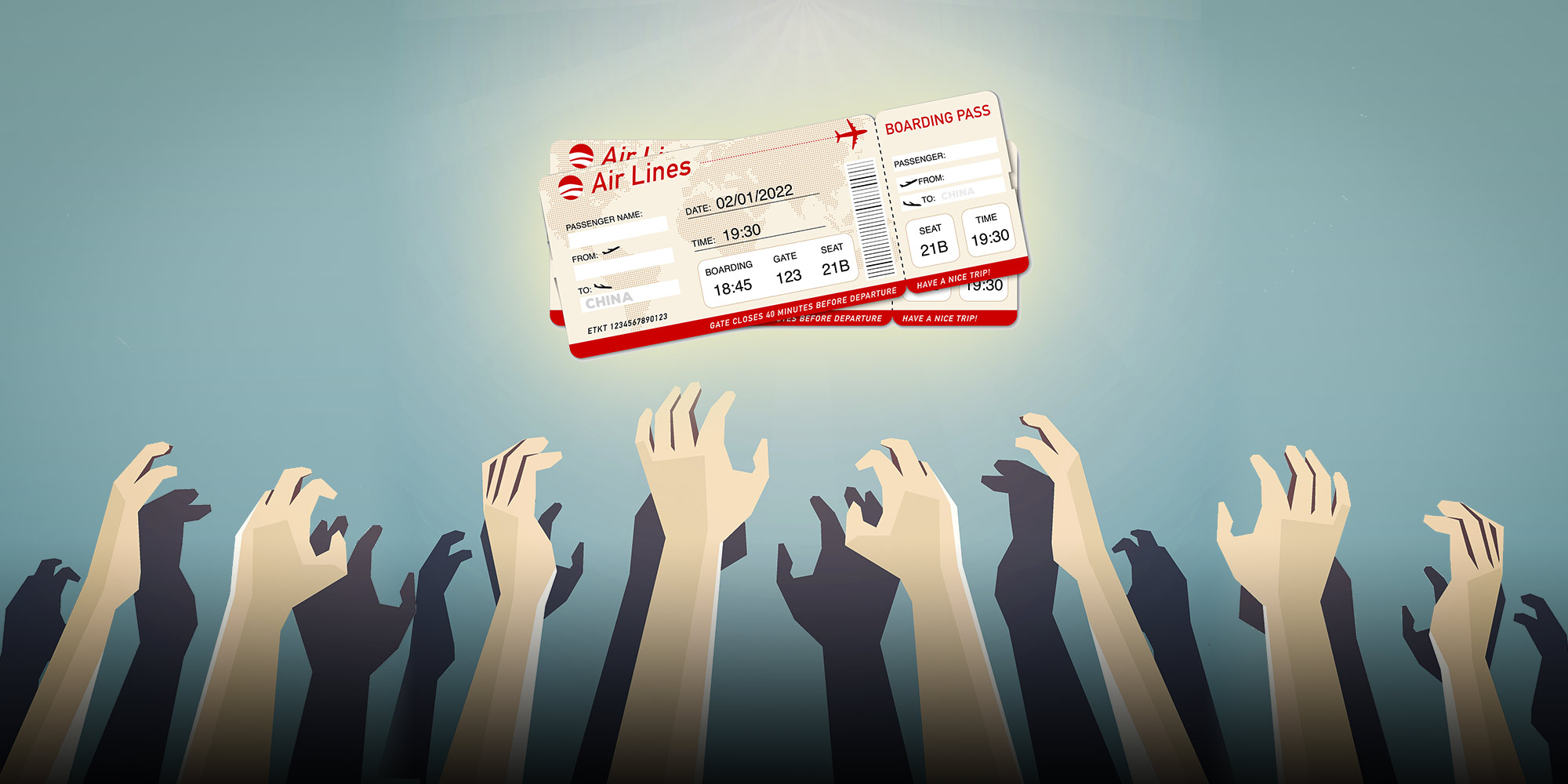 NEWS
'Returning to China Is Like Buying a Lottery Ticket'
Dozens of international flights have been canceled as the country reports a surge in COVID-19 infections among inbound passengers.
Liang has been waking up in the wee hours of the morning for almost a month — it's not nightmares giving her sleepless nights, but the thought of whether she can return home to China soon.
The 43-year-old, who only gave her surname to speak with Sixth Tone, is currently in Sweden, where she taps her phone every day, precisely at 3 a.m., when authorities release the official daily coronavirus updates in China. She has been scrambling to board a flight to attend to her ailing mother, who has cancer, but all four flights she has booked for early January have been canceled due to the country's "circuit breaker" policy.
China implemented the policy in June 2020, reducing the number of seats or temporarily suspending flights found to be carrying a certain number of passengers who test positive for the virus upon landing in the country. With COVID-19 infections spiking globally, Chinese authorities said "imported cases" have risen significantly, with Shanghai reporting the highest number since the start of the pandemic.
As of Jan. 16, the number of seats for inbound flights from North America and Western Europe scheduled during Jan. 17-30 to China dropped 43% and 21%, respectively, compared with data released Jan. 10, according to figures from air travel intelligence company OAG shared with Sixth Tone. Reuters reported that as of Jan. 12 this year, some 70 flights from the United States to China had been canceled alone.
"One night my mom texted me saying her situation had worsened … and (she) probably wouldn't make it by the time I returned to China," said Liang, who had visited Sweden to meet her daughter. "It made me feel awful. I told her I was looking for every means to return to China, but all the flights had been canceled."
With the Lunar New Year peak travel and the Beijing Winter Olympics just weeks away, China is on high alert to ward off any large COVID-19 outbreaks. The country has reported over 3,700 domestic infections — low by global standards but a significant tally for a country still pursuing a "zero-COVID" strategy — since the latest flare-up in the northwestern city of Xi'an on Dec. 9. The highly transmissible Omicron variant that has now been detected in multiple cities, including major international entry points such as Shanghai and Beijing, has only posed further challenges to authorities.
With cases on the rise globally, the strict regulation of inbound international flights is unlikely to change anytime soon, according to experts. Zhang Wenhong, a top Chinese virologist and a leading COVID-19 expert, said over the weekend that "the risk of imported cases should still be very high for the next six months."
Amid the country's strict policies to remain virtually virus-free, the stories of students struggling to make it to schools abroad on time or workers desperately seeking to fly home after finishing their foreign tenures show the emotional toll faced by many.
Chen Qing planned to fly to China next month after visiting her boyfriend in the U.S., but she said her Feb. 14 flight had already been canceled. For now, the 32-year-old has rebooked for the following week, but she's not hopeful considering the number of passengers testing positive for the virus upon arriving in China.
"I'm spending heaps of time daily checking cancellation information on social media," Chen told Sixth Tone, adding she is concerned that her delayed departure could affect her job at home. "But there's just nothing I can do."
The rigid rules and the swiftly evolving situation has made overseas Chinese anxious, with many of them sharing their experiences online. While some have started online chat groups with strangers to share their plights and update each other with travel information, others have flooded social platforms such as Xiaohongshu, where they post about their failed attempts to fly home from abroad — from ordeals involving multiple flight cancellations to soaring ticket prices.
Both Chen and Liang said they paid over 20,000 yuan ($3,150) for an inbound flight to China, more than double pre-pandemic prices. Many have booked through travel agents to make sure they don't miss their chance to secure a seat.
"Returning to China is like buying a lottery ticket," said Liang. "It's a real gamble."
For many, prospects of flights being diverted midair has only fueled their anxiety. A Delta Air Lines flight from Seattle to Shanghai last month turned around six hours into the journey, citing how the destination airport's new rules "require significantly extended ground time and are not operationally viable."
The Chinese Embassy in the U.S. refuted the claim, blaming flight cancellations on staff shortages among U.S. airlines. Last week, the U.S government criticized China's decision to cancel a growing number of flights for being "inconsistent with its obligations under the U.S.-China Air Transport Agreement."
Meanwhile, caught in between the bureaucracy and tough border controls are thousands of people — both Chinese and foreigners — hoping to reunite with family, return to school, or their jobs. But for now, Liang and Chen said that seems like an almost impossible mission, involving a series of tasks, including securing a flight, taking various pre-departure virus tests, and weathering post-arrival quarantine.
"I understand China's strategy," said Liang, hoping the flight she booked for the fifth time on Feb. 13 takes off without a hitch. "I just feel it's inhumane to punish everyone based on the (circuit breaker policy)."
"Sometimes I feel as if I'm the virus," Chen added.
Editor: Bibek Bhandari.
(Header image: Visual elements from iStock and DigitalVision/People Visual, reedited by Sixth Tone)