SHANGHAI — It's the time of the year when hundreds of thousands of students from China embark on their study abroad trips in the United States as schools start their fall semester. But the pandemic has made that journey particularly difficult.
On Tuesday, scores of students and their parents waited anxiously in front of check-in counters at Shanghai Pudong International Airport. Some passengers had reached the airport considerably early after hearing of longer than usual lines — they didn't want to miss their flights.
One woman who didn't wish to give her name told Sixth Tone that her daughter was flying to New York for her final year at Parsons School of Design after taking online courses for a year. They set off at dawn from the eastern city of Ningbo — just over 200 kilometers from Shanghai — for the afternoon flight, having watched a video of lines that stretched some 1,000 meters.
"I was very nervous about whether she could make it after seeing the video, so we left (early)," she said, referring to lines seen at the Cathay Pacific counter. Her daughter was booked on the same airline and flying via Hong Kong.
Though the airport wasn't overly packed Tuesday, airline staff said they were working to avoid any chaos by opening up check-in counters earlier. The airline said it has also implemented a new line management system to make check-ins more convenient.
"August and September are the peak seasons for international students to return to school, and due to COVID-19, the check-in process is much more complicated than before," a Cathay Pacific spokesperson told Sixth Tone via email.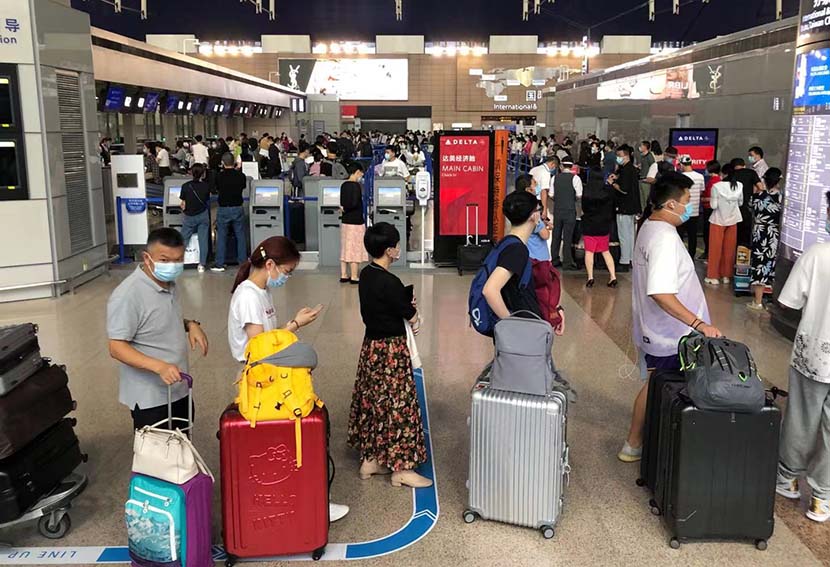 Passengers wait to check in at Shanghai Pudong International Airport, Aug. 16, 2021. Zhang Lifen for Sixth Tone
As the U.S. relaxes travel restrictions and universities start in-person classes after months of pandemic-related uncertainties, Chinese students who were either stuck while visiting home last year or those starting fresh are finally flying to their destinations. In 2020, 372,532 Chinese students enrolled at universities across the U.S., according to the Open Doors Report on International Educational Exchange.
Zhuyuanquan, who wanted to be identified by her pseudonym on social platform Little Red Book, said she waited for at least four hours to board a Cathay Pacific flight on August 4. Having already deferred her offer for a graduate degree at Carnegie Mellon University in Pennsylvania for a year, she had booked two plane tickets, just in case she missed one.
"I was concerned if I'd come in contact with COVID-19 during the trip and also worried whether I would be let on the plane; if I'd prepared enough supporting documents," she told Sixth Tone from the U.S. "I was relieved when I was onboard the aircraft."
While lines at busy airports such as Shanghai Pudong are not uncommon, additional documentation requirements at arrival and departure countries have elongated check-in times. Passengers flying to the U.S. from China are required to show a negative COVID-19 test taken within 72 hours, an address and contacts in their final destinations, and a signed attestation form about their COVID-19 status, according to the Hong Kong-based airline's website.
With the frequency of U.S.-bound flights from China still in low numbers, the start of the new semester has driven the demand for carriers, including Cathay Pacific and Delta Air Lines, according to the respective companies. Many students are hopping on any flights they can find, regardless of the sky-high prices.
On Chinese booking site Trip.com, the cheapest one-way ticket from Shanghai to New York with two transfers on Friday costs nearly 20,000 yuan ($3,085), with prices soaring to almost 70,000 yuan for the same day. Zhuyuanquan said her ticket via Hong Kong cost around 20,000 yuan.
"I spent a lot of time and energy applying to schools; I wouldn't give up easily," Zhuyuanquan said, referring to online comments criticizing students for traveling amid the pandemic.
Editor: Bibek Bhandari.
(Header image: Passengers wait to check in at Shanghai Pudong International Airport, Aug. 16, 2021. Zhang Lifen for Sixth Tone)