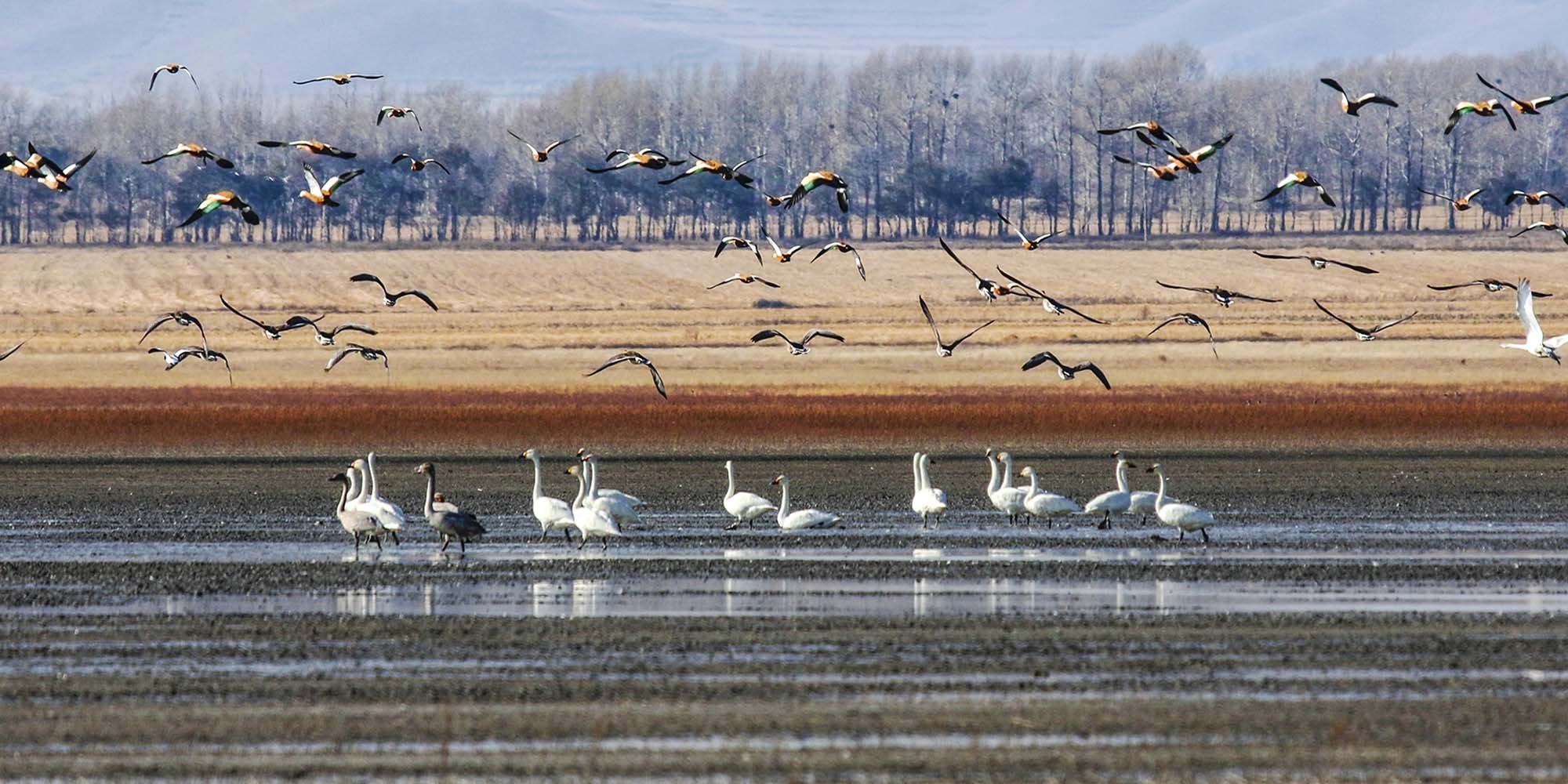 NEWS
China's First Wetland Protection Law Aims to Save Fragile Ecosystem
Experts say the much-needed law will strengthen protection of the country's wetlands in a unified and systematic manner.
China has passed its first wetlands protection law over a decade after the legislation was proposed, marking a major step in saving the country's impaired ecosystem, sometimes referred to as "the Earth's kidneys."
Chinese lawmakers on Friday approved the Wetland Protection Law, spelling out provisions on protecting, utilizing, and restoring wetlands, as well as specifying accountability of government departments and punishments for violations. The law will come into effect June 1, 2022.
Wetlands play a key role in purifying water, controlling floods, and maintaining biodiversity as habitats for plants, animals, and migratory birds, but they're among the most fragile and heavily degraded ecosystems globally. Some wetland restoration projects even have the potential to damage the local ecosystem due to inappropriate designs or incomplete risk assessments.
China has the fourth-largest wetland area in the world, but half of its coastal wetlands have been lost to reclamation over the past four decades, according to the international nonprofit World Wildlife Fund. In the last 21 years, Chinese authorities have proposed policies for conserving wetlands — including an action plan in 2000 and short-term five-year plans — though a national law had failed to gain momentum, until now.
The new law classifies wetlands ranging from "general" to "important" based on various factors, bans occupying nationally important wetlands — except under special circumstances such as conservation projects — and imposes fines of up to 1 million yuan ($157,000) for illegal activities. It also calls for boosting funds for the ecological compensation scheme to protect essential wetlands, adding local government initiatives will be used to evaluate their performance.
Ma Yong, deputy secretary-general of the nonprofit China Biodiversity Conservation and Green Development Foundation, told Sixth Tone that the lack of a specialized law had hurt efforts to protect wetlands and made it difficult to hold individuals and entities accountable for destroying the areas. He added that the new legislation would help protect wetlands in a unified and systematic manner, as previous provisions were either included under related laws or specific to certain regions and provinces.
"We've dealt with cases meant to protect wetlands but had to cite the Environmental Protection Law as a legal basis," Ma said. "The new law focuses on the protection of wetlands and their ecological value, rather than development and utilization, which improves China's ecological legal system."
Editor: Bibek Bhandari.
(Header image: People Visual)