Every year, thousands of wading birds stop near Beijing's Shahe Reservoir to forage for food and refuel before their long migration on the East Asian-Australasian Flyway. The area is one of the Chinese capital's few remaining untouched wetlands, but conservationists now worry that a construction project threatens the migratory bird haven.
Environmentalists say that the large-scale plantation of trees and shrubs, as well as adding other infrastructures, for a new wetland park would change the area's landscaping, impacting the local biodiversity and disturbing the area birds rely on for rest and sustenance. Authorities in the city's Changping District — where the reservoir is located — plan to build a 200 million yuan ($30.8 million) park in Shahe and turn the area into a hub for ecotourism and public leisure.
Let Birds Fly, a nonprofit focusing on the protection of migratory birds, has asked local authorities to halt the project and reassess its construction plan, calling on people to sign a petition to pressure the relevant departments. In March, the nonprofit also published an open letter questioning the construction plans and demanding answers on the project's environmental assessment.
Shahe Reservoir, where more than 290 species of birds such as endangered Oriental white storks and vulnerable relict gulls have been spotted over the years, is the latest example of China's contentious green initiatives. Last year, Shanghai temporarily halted a mass tree-planting project in the city's Nanhui East Shoal after strong objections from academics, conservation groups, and birdwatchers.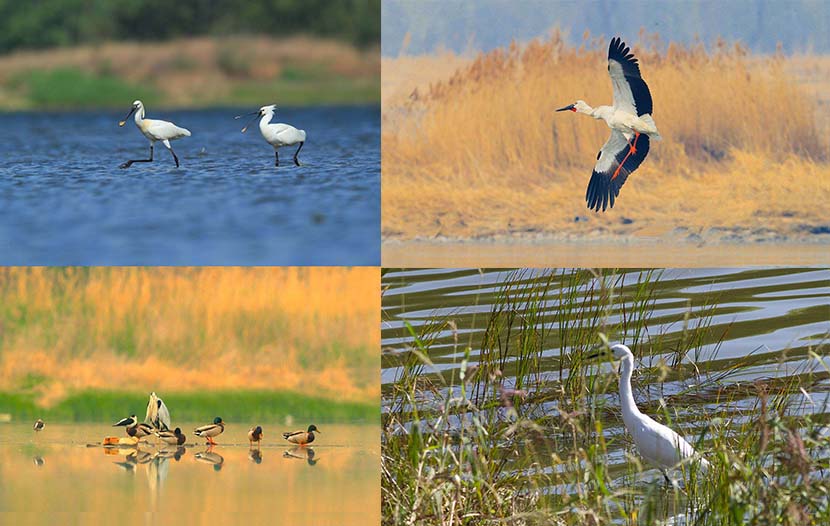 Species of birds that have been spotted at the Shahe Reservoir: Eurasian spoonbill (top-left); Oriental white stork (top-right); Mallard, Black-winged stilt and Grey heron (bottom-left); Little egret (bottom-right). Courtesy of Let Birds Fly
Gu Xuan, program officer at Let Birds Fly, told Sixth Tone that the large areas of shoals, grassy places, and waste sugar fields in the reservoir provide vital habitats for birds to hide and refuel before flying to the next destination.
"If they go ahead with plans to build an artificial park, the mudflats will be covered with artificial vegetation to attract a lot of people," Gu said. "This area will then be unsuitable for birds to rest anymore."
The construction is being promoted as an ecological park and is part of Beijing's push to crack down on water pollution, according to a feasibility study commissioned by the local government and seen by Sixth Tone. Policymakers believe the project would restore the wetland area and help improve water quality in the Wenyu River, which runs through the reservoir and is water source for many of the capital's populous areas.
But critics say the local government's current plan focuses on improving the river quality and green spaces instead of adapting to local situations. Such interventions, they say, are counterproductive for preserving the existing wetland ecosystem's biodiversity.
"Such a park is not ecological," said Zhou Jinfeng, secretary-general of the China Biodiversity Conservation and Green Development Foundation, which is also lobbying the local government to reassess the project. "It's a human-based industrial product that looks ecological."
A staff at the Changing District's forestry and parks bureau, which is responsible for the ongoing construction, told Sixth Tone that she was not familiar with the project and refused to elaborate.
Editor: Bibek Bhandari.
(Header image: Birds fly at the Shahe Reservoir in Beijing, March 19, 2021. People Visual)