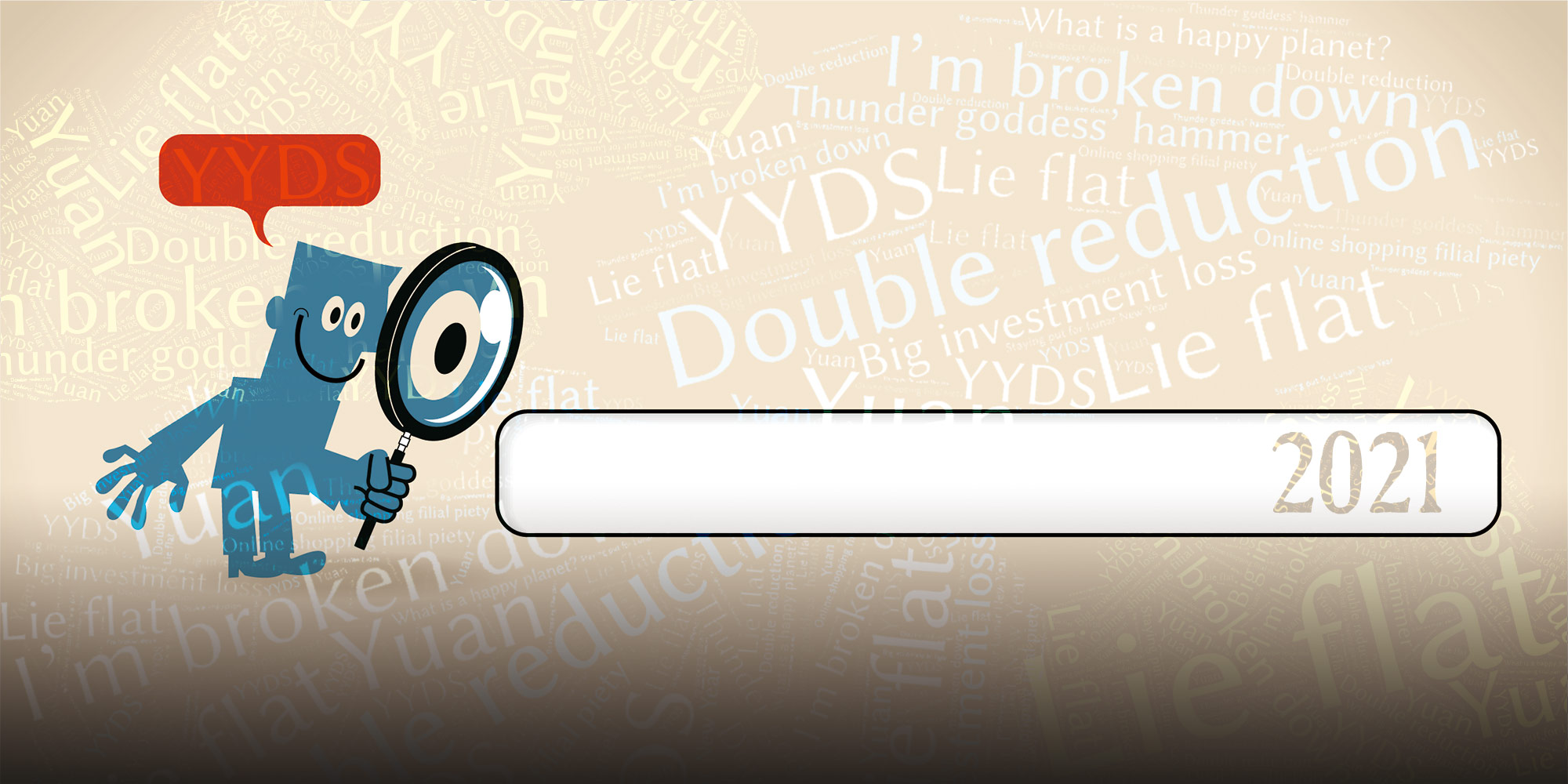 NEWS
The Best Chinese Internet Slang, 2021 Edition
A list of online buzzwords that lived a life of their own on online platforms this year.
Every year, a word or a phrase springs to life before becoming immortalized in cyberspace.
The popular online lexicons of 2021 encapsulated a range of emotions, underscoring the varying moods of Chinese society and social media users. They included viral phrases referring to dispirited lifestyles, expressions describing overwhelming emotions, references to sexist language, and more.
Here, Sixth Tone selects the top 10 buzzwords of 2021.
Double reduction
China's central government enrolled the "double reduction" policy to reduce the burden of homework on students from grade one through nine, as well as after-school tuition. Referred to as shuangjian in Chinese, it has become one of the most-talked-about phrases on Chinese social media platforms this year.
Lie flat
The phrase "lie flat," or tang ping in Chinese, refers to an intentionally dispirited lifestyle that goes against the traditional notions of ambition and a grueling work culture. To cope with China's fierce social competition, some millennials advocate a defeatist attitude toward life and careers.
YYDS
YYDS, an acronym of the pinyin for yong yuan di shen, is similar to G.O.A.T., or "greatest of all time" in English. Originating from an esports player who shouted out the phrase to retired League of Legends player Uzi, the abbreviation is now used to describe someone or something that is awesome and exceptional. China's first-ever Olympic gold medalist Xu Haifeng used YYDS to congratulate Chinese shooter Yang Qian after she claimed the first gold medal of the Tokyo 2020 Olympics.
Yuan
Social media users and some state media outlets adopted the word yuan, which refers to "beautiful women," pairing it with other words as a way to mock women they see as engaged in attention-seeking activities online. Certain terms were distorted and called out for bolstering a sexist narrative and their use to insult young women.
I'm broken down
The Chinese phrase po fang le, which literally means "to have broken through someone's defenses," was originally used by online gamers. Chinese netizens later used the term to describe a strong emotional effect, similar to "this really got me" or "so many feels." The term has been selected as this year's most popular term on video-streaming platform Bilibili.
Staying put for Lunar New Year
The buzzword yuan nian ren is an abbreviation for the Chinese word referring to people who stayed put for the Spring Festival instead of traveling home for family reunions. Prior to this year's Lunar New Year, authorities urged non-local residents to "celebrate in place" to prevent the potential spread of COVID-19.
Big investment loss
The abbreviated Chinese phrase die ma bu ren, which describes losing so much money on investment funds and securities to the point that even one's own mother doesn't recognize them anymore, also went viral this year. The self-effacing term came into use after Chinese investors watched as the country's stock and mutual fund market slip.
Online shopping filial piety
The phrase refers to busy Chinese millennials who, when unable to spend time with their parents, fulfill their filial duties by instead buying them gifts online. The term started trending on Chinese social media after this year's Mother's Day.
What is a happy planet?
This catchy line is a lyric from a 2004 children's science fiction TV series "Happy Planet." After becoming a popular hook for several viral clips on Chinese short video platforms, it evoked nostalgic memories among many Chinese millennials. Online users started using the term "happy planet" to refer to anything that made them happy, from a delicious meal to a newly-released track from their favorite pop star.
Thunder goddess' hammer
Armed with screenshots and detailed chat logs, Lee Jinglei, estranged wife of pop star Wang Leehom, accused her ex-husband of infidelity and emotional abuse. As she dismantled Wang's online damage control efforts, social media users joked that Lee — whose name sounds like the Chinese word for "thunder" — had laid the hammer down on the idol.
Compiled by Sixth Tone reporters and editors.
(Header image: Visual elements from People Visual and Wordart, reedited by Sixth Tone)