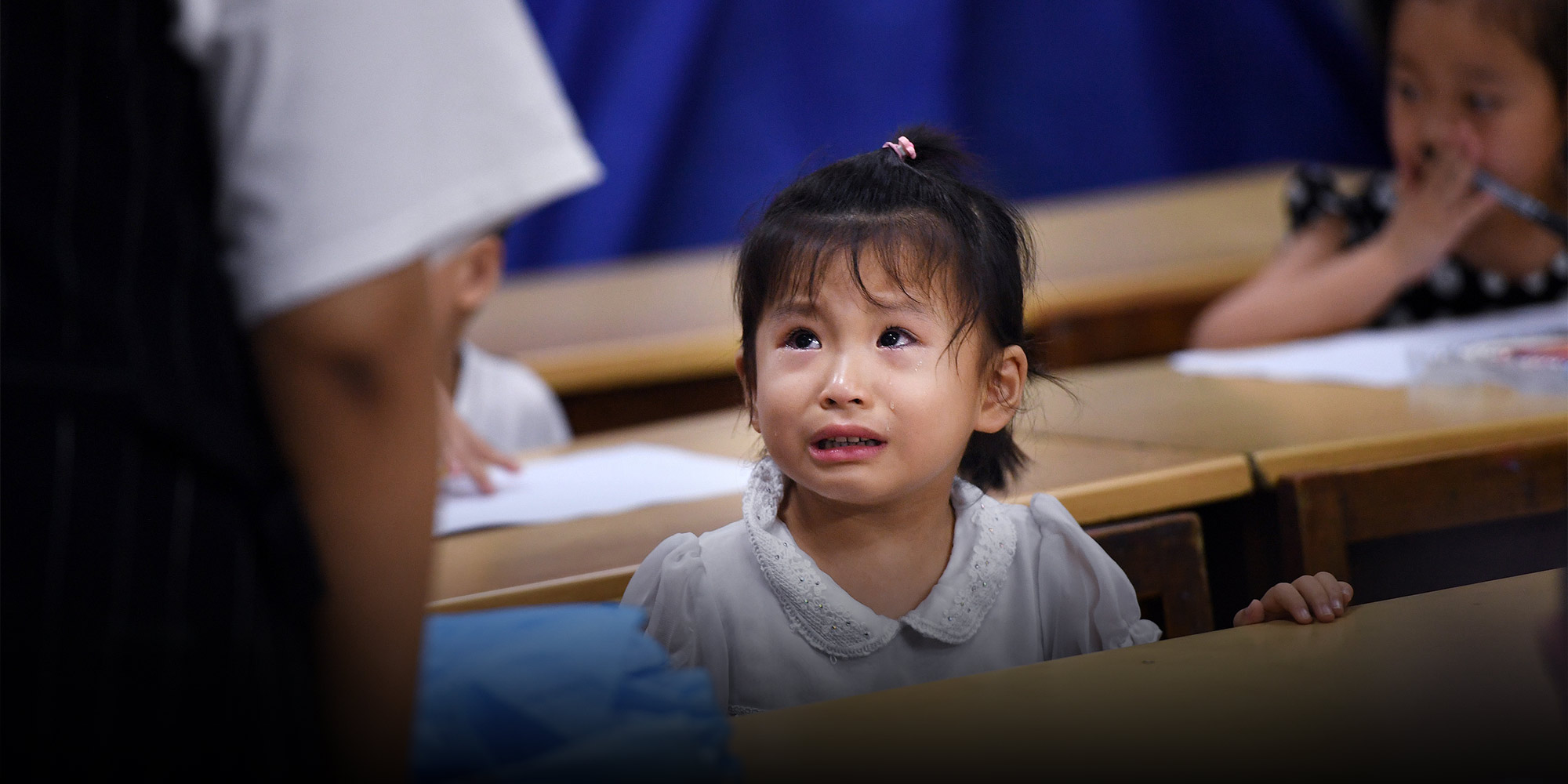 NEWS
China Takes Tough Approach to Tame Tutoring Schools
The new set of rules aim to better monitor the education market, which has been blamed for increasingly unfair competition among students.
China's Cabinet, the State Council, has formally announced several measures targeting both students and tutoring agencies in a bid to reduce the growing academic burden on children — as well as unfair competition.
The long-anticipated policy, which touches upon everything from homework to extracurricular tutoring, was approved by the central government as early as mid-May and formally announced Saturday. Beijing, Shanghai, Guangzhou, and Chengdu are among the pilot cities where the new policy will be introduced, though it's unclear when it will be implemented.
Below are some key measures from the new policy:
No new tutoring facilities
Local authorities will no longer approve new tutoring facilities for students in grades one through nine. Traditionally, these businesses provide additional academic classes to students enrolled in the country's compulsory education program.
All existing tutoring centers will have to register as non-profit organizations. Meanwhile, online tutoring institutes, previously only required to register their businesses, will also be subject to stricter standards, likely making it difficult to get approved.
No capital operations
Tutoring centers providing academic classes are not allowed to seek financing by listing on the stock market, and profitmaking operations are banned.
Listed companies cannot use stock market financing to invest in extracurricular institutes looking to provide academic training or buy assets in those institutes by issuing shares or paying cash. Foreign investments are also not allowed in such institutes, either in the form of merger and acquisition or other means.
Three major Chinese education groups listed on U.S. stock exchanges —Tomorrow Advancing Life (TAL), Gaotu Group (GOTU), and New Oriental (EDU) — saw their stock prices plummet by 70%, 63%, and 54%, respectively, even before the announcement, on Friday.
No academic training on weekends or holidays
The new policy bans any extracurricular training sessions on weekends and holidays, including summer and winter breaks or national holidays. Tutoring institutes are also barred from using overseas teaching materials.
No online tutoring for kids under six
Education training institutes are forbidden to offer online tutoring courses targeting children aged between three and six years old. Any classes offered as pre-school preparation and foreign language learning are also banned.
Relevant authorities will no longer approve institutes that target preschoolers.
Free online classes for students
The Ministry of Education will compile online teaching resources and make them accessible to students nationwide in an effort to ensure education equity for all. Local education authorities have also been directed to find "reputable teachers" for such online classes.
The new policy also includes previously announced guidelines such as the extension of school hours to accommodate the needs of working parents and a no homework rule for first and second-graders.
There has been a varying response to the new policy from parents and teachers at training schools on social media and online groups. Some parents say it's only fair for children to have reduced academic pressure.
"If there was no peer pressure, no parent would choose to prepare their children this hard. I'm happy for my younger son as he's likely to enjoy a more free and joyful childhood than his brother's," said Cheng Lina, a mother in Shanghai whose older son studies rigorously even during vacations.
However, several teachers at training schools said they were disappointed, with one math teacher saying, "no one will survive under the new policy."
Editor: Bibek Bhandari.
(Header image: A child student cries at a tutoring school in Hefei, Anhui province, 2018. IC)