NEWS
China Has Largely Contained COVID-19 in a Month. What's Next?
While government officials look at a "dynamic zero" approach in containing the coronavirus outbreaks, experts say the time could be used to build resilience for opening up.
China's latest COVID-19 outbreaks that started in mid-October have spread to 21 provinces and regions. But in just 30 days, confirmed cases have declined to single digits, with only six cases reported in just two provinces Wednesday, compared with two weeks ago when there were 93 infections, a daily high for recent months.
The remarkable feat, achieved as several countries reel from surging coronavirus cases, is the result of the country's "zero COVID" strategy, which includes local lockdowns, mass testing, and strict quarantine measures lasting for at least two weeks to almost a month. China's strategy has mostly worked, and top health officials have frequently emphasized the country's determination to achieve a "dynamic zero" target.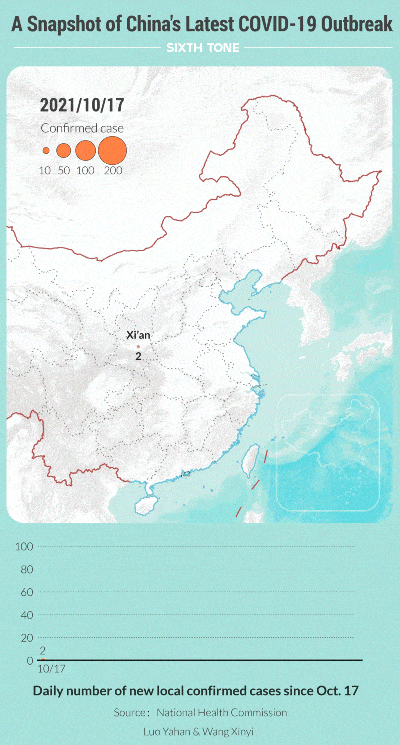 But at the local level, the restrictions have taken a toll on people's daily lives and livelihoods.
When the city of Lanzhou in the northwestern Gansu province announced a lockdown to contain the virus last month, patients with kidney failure struggled to receive regular dialysis at hospitals and had to rely on volunteers for transport. Some control measures have gone even further, with quarantine staff in the eastern Jiangxi province killing the pet dog of an individual suspected of being infected with the virus, though officials said the personnel acted without "sufficient communication."
A health care expert in the northwestern Shaanxi province told Sixth Tone that he viewed some local virus-containment measures as "chaotic" and requiring "scientific evaluation." The performance-based assessment mechanism that stresses zero COVID risks has exacerbated the issue, with some dozen officials suspended or admonished for their inadequate response in containing local flare-ups since October.
"The decision-makers then get tough — they won't get dismissed because they failed on the economy, but they could get dismissed for this," said the former official who spoke on the condition of anonymity. "Then when they evaluate making decisions, the officials will make decisions that are most beneficial to them."
Since the first infections were reported in Shaanxi's provincial capital Xi'an on Oct. 17, the country has logged over 1,300 local cases in a month's time, according to data from the Nation Health Commission. It's one of the largest number of cases — three separate clusters were reported in the northern Inner Mongolia Autonomous Region and provinces of Heilongjiang and Liaoning — since the initial outbreak in the central city of Wuhan was contained in April 2020, and the start of officials looking toward a "zero COVID" approach.
Chen Xi, associate professor at the Yale School of Public Health, told Sixth Tone that the country's current strategy was a reasonable choice in the short term. When infection risks are higher, outbreaks in remote villages could pose challenges to the ill-equipped and poorly-resourced communities in such areas, which has long been a weak spot in China's health care system.
But as the pandemic drags on and sporadic flare-ups emerge time and again, residents said they are sometimes frustrated and at times simply unbothered by the local virus-control measures.
Lily Guan lives in the northeastern port city of Dalian, another recent COVID-19 hotspot with over 275 infections. The first case detected was in a warehouse staff handling frozen food on Nov. 4.
Guan told Sixth Tone that a handful of residents in a community 2 kilometers away from her apartment had also tested positive for the virus, but it hadn't disrupted her daily life — except for the four nucleic acid tests she'd received.
"I don't really feel that the coronavirus is around me," she said, adding there were no citywide lockdowns.
Though some people may have harbored a relaxed attitude amid comparatively lower caseloads and casualties in China compared with elsewhere — it has logged just four deaths among over 15,000 infections in the past 18 months — health experts advising the government say relaxing the current containment policies would be "more costly" for China given the global mortality rate. Globally, the case fatality rate from COVID-19 currently stands at 2%, significantly lower than pre-vaccination but still much higher than that of seasonal influenza.
But according to Chen, the low mortality rate in China remains untested under the country's stringent containment of any outbreaks. It will be "unreliable" to reflect the real scenario when China relaxes its approach, he said, adding the number could increase when infections surge.
"If you relax it all, with such a large population in China, even a small proportion of deaths will be huge," Chen said.
For now, officials and experts say there are no signs that China may relax its strategy — especially when the country is staring at the onset of flu season, the mass movement of people during the Lunar New Year, and the Beijing Winter Olympics in February — and will instead stick to its checklist of preventive measures. This week, Beijing, which has logged over 40 infections so far amid the new outbreak, required all visitors to undergo COVID-19 testing 48 hours before entering the capital. Meanwhile, several other cities have started providing booster shots to their populations.
The Chinese mainland had administered over 2.4 billion doses of COVID-19 vaccines as of Tuesday, achieving a national vaccination rate of well over 70%. However, experts like Chen worry that antibody levels — linked to the level of protection against pathogens — remain unclear among China's vaccinated people.
The lower efficacies of Chinese vaccines compared with some of those widely used in the West, as well as waning immunity over time is another concern. China needs to seize the "window of opportunity" in collecting such data, as it would allow authorities to determine the country's COVID-19 resilience when opening up, Chen said.
In recent months, several countries have relaxed restrictions and even reopened their borders to vaccinated travelers, though there has also been a spike in infections and deaths. South Korea, for example, has been hailed for its virus containment policy without introducing harsh restrictions, all the while minimizing casualties. Other nations, like Singapore, that once followed a zero COVID strategy are loosening their policies amid large-scale vaccination rates.
With many places now "living with the virus," and the availability of new medical advancements against COVID-19, China needs to think about its exit strategy and adapt to the changing circumstances, said Benjamin Cowling, an epidemiologist at the University of Hong Kong. Currently, two American pharmaceutical companies are seeking approvals and authorizations in the U.S. for their oral pills to treat COVID-19 patients, while China is also developing domestically-made drug and messenger RNA (mRNA) vaccines.
"At some point in the future, I suppose that the government in China will have to think about moving away from the zero COVID strategy, but I don't think they would plan anything now," he told Sixth Tone. "Looking into the coming six or 12 months, I would expect the border measures to continue to minimize the risks of outbreaks, but I wouldn't expect zero outbreaks."
Additional reporting: Xu Jialu; editor: Bibek Bhandari.

(Header image: A medical worker takes a swab sample to be tested for COVID-19 in Beijing, Nove. 4, 2021. Greg Baker/AFP/People Visual)