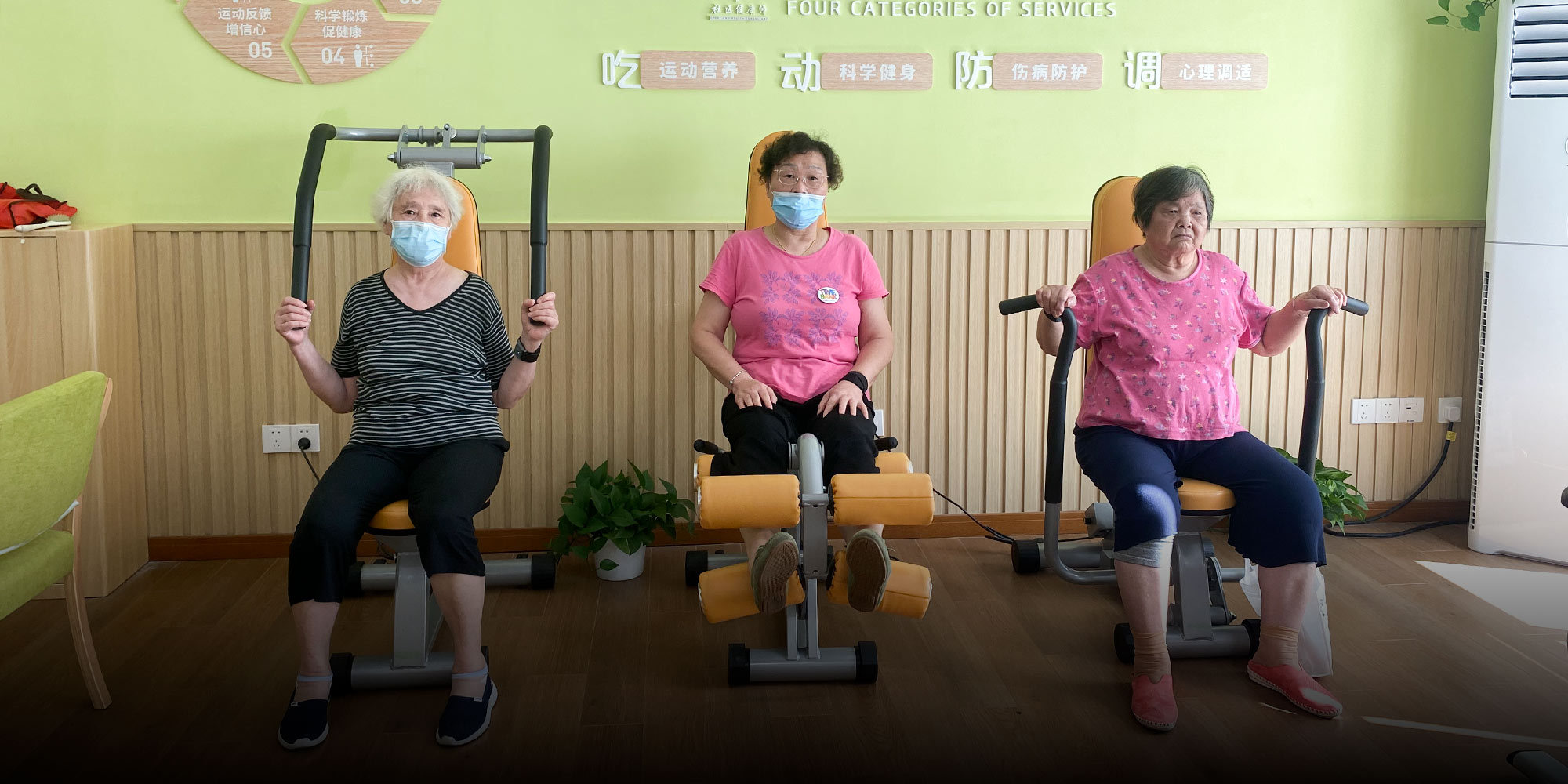 FEATURES
Who Will Care for China's Aging Population? The Elderly.
In a rapidly graying China, cities are having to get creative to fill a massive gap in social care. The latest solution: encouraging seniors to take care of each other.
SHANGHAI — At 71 years old, Pan Guoli is over a decade into her retirement. But in her neighborhood, she's now considered a prime job candidate.
Hongqiao, a subdistrict of western Shanghai, is one of many places in the Chinese megacity struggling to cope with a rapidly aging population. Nearly four in 10 residents are over 60 years old — and the social care system is stretched to its breaking point.
So, officials are tapping an auxiliary workforce to fill the gap: septuagenarians like Pan.
The government has divided the area's senior residents into two groups — "young elderly" aged 60-75 and "old elderly" aged over 75 — and is encouraging the "young elderly" to help take care of their "old elderly" neighbors.
Pan has started working at a gym near her home, helping local retirees get to grips with the machines. Other "young elderly" residents offer computer classes, rides to hospital appointments, or just a few hours of company.
They receive no salary for this work. Instead, they are paid in "time coins," which they can exchange for free services when they become "old elderly" themselves.
The system — known as Time Bank — has had only mixed success during local trials. Yet it could soon be rolled out all over China, as the country scrambles to deal with the grinding consequences of its demographic crisis.
Four decades of draconian family-planning policies have left China with one of the world's fastest-aging societies. It's now home to more than 264 million people aged 60 or over, and this figure is expected to rise to a staggering 402 million by 2040.
Social care services in many cities are already severely overstretched. A decade ago, surveys suggested that Shanghai had a shortage of over 500,000 domestic workers — and the problem has almost certainly worsened since then. Local authorities have pledged to provide thousands of extra nursing home beds by 2022, but demand still far outstrips supply.
The shortfall is placing an enormous burden on millions of millennials from the one-child generation, who often find themselves trying to manage a career, raise children, and care for two sets of aging parents simultaneously. Many are simply unable to provide ailing relatives with the care they need.
Chinese authorities have introduced a slew of policies to relieve the pressure, including paying students to become care workers, giving employees from one-child families extra days off, and promoting door-to-door services for elderly people who require special care. However, the measures have only had limited success.
Now, officials are turning to Time Bank projects as an alternative method for managing the growing elderly population, says Chen Tibiao, an associate professor at East China Normal University's Economics and Management Department.
The Time Bank concept — which was developed by the American legal professor Edgar Cahn in the 1980s — encourages citizens to perform community service in exchange for credits, which can then be exchanged for items or services. More than 20 countries use some form of the Time Bank system. China, however, aims to use it in a highly specific way: to push the elderly to assist the even more elderly.
"They propose having the 'active and vibrant elderly' take care of elderly care," says Chen. "It's mainly aimed at solving the problems of elderly care caused by the family-planning policies."
In 2018, China's Ministry of Civil Affairs released a statement stressing the importance of developing Time Bank systems. It suggested officials launch local pilot schemes that could then be scaled up and rolled out nationwide.
Many local governments have since created their own Time Bank projects. Hongqiao, the subdistrict where Pan lives, set up its trial system in 2019. The following year, Shanghai's municipal government expanded the pilot to more districts and ordered officials to increase investment in Time Bank schemes. Then, this March, the city issued new regulations on elderly care services that stated it would support projects pairing the "young, healthy elderly" with "older elderly."
Yet the Time Banks have already hit a few bumps in the road. Two years into the trial, the Hongqiao system only has 164 registered members. 
"Some people said they didn't need such a service," says Zhao Chen, the subdistrict's deputy director. "They'd rather do things on their own."
Hongqiao has done its best to promote the program. It launched an online platform for the project, which allows residents to sign up, arrange services, and manage their time coins on their smartphones. Officials also tried to kick-start the bank by handing out free time coins to "old elderly" residents and creating specific jobs for "young elderly" locals — including the role at the gym that Pan now fills.
But the area's "young elderly" appear to view the project mainly as a form of charity work. The prospect of saving up time coins for future use isn't a big draw.
Pan gives the impression she'd happily work at the gym for free. A lifelong fitness enthusiast, she applied for the job as soon as she heard about it earlier this year. When Sixth Tone visits, she's busy showing a confused octogenarian how to do leg raises.
"Here, you need to do this training to help your varicose veins," she says. "Straighten your back, and then keep working your legs for 15 minutes every day."
The 71-year-old has already earned dozens of time coins, but she doesn't have a plan for how she and her husband will eventually use them. The main benefit of the job, she says, is that it keeps her fit and healthy.
"I'm mostly seeking to be more active and want to help people in need," Pan says. "At the same time, I can receive some help I might need in the future for free, so it's a win-win."
Officials admit there are good reasons why most locals don't view time coins as an attractive currency. They often won't be able to spend them for years. The coins can only be used in Hongqiao, meaning they'll be useless for residents who move out of the area. Worse, the project's backers worry members may struggle to redeem their coins in the future due to a lack of "young elderly" volunteers. They've had to restrict the number of coins members can earn each day for this reason.
"This is difficult for the government," says Chen, the professor. "They haven't thought through the exchange mechanism."
Some Time Bank advocates argue the solution is to go bigger. If the system were rolled out across Shanghai, the coins would be much more attractive and there would be a bigger pool of members, they say.
"We really hope that the Time Bank coins can be just like those issued by a bank," Zhao says. "In the future, we hope the project can be extended to the whole district, and finally the whole city."
Time Bank supporters point to the example of Nanjing, a metropolis around 300 kilometers from Shanghai. It created a citywide Time Bank system last October, and the project appears to have taken off. As of February, Nanjing's Time Bank had over 45,000 registered users and had processed more than 100,000 orders.
Others, however, are more cautious. From a technical point of view, expanding the Time Bank system to cover the whole of Shanghai would be easy, says Cai Jun, the founder of Fanglin Time Bank, a technology company that builds time bank systems based in the central city of Wuhan. But, he adds, there's no evidence that this would lead to a big increase in demand for time coins.
"This demand will gradually emerge only when Time Bank has developed all over the country," says Cai. "China is still far from reaching that stage."
China should learn from the example of Japan, which has used similar systems for decades, Cai says. The Japanese government first launched a Time Bank-like project to encourage citizens to provide mutual assistance after the 1973 oil crisis, which forced officials to make painful budget cuts. It then created another Time Bank scheme — the Nippon Active Life Club — to help mitigate the challenges of Japan's aging society in 1994.
A big part of the Japanese scheme's success stems from the fact non-professionals who provide services for the Time Bank also receive training as caregivers, Cai notes. This ensures the services provided are consistently high-quality, which helps build trust in the system.
"Volunteers need to understand the physical and psychological needs of the elderly and provide targeted services," says Cai. "All of this requires training."
Officials in Hongqiao try to police the quality of services by having members write reviews on the Time Bank platform. But as many seniors struggle to use the online system, they currently have to collect most reviews by phone interviews or in-person visits.
"We can understand more of their needs this way," says Zhao. "Speaking with them directly can also ensure the evaluations are authentic, and not just habitual praise."
According to Zhao, the "old elderly" residents are mostly satisfied with the services they receive. One of their most common requests is that the "young elderly" visit them more frequently, she says.
"Sometimes, the empty nesters ask if the volunteers can come over more often," says Zhao. "But we think the 'young elderly' have their own lives. Once a week seems appropriate."
There's still a long way to go before Time Bank becomes a system that truly eases the burden on China's elderly care needs. Before a nationwide system can be rolled out, the government will first need to work out a fair service and pricing mechanism that takes China's gaping rural-urban divide into account, Chen says.
"When it comes to pricing and the volunteering system, there's a conflict," he says.
Making the system work will also require real commitment from local governments across the country. Many local officials, Cai says, are currently treating the projects as a chore handed down by their superiors. They're creating the hardware for a Time Bank scheme, but that's not enough to ensure people embrace the system.
"In essence, it's like a public welfare charity winning the trust of society," says Cai. "It's a long-term process."
Yet, despite all these challenges, members of the Hongqiao Time Bank stress that the project has enriched their lives. Chen Wenhua, 79, has been using the system for two years. It's particularly useful for her, as she lives alone and her children often don't have time to visit, she says.
"Since I joined the project, I've felt much happier," she says. "That's been a relief for my children, who constantly worry about me being lonely."
Each week, Chen works as a receptionist at Hongqiao's elderly care center, where she answers residents' questions. After work, she usually stays and has dinner with other elderly neighbors in the center's canteen. Some will earn extra time coins by ordering meals at the canteen and delivering them to Time Bank members who require assistance, she adds.
"In the future, I might need someone to do that for me as well," she says. "This kind of mutual assistance brings neighbors closer together, so my children don't have to worry about me lacking support when I need it."
Additional reporting: Liang Jiaqi; editor: Dominic Morgan.
(Header image: Pan Guoli (center) and two "old elderly" residents pose for a photo at the gym where Pan now works as part of the Time Bank program in Hongqiao Subdistrict, Shanghai, Aug. 19, 2021. Fan Yiying/Sixth Tone)