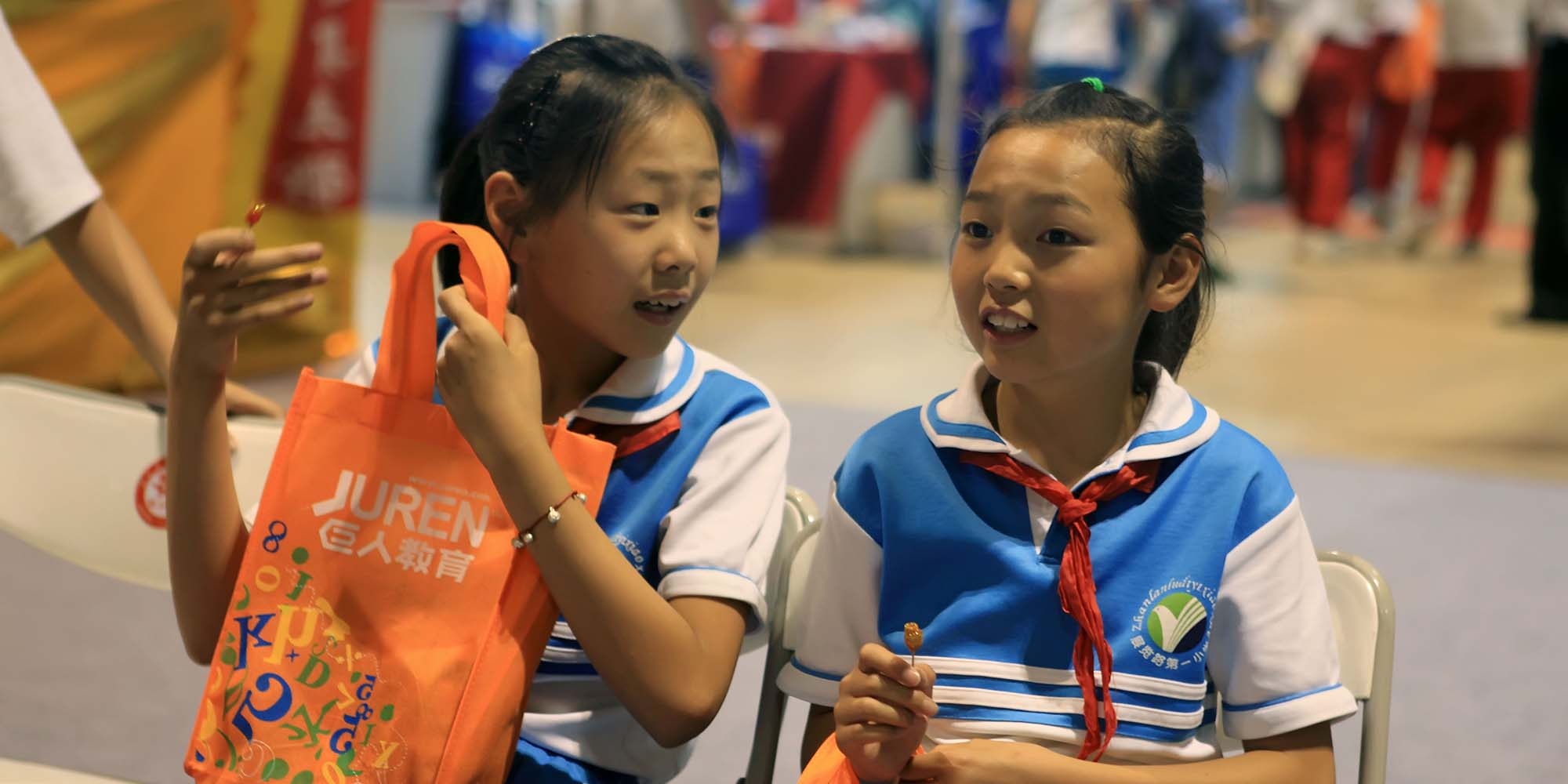 NEWS
A Tutoring Powerhouse Is Shutting Amid China's Education Clampdown
Juren Education cited "operational difficulties" as the reason for its closure, affecting thousands of students and staff.
A day before schools resumed classes after summer vacation Wednesday, one of China's leading tutoring companies announced it was shutting after nearly three decades of operations, as ripples from the country's education clampdown spread wider.
Juren Education said it would close all of its centers nationwide due to "operational difficulties," according to the company's statement. While Juren will not refund currently enrolled students, the company said it will collaborate with other education organizations to continue providing tutoring sessions.
The fall of Juren came just over a month after China announced its latest education reforms in late July, banning extra-curricula training on weekends and holidays, as well as prohibiting profit-making operations. The so-called "double reduction" reforms aim to reduce the academic burden on students and end unfair competition among students.
The government's decision has affected thousands of tutoring centers and left parents who enrolled their children to gain a competitive edge over their peers anxious. Meanwhile, leading online teaching platforms such as Whales English have abruptly shut, and ByteDance's move to slash its education business, along with job cuts in several online education companies, have affected countless employees.
Juren's closure is likely to affect around 13,000 families that have paid for the school's services and hundreds of staff whose jobs are now on the chopping board, domestic media reported. According to Beijing News, the company had already transferred over 15,000 students to other organizations before it announced its closure, while its funding gap was as high as 30 million yuan ($4.64 million).
A teacher at Juren's branch in the northwestern city of Xi'an told Sixth Tone that she learned about the company's financial difficulties in mid-August and hasn't been paid in full for two months. She added while much focus has been on the students, "staff are also victims of the shutdown."
"Our summer classes stopped around two weeks ago," said the woman, who declined to be named due to privacy concerns. "Before that, teachers received allowances based on the number of classes, but we haven't received our base salaries yet."
An administrative staff member in Juren's Beijing branch echoed similar sentiments, accusing the company of fraudulent behavior. They claimed the company's move to suspend all expenditure before the transition plan was rolled out was to avoid paying its staff adequately.
Founded in 1994, Juren Education was one of the first tutoring organizations in the country, providing Chinese, English, math, art, and sports classes for children aged 5 and 18. In its prime, the company had over 100 schools nationwide and enrolled more than 200,000 students annually, generating over 100 million yuan in yearly revenue.
Juren was jointly acquired by OneSmart International Education Group — listed on the New York Stock Exchange — in October 2018, vowing to protect jobs and offer salary raises for preexisting staff. However, OneSmart decided to cut investment in Juren after the "double reduction" policy was announced, according to media reports.
OneSmart also suffered losses worth 332 million yuan in the first half of 2021, according to the company's financial report, while its shares have tumbled in recent weeks. On Wednesday, the company's share price closed at $0.56.
Earlier this month, the New York Stock Exchange warned OneSmart that the company risks being delisted from the market if its stock price remains below $1 for 30 consecutive trade days.
Editor: Bibek Bhandari.
(Header image: Two girls with Juren merchandise in Beijing, May 27, 2009. People Visual)