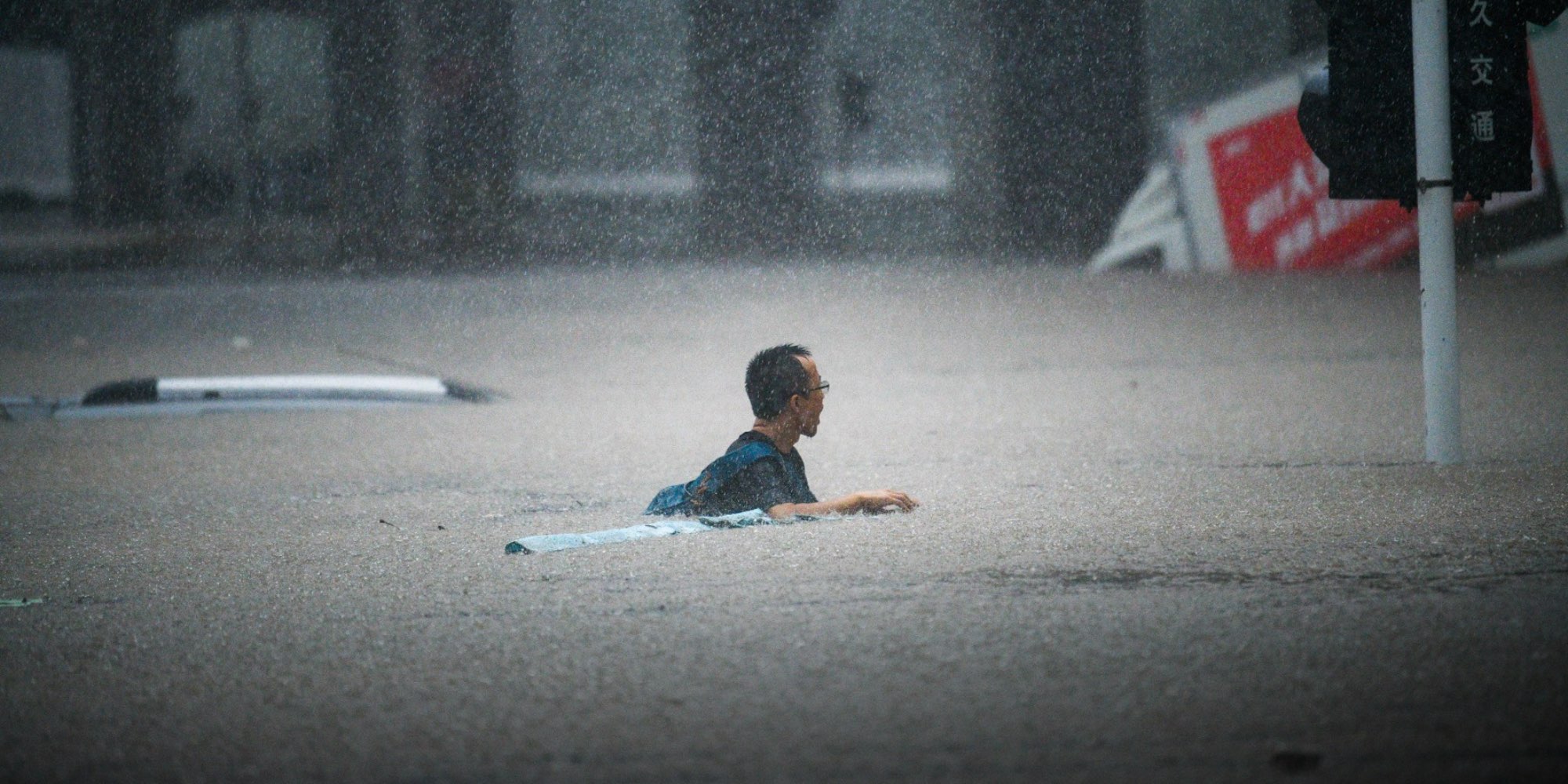 NEWS
Central China in 'Wartime Mode' as Massive Floods Kill 29
Tens of thousands of people have been evacuated as record rainfall lashes the region.
This story has been updated with new developments. 
Record rainfalls have submerged several parts of central Henan province resulting in extensive destruction and deaths, and continuing a trend of more severe flooding in China in recent years.
At least 25 people have been killed in Zhengzhou, the provincial capital and one of the hardest-hit areas by the flooding caused by the heavy downpour Tuesday, according to the provincial authorities. Another four casualties were reported in the nearby city of Gongyi, where rescuers have been trying to reach a submerged township of 30,000 people.
By Wednesday morning, some 200,000 people were evacuated in Zhengzhou alone, according to media reports. The city, home to over 10 million people, has been experiencing heavy rainfall since Saturday.
Zhengzhou on Tuesday experienced the highest daily rainfall of 457 millimeters since authorities began tabulating such data, Xinhua reported, citing the provincial meteorological bureau. The city also experienced a record hourly rainfall of just over 200 millimeters right before rush hour between 4 p.m. and 5 p.m.
The average annual precipitation in Zhengzhou is 640 millimeters, only slightly more than the total precipitation seen in the city over the past three days.
On Wednesday morning, Chinese President Xi Jinping directed local governments to strengthen disaster relief to prevent further casualties. With more heavy rainfall expected in the coming days, local authorities have issued red alerts for geological disasters, while the provincial government asked local officials to enter "wartime mode."
Henan declared a level one emergency — the highest in the four-tiered system —amid the devastation that battered large swathes of the densely-populated region, disrupting traffic and causing widespread power outages.
Dramatic footage shared on social media showed dozens of cars submerged in the streets of Zhengzhou, while terrified people swam to save themselves from being swallowed by the muddy waters. Social media was also flooded with calls for help.
"Water has inundated the first floor of the First Affiliated Hospital of Zhengzhou University, with some 10,000 people trapped here," one user wrote on microblogging platform Weibo on Tuesday night. "No power, no water, no food, and no place to sit from afternoon till now… we're begging for help."
Rescuers have since started discharging water from the hospital and transferred some 600 patients to different facilities, according to media reports.
Torrents of water also gushed into metro stations, with videos showing commuters trapped inside train carriages in chest-deep water. Footage shared on social media also captured emergency workers helping rescue trapped passengers late into the night.
The 12 casualties in Zhengzhou were those trapped in metro carriages, with another five rescued passengers sent to hospitals for treatment.
"I was making final arrangements because I thought I was going to die," one of the commuters told domestic media, detailing the panic inside the train carriage.
Zhengzhou, Henan province, suspended subway services on Tuesday after five days of torrential rain. Footage showed water pouring into a subway station in the capital city. More than 144,660 residents in the province have been affected by the heavy rains, according to Xinhua. pic.twitter.com/UoSi9gThhk

— Sixth Tone (@SixthTone) July 20, 2021
Amid disrupted traffic and communications, locals like Wang Bin have stepped in to help people who weren't able to make it to their destinations. The Zhengzhou restaurant manager told Sixth Tone that they took in 10 people trapped in nearby roads late last night, offering them free food and shelter.
"They were all soaked," Wang said. "More people had contacted us, but they were too far away."
Meanwhile, swollen water levels at a river in another city in Henan caused an aluminum plant to explode Tuesday night. No casualties have been reported from the blast in Dengfeng, which lit up the city's night sky, according to videos shared online.
Local authorities said that a dam in Zhengzhou designed to hold over 4 million cubic meters of water is at a "major risk of collapse." Emergency teams have been dispatched to reinforce dykes at the 32 water reservoirs that have already exceeded their flood-control line.
The flooding on Tuesday serves as yet another warning for countries, including China, that are vulnerable to natural disasters amid an increasingly warming world. This month alone, a record-breaking heat wave in Siberia and North America, as well as the worst flooding in decades in Germany have killed hundreds of people, leading climate scientists to again deliver stark warnings about such phenomena and their impact on humanity.
Contributions: Jiang Yaling and Zhang Wanqing; editor: Bibek Bhandari.
(Header image: A man caught in the flooding in Zhengzhou, Henan province, July 20, 2021. IC)