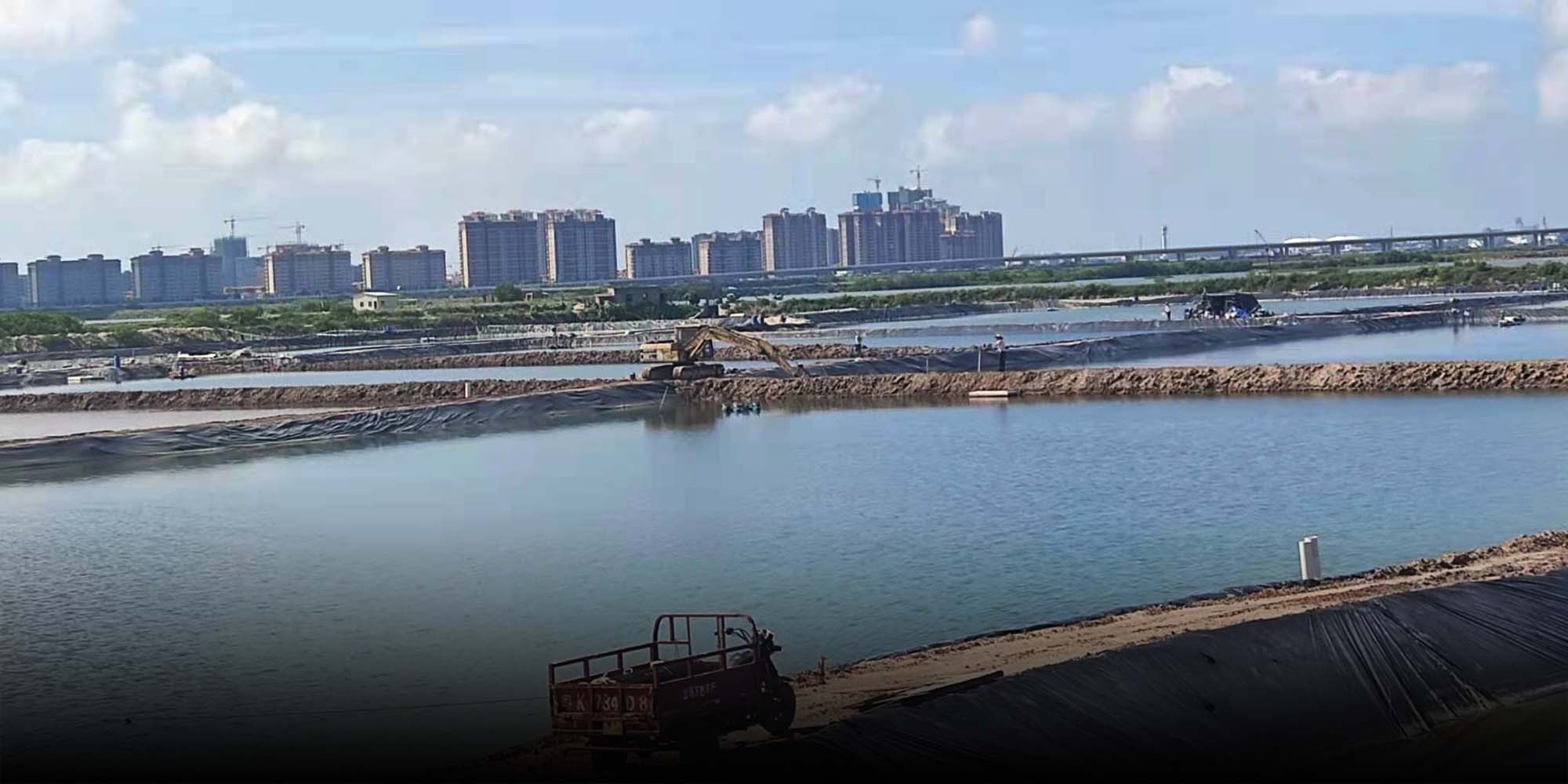 NEWS
Mass Closure of Aquaculture Farms Faces Backlash in Guangdong
Fish farmers say they were given less than two weeks' time to dismantle their ponds, leaving them without livelihoods.
Last week, Yang Chengyu watched his family business spill into the sea.
The 71-year-old was powerless against the yellow excavator that destroyed the earthen dikes around his aquaculture ponds, freeing the animals he, his sons, and his grandsons bred and depended on. "The fishes, shrimps, and crabs all fled," Yang told Sixth Tone.
Back in 1995, when Yang still farmed the land, the government of Maoming, a coastal city in southern China's Guangdong province, saw an opportunity for economic growth. It encouraged Yang and others to grab pieces of the coast and turn them into ponds to cultivate seafood.
Like other areas in China, the coastline of Maoming became a patchwork of muddy rectangles that, nationwide, formed the world's largest aquaculture industry.
But government priorities are shifting. As part of a wider push to improve China's environment, aquaculture farmers across the country have found they can no longer ignore clean-up campaigns. Maoming has reclassified its Shuidong Bay, an inlet of the South China Sea and where Yang had his ponds, as an ecological zone.
The resulting removal of aquaculture ponds has farmers like Yang grumbling. They say they were given little notice and that they are not being adequately compensated for businesses they invested in for decades.
Aquaculture ponds are often built on tidal flats. These are areas where the sea, freshwater bodies, and land meet to form ecosystems that are vital — not just for a variety of animal species, but also for stabilizing the coastline and preventing storm damage.
Moreover, aquaculture ponds pollute nearby seawater when they discharge their effluents, which are rich in nutrients from dead animals, antibiotics, and feces, contributing to algae blooms and other environmental issues.
In 2009, local officials already stopped renewing Yang's yearly permit. In 2018, after central government inspectors visited and found that Maoming's aquaculture industry — worth about 13 billion yuan ($2 billion) a year — had grown too large for local coastal waters to handle, they announced a new plan that banned fish farming in Shuidong Bay.
The Ministry of Agriculture and Rural Affairs also issued a directive in 2019 promoting more ecologically friendly aquaculture practices and reduced farm sizes in order to limit pollution.
But, Yang said, nobody bothered him until this June, when he received a government notice requesting him to cease operations and clear his ponds, which together covered more than a square kilometer. They gave him 12 days.
Shocked by the sudden news, Yang and his family hoped to give their fish, shrimp, and crabs a bit more time to mature. In the end, assertive government action meant their animals escaped to the South China Sea — with some ending up in the hands of opportunistic villagers who scooped up would-be escapees. "The whole thing happened like a tornado," Yang said.
Local officials were in such a rush because the central government's inspectors are slated to visit Maoming again in August. The rectifications they requested three years ago should be completed before next month's visit, an official surnamed Huang at the municipal fisheries administrative bureau told Sixth Tone.
The sweeping campaign has caused a backlash among affected farmers, who say that, at the very least, they should have been notified earlier. "Our losses are huge," said Liu, a local fish farmer who also had his ponds destroyed, and who declined to reveal his full name for fear of retaliation. "The policy even said that the implementation should not be rigid, and should give us farmers time and room."
Huang Yuanjiang, an official with the fisheries administrative bureau of Maoming's Dianbai District, which governs Shuidong Bay, told Sixth Tone that the clean-up is in line with the city's long-time policy to limit the pollution of coastal fish farming. "Most of the fish farms in Shuidong Bay are spontaneously built by fishermen, many of them without approval from us," said Huang, who is not related to his colleague at the municipal bureau. "But perhaps, it is indeed done a little too hastily."
Similar scenes are likely to play out across the country, Li Jinsong, policy analyst at China Blues, a non-profit organization promoting sustainable fishing, told Sixth Tone. "As (government) demands regarding the environment have gotten stricter in recent years, it is inevitable that this will conflict with an aquaculture industry that has gradually developed," he said.
Maoming's former fish farmers now have to negotiate with the government for compensation, which for Yang has been set at up to 2,000 yuan per mu ($4,600 per hectare). Yang said it won't be enough to cover his losses. "Two generations of people have been doing this all their lives," the farmer said. " Now that we have to give this up, I really don't know what to do next."
Editor: Kevin Schoenmakers.
(Header image: Aquaculture farms in Maoming, Guangdong province, 2021. Courtesy of Chen Weiliang)