From above, the shallow sea water near the shoreline of eastern Shandong province almost looks like a meadow. But the bucolic effect is the result of the worst ever algae outbreak in the area.
Over 500 square kilometers of ocean off the coastal city of Qingdao is currently blanketed by a type of green algae, commonly known as sea lettuce. While the city has battled algae explosions for over a decade, this year's sea lettuce bloom is the worst seen so far and threatens the survival of other organisms in the local marine ecosystem, according to state broadcaster China Central Television.
Li Ji, a marine biologist at Shanghai Jiao Tong University, told Sixth Tone that the algae had been growing in the coastal water of eastern Jiangsu province for weeks and was pushed north by the ocean currents, while expanding in size.
"The excessive organic matter such as nitrogen and phosphorus likely from agricultural run-off in the coastal water is the main reason for the algae bloom," Li said.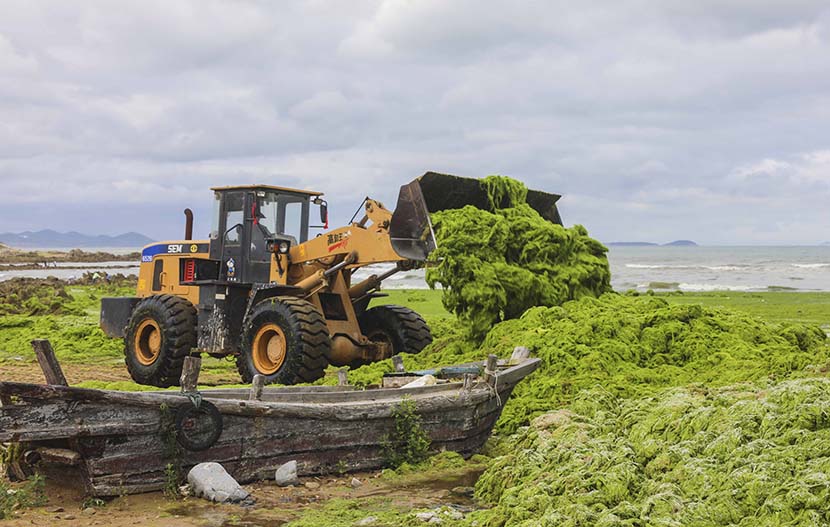 A truck removed sea lettuce at a coast in Qingdao, Shandong province, July 3, 2021. People Visual
Qingdao authorities have so far ordered over 7,000 ships to collect the algae, with some 240,000 tons already having been removed from the water, CCTV reported Monday.
If the sea lettuce is not removed, it will die and sink deeper into the sea and potentially cause further harm to aquatic creatures, Li said. That's because dead algae can block sunlight and deplete oxygen levels in the water, leading to the suffocation of marine animals, including fish.
Since the 2000s, Qingdao has witnessed sea lettuce explosions every summer, when the temperatures are ideal for algal blooms.
A massive algae explosion made national headlines in 2008 as the city geared to host the sailing competition for the Beijing Summer Olympics. Some 1 million tons of algae was removed from beaches and nearby coastal waters at the time.
Earlier this year, the same area in Qingdao also experienced an explosion of starfish — the worst since 2013 — with thousands of kilograms of the echinoderms taking over coastal waters and consuming molluscs cultivated by local farmers.
"There's really nothing we can do but address the source of the problem, which is what we released into the water," Li said. "The excessive nutrients would lead to an outbreak of one organism if not another."
Correction: An earlier version of this article misstated the initial location of the algae. The algae was off the coast of Jiangsu province, not Zhejiang province.
Editor: Bibek Bhandari.
(Header image: An aerial view of the sea covered by green algae in Qingdao, Shandong province, July 3, 2021. People Visual)