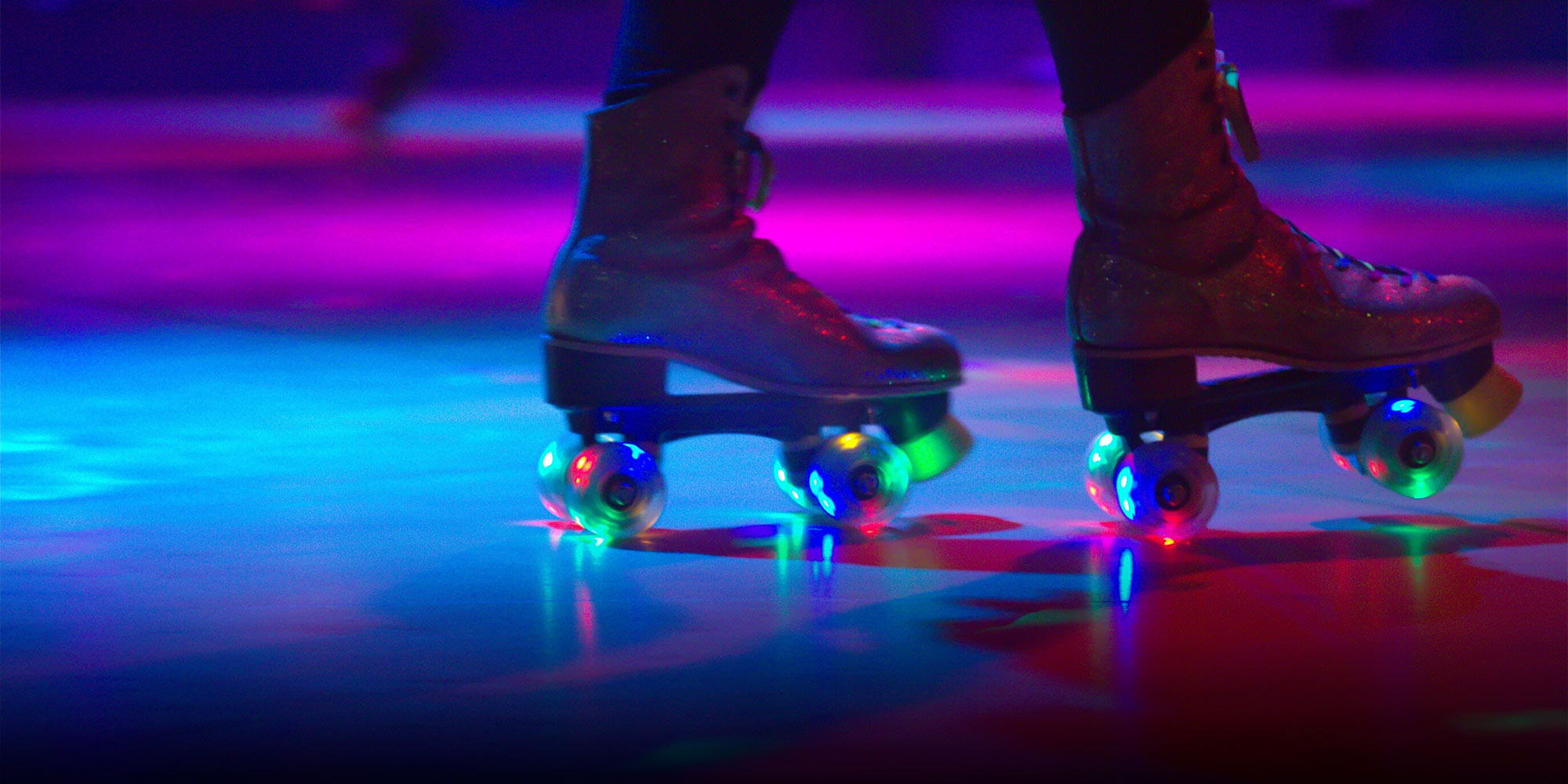 SIXTH TONE ×
Despite Some Stumbles, China's Once-Popular Skating Rinks Roll On
Like karaoke parlors and internet cafés, skating rinks have had to transform themselves since their '90s heyday.
JIANGXI, East China — If roller-skating hadn't been China's national pastime in the 1990s, Yu Jiacong, 21, would never have been born. His father, Yu Zhiyong, and his mother, Ma Liping, met and fell in love at the Quanjian Roller Rink in Nanchang, where Ma's parents worked until their retirement. Together, they have witnessed the rink's nearly three-decade lifespan.
The rink didn't just feature heavily in their lives. Founded in the 1990s — a time when fitness activities were promoted throughout China — Quanjian Roller Rink gave a generation of Nanchang residents the memories of their youth.
In 1997, when Yu Zhiyong was 27 and working as a builder, he looked forward to going roller-skating on the weekends. Amid a crowd of tattooed young people who smelled of tobacco and alcohol, he could briefly transform himself from an honest worker to what his parents called a "bum."
A huge disco ball suspended from the ceiling, glistening in the dimly lit room. The speakers hanging in each corner of the rink shook as they played dance music so loudly that it could be heard by anyone within the 2,000-square-meter venue. When a hit song began to play, some of the best skaters would link together to form a "train," which other skaters would then join one by one until everyone was on board.
"The 90s were really crazy," Yu Zhiyong says. As he recalls that time of his life, it is as if Yu can see his younger self and his workmates right before his eyes, forming trains and spinning in circles on the rink.
Memories
At the end of the 90s, there were only limited options for recreation in China. Back then, Quanjian was part of the Nanchang Workers' Cultural Palace, a type of venue set up during the country's socialist era to give workers a place to take part in leisure activities. They were often the most popular entertainment destinations, setting off trends through facilities like skating rinks, dancehalls, and movie theaters. At the time, the average blue-collar worker earned less than 500 yuan ($77 by today's exchange rates) a month, but Yu was willing to pay the rink's "steep" admission fee of 10 yuan.
Yu made many friends there — including his future wife, Ma, who worked at the rink snack bar. As Yu made one lap around the rink after the other, their feelings for each other grew deeper. They married in 2000, and in the same year, the family ushered in a new member: Yu Jiacong.
Around the same time, market reforms led Workers' Cultural Palaces across the country to embark on the path of privatization. The venue in Jiangxi Province was no exception: operation rights of its various facilities were sold to its employees. Ma acquired the rights for the roller rink and let her parents run it. In spare moments outside of looking after her son, she'd also help out there, while her husband continued to work in construction.
The Cultural Palace was located in the heart of Nanchang, just north of Bayi Square, then the second largest public square in the country after Beijing's Tiananmen Square. Later, due to the renovation of Nanchang's central districts, the rink was relocated to a residential area, along with the Palace. Though its size was reduced to less than one-fifth of the original venue, it was just as popular as ever.
In 2010, Yu Zhiyong was laid off and his in-laws had reached retirement age, so he and his wife officially took over the business. The rink was like an invisible thread that held their family together; skating had become the central axis around which their lives revolved.
Crisis
Yu Jiacong, the couple's son, had two major sources of frustration in his childhood: after-school cram classes and increasingly busy parents. "I would complain that they never spent time with me on weekends," he says. "Until one time, I woke up in the middle of the night and saw my dad arrive home looking exhausted."
Skating's popularity showed no sign of slipping. Outdoors, as kids gathered in parks, informal open-air roller rinks began to spring up. In the evening, skaters dominated the center of Bayi Square, becoming a defining element of the urban landscape along with late-night strollers.
The number of indoor rinks was also growing; by 2010, there were more than 1,200 officially registered rinks across the country. In 2009 alone, Nanchang, which ranked a middling 52nd out of all Chinese cities in terms of GDP, opened nine new rinks. In Donghu District, where Quanjian Roller Rink is located, there were four more rinks of different sizes; just a few streets away, the Wanzai Roller Rink — four times the size of Quanjian — was raking in the dough.
As his small venue became more crowded and competition grew more intense, Yu Zhiyong's first instinct was to expand. But the rink was surrounded by residential buildings, and locals would likely oppose a large-scale expansion. After several attempts at negotiation, Yu and Ma were only able to expand the rink to 400 square meters, but this at least meant that they could easily accommodate 1,000 visitors a day.
In 2015, Yu Zhiyong noticed that the rental skates were quite worn and that the floorboards were loosening up due to prolonged use. Well aware that ageing equipment posed a safety hazard to his customers, the couple bit the bullet and decided to renovate the rink, investing more than 200,000 yuan.
But as their rink was under renovation, others throughout the country began closing one after the other. Even Wanzai, their strongest rival, shut its doors. Suddenly, he realized that skating was no longer as hot as it was a decade ago. They were walking on thin ice.
Over the course of more than a decade of rapid economic development, new ventures in China's offline entertainment industry have continually emerged. Escape rooms, murder mystery rooms, theme parks, and other lucrative additions have encroached on skating rinks' main consumer demographic.
In response to these drastic changes, the two giants that ruled alongside skating rinks in the 90s, internet cafés and karaoke parlors, or KTVs, have quietly embarked on their own transformations. High-end internet cafés have, thanks to their comfortable environment and the rising popularity of esports, successfully courted a new generation of young consumers. Meanwhile, "mini-KTVs" with social media connectivity emerged in 2016 and have since spread throughout shopping malls and other crowded places.
The entire skating industry has fallen behind in this race to stay relevant. Considerably shaken, Yu and Ma sped up the renovation process and reopened Quanjian Roller Rink in early 2016.
Deserted
"Drinks are three yuan each, scan the QR code here..." "Sir, I need two pairs of size 37 skates!" Yu Zhiyong is busy running back and forth behind the counter as an endless stream of voices fill the rink.
After the renovation, Quanjian was the only rink left in Donghu District. Its new facilities had generated a temporary surge of skaters of all ages. The dazzling lights and pounding music created the illusion that everything had returned to normal.
Yet Yu couldn't shake off the feeling that the renovations were a poor investment. Sure enough, the good times didn't last. As the entire skating industry continued its steady decline, it inevitably took Quanjian down with it.
In June 2018, Yu found himself sitting alone inside the rink. Though it was stiflingly hot, the sheer emptiness gave him chills. The stress of the rink's more than 10,000-yuan monthly rent as well as his son's college tuition loomed over him like a towering mountain. In order to save electricity, Yu only kept one of the lights on. Most of the time, the fans and the floodlights stayed off.
"The big river has to flow for the little stream to flow," Yu says. "If the big river dries up, the little stream will soon follow." In the face of the industry's general decline and his own rink's irreparable losses, Yu made a difficult choice: he began moonlighting as a takeaway delivery driver.
Whatever joy young Yu Jiacong felt after completing his college entrance exam was swept away by his father's sudden decision. Believing that his father was sacrificing his health for money, Yu Jiacong tried to change his mind during a heated argument that ended with a slammed door and an unconvinced father. Then-47-year-old Yu Zhiyong felt he knew more about life and the value of money than his 17-year-old son.
In order to make ends meet, Yu Zhiyong chose to deliver orders in the middle of the night for higher fees. At 10 every evening, he rode out on his electric scooter, only returning to rest around 5 or 6 in the morning.
His messy schedule and the chilly night winds took a toll on his health. On many occasions, the exhausted Yu Zhiyong slipped and fell on the street on his way to deliver a meal. The roads at night were completely deserted and nobody was around to help him get up off the pavement. Fortunately, he never fell too hard — otherwise, he would have to face another expense that he wouldn't have been able to afford. Having fallen several times, Yu Zhiyong clearly sensed that his knees weren't as good as they used to be.
Their rink still couldn't lure back young people, whose entertainment and spending habits had been changed, seemingly irreversibly, by the mobile internet and ever-faster smartphones.
According to the China Internet Network Information Center, a government agency, the user-bases of online games as well as music and video platforms are expanding year by year. As of June 2018, the number of mobile online game users in China reached 458 million, with more than 1.52 million game apps on the market.
Even Yu Zhiyong's son has little to no interest in skating. "I wouldn't normally go skating unless I really didn't have any other option," Yu Jiacong says. The teen is not particularly sociable, nor is he much of a skater. His preferred choice of entertainment is single-player video games, whose variety and sophistication make skating appear monotonous by comparison.
As the "big river" — the skating industry — had more or less dried up, Quanjian's revenue was reduced from a steady stream to a trickle that only just allowed the family to scrape by.
Transformation
In his work as a delivery driver, Yu Zhiyong came into contact with some new media platforms that he thought might be able to help his family's struggling business. Realizing he had nothing to lose, he added the rink's information to popular review apps.
"Hello, this is Quanjian Roller Rink. For just 20 yuan, you can skate for as long as you like..." After taking so many calls, Yu Zhiyong knows exactly what to say to reel customers in. Though the rink's online presence hasn't attracted that many young people, it has at least slightly increased customer flow.
Then, an entirely new challenge took him off guard. In early 2020, just before Spring Festival, the COVID-19 outbreak changed everyone's lives and sent every physical industry into an immediate slump.
This was the most difficult Spring Festival that the Yu family had ever spent together. The joy of the season was replaced by anxiety as the family crossed their fingers, hoping for a swift return to normality. Despite the government's rent cuts, Yu Zhiyong still feels that this was the biggest crisis that Quanjian Roller Rink has ever faced. "It couldn't have come at a worse time," he says.
In May, the country went back to work. Yu Zhiyong, who had given up his job as a delivery driver, was cleaning up the rink. He looked up at the practically deserted venue and was filled with uncertainty. "Should we cut our losses, close our doors, and change to another industry?" he remembers thinking.
The couple discussed the matter for months before deciding that they'd keep running the rink as usual. Trying to keep up with young people's preferences, they thought, was too difficult and risky.
"In 2014, the skating rink at the government-backed Jiangxi Provincial Stadium closed and was converted into a badminton stadium," Yu says. "Only a few years later, it was converted yet again to a boxing ring, and now they've switched to fencing. None lasted long." If a large, established stadium has had this much difficulty with the transition, Yu figures, it would only be harder for them — especially given their complete lack of experience in any other industry.
"There's also the sentimental factor — I don't want the rink to change," he says. Most of the defining moments of Yu Zhiyong's youth took place on skates. He's reluctant to leave it behind. What's more, given that his son is still in college, he's hesitant to take any chances.
A new opportunity came just as unexpectedly as the pandemic had brought despair. In September 2020, Nanchang-native star Deng Chao took a TV crew on a visit to Quanjian Roller Rink to relive his youth for the variety show "Hahahahaha." After the program aired, Yu Zhiyong came to truly understand the "celebrity effect." The skating rink has, for the moment, returned to its former glory. Even on weekdays, young people flock there in droves.
Most of these customers' skating skills are pretty rusty. They trip and stumble their way around the rink for a few laps just to be able to share on social media that they've taken part in the latest trend — "to check in." Some posts in which the rink was tagged have garnered hundreds of likes. Having experienced many ups and downs, Quanjian Roller Rink seems to have been granted new life and is hobbling forward into the future.
The recent boom has not made Yu Zhiyong blindly optimistic — he is all too aware that industry is still on the decline and that profits generated by celebrity visits are helpful but fleeting. "Skating rinks will continue to suffer setbacks no matter what we do," he says. The losses caused by changes in the younger generation's taste are irreversible. Quanjian Roller Rink has welcomed a new burst of popularity, but other rinks' days are numbered.
Yu Zhiyong says it's difficult to predict what will happen in the future. After China's successful bid for the Winter Olympics, to be held next year in Beijing, the government has strongly supported winter sports and proposed a plan to develop more roller-skating rinks as a way for people to get interested in and train for ice skating. The National Plan for the Construction of Ice and Snow Venues and Facilities (2016-2022) sets clear targets: by 2022, there will be no fewer than 650 skating rinks in the country, of which no fewer than 500 will be newly built.
Yu Zhiyong is not so confident about the changes to come for the roller-skating industry. "It would be quite a big investment to convert from roller-skating to ice-skating — I can't pull it off," he says. Nonetheless, Yu believes that roller-skating rinks will not die — that they will always have a group of faithful adherents. "Small streams can flow a long way," he says. "We just have to take things one step at a time."
This article was written by Liu Xinyi, Liu Zhiyi, Liang Jiawen, Lei Jia, and Ge Chunyan, who are students at Nanchang University enrolled in a course on in-depth reporting by Professor Liu Lin.
A version of this article was originally published by Youxun Road Sparkles. It has been translated and edited for length and clarity, and is republished here with permission.
Translator: Lewis Wright; editors: Xue Yongle and Kevin Schoenmakers.
(Header image: Daniel Limpi/EyeEm/People Visual)