A new Chinese TV show aimed at gamers seems to have completely missed the mark.
"Falling Into Your Smile," broadcast by tech giant Tencent and streaming site Youku, has received scathing feedback since premiering on June 23, scoring just 2.9 out of 10 on review site Douban.
It is one of several recent TV shows to focus on esports in the hope of tapping into China's ever-growing cohort of gamers. According to an industry report published in June, the country is on track to have the world's biggest gaming community, with a predicted 92 million "core" esports fans, by the end of this year.
The story of "Falling Into Your Smile" is ostensibly about two esports athletes, but viewers lament that the protagonists seem to care more about flirting with each other than about winning matches. Many gamers have also complained the show violates the competitive spirit of esports.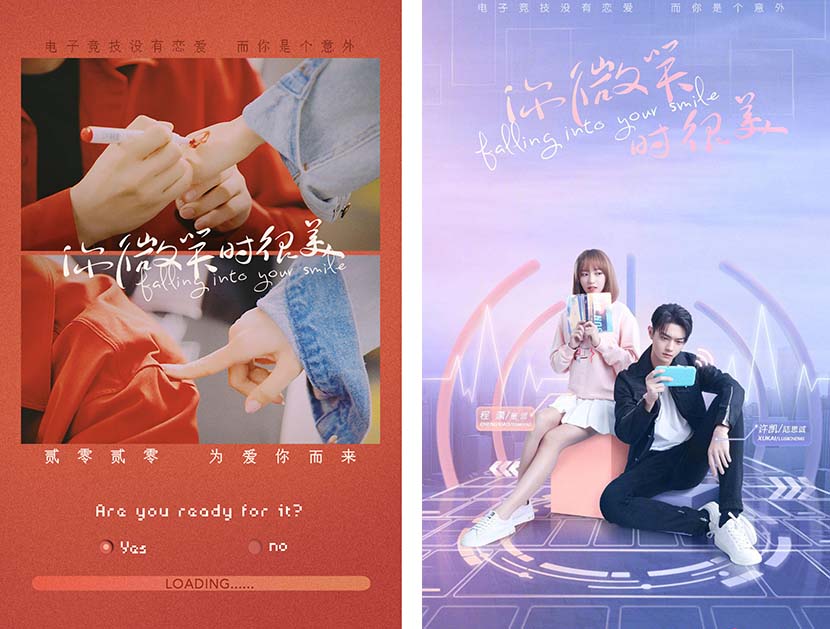 Posters for the TV show "Falling Into Your Smile." From Douban
In one offending episode, one of the main characters and her team face off against her ex-boyfriend's team, who proceeds to lose a game on purpose. "I could even lose to you in the next two matches and give you the champion trophy as a gift," he says, attempting to flirt.
During another tournament scene, a professional gamer abandons his match when he notices his girlfriend arguing with his fans in the audience. "I cannot even bear to yell a word at my girlfriend. How dare you talk to her like that?" he asks his fans before scooping his girlfriend up in his arms and walking away.
Such plotlines have also brought criticism from well-known gamers and livestreamers. "It's as if during the European Cup, football players decided to shoot at their own goals just so that they could chase after girls," Han Yiying, a famous esports athlete, wrote on her Weibo microblog. "Shouldn't that be cause for imprisonment?"
Another reason the gaming community has turned on the show is because it appears to have based its characters on dozens of well-known Asian esports athletes but mixed their stories to a frustrating degree. One online commenter likened it to combining "Captain American's story with Loki's appearance, Snape's personality, and Batman's wealth."
A 22-year-old gaming fan surnamed Liang is among the show's detractors, saying "Falling Into Your Smile" doesn't show respect esports. Having watched gaming tournaments for seven years, Liang says he appreciates how difficult it is to become a professional gamer and dealing with injuries, grueling training regimes, and immense pressure.
TV shows, Liang told Sixth Tone, "shouldn't give the public the impression that esports is just playing games, that it's so easy to win the trophy while flirting all the time."
Additional reporting: Zeng Chuchu; editor: Kevin Schoenmakers.
(Header image: A promotional photo for the TV show "Falling Into Your Smile." From Douban)