Some of China's dead revolutionary heroes have seemingly sprung back to life.
Or at least that's what viewers were meant to believe when several political and historical figures, including Mao Zedong, Li Dazhao, and Liang Qichao, appeared on the television show "Choice" in the form of computer generated imagery. The show, which screened on state-run Hunan TV, paid tribute to the people who helped found the People's Republic of China, as the country marked the centennial of the Communist Party of China last week.
In the five-part series, many famous faces appeared — literally, as the visual trickery was confined just to their portraits — to recite a selection of their published works. Producers of the show used augmented reality and extended reality — technologies that combine reality with virtual effects — to dub voices to the revolutionary heroes' moving lips to make it appear as if they were directly addressing the audience.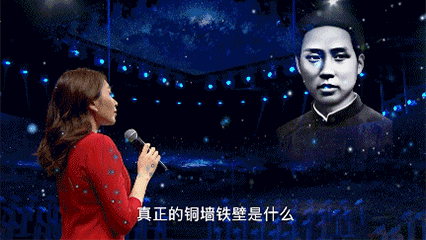 A GIF from the TV show "Choice" shows Mao Zedong answering questions. From @芒果都市 on Weibo
"Autocrats and warlords shall not concede unless the people overthrow them ... We shall unite the power of people in order to practice the proletarian revolution in China," Mao's portrait announced, a passage intended to stoke the determination of early party members.
Hunan TV is one of China's largest state-run television networks and has produced several shows centered around the party centenary, including talk shows and documentaries such as "Socialism is Kinda Cool" and "Decoding 70 years of PRC," respectively. Mostly targeted toward the younger audience, "Choice" has been viewed over 3 million times on the network's website as of Monday, while the clip in "conversation" with Mao has been reposted more than 10 million times on multiple social media platforms, according to Hunan TV.
The weeks leading up to the 100th anniversary celebration last Thursday saw a flurry of activities and events, including a film festival screening several patriotic movies and even a rap song performed by 100 artists to "express the patriotic soul of each rapper." Over the weekend, "1921," a historical drama focusing on the foundation of the party topped the domestic box office.
In recent years, China's online platforms have become a hotbed for audio-visual products — from video games to television quiz shows — aiming to promote communist ideology and patriotism among the country's youth.
However, such content often has trouble hitting the mark. In 2019, an anime series jointly produced by Bilibili and government authorities about German socialist philosopher Karl Marx received decidedly lackluster reviews. As one Bilibili commenter wrote at the time, "Although (the show's producers') intention is good and it's very educational, we don't know his philosophy in-depth, which (makes this series) a bit bizarre."
Editor: Bibek Bhandari.
(Header image: A still from the TV show "Choice" shows Mao Zedong on the stage. From @芒果都市 on Weibo)