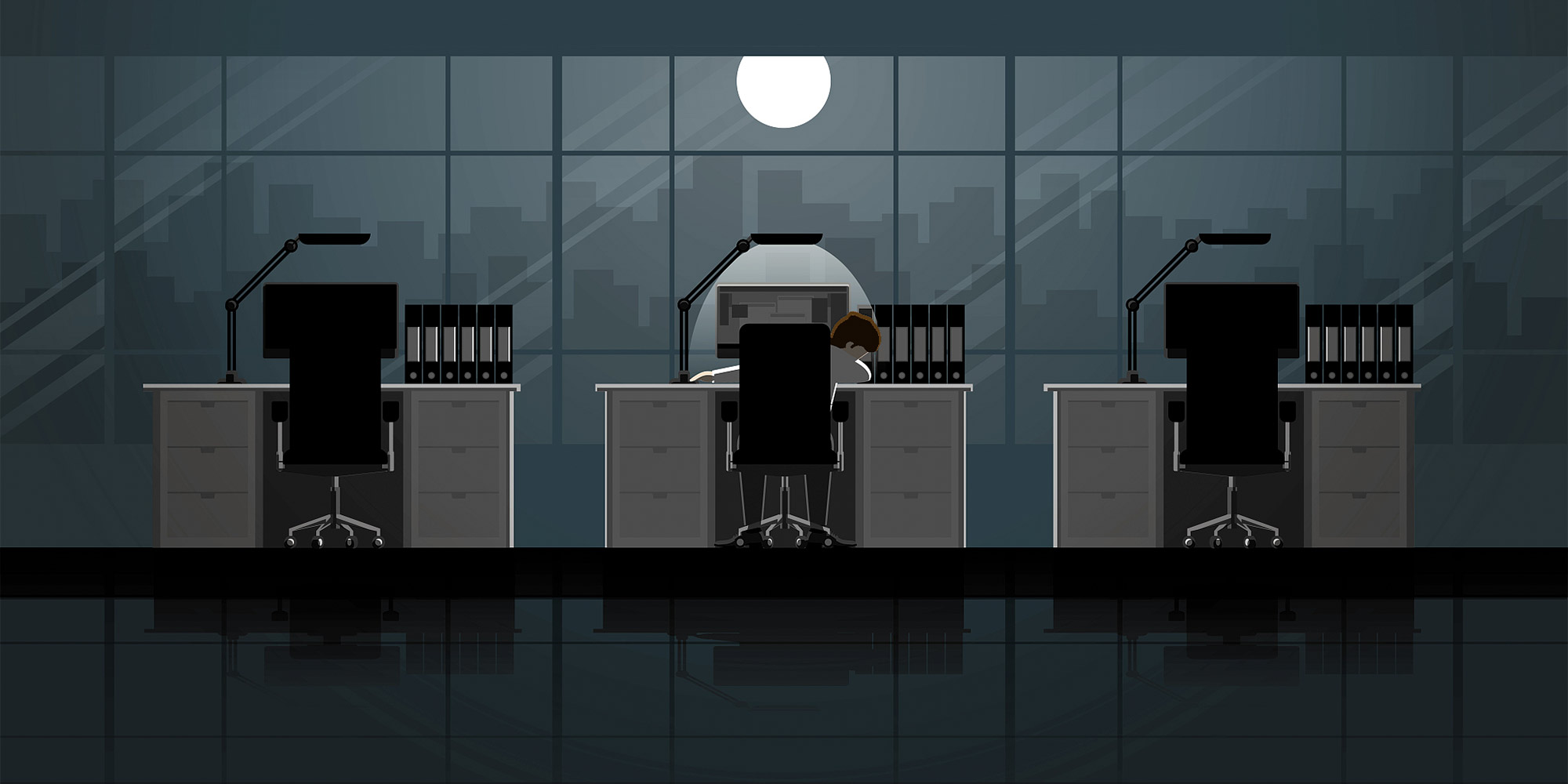 SIXTH TONE ×
Overworked Chinese Fear and Fight Sudden Cardiac Death
A string of young tech workers have died due to heart failure, while essential first aid knowledge remains rare.
Yu Chen's brush with death occurred last February in the middle of the night. At around 3 a.m., the 23-year-old was alone at home working overtime. For more than two weeks straight, he had been staying up late while still waking up early the next day. Whenever he felt like dozing off, he'd light a cigarette to keep himself awake.
But that night, his heart refused to work overtime. Yu suddenly felt unwell and lay down to rest, but his mind was still racing. He could clearly feel his heart fluttering — quickly for a moment, and very slowly the next.
Soon, Yu began to have difficulty breathing. Black dots appeared before his eyes. He sat up and made himself take deep breaths. A few minutes later, he lay down again, but the shortness of breath came right back. A thought flashed in his mind: Am I on the verge of going into cardiac arrest?
Yu had seen many news reports of young people suddenly dying from heart failure. He thought about calling an ambulance but didn't want to alarm his family. "If they knew I was staying up late again, my parents would have been livid," he says.
Instead, Yu put on his coat and drove to the nearest emergency room. "It would be a pity if I died like this, having saved so much money without having had the chance to spend it," he thought to himself as he drove. At the hospital, he was diagnosed with palpitations and was told by the doctor to "stay up late less, drink less coffee, and smoke less."
A lot of people aren't lucky enough to hear a warning. On Dec. 3, 2020, a 27-year-old employee at electric appliances maker Gome died suddenly at a year-end conference; six days later, a 47-year-old employee of the artificial intelligence industry leader SenseTime died on a couch outside the company's gym in Shanghai. At the end of 2020, a 22-year-old employee at e-commerce platform Pinduoduo community group buying department died at about 1:30 a.m. on her way home from work.
Sudden deaths have occurred at several subway stations in Beijing, while similar incidents at the offices of Alibaba, ByteDance, JD, Meituan, and other internet companies — a sector where constant overwork is the norm — have drawn scrutiny from the media.
One overworked employee died in the bathroom of a hotel during a business trip; yet another one passed away while playing sports after work. One died while taking a walk around the neighborhood; one woke up at 2 a.m. to say their chest hurt, only to begin frothing at the mouth a few minutes later. One was sitting in front of the computer; as their heart stopped beating, new messages continued to roll in via WeChat, the ubiquitous social media app.
Sudden death is usually caused by acute loss of heart function, such as heart attack or cardiac arrest, which can be the result of smoking, drinking, staying up late, working long hours, or stress.
Once upon a time, these were "old people's diseases." But over the past decade, their victims have gotten younger. Li Yuehua, who has been a doctor at Shanghai's Xinhua Hospital for more than 40 years, told me that in the 1980s, the heart attack patients she treated in the emergency room were generally in their 60s and 70s. Then there were patients in their 40s and 50s. More recently, she has treated patients as young as 26.
The terrifying prospect of experiencing sudden cardiac death has captured the popular imagination. In an article on public health, Dingxiang Doctor, a new media outlet, reported 52% of survey respondents feared becoming victims of sudden death.
Whether cardiac arrest has indeed become a more common cause of death is unknown. A frequently cited statistic is: "In China, 544,000 people die suddenly every year" — or about one person every minute. But this figure is outdated, having come out of a 2006 studywherein a team of experts followed more than 670,000 people in four Chinese cities for a year. Among the 2,983 deaths that occurred in the research group, 284 were due to sudden cardiac arrest. They calculated the nationwide estimate based on that number.
One medical equipment entrepreneur estimated that nowadays, the yearly death toll from cardiac arrest is "certainly above 1 million." But more reliable statistics are hard to procure. Often, doctors cannot in time diagnose a cardiac arrest as the cause of death. As a result, a 2020 report by the National Center for Cardiovascular Disease still used the outdated deduction.
Crucially, the 2006 study was conducted at a time when the main chat app in China was QQ, whose users could log off and become unreachable. Now, prevalent apps like WeChat and its work-focused competitor DingTalk allow work to encroach on life at any moment of the day. Rather than slowing down, young people today are more focused on not falling behind.
Take Yu for example. When he had the cardiac event, he was working at a state-owned enterprise but took on odd jobs in his spare time after teaching himself 3D animation. He'd finish work at 4 p.m., but continue with animation projects at home until 2 or 3 in the morning. He would then sleep for a few hours before getting up to clock in at his full-time job by 8:00 a.m.
Now, Yu has quit his day job and opened his own animation studio. During our interview, I could hear his mouse constantly clicking away on the other end of the line. Although he has only one job now, his lifestyle hasn't changed much. When I urged him to pay more attention to his health, he said: "If I can't cope with this lifestyle in my 20s, things will only get worse as I get older. If I don't live past 30, so be it."
Researching sudden death has led me down a rabbit hole of medical papers. But no matter how powerful modern medicine is, the nonstop pace of contemporary life has kept the threat as present as ever.
A life-saving invention
Research at Zhongnan Hospital, in the central city of Wuhan, found that patients who receive treatment within three minutes of a sudden cardiac arrest have a survival rate of more than 70%; beyond four minutes, the patient's brain cells begin to die. Within five minutes, the survival rate drops to 60%. Past the 10-minute mark, it drops to virtually 0%.
Currently in China, ambulances take an average of 15 minutes to get to the hospital from the scene of an emergency — too late to avoid sudden cardiac death.
But people on site can provide more timely help. When a heart suddenly gives out, the usually regular electric signals that keep it beating change their routes, confusing the heart muscle. Every strand of heart muscle will beat out of sync, causing the heart to twitch. AEDs, or Automated External Defibrillators, can restore order — and can be operated by anyone. AEDs send out strong electronic pulses that crowd out the confused signals and get a heart back on track — like hitting a gong in a noisy market to get everyone's attention.
AEDs have been promoted in developed countries for many years now, but their use is not nearly as widespread in China. According to a report in the August 2020 issue of the Chinese Journal of Emergency Medicine, the United States has 700 AEDs in for every 10,000 people; Japan has 276. Shenzhen has the highest AED density in China, with 17.5 devices per 10,000 people.
Those who aspire to make AEDs more well-known by the Chinese public know how difficult it is to promote this technology. A sales representative for AED equipment who also teaches first aid observed that "many companies that buy AEDs do so as a way of keeping up appearances." He requested anonymity because he was speaking about his clients.
Some companies install this equipment in order to meet safety requirements, but they then lock the door and leave the keys to a specific worker for safekeeping. Others install AEDs without planning proper training for employees — which would include both an initial course and annual refresher courses — making the equipment essentially decorative.
AEDs in public spaces are even rarer. In 2019, the Beijing Business Daily reported that Dr. Tian Ying of the Cardiovascular Center at Chaoyang Hospital in Beijing had collaborated with AED producers to propose that they donate a batch of AEDs to the Beijing Subway, only to be told: "No policies, no permit, no place to put them." Since then, whenever sudden cardiac deaths occur on the subway, some first-aid experts suggest on social media that the victims' families sue the subway companies.
Even though some subway lines in Beijing are now equipped with AEDs, people rushing to their destinations are unlikely to notice them. And at the larger, more complex interchange stations, it is not guaranteed that someone will be able to retrieve an AED in time during peak hours.
"Suppose I suddenly fall to the ground right now — will there be first responders within a 1-2 kilometer radius who can find the AED and save me? I wouldn't bet on it," the sales representative said. We were standing near a subway stop in one of Beijing's best-known business districts. I searched on my phone for nearby AEDs and discovered that the closest one was 6.7 kilometers away.
Many companies and people alike see sudden death as highly unlikely and are reluctant to prepare for it. In recent years, only after repeated incidents occurred among workers in the field, many leading Chinese tech companies have equipped themselves with AEDs and first aid kits.
On Nov. 27, 2019, Taiwanese entertainer Godfrey Gao died unexpectedly while recording a variety show in Ningbo, in eastern China. That day, when the AED sales representative stepped off the stage at a first-aid skills contest, he discovered that his phone was blowing up with messages from people frantically inquiring about AEDs.
On the morning of Dec. 18, 2020, a 10-year-old elementary school student in Fengtai District, Beijing, died while running, prompting nearby schools to install AEDs.
Though each high-profile tragedy results in a temporary spike in AED sales, this spike quickly flattens until the next tragedy occurs. "There are too many stories like this," the sales representative says, his voice heavy with a blend of emotions.
First response education
Having retired from his job as a doctor at the Beijing Emergency Medical Center, 72-year-old Jia Dacheng is now a member of the "First Aid Popularization Team" set up by the China Doctors' Association. He has strived to inform the public about basic first aid skills for almost 40 years, beginning in the mid-1980s, when he taught workers at chemical plants and similar companies.
Jia was the first doctor in China to promote the use of AEDs. In 1996, when even Chinese doctors had never heard of the devices, an American manufacturer gave an AED to the Beijing Emergency Medical Center. After examining it, Jia realized that someone who didn't know the first thing about medicine could master it within minutes.
But his attempts to help others are sometimes met with cynicism. Once, on his way to give a lecture at a company, Jia heard two employees behind him say loudly, "First aid! Sounds like another money-cheating scheme." Other first-aid trainers have had similar experiences. Many people may not show up at all; some of the few participants may sneak out during the lecture. One trainer reported hearing people say, "What do you want me to learn this for? Are you here to jinx me?"
Popular social media platforms may present obstacles too. Cardiologist Wang Su at Anzhen Hospital in Beijing has written articles for a lay audience for several years. He feels that attracting readers has become increasingly difficult.
He has tried many methods, such as posting on widely used media platforms, writing articles on accounts targeting older demographics, as well as adding "colorful illustrations that appeal to older people" — all to no avail. Meanwhile, pseudoscience is spreading like wildfire on video apps Douyin and Kuaishou. No matter how much Wang tries to cultivate an audience, "How to use an AED" doesn't garner clicks as well as headlines like "Drink tea to beat the coronavirus."
Even health care workers are not necessarily well versed in first aid knowledge. Chen Jiaji, the general manager of Jiagao Xihe, a private first-aid training institution, said many who take the test for the first aid certificate are already employed in health care.
Some trained individuals may not be able to react effectively when the time comes. In 2013, Lu Le, founder of the mutual aid platform "First Respond," incorporated the "under-pressure training methods" of the West Point Military Academy into his program. He requires that students practice on a dummy while teachers pretend to be passersby. Some rush up to try to stop the student; some, posing as family members, come up to quarrel; others offer unsolicited, unscientific instructions. Lu believes that if students are able to carry out a procedure in such a chaotic environment, they will be more capable in real-life situations.
There is also a legal aspect to preventing sudden cardiac deaths. After several high-profile cases in which people who lent a helping hand during emergencies ended up being sued by those they assisted on the grounds that they inflicted damage, the unwritten rule of Chinese society became "don't help strangers."
To counteract this, civil groups, private enterprises, and medical experts joined forces to call for a law to protect first responders. On March 15, 2017, the National People's Congress passed an amendment to Article 184 of the Civil Law which states: "Where the victim is harmed by a responder's voluntary effort to provide first aid, the responder shall not bear civil liability."
On Jan. 1, 2020, Representative Meng Lingyue of the Beijing Municipal People's Congress proposed that the procedure for using an AED should be included in the compulsory school curriculum, and that police, firefighters, cleaners, and security guards should be required to study CPR and how to use AEDs.
Educational videos on how to use AEDs are now broadcast on some buses in Beijing. On Oct. 27, 2020, Beijing municipal authorities announced that the city has officially started installing AEDs in subway stations. According to the current plan, every station will be supplied with an AED and more than 80% of first-line station staff members will receive a training certificate by the end of 2022.
Scan to save lives
While the stress brought about by technology is often blamed as a cause of sudden cardiac death, some people are also looking to the tech sector for solutions.
First Respond has developed an emergency response management system. If someone collapses in the workplace, their coworkers can scan a QR code on the wall. In seconds, the system will notify the nearest first responder to bring an AED.
It's harder to find a solution in public spaces, however. AED brands don't share information among themselves or with China's emergency response systems, making it hard to create a database of all the devices in any particular city.
Users of WeChat and the navigation app Gaode Maps can search for "life-saving map" or "AED," respectively, to find the nearest device based on data provided by First Respond. But the information is collected manually by volunteers, which makes it difficult to provide timely updates should an AED change location or its battery pass its expiration date.
In 2017, First Respond's Lu had the idea of placing an AED in every community with express courier lockers by HiveBox. He planned to bring 60,000 AEDs to communities in 80 cities and to provide first-aid training to 500 people in each community within three years. Unfortunately, he failed to raise enough money, and the project made little headway.
Zheng Jie, the founder of Suzhou Vivest Medical Technology, suggests that mobile AEDs can cover public places more efficiently than stationary devices. For example, he said, if they were placed in e-commerce companies' depots and could be distributed by drones, they could be delivered wherever needed within four minutes. They could just as easily be placed in the trunks of patrol cars and taxis, as well as on the backs of delivery bikes.
So far, however, no private company has found itself incentivized enough to provide emergency response services. In the meantime, the sales representative said, more people over the past year have purchased AEDs and learned first aid to protect their loved ones.
In 2020, an elderly couple contacted him about buying an AED. Their son, who works for an internet company, had collapsed in the office late at night after consecutive days of intensive overwork. But his office was not equipped with an AED and had not organized first aid training.
The couple told their son to put the AED inside his cubicle. He can use it, and so can his colleagues.
Additional reporting: Shi Xian.
A version of this article was originally published by LatePost. It has been translated and edited for length and clarity, and is republished here with permission.
Translator: Lewis Wright; editors: Xue Yongle and Kevin Schoenmakers.
(Header image:Korakrich Suntornnites/iStock/People Visual)