SHANGHAI — In the early hours of Wednesday morning, actor and model Godfrey Gao collapsed midway through shooting an episode of the Chinese reality TV show "Chase Me."
The star was rushed to a hospital in Ningbo, Zhejiang province, but medical staff were unable to revive him. At around 4 a.m., doctors confirmed the 35-year-old had passed away of "sudden cardiac arrest," according to a statement released by the show's management.
Gao — who was luxury brand Louis Vuitton's first Asian model and star of movies including the 2013 blockbuster "The Mortal Instruments: City of Bones" — was a popular figure in China, and news of his sudden passing has dominated discussions on Chinese social networks during the past 48 hours. Dozens of celebrities shared their grief, while fans vented their rage at the perceived irresponsibility of the show's producers. But the incident has also ignited a wider debate about the extreme working conditions inside China's media industry, which many believe endanger the safety of crew and stars alike.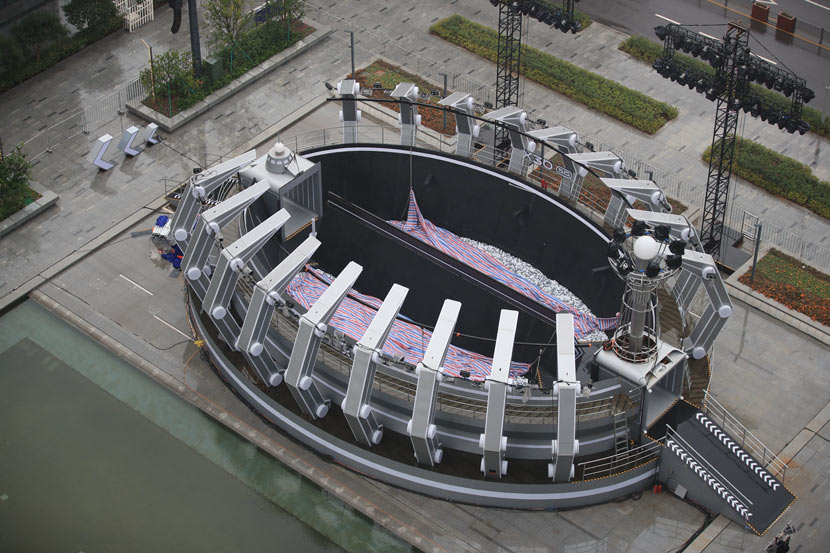 An aerial view of the set for "Chase Me" in Ningbo, Zhejiang province, Nov. 28, 2019. Zhang Jia/VCG
Zhejiang Television, the company behind "Chase Me," is infamous for its celebrity-filled reality TV programming that subjects famous guests to tough physical challenges and even tougher shooting schedules. For many netizens, the fact that Gao fell while being filmed competing in a race outdoors at 2 a.m. was emblematic of the firm's troubling work culture.
"Do they really have to film in the middle of the night?" wrote one user in a comment on social media platform Weibo that received more than 380,000 likes. "This was a real human life: Can you handle this?"
Weibo commenters were quick to point out the TV network's lengthy past record of safety incidents involving celebrities: near-drownings, broken fingers, leg injuries, stage collapses, and hospitalizations being just a few of the alleged controversies mentioned. 
In 2013, an assistant of kung fu actor Shi Xiaolong drowned during the filming of a diving-themed reality show by Zhejiang Television. During the shooting for a previous episode of "Chase Me," singer Yao Mingming was reportedly about to abseil down from a 70-meter platform, when a staff member noticed his harness was not attached.
Many blame these incidents on networks' desperation to drive up ratings, which pushes companies to commission shows with evermore extreme formats. Fans are calling on their idols to stop appearing on such shows, using the hashtag "don't film it," which had racked up 1.4 billion views by time of publication.
Film and TV industry insiders, meanwhile, view Gao's death as part of a wider problem of cusi, or "sudden death," due to overwork. The culture of overly long working hours among Chinese companies has sparked controversy this year, and an estimated 600,000 Chinese die from overwork each year. Conditions on TV sets, however, are particularly harsh.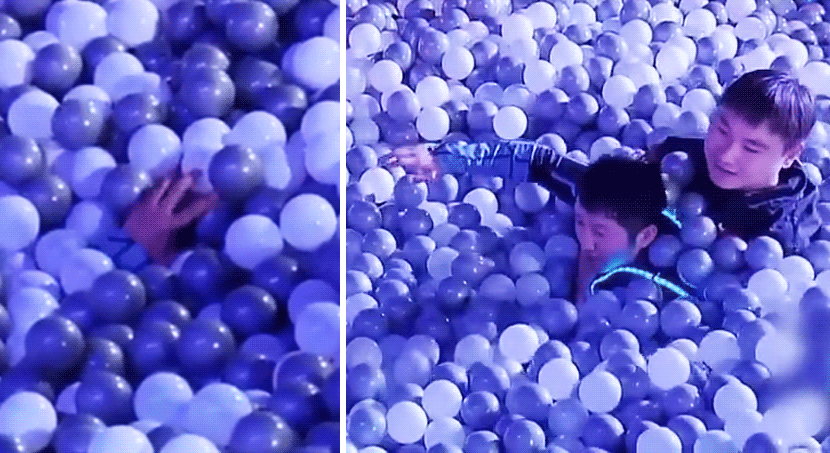 Screenshots show Zou Shiming, a guest on "Chase Me," trapped in a ball pit. From Tencent Video
In a widely shared article posted to the WeChat social media account ONE Wenyi Shenghuo, current and former media staff describe a widespread culture of super-long shifts, with filming often continuing until 3 a.m. and crew members sometimes forced to stay awake for days at a time.
According to Steven Weathers, a Shanghai-based TV presenter and actor who co-starred with Gao in the 2019 sci-fi movie "Shanghai Fortress," extreme schedules are common on Chinese film sets. The American told Sixth Tone he was once made to shoot a TV commercial for 36 hours straight. He was even told that, having been booked for two days of filming, he was lucky to finish with 12 hours to spare, he said.
Several insiders have claimed that continuous exhaustion often takes a toll on TV workers' mental and physical well-being. Anxiety, depression, tumors, pneumonia, and stomach diseases were among the conditions mentioned by the ONE Wenyi Shenghuo authors. "All leaders in this industry are ill in some way," said one anonymous contributor, described as a 25-year-old variety show promoter.
In comments posted to Weibo Wednesday, the actress Zhong Chuxi said the filming schedule for "Chase Me" was so grueling, she was forced to take heart medication to cope.
"I was really too tired, too tired. My heart couldn't take it," said Zhong. "I filmed for two weeks and then decided not to go anymore."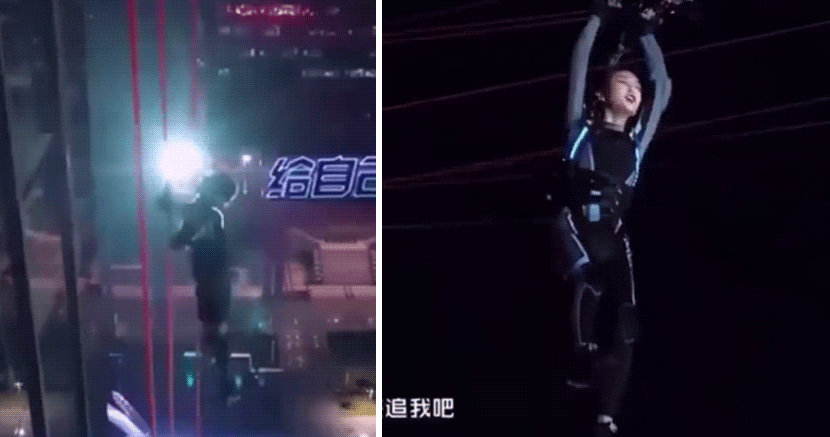 Screenshots show guests playing dangerous games. From Tencent Video
According to a TV producer who spoke with Sixth Tone on condition of anonymity for fear of associating her employer with Gao's death, long working hours are routine in China's film and TV industry, because most studios work on extremely tight production schedules. She added that the often-lengthy process of securing approval from media regulators can add to the time pressure.
"We have to finish work in the shortest possible time to guarantee we can get it broadcast on time," she said, adding the limited availability and high prices of resources such as filming studios is also a factor.
Weathers blames the long working hours on cost-cutting by studios that want to get everything wrapped up as quickly as possible. "That's why there are unions in places like America and Europe: to protect the lives and health of the crew," he said. 
In many cases, however, the pressure to squeeze shooting into an unreasonably short time frame comes from stars' agents, rather than the TV companies themselves, according to the producer. While TV crew members commonly have idle periods between projects, many in-demand celebrities never take a break.
"They might be filming a movie tomorrow, then shooting another TV show the day after, and then the next day they'll go to a studio to record some audio," she said. "A lot of very popular celebrities don't rest all year. They don't have weekends. That's just how the industry is."
Stars have been under even more pressure to appear on reality shows like "Chase Me" in recent months due to the so-called "movie and TV winter" — a sharp slowdown in new shows, especially scripted dramas, due to sharper government oversight and a wider economic slowdown in China. During the first three quarters of this year, the number of TV shows in production was down nearly 30% compared to the same period in 2018, according to the business news outlet Tencent Startup.
The same issues are also pushing TV companies to make more eye-catching reality shows, even as filming budgets are stretched even thinner, according to Wu Changchang, an associate professor at East China Normal University whose research focuses on reality TV and new media.
"Advertisers aren't willing to invest in new shows, so program teams are constantly thinking of all kinds of methods and tricks to make their shows more creative," said Wu.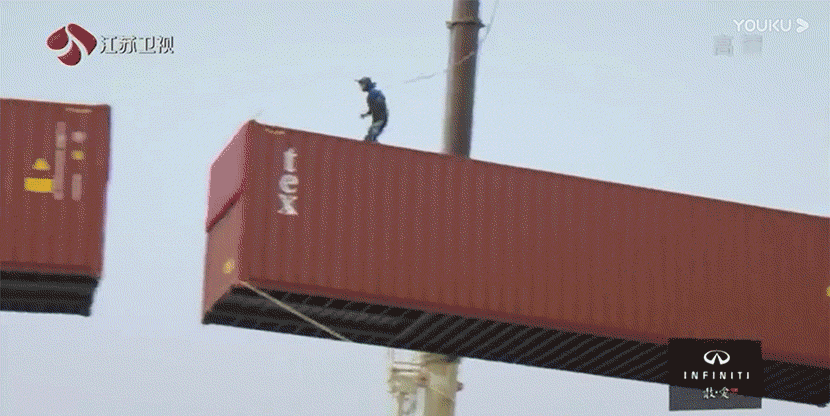 A GIF shows a guest jumping in the air during a live show. From Youku
Gao's death, however, could force China's National Radio and Television Administration to intervene in the industry, depending on how its discussions with Zhejiang Television play out, according to Wu. Wednesday evening, the company announced it had halted filming for "Chase Me" and had fired the show's management team.
Whether this action will be enough to satisfy media regulators remains to be seen. Authorities could take a range of measures, from requiring firms to improve health and safety provisions to banning certain types of reality shows altogether, said Wu.
Whatever the government chooses to do, the tragedy is sure to trigger changes in the TV industry, according to the producer.
"This was a big incident. I think it'll make the whole industry reflect on how hard our work is," she said. "We have to protect our artists, protect our workers, and prevent this kind of thing from happening again."
Editor: Dominic Morgan.
(Header image: Fans mourn Godfrey Gao at the recording site of "Chase Me" in Ningbo, Zhejiang province, Nov. 28, 2019. Zhang Jia/VCG)