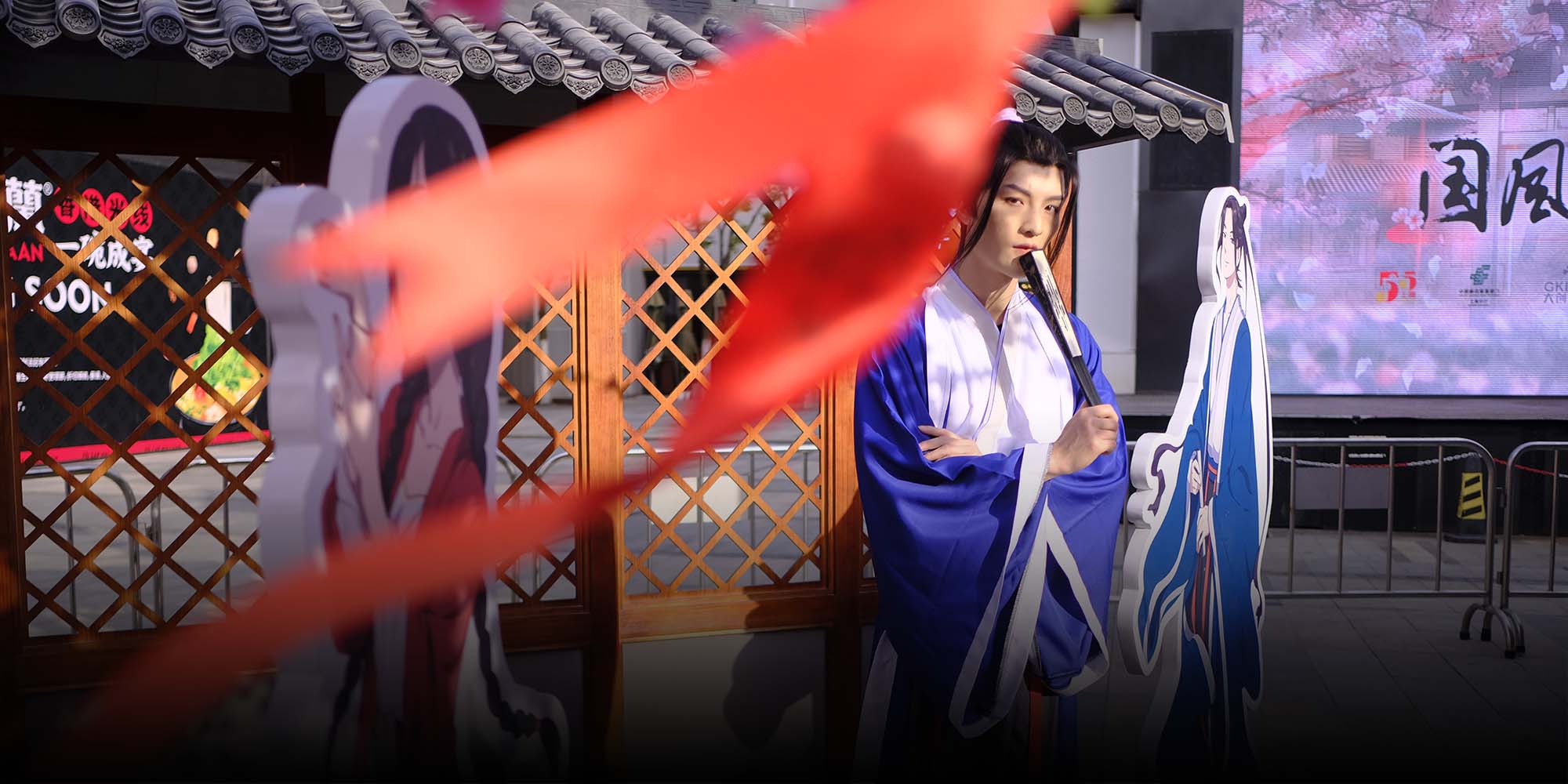 NEWS
Chinese Vloggers Step Into the Past, Dressed for Clicks
Many users on video-streaming site Bilibili are keeping up with guofeng, a trend helping them bring in more clicks, and cash.
SHANGHAI — On one of China's largest video-streaming platforms, online influencers are bringing new life to the country's ancient culture.
Qingyuan, a leading vlogger, proactively posts videos on Bilibili to transport viewers to a different era. When she's not dressed in jeans and a T-shirt, the vlogger dons traditional Chinese costumes, including hanfu and qipao, to shoot videos in which she dances.
Known by her online alias Qingyuan — the name of a green-colored bird in Chinese mythology — she is among the rising vloggers riding the popularity of ancient Chinese style videos, known as guofeng. The videos are the latest Bilibili fad to see such influencers compete for views via channels dedicated to popular trends, including fashion, dance, music, and makeup, as well as the animation, comics, and games culture, often abbreviated as ACG.
"Guofeng used to be considered a niche hobby, but now it has gradually become mainstream," Qingyuan told Sixth Tone, who declined to disclose her real name and age to maintain her enigmatic online presence.
According to Bilibili, though China's ACG fans account for a large chunk of the platform's 200 million users, guofeng fans are slowly catching up. In 2019, there were an estimated 83 million guofeng enthusiasts on the video platform, more than 80% of whom were aged under 24.
Chen Rui, Bilibili's chairman, said that he started noticing the growing popularity of guofeng videos as early as 2017, when they were performing significantly better than other videos.
"At least on Bilibili, I can see that the young Chinese generation is really into traditional Chinese culture, which is a relief to me," he said at the time.
As the trend gains momentum, the meaning of nationalist branding has also evolved. A related term, guochao, is no longer limited to once-outdated clothing brands popularizing ancient fashion and now includes nationalist and cultural exports to the West in the form of digital products, cosmetics, films, games, and even food.
Fast-forward to 2021, and guofeng videos are not just a trend but also a means of attracting views for vloggers like Qingyuan. Over the past four years, Qingyuan has steadily amassed more than 600,000 followers on her channel, most of whom come for her guofeng videos.
"It's especially difficult to make guofeng videos," Qingyuan said. "To prepare, you have to do more than just drill a dance routine. You also need to research different kinds of traditional costumes and how people living in that century would talk and behave."
One of her most-watched productions is a video from April based on the classic Chinese novel "Journey to the West." The video, sponsored by a domestic noodle brand, received over 2 million views and thousands of "bullet comments" flooding the screen.
But the videos are not just fun and games for many vloggers like Qingyuan: They're also a source of income generated through brand sponsorships. Sometimes, when she is not producing videos, the vlogger also interacts with her fans via livestreaming.
On Monday, Qingyuan hosted a livestreaming session from a guofeng party in Shanghai. The two-week event is part of the hundreds of events scheduled for the city's "Double Five Shopping Festival," which aims to boost consumption and bolster the pandemic-dampened economy.
Under the artificial peach blossoms, dressed in a traditional white full-length dress with red embroidery along the neckline, she enthusiastically took her fans on a virtual tour of the event. From this center of modernization, for an hour, she then time traveled with them, a vision of the past.
(Header image: A man poses for a photo at a "guofeng" party in Shanghai, May 31, 2021. Wu Huiyuan/Sixth Tone)