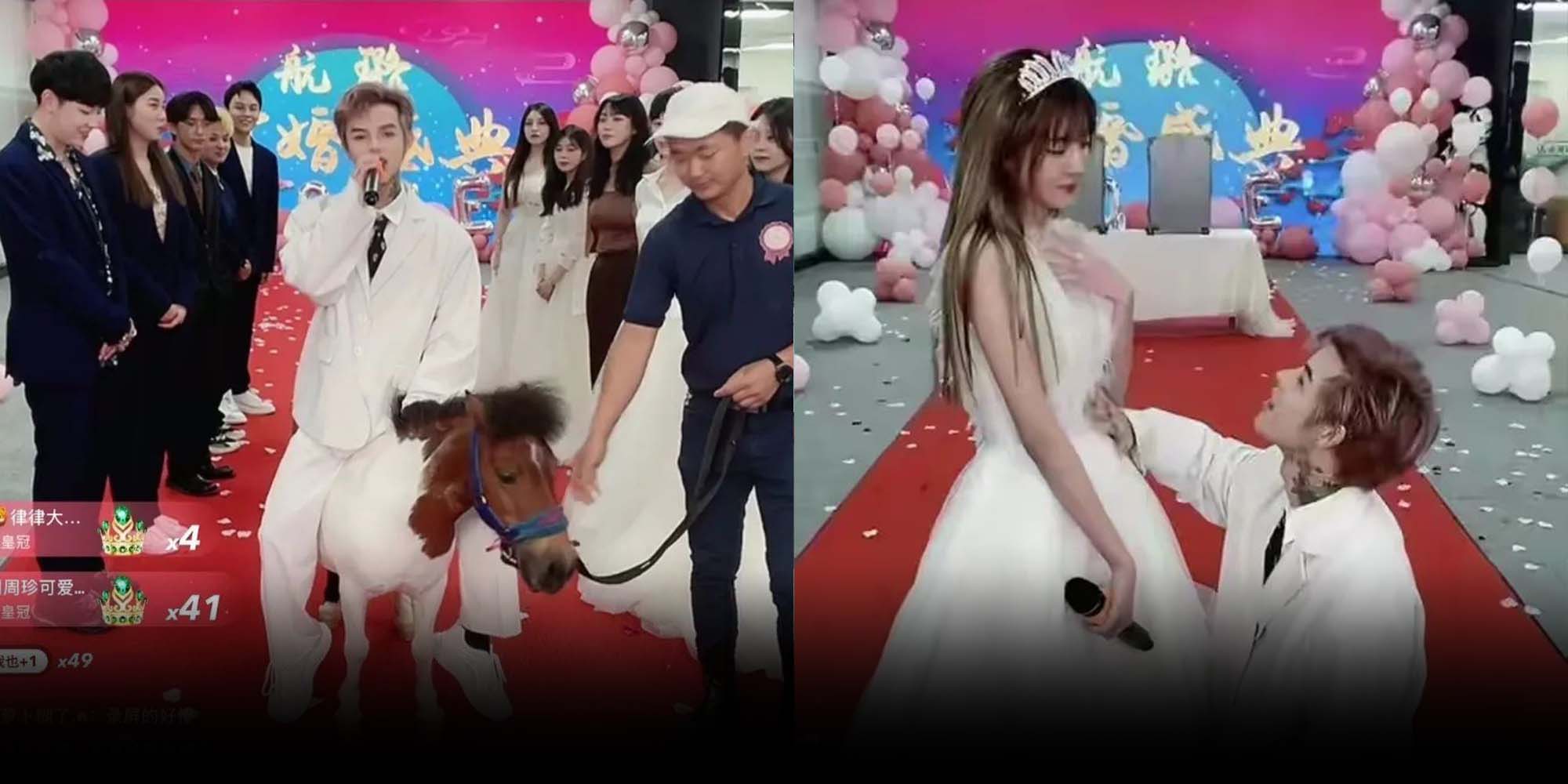 NEWS
Livestreamer Banned After 'Engagement Event' Turns Into 5-Hour Sale
Viewers who tuned in to see Yin Shihang propose to his on-and-off girlfriend were instead bombarded with product promotions, leading to over 230,000 complaints.
Kuaishou has banned a particularly polarizing user with 8 million followers after a livestream of his supposed engagement turned into a five-hour sales event.
The video platform's disciplinary action comes amid a wider cleanup campaign against sensationalist marketing tactics in China's booming commercial livestreaming industry.
On Monday, Kuaishou posted a notice saying livestreamer Yin Shihang had been banned for "hype-driven sales," "vulgar performance," and false advertising during his broadcast Saturday night, which the platform said had prompted over 230,000 complaints.
A day earlier, Yin had posted a short but elaborately staged video with his girlfriend, identified as Tao Lulu, and announced that he planned to ask her to marry him.
"Tomorrow night at 9 o'clock, I will promptly turn on my livestream and get engaged to Tao Lulu," Yin says before turning to his fiancée-to-be and adding: "Lulu, will you accept my proposal?"
"Let's see tomorrow," she answers coquettishly.
But Monday's engagement event — which kicked off with Yin riding in on a pony and featured a speech from his "father," played by an actor who appeared to be only slightly older than Yin — soon became a marathon sales event, with Yin promoting a bevy of products including perfumes, pajamas, and mobile phones.
The event was among the top-trending broadcasts on Kuaishou, and Yin managed to sell 46.1 million yuan ($7.2 million) worth of goods, according to the Southern Metropolis Daily newspaper.
Yin has been chastised for misleading marketing before. His video channel chronicles a tumultuous history of drama — break-ups and reconciliations between him and Tao Lulu, as well as other women — that appear to be solely aimed at attracting viewers. For his most recent reunion with Tao Lulu, Yin offered her a Rolls-Royce and a betrothal gift of 5.2 million yuan.
Commercial livestreaming exploded in China around 2019 and grew larger after COVID-19 disrupted traditional sales channels, such as shopping at brick-and-mortar stores, in early 2020. The industry has produced bona fide stars including "lipstick prince" Li Jiaqi and Wei Ya, who once sold a space rocket during a live auction for 40 million yuan.
But commercial livestreaming has also created new problems and exacerbated old ones. Sensationalist marketing stunts such as Yin's "engagement" can trick less-savvy internet users into buying things they don't need or that don't work. And in China as elsewhere, some money-grubbing streamers have been accused of heartily endorsing substandard products they actually know little about.
On Kuaishou, broadcasts involving advice gurus taking calls from viewers with salacious family problems have been exposed as scripted affairs, the callers paid actors. Another ploy is the rags-to-riches story, where a person's heart-wrenching — but entirely fabricated — journey from abject poverty to high-flying success is chronicled over the course of many short videos, eventually culminating in at least one sales pitch.
Other nefarious issues in the commercial livestreaming sector include streamers or their agencies paying click farms to inflate viewership and sales figures, which can in turn lead to more lucrative product promotion deals.
The platforms, for their part, are trying to combat these trends.
In Monday's post, Kuaishou said it had launched a cleanup campaign last November against "vulgar hype to drive livestream sales," specifically forbidding the use of divorces and weddings to boost traffic. Kuaishou's main competitor, Douyin — as TikTok is branded in China — announced similar measures in February.
Reacting to the news of Yin's banishment, which had received over 320,000 likes by Wednesday afternoon, many netizens were gleeful that he had finally fallen — though they were also upset that he had managed to scrounge so much money on the way out.
"He had already been proposing for months, hyping it up every day," one user commented under Kuaishou's post. "But we all know the real story behind the scenes."
Editor: David Paulk.
(Header image: Screenshots from Yin Shihang's "engagement ceremony" that turned into a five-hour commercial livestreaming event. From Weibo)