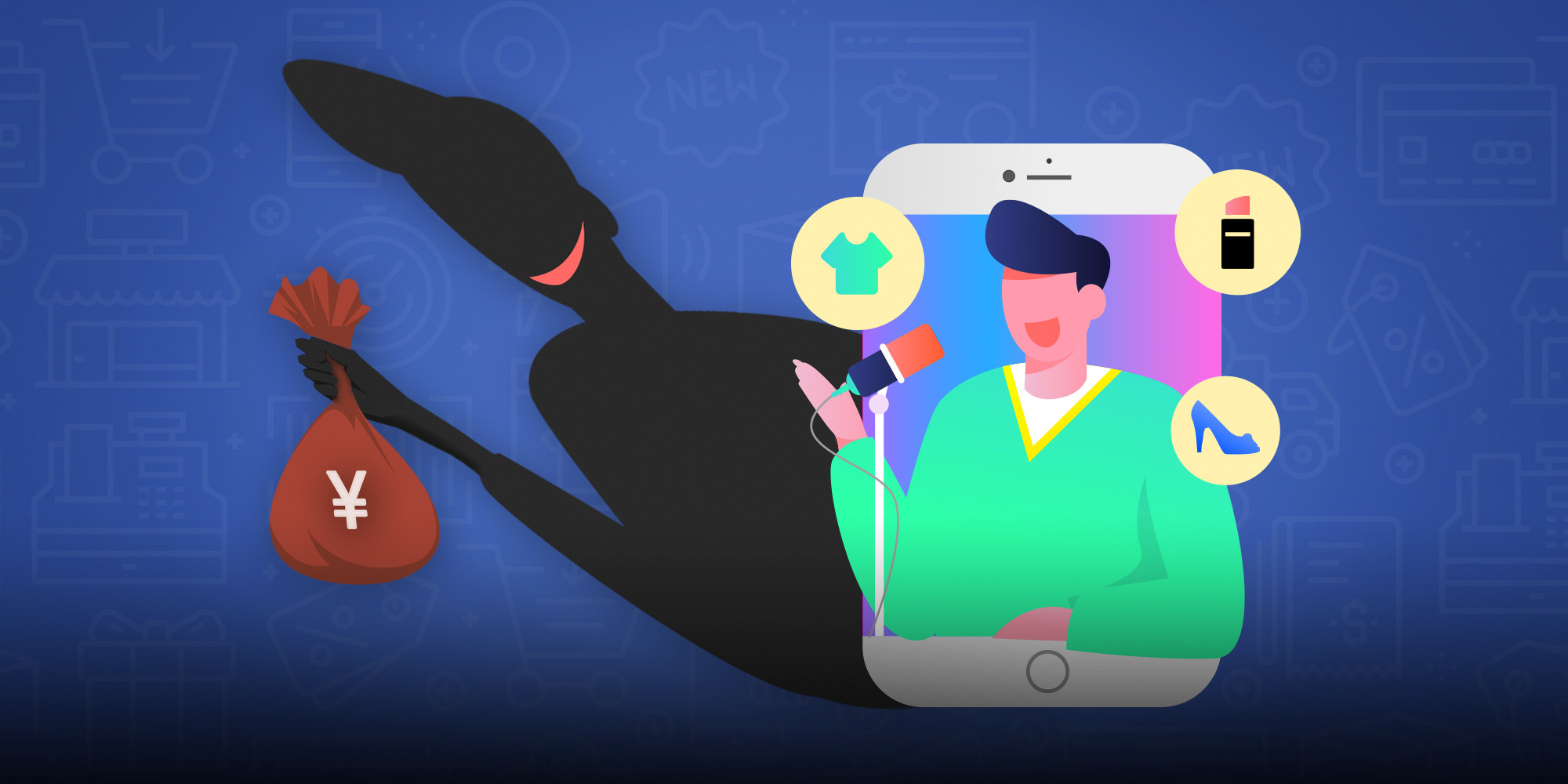 FEATURES
China's Hottest Livestream Trend: Fraud
As the commercial livestreaming buzz fades, Chinese influencer agencies are searching for ways to keep viewing figures high. Many are turning to a tried-and-tested method: faking it.
About halfway through the livestream, Li Huida felt her chest tighten with panic. She'd begun to suspect she'd been conned.
Li, a marketing manager from the eastern city of Suzhou, had spent a small fortune to get a popular Chinese influencer to promote her company's product — a meal-replacement shake — during a live show in mid-August.
It was a big risk, but Li had been confident it'd work out. Commercial livestreaming, after all, was a red-hot industry in China. Stars like Li "the lipstick prince" Jiaqi regularly sold millions of dollars in goods per broadcast.
At first, everything seemed fine. The influencer had nearly 2.5 million followers on Douyin, China's version of TikTok, and 120,000 people were watching the show. Likes and "bullet screen comments" were flying all over the video.
When the idol introduced Li's product, the audience response was overwhelming. Li felt relieved. She eagerly checked the live sales tracker, certain the viewers would be snapping up the shakes in the thousands.
But when the total popped up, reality hit. "It was zero," says Li, who spoke with Sixth Tone using a pseudonym for privacy reasons.
Her heart racing, Li began clicking on a few viewers' account profiles. As she did, her horror grew.
"They were all fake accounts — their profiles were all blank," Li says bitterly. "This whole commercial livestream was a scam."
The episode was a disaster for Li. Her company had paid 200,000 yuan ($31,000) upfront just to secure a spot on the influencer's show. It had also stocked over 4,000 boxes of shakes, anticipating a sales bonanza. But in the end, they hadn't earned a single yuan.
"Apart from the financial losses, we felt humiliated," says Li. "All the other employees at the company were whispering that our team was totally fooled."
Li, however, is far from the only person to have been duped. A Sixth Tone investigation has found that China's massive livestreaming industry has become riddled with fraud, with some influencer agencies routinely hiring click farms to artificially inflate their stars' sales and viewing figures.
Scams appear to be becoming more common as the commercial livestreaming boom triggered by China's COVID-19 outbreak begins to lose steam.
Commercial livestreams — live online shows where a presenter, normally an online influencer, introduces a series of products to viewers — were already popular in China before 2020, but the pandemic brought the industry to new heights.
Locked down and unable to visit brick-and-mortar stores, Chinese consumers began watching livestreams in droves. The country's number of livestreaming viewers is estimated to have jumped eightfold to over 500 million last year, according to research firm iResearch.
At the height of the boom, it seemed like everyone in China was hawking goods via livestreams. Famous pop stars, business tycoons, and even city mayors began hosting shows. Many drew enormous audiences, which added to the hype. 
In April 2020, Luo Yonghao — a once-broke tech entrepreneur — made his livestreaming debut on Douyin and sold a staggering 110 million yuan in goods. The next month, actress Liu Tao surpassed him by hitting sales of nearly 150 million yuan in a single show for Alibaba's discount channel, Juhuasuan.
The trend handed enormous power to China's multi-channel network (MCN) agencies — the businesses that manage online influencers and negotiate their deals with commercial brands. There are now well over 28,000 MCN agencies in the country.
As Chinese brands began to view livestreaming as an essential marketing channel, the MCN agencies gained negotiating leverage. Many were able to charge large "spot fees" — the kind of upfront payment Li Hui paid to reserve a spot on an influencer's show — and demand hefty sales commissions.
Song Chao, an employee at an MCN agency, tells Sixth Tone the price for a five-to-15-minute spot on a top livestreamer's show has increased dramatically in the past few years. "The normal spot fee for Weiya (one of Alibaba's top livestreamers) jumped to 200,000-300,000 yuan, and the price for Li Jiaqi was even higher," says Song. 
But in late 2020, the tide began to turn. China had by then largely recovered from its COVID-19 outbreak, making widespread lockdowns a distant memory. Consumers' appetite for commercial livestreams appeared to be fading, too.
Viewing figures for some livestreams declined. Brands began grumbling they'd made huge losses on campaigns. Even the Chinese government complained.
During the boom, officials across the country had hired livestreamers to promote local delicacies or tourist attractions. But the State Council, China's Cabinet, warned these shows sometimes generated sales worth only a fraction of the promotional costs.
"The cost is inversely proportional to the effect," Hong Tianyun, a State Council official, told a press conference in August. "It's not worth it."
For Pan Helin, executive dean of Zhongnan University of Economics and Law's Digital Economic Research Institute, the commercial livestreaming industry still has a bright future, but its growth last year was irrational and created bubbles in the market.
"Many of the big-ticket items that appeared in livestreams, such as vehicles and air conditioners, aren't well-suited to livestreaming, in our opinion," says Pan. "But the celebrities' involvement inevitably led to a huge inflow of capital and raised everyone's expectations."
In November, the industry was rocked by a series of fraud scandals, with MCN agencies accused of using underhanded tactics to cover up their stars' waning popularity.
After a livestream hosted by Wang Han, one of China's most popular TV presenters, companies complained nearly 80% of the sales made during the show had been later canceled. A few days later, three brands reported Yang Kun, a former judge on "The Voice of China," to the police over a similar incident.
Other stars faced questions over their shows' audience numbers. Li Xueqing, a stand-up comedian, co-hosted a livestream that attracted 3.11 million views. But according to a report on Tencent News, only the number after the decimal point was real.
These incidents were the tip of the iceberg, industry insiders tell Sixth Tone. As MCN agencies have come under pressure, it has become common practice for them to use fabricated accounts, likes, and comments to make commercial livestreams appear more successful.
"The number of followers, views, and sales determine the spot fee for a livestreamer," says a 28-year-old employee at an MCN agency, who spoke with Sixth Tone on condition of anonymity. "We have to polish these numbers."
The employee says her agency uses at least five different click farms to do the "polishing." When clients complain they sold nothing during a show, the agency normally offers them a free spot with another livestreamer, she adds. 
Faking data is a problem that extends far beyond the livestreaming industry in China. In recent years, e-commerce vendors, hip-hop fan groups, and even TV shows have been accused of similar practices.
Posing as a potential client, Sixth Tone reaches out to one click farm, which claims to be based in the eastern Anhui province. The click farm's owner says he can boost any Douyin account by 10,000 followers within six hours.
The business offers two levels of fake accounts, according to the owner. "Data accounts" — the most basic option — cost 90 yuan per 1,000, while the more advanced "simulated accounts" are 150 yuan per 1,000.
"The latter ones are higher quality — we provide profile photos and nice user names," he says. "(The platforms) will never detect these simulated accounts are fake."
Some click farms are hugely profitable. In October, police in the eastern Zhejiang province discovered a local operator had made 2.7 million yuan in a year providing fake likes, comments, and followers. The owner of the click farm received a 500,000 yuan fine. 
The Chinese authorities have taken some steps to crack down on illegal practices in the livestreaming industry over the past year. In July 2020, the China Advertising Association formally banned companies from using click farms. In November, the National Radio and Television Administration said it would strengthen oversight of livestreamers who have high sales figures.
But the click farm owner says he has so far been able to evade the authorities. As soon as he hears about a clampdown, he shuts down his online store on e-commerce platform Taobao and only accepts deals from past clients, he says. When he's confident the campaign has ended, he sets up a new store under a different pseudonym.
With scams an ever-present threat, Chinese brands are trying to protect themselves in any way they can. Many are doing this by forming large group chats on social app WeChat to share "blacklists" of fraudulent livestreamers.
Sixth Tone acquired one such blacklist in a group chat of over 400 company representatives. According to the list, firms from a wide range of consumer sectors — including food and beverages, skin care, and clothing — had been victims of fraud.
The livestreamers listed included several celebrities with millions of followers. Most had sold under 20 items during their shows, but had been paid anything from several thousand to nearly 1 million yuan by the client, according to the document.
Yet many companies remain unwilling to confront bad actors directly. Despite all the problems, they consider commercial livestreaming to be an essential marketing channel and have no choice but to continue working with agencies.
Employees at several brands tell Sixth Tone they know the MCN agencies they use have faked data, but decline to give specifics. They fear the MCN agencies will block their companies from accessing top livestreamers if they speak out.
But Li, the manager at the health products company, has decided to take action. She demanded a refund from the MCN agency, and after months of negotiation the agency offered to pay back 30% of the spot fee — 60,000 yuan — in six monthly installments.
Li rejected the offer. Her company filed a lawsuit against the agency, and the case subsequently went to trial in Tianjin, where Li's company is headquartered. In March, the court ruled in favor of Li's company, and ordered the agency to return the fee in full. Sixth Tone was unable to reach the agency for comment.
The marketing professional, however, cautions that suing an agency isn't a practical solution for most fraud victims.
"It's always highly costly to take legal action," says Li. "Many companies will just give up."
Li has also joined a WeChat group of fellow victims in an effort to avoid being hustled again in the future. But deep down, the group members know they're ultimately hostages to fortune.
"It's like a form of gambling," one person writes on the chat feed. "It's a crazy trend that we can't stop."
Additional reporting: Wu Ziyi; editor: Dominic Morgan.

(Header image: Visual elements from Shijue Focus and DigitalVision, reedited by Ding Yining/Sixth Tone)