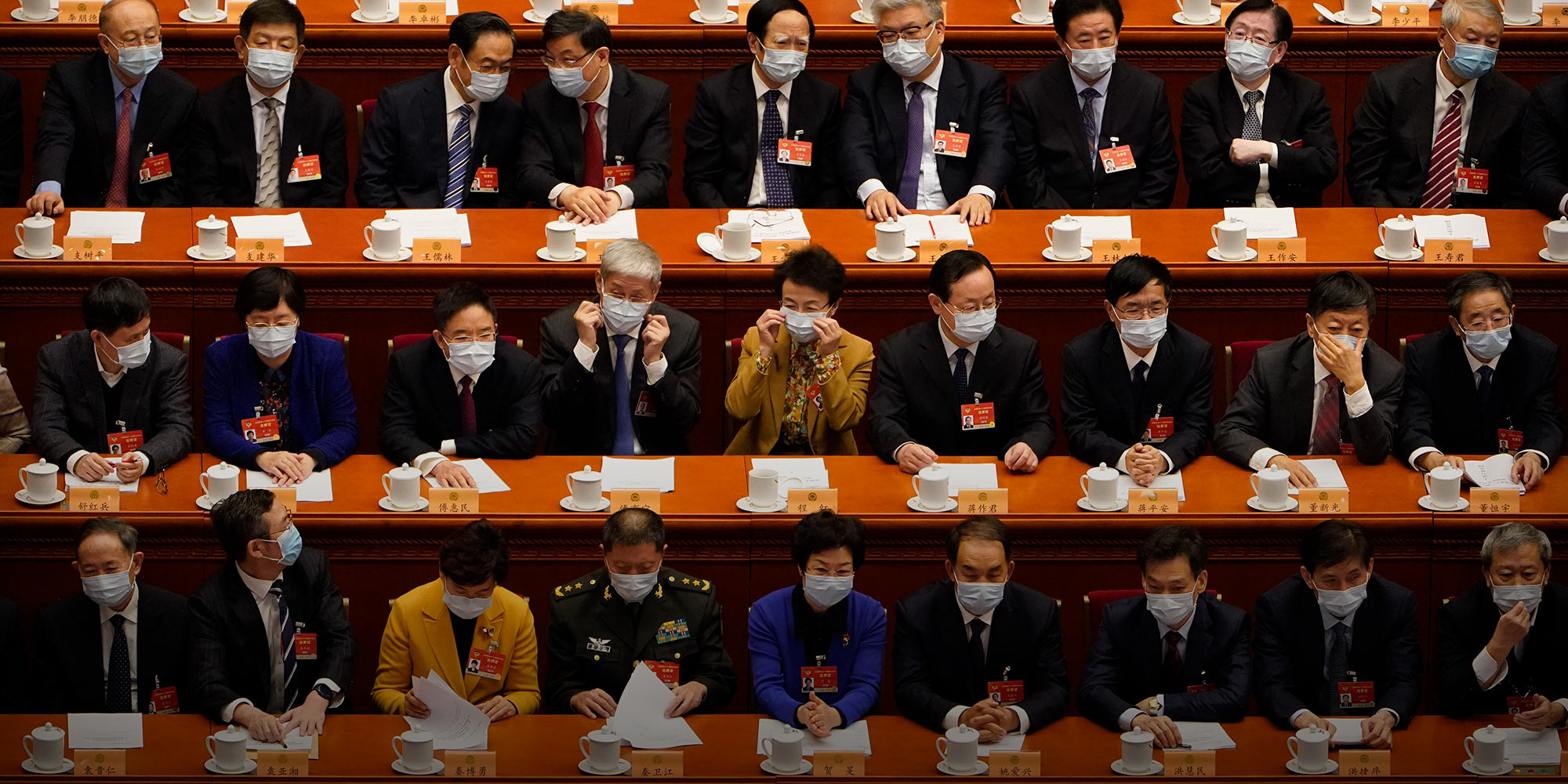 NEWS
For Your Consideration: Motions Proposed at China's 'Two Sessions'
During the past week's political meetings in Beijing, delegates talked about banning surrogacy, awarding more compensation to domestic violence survivors, and instituting shared parental leave, among other topics.
China's most important political gathering of the year concluded Thursday, with a slew of motions put forward for deliberation by lawmakers and policy advisers.
Delegates of the National People's Congress (NPC) and members of the Chinese People's Political Consultative Conference (CPPCC) had gathered in Beijing for the "two sessions," or lianghui, this past week. The annual meetings of the country's top legislative and political advisory bodies shape the country's agenda on policies and social issues.
Sixth Tone looks at some of the more widely discussed motions proposed by NPC delegates.
Compensation for domestic violence survivors
Li Xia, the director of Guangdong Baihao Law Firm and an NPC delegate, put forward a motion to substantially raise compensation for survivors of domestic violence, which currently can be lower than 10,000 yuan ($1,540). Meanwhile, she also proposed that perpetrators be entitled to less or no property during divorce settlements.
"This proposal is very positive (and a step) toward preventing domestic violence," Feng Yuan, a feminist scholar and activist, told Sixth Tone. According to Feng, China's marriage law stipulates that there should be "corresponding compensation" in domestic violence cases, but there is no national standard.
"A substantial increase in the amount of domestic violence compensation would require the introduction of laws involving specific compensation amounts," she added.
It's been five years since China's anti-domestic violence law went into effect, but experts say several issues, including compensation amounts, remain unresolved. Lately, several high-profile cases, including that of a Tibetan streamer who was burned to death by her ex-husband during a live broadcast, have raised concerns over women's safety.
No age limit for the civil servant exam
NPC delegate Jiang Shengnan, who is also a scriptwriter, proposed scrapping the age cap for national civil servants. When the provision on civil servant employment was first introduced in 2007, only people aged 35 or younger were eligible to sit for the exam.
In recent years, several employers have used the exam's age threshold as an excuse to reject workers. During the COVID-19 pandemic, many companies have laid off older workers, citing economic woes, and people over 35 have been rejected while applying for jobs because of their age.
"I think scrapping the age limit for civil servants can send a message to society that the age of 35 should not be treated as a recruitment limit," Jiang said. "If a person can really pass the national civil servant exam, (they) should be a talented individual who deserves to be granted special admission."
Mandatory security checks at hospitals
Given recent attacks against medical staff, NPC delegate Ding Liming suggested mandatory security checks at hospitals. Currently, there are no unified inspections for entering hospitals in China, though some have introduced their own measures, including wristbands for staff that would immediately alert police in the event of an emergency.
In recent years, there have been several incidents of violence targeting medical staff, with some resulting in death. Over the past two decades, 430 cases of violence against medical staff were reported nationwide, an average of nearly 40 cases per year, raising concerns about the safety of medical personnel.
In January, a cardiologist in the eastern Jiangxi province died from being attacked by a patient just over a year after another doctor in Beijing had been killed by one of the same patient's relatives. Last month, Shanghai introduced the first provincial-level regulation in the country barring people who threaten medical staff from public health insurance, as well as from working as civil servants.
However, some experts have also noted that mandatory security may not be a viable solution.
"Mandatory security checks will increase the consumption of medical resources and staff," a doctor based in the city of Zhoukou, in the central Henan province, told Sixth Tone. "Meanwhile, many patients may be reluctant to go through security checks, which may add to the burden on security personnel. Security checks for patients visiting the emergency ward would also be a problem."
Shared parental leave
NPC delegate Lin Yong proposed that couples be entitled to shared parental leave, with new fathers having at least 42 days away from work. He also proposed allowing couples to extend leave to 42 weeks.
Currently, women are entitled to at least 98 days of maternity leave, while most province-level regions have extended this to between 138 and 158 days since the two-child policy went into effect in 2016. Most men are entitled to 15-30 days off under regional policies.
Jiang Lai, an associate professor at Shanghai University of International Business and Economics, whose research interests include public policy and gender studies, told Sixth Tone the aim of such a proposal is to help stop hiring discrimination against women who are married or planning to have children.
"It means that if both parents have to contribute to childbearing and the family, employers cannot reject women of childbearing age on this basis," she said.
Ban on surrogacy
Jiang Shengnan, a writer and NPC delegate, suggested that the government ban all forms of surrogacy and criminalize agencies facilitating such practices. Surrogacy is illegal in China, though there are many unlicensed agencies that still offer such services to couples.
Last year, popular actor Zheng Shuang's rumored surrogacy in the United States raised heated discussion on Chinese social media. During Shanghai's "two sessions" last year, local CPPCC members also jointly called for setting up a "long-term mechanism" to crack down on surrogacy.
Minimum wage and benefits for food-delivery drivers
Lawyer and NPC delegate Xiao Shengfang suggested that food-delivery workers should be entitled to a minimum wage and insurance. According to Xiao, drivers' labor rights are often exploited, as many workers are hired without formal labor contracts.
In September of last year, two of China's leading food-delivery platforms vowed to better treat their employees after an investigative report exposed the systemic exploitation of such workers through built-in algorithms. And in January, a food-delivery driver's death again raised welfare concerns.
Stricter supervision of biometric data
The rise in the use of facial recognition has led to wider discussions on data safety, as well as privacy issues.
NPC delegate Hu Chengzhong, who also serves as deputy director of the Zhejiang Federation of Industry and Commerce, suggested several ways to strengthen supervision of biometric data. He proposed refining laws and regulations, forming a specific data protection administration, and setting strict requirements for biometric data-related enterprises.
Several businesses, including a safari park and real estate agencies, were found to be collecting excessive consumer data using facial-recognition technology. In a landmark November ruling, a Chinese court decided it was illegal and unnecessary for the safari park to collect such data without consent.
Gao Fuping, director of the data law research center at East China University of Political Science and Law in Shanghai, told Sixth Tone the country doesn't yet have legislation that clearly defines the illegal collection and use of biometric data. Meanwhile, authorities justify using facial recognition technology in public areas such as airports and railway stations, citing public interests.
"This should be specific, not generalized," he said. "Public interests also need to be defined."
Editor: Bibek Bhandari.
(Icons: Iconscout/People Visual)
(Header image: Delegates sit before the start of the closing session of the Chinese People's Political Consultative Conference (CPPCC) at the Great Hall of the People in Beijing, March 10, 2021. Mark Schiefelbein/AP/People Visual)