Olympic sprinter Zhang Peimeng has been accused of physically abusing his wife and kidnapping their 1-year-old child, in the latest high-profile domestic violence case to shock the country.
In a post Thursday on microblogging platform Weibo, sports commentator Zhang Mohan said her husband has been abusing her throughout their marriage. He filed for divorce in July, and after they couldn't come to an agreement on custody, she relocated to her hometown with their child. Her post alleges that he came after them and took the child away, assaulting a few of his in-laws in the process. She says she hasn't seen her child in almost two months.
Also included in the post are photos of what appears to be Zhang Mohan's bruised and battered body, as well as an official document from when she reported her husband to the police.
"I once asked him, 'Why do you treat me this way?' He answered, 'Athletes are like this because of our male hormone levels,'" she wrote.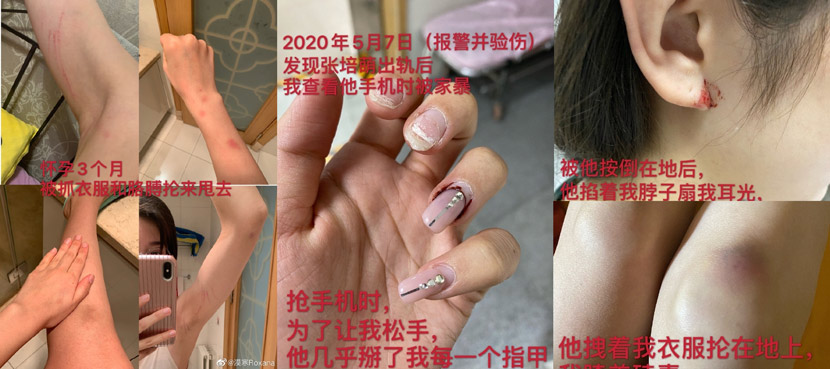 Photos shared Zhang Mohan shared online as evidence of her husband's abuse. From @漠寒Roxana on Weibo
Zhang Peimeng, now 33, once held China's record for the 100-meter sprint with a time of 10.04 seconds. He announced his retirement from sprinting in 2017, and plans to compete for China in the skeleton event at the 2022 Winter Olympics.
Following the accusations against Zhang Peimeng, his agency issued a statement saying his wife's claims "did not receive the police's support," and that he had not hurt anyone when he took custody of his child. The statement also accused Zhang Mohan of irresponsibly spending her husband's money, insulting him for being hot-headed and simple-minded because he's an athlete, and kidnapping the child first.
The statement did not explicitly say whether Zhang had ever been violent with his wife, and police have not commented publicly on the case.
Zhu Xixi, an anti-domestic violence campaigner with seven years' experience, said the athlete's response shouldn't be interpreted as the police siding with him, as law enforcement in domestic violence cases is notoriously tricky.
"He just said the police did not 'support' the allegations of domestic violence, while failing to explain the source of her bruises," Zhu told Sixth Tone. "There are many possibilities for why the police didn't open a case. It could have been a lack of evidence, the woman deciding not to press charges, or the officers' own insufficient awareness of the domestic violence issue."
The fact that victims of domestic violence like Zhang Mohan are going online to seek justice, Zhu said, reflects a lack of support offline, rather than merely a desire to expose their abusers.
"The current support system fails to help the victims secure their rights, and this is due to a lack of detailed laws on the issue, as well as inadequate law enforcement," she said. "The result is that the internet is a last refuge for victims searching for hope and trying to save themselves."
In recent years, dozens of abused women have spoken out on Chinese social media. Some have accused high-profile figures — including actors, journalists, and artists — of misconduct, though such cases are rarely resolved through legal channels even after China's landmark anti-domestic violence law came into effect in 2016. Furthermore, during the months of home isolation due to the COVID-19 outbreak in China earlier this year, experts say domestic violence increased dramatically.
Two weeks ago, the horrific death of a Tibetan livestreamer, Lhamo, whose husband doused her with gasoline and lit her on fire while she was broadcasting incited a national backlash against abusers, with tens of thousands of people calling for a new protective regulation to be instituted in her name. Lhamo, with 865,000 followers on short-video platform Douyin, had reportedly sought help from the police on multiple occasions, though she still ultimately died at the hands of her abuser.
Editor: David Paulk.
(Header image: Chinese sprinter Zhang Peimeng salutes the audience after a race in Tianjin, Sept. 7, 2017. Wu Junjie/CNS/People Visual)