UPDATE: The illegally dumped waste poisoned at least 37 people, including the four deceased, Zhucheng authorities said Tuesday night. Of the 33 residents who required hospitalization, three were in serious condition, 28 had mild symptoms, and two others had recovered. Sixteen suspects have been detained.
Four people died and several more were hospitalized in the eastern Shandong province after inhaling toxic fumes emitted by illegally disposed-of chemical waste, local authorities said Monday.
Several people from the Shunwang Residential Area in the city of Zhucheng were affected by the "illegal discharge" of unspecified chemical waste on Jan. 31, the city government said in a statement. The hospitalized individuals showed symptoms of gas poisoning, though their conditions are said to be non-life-threatening.
According to a now-deleted screenshot circulating online of what appears to be an official briefing on the case, a man surnamed Wang had rented the deserted Fengchang Mechanical Plant and buried barrels of liquid chemical waste there during the day. Then after nightfall, he allegedly dumped the chemical waste into a roadside sewer, emitting toxic fumes that killed a family who owned a barber shop some 600 meters away.
On Tuesday, The Beijing News reported that three local residents were being treated in an intensive care unit, while dozens of others remained hospitalized for suspected hydrogen sulfide poisoning. Hydrogen sulfide is a highly toxic gas emitted from industrial activity or natural sources. It can cause respiratory distress or even death.
Shandong province is a major hub for China's chemical industry, and despite strict regulations on the handling and disposal of hazardous and chemical waste, supervisory problems persist. In 2017, 17 people were jailed after four individuals died from inhaling toxic fumes while dumping 23 tons of spent alkali into an abandoned well in Zhangqiu, a district in Shandong around three hours' drive from Zhucheng.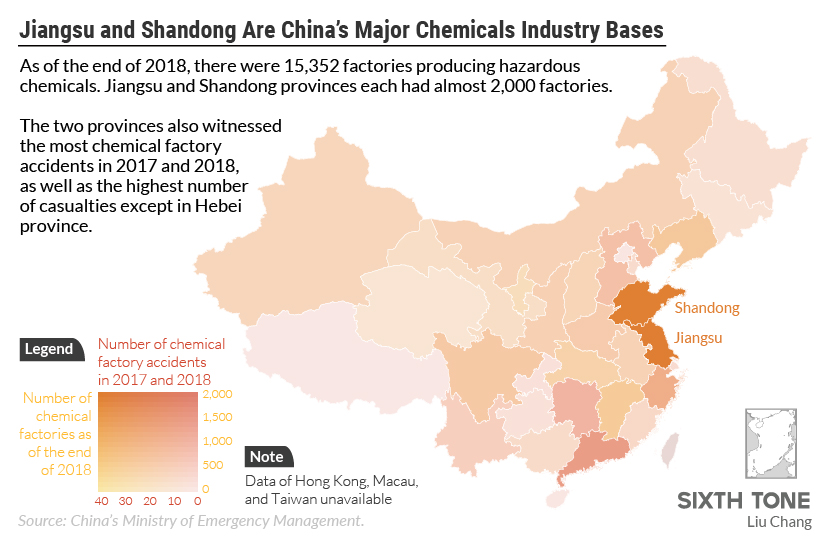 Several people from Shunwang Residential Area told Sixth Tone they had suspected there was a gas leak early Sunday morning, and that those who died of poisoning were a family of four running the barber shop.
A resident surnamed Liu who has an electronics store around 30 meters from the barber shop told Sixth Tone that he smelled an odor similar to rotten eggs around 2 or 3 a.m. Later, he found himself coughing and feeling nauseous.
Another resident living nearby, surnamed Kong, said he was awoken by a strong odor at 4 a.m. Feeling nauseous, he rushed outside for some fresh air, then took his family to a relative's home. "That smell was everywhere," the 58-year-old told Sixth Tone. "We didn't dare drink the water for fear that the well might have been polluted, too."
A third resident, a businesswoman surnamed Wang who is not related to the suspect, described the scene Sunday morning after opening her store some 100 meters from the barber shop. "It felt like a gas explosion had happened here," she said. Even days later, on Tuesday, the air still didn't seem as fresh as before, she said, adding that she had heard of people fainting from inhaling the toxic gas.
The city government office in Zhucheng and its environmental bureau declined to comment on the situation, referring Sixth Tone to the city's publicity department. An official at the publicity department surnamed Lü declined to comment or confirm the details in the screenshot circulating online, citing the ongoing investigation. He did say, however, that the situation is now under control.
Police are investigating the incident as a criminal case, and individuals with possible links to the mechanical plant have been detained, according to the statement.
A former owner of Fengchang Mechanical Plant, surnamed Li, told Sixth Tone he had terminated the land lease last year after shutting down the factory's operations. He said the residential community had reached out to him for any leads, but his defunct company, which once manufactured food-processing equipment, has nothing to do with the gas leak.
A deputy head from Shunwang Residential Area's administration office, surnamed Zhang, declined to comment, referring Sixth Tone to the Zhucheng government's notice.
Editor: Bibek Bhandari.
(Header image: Left: Workers clean the street where the hazardous waste was dumped in Zhucheng, Shandong province, Jan. 31, 2021 | Right: Poisoned residents are treated at a hospital in Zhucheng, Shandong province, Jan. 31, 2021. From Weibo)