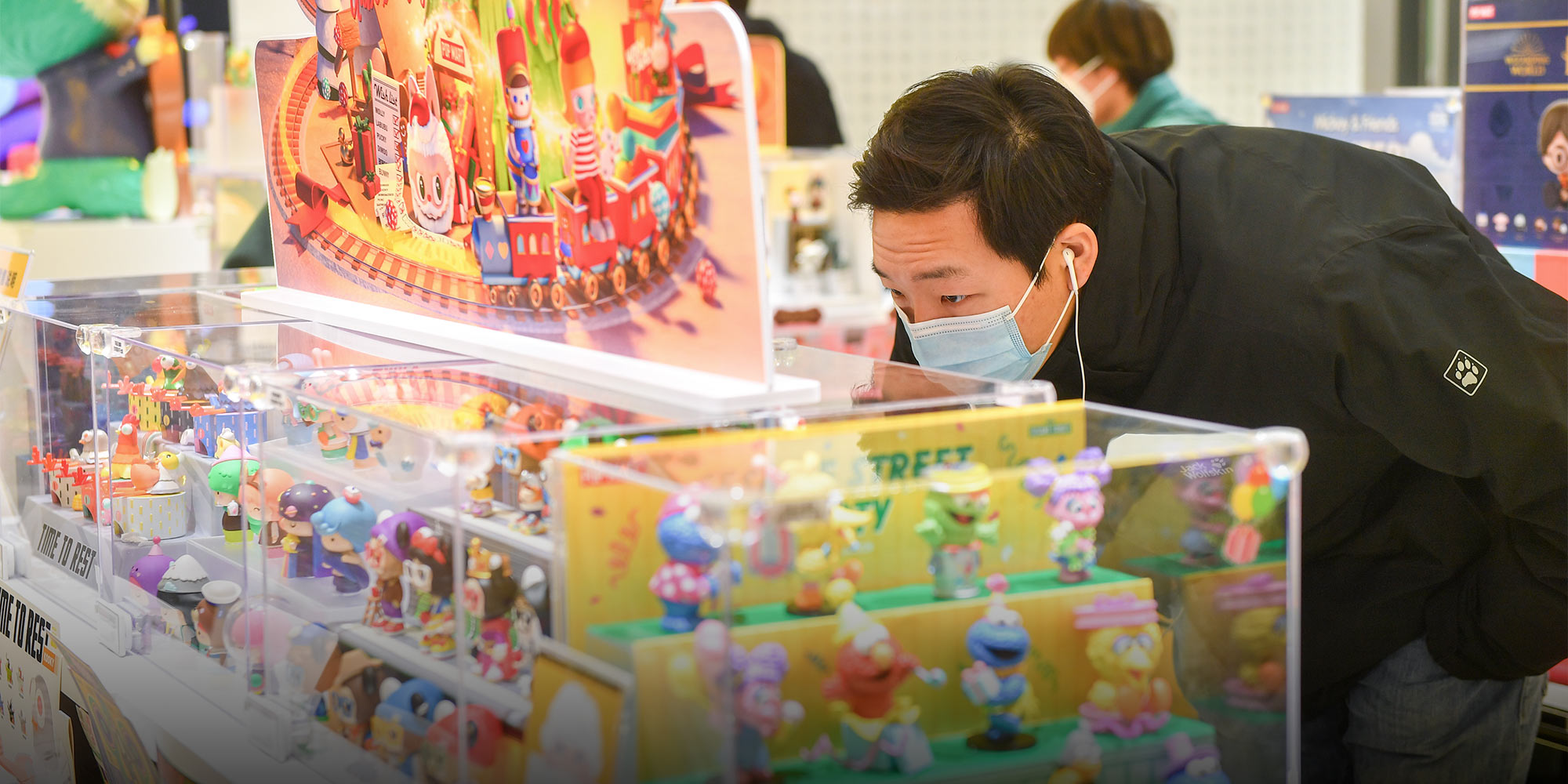 NEWS
For Mystery Box Maker Pop Mart, Scam Opens Up World of Trouble
State media scrutiny and unscrupulous employees have wiped some of the sheen off the popular figurine company.
SHANGHAI — Only weeks after its wildly successful stock market debut, the Chinese maker of collectible figurines packaged in mystery "blind boxes," Pop Mart International Group, has encountered its own series of surprises — and none of them good.
First came the scandal: According to media reports, an unnamed Pop Mart customer in Ji'nan, eastern Shandong province, published a video mid-December showing how blind boxes she'd recently bought in an official store seemed to be previously opened — glue clumsily resealed the boxes, and the cards inside were creased. Returning to the shop, it seemed many more of the boxes on display had been similarly opened and resealed.
The store's employees, it transpired, had been swapping out rare figurines which could be sold at a premium online, and replacing them with less desirable models.
Responding directly to the Ji'nan buyer, Pop Mart admitted to the error and said they'd already fired the five employees involved and were investigating the matter — which she shared in another video in the early hours of Dec. 24. This wasn't enough to prevent the incident from going viral on social media, however, or the ensuing comments from many other customers sharing their stories of suspected foul play.
Then, the next day, state-run media outlet Xinhua News Agency published an article on Pop Mart and China's blind box craze. It didn't mention the recent scandal but called the marketing practice addictive, similar to gambling, and suggested better regulation.
"Regulatory bodies should further standardize the operation method of blind boxes to prevent it from developing in a skewed manner, and from negatively impacting the growth of society and youth," Wei Wenqi, associate professor of psychology at South China Normal University, was quoted as saying.
Coming from a party mouthpiece, the innocuous quotes were widely viewed as a sign of incoming regulation that could stifle China's fast-growing blind box toy craze.

Three days later, on Dec. 28, these two incidents caused Pop Mart's stock to plummet 9.9%. Less than three weeks earlier, on Dec. 11, Pop Mart had entered the Hong Kong stock market and its issue price had doubled on its trading debut, giving it a cap of $14 billion. Pop Mart did not respond when contacted for comment on recent developments.
Random-draw toys with collectable value have a long history worldwide. Baseball cards in bubblegum packets have been sold for over a century in the U.S. and are now priceless collector's items, while many may fondly remember the Pokémon card craze of the late '90s — even if they never did get that Charizard.
In China, a similar phenomenon started in 1999, when a brand of "dry noodle" snacks marketed at school-age children began to include collectible cards of heroes from the classic 14th-century novel "Water Margin." Parents were soon calling on the state to intervene, however, as students skipped lunch to buy the packs and bought them in huge sets to increase their collection, forcing some disgruntled families to eat them instead of regular food for days.
Pop Mart was founded in 2010 and is based on the tradition of random collectible figurines in Japan, where they are often packaged in plastic balls and sold in vending machines. The company's figurines are sold in sets of 12, each with a set brand theme — or "IP" — the most famous of which is "Molly," a blonde woman with an iconic duck-lipped smirk. Each set of 12 will include one rare "hidden figurine" that only appears in 1 out of 144 boxes.
From 2017 to 2019, Pop Mart's revenue shot from 160 million yuan to 1.68 billion yuan ($24.5 million to $260 million), and the brand's free-spending fans increasingly made headlines. Stories circulated of a 60-year-old collector who purportedly spent over 700,000 yuan in a year on the figurines, and of a couple who spent 200,000 yuan in just four months. In an August 2019 report, Alibaba's online store Tmall said that over 200,000 consumers had spent more than 20,000 yuan on the blind box toys throughout the preceding 12 months.
Pop Mart now has 136 stores and 1,001 vending machines across China. Its figurines have spawned a national ecosystem of events and online chat groups, and are considered a way for the socially awkward to make friends. On the Alibaba-owned secondhand platform Xianyu, they have been sold by over 300,000 sellers for up to 39 times their original selling price, making them the most recent fashion investment, following in the footsteps of a similar sneaker craze last year.
The company's success has ushered in a blind box frenzy in China over the past year, with dozens of brands — Starbucks, Budweiser, Dove, McDonalds, Luckin Coffee, IKEA, and Miniso, to name just a few — all issuing their own sets of blind box models and products. Airline companies, eager to find ways to gain back passengers after coronavirus travel restrictions, have even begun selling blind box domestic flights, offering customers one among several randomly chosen destinations.
In December, Henan Museum released a set of blind box archaeology toy sets — randomized figurine replicas of antiques ready to be excavated from layers of dirt. The museum sold out 500,000 yuan in sets online, and an additional batch of 600 boxes sold out in just 35 seconds.
An industry report on the blind box toy economy released in December said the industry is predicted to double in value, reaching 30 billion yuan in 2024, and industry leader Pop Mart currently only has an 8.5% share of the highly competitive market. White-collar women and Generation Z university students make up the majority of consumers, it said.
Li Weihui, a film student at Northwestern University in the U.S., bought her first Pop Mart figurine as an off-the-cuff purchase last August, then grew interested in different sets — especially Molly and the rabbit-like figurines in the Labubu series — after watching videos about them online. She was particularly enamoured with a Molly model based on the 17th century painting "Girl With a Pearl Earring."
"Watching those videos was like opening up Pandora's box, and I started buying figurines from other sets," says Li.
Before putting an end to her newfound hobby, Li bought one to two boxes a week for around 60 yuan per package, with just one procured from a secondhand buyer online at a higher price. In total, she spent thousands of yuan to buy around 70 figurines, which she keeps in a plastic display cabinet in her room. It helped relieve stress, she says, and gave her a reason to reconnect her with old friends and make new ones online.
"Apart from it being a bit like gambling and all that, they're really just so cute," says Li over a phone call with Sixth Tone from Beijing, where she is waiting out the pandemic. "Even as I look at them right now, I just feel so happy."
Though she sees the similarities, Li thinks calling it gambling is overblown, since most box buyers are well-heeled adults, and she hasn't heard of anyone running themselves to the ground through such purchases.
Besides, she sees little difference between the collectable figurines and the randomized purchasable items such as "loot boxes" in video games. Popular titles like "Genshin Impact" and "Overwatch" allow players to gain items and characters this way, a practice that China's government has sought to control by banning the acquisition of loot boxes via real or virtual money and forcing developers to disclose their item drop rate probability.
Li finally stopped buying the models because of issues with the products themselves, and because she felt she was burning through her money. She'd bought some models with defects such as broken arms, and says after-sales services were slow to react and inefficient.
Like so many fads, she suspects it's peaking and will soon fall.
"I think that, after a little while, this kind of operating method won't be so popular," says Li, referencing another business model that took the country by storm several years ago but has since led to several bankruptcies. "A little like shared bikes, except for shared bikes there's actual hard demand."
At a shopping mall in Shanghai, demand for Pop Mart appears steady. Midday, the occasional shopper approaches one of the company's vending machines — full of blind boxes from its Molly, Labubu The Monsters Art, Disney Princess, and "Harry Potter" series. The same shopping mall also has a vending machine from rival "IP Station" which sells blind boxes containing figurines of Winnie the Pooh, SpongeBob SquarePants, among others.
After Bai, who is from the northeastern city of Shenyang, buys a Labubu box, the wrapped toy is grabbed by the vending machine arm, then presented in an opened vent under flashing purple lights, ready for her to find out what she bought.
"I didn't initially see the appeal in these," says Bai, who already owns several figurines and has come with a friend to buy another. "But after I bought my first toy at the start of the year, I found the box-opening process so exciting. Even if you don't get the one you want, you'll later want to buy more."
"So you're not actually buying a product, you're buying a surprise," adds Bai's friend.
Editor: Kevin Schoenmakers.

(Header image: A man carefully selects a blind box at a Pop Mart store in Beijing, Dec. 25, 2020. People Visual)