On Monday, a chartered flight with 74 Chinese students at British universities took off from the southwestern city of Chongqing, bound for Manchester. It marked the first group of Chinese students traveling abroad to study since the coronavirus outbreak began to spread worldwide early this year.
An additional 20,000 students have signed up for 90 similar upcoming flights, hoping to begin or resume student life in cities like Manchester and Bristol. Around two dozen British universities have collaborated with China's Hainan Airlines to arrange the chartered flights.
"I thought we, the class of 2020, were the most miserable international students," a rising freshman surnamed Wang said in a video report by the state-run China News Service. "Now, I think we are blessed."
The "blessed" few who were on Monday's flight are a minority. There are many more Chinese young people who can't begin or return to their degree programs abroad, and this presents a big problem. Because many of these students graduated from international high schools that spared them from having to take the gaokao, China's grueling college entrance exam, they aren't eligible to attend domestic universities as a backup — at least under standard policies.
How are these beleaguered international students to continue their education? From going online to pressing pause, here are some of the paths that remain open to them: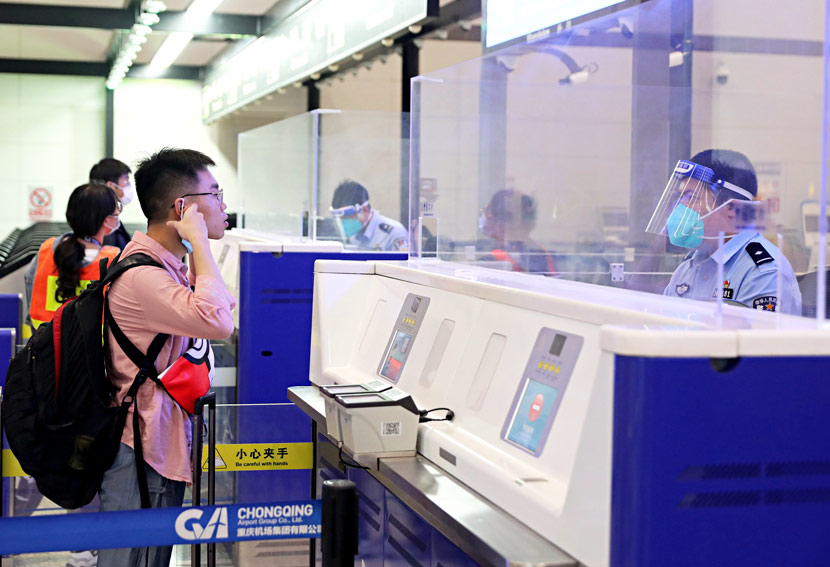 A Chinese student at a British university goes through security before boarding a chartered flight bound for Manchester at Chongqing Jiangbei International Airport, Sept. 21, 2020. Mo Xiaojian via CNS/People Visual
Mind the gap year
Taking a semester or a year off between high school and university is an uncommon course to Chinese families, yet the pandemic has left some students feeling as if they have no other choice.
A 19-year-old native of the northern Shanxi province surnamed Huang had planned to attend Kenyon College in Ohio when the fall semester started last month, but he ultimately failed to secure a visa appointment at a U.S. consulate in China.
"I chose to take a gap year for several reasons, the most straightforward being the lack of visa appointment slots for Chinese studying overseas," Huang told Sixth Tone. "Also, my parents and I were very concerned about the uncertain situation and the continuously rising number of coronavirus cases in America."
According to a recent survey from the Beijing Overseas Study Service Association (BOSSA), a government-affiliated education group, between 40% and 60% of nearly 9,000 Chinese students said they had been directly impacted by administrative problems caused by the pandemic, such as college applications, visa procedures, and travel restrictions.
Besides not being able to schedule a visa appointment, Huang was also deterred by the prospect of online classes. "There weren't many classes available remotely," he said, adding that technological problems and a 12-hour time difference only exacerbated the enormous pressure and low learning efficiency of the online classes.
To Huang, taking a gap year isn't a perfect solution. At 19, he's already older than most first-year college students, and an extra year off could leave him feeling more out of place when he eventually enrolls. But for now, he's staying optimistic. "There's a trade-off for every choice, and I'm willing to bear the potential costs of my decision," he said.
When asked about how he plans to spend the next few months, Huang said he hopes to pursue passions he didn't have much time for in high school, such as boxing and piano. As for academics, Huang has registered for a few classes on Coursera, an online learning platform founded by Stanford University professors.
"I think the classes on Coursera are relatively flexible and easy, so I've been watching some course videos to supplement my future studies," Huang said. "I'm also still hoping to read more books and spend more time with my family."
Though the coronavirus pandemic has caused a large proportion of international students to reconsider their original plans, Huang believes going abroad will remain a popular option for Chinese students looking to broaden their horizons.
Social distance learning
Though far from ideal, taking online classes is among the most practical options for China's would-be international students, many of whom fear catching the coronavirus should they travel to the United States or Europe.
When Yan, a recent high school graduate in Shanghai, finally decided to take online classes from home, her parents were relieved that they at least wouldn't have to worry about her health and safety. Yet she was a reluctant convert, given that the one-year online curriculum her school — University of British Columbia (UBC)— had set sounded so dramatically different from the life she had imagined as a college student in Canada.
In the end, however, the decision was all but made for her: Under school policy, Yan would lose her 50,000 yuan ($7,400) scholarship if she opted to defer her education. So she enrolled in online classes and paid the total tuition of 85,000 yuan ($12,500) — UBC's regular fee, with no discount applied for online study.
"It's really hard for me to get up around midnight to attend online classes," Yan told Sixth Tone. "Also, we paid the same amount of money (as if I had been attending classes in person), but what we experienced was nothing like campus life at a Western university."
While some universities in the United States offered 10% to 30% discounts for their online classes, most international students attend schools that did not introduce such policies. The perception that they're paying the same price for an inferior product has prompted questions from students and their families about the relative value of online education, as well as coordinated protests.
Don't go loco: Go local!
Western universities rely heavily on income generated by international student fees. In 2019, there were more than 350,000 Chinese students at U.S. colleges and universities. In wake of the pandemic, however, international student enrollment is expected to decline by 63% to 98% from last year — a worrying projection that has spurred institutions to come up with appealing plans for allowing students to start or continue their degree programs without leaving China.
This unofficial "go local" push — Western universities allowing in-person classes at Chinese partner institutions, as well as easy credit transfers — has been largely welcomed by students and parents alike.
After failing to get a U.S. visa, a rising freshman surnamed Fang at College of the Holy Cross in Massachusetts decided to take classes at the University of International Business and Economics in Beijing instead. Her new classmates are Chinese students from other Western universities, and so far she's happy with the arrangement.
"Although the living accommodations aren't ideal, I'd rather stay here than take classes entirely online," Fang told Sixth Tone. "The teachers here are reliable, and our grades will be directly transferred."
However, quality of instruction varies from one institution to another, and almost all of these partnership programs come without discounted tuition. For its official Go Local program, NYU Shanghai — a collaboration between New York University and East China Normal University — is letting Chinese students who had planned to attend classes in Manhattan do so at the Shanghai school's campus instead — but with the full NYU price tag of $50,000 to $100,000 a year, depending on course load, compared with the $17,700 to $26,500 a year paid by regular NYU Shanghai students.
Guangdong's big-brain plan
A week ago, domestic media reported that seven universities in the southern Guangdong province — including Jinan University, Guangdong University of Foreign Studies, and Shenzhen MSU-BIT University, all of which have partnerships with foreign institutions — had decided to expand enrollment for their cooperative programs and open them to students who can no longer go abroad to study.
Students with admission offers from foreign universities are eligible to apply for these programs, though each institution also has its own additional requirements. If admitted to one of the local cooperative programs, students will need to give up their admission offers from Western schools.
Jinan University, a research institution that partners with Birmingham University in the U.K., planned to recruit 20 additional students for four degree programs: mathematics, computer science, economics, and statistics. However, students who graduate from this expanded program will only receive a diploma from the Jinan University-University of Birmingham Joint Institute — not the prized dual degree from both institutions earned by students who enter the program after taking the gaokao.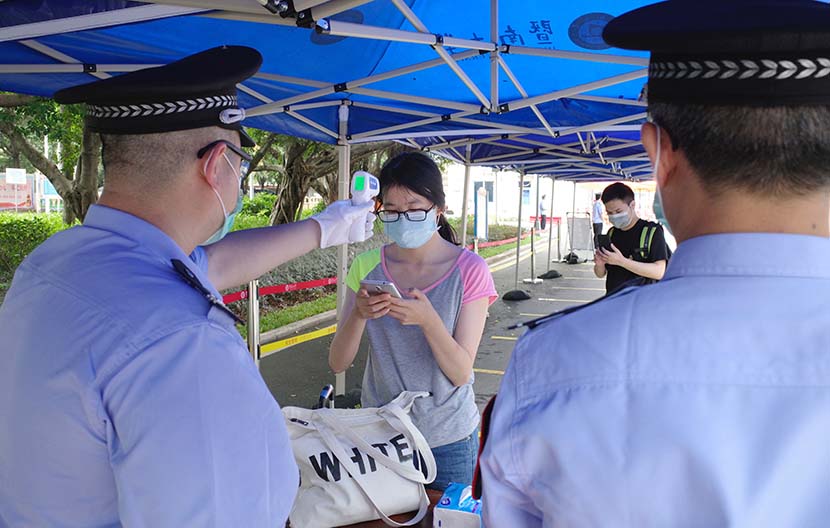 A student gets her temperature checked entering the campus of Jinan University in Guangzhou, Guangdong province, May 11, 2020. People Visual
On the whole, the admission standards for the Guangdong programs seem not so difficult to meet. The program at Guangdong Technion-Israel Institute of Technology, for example, is open to any student admitted to a top 300 university according to U.S. News & World Report's influential annual ranking. But the program isn't necessarily suitable for students who graduated from international high schools, which tend to emphasize language and the liberal arts more than China's public school curriculum, which is heavier on math and science.
Hu Xiangdong, a professor specializing in education methodology and gaokao research at Central China Normal University in Hubei province, divides international school students into two groups: those genuinely seeking a more globalized education, and those simply trying to avoid the gaokao.
"For the first group, they will do just fine switching routes to a collaborative program at a Chinese university," Hu told Sixth Tone. "The latter group probably isn't suited for such programs, since a lot of the majors offered in these programs are science and engineering."
As of September, some Western universities had announced plans to resume in-person classes in the spring semester, albeit without setting dates in most cases.
Despite the obstacles caused by the pandemic, according to the BOSSA survey, 64% of Chinese students still have no intention of changing their plans to study abroad, and 71% of students say they won't change their destination.
Editor's note: The interview with Huang was added to this article on Sept. 28 after a previous interview was found to have fallen short of Sixth Tone's standards for accuracy and transparency. That interview has been deleted.
Additional reporting: Chen Qi'an; editor: David Paulk.
(Header image: Chinese students at British universities prepare to board a chartered flight bound for Manchester at Chongqing Jiangbei International Airport, Sept. 21, 2020. Mo Xiaojian via CNS/People Visual)