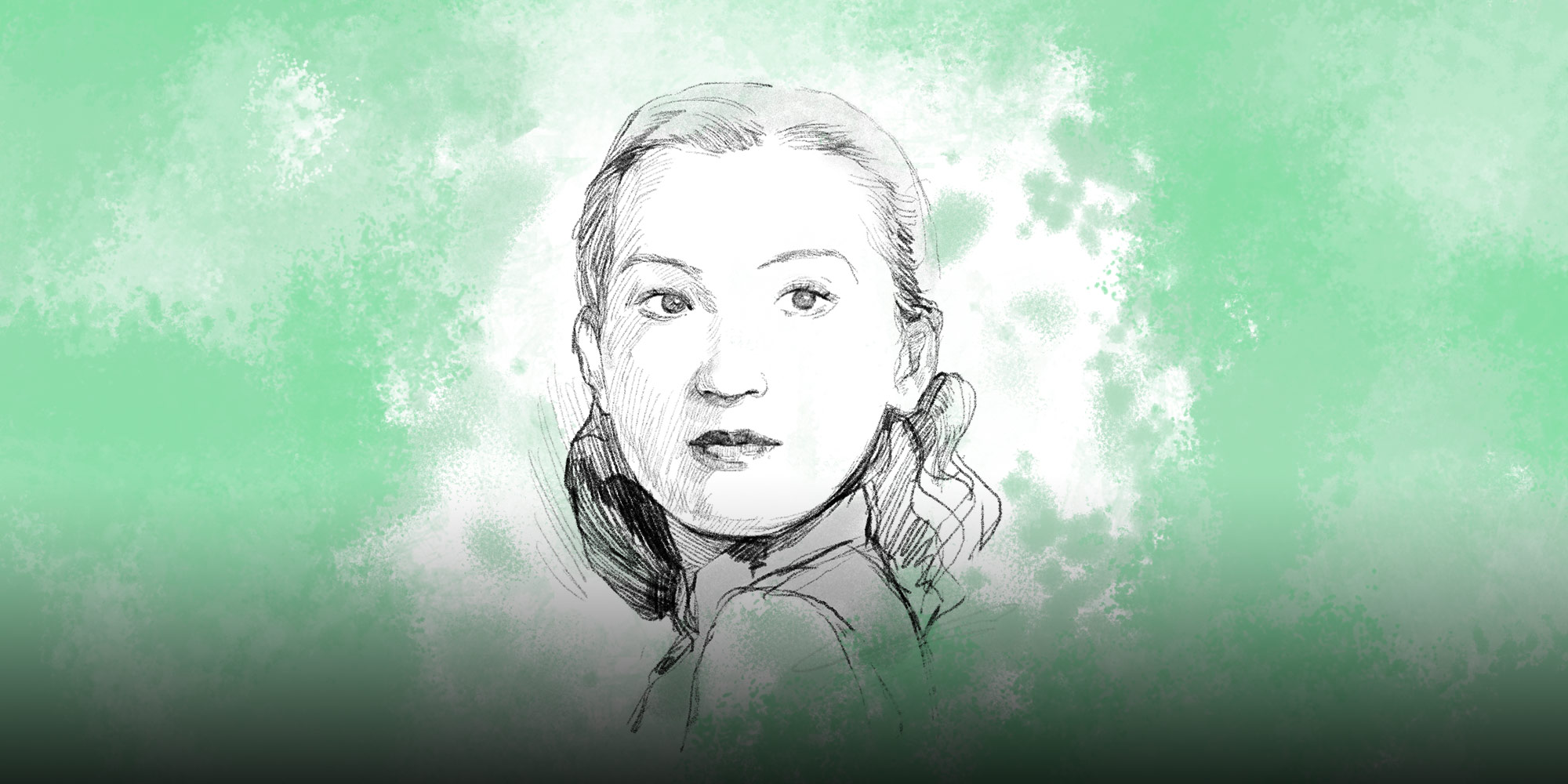 VOICES & OPINION
Born in 1920: The Singer Whose Songs Traced History
Zhou Xuan appeared on Shanghai's entertainment scene at exactly the right time. But her good fortune didn't last.
This article is the third in a series on the lives and legacies of three women born a century ago, and how they intersected with and reflected some of the major trends of the past 100 years of Chinese history. Part one can be found here, and part two here.
In the 1930s, Shanghai was a city like no other — dazzling, grotesque, and gaudy. As a cosmopolitan center whose foreign concessions offered a relatively safe haven amid the turmoil of the times, the city attracted investment and people from all over China and the world. The city became home to intersecting old and new ideas, to coexisting Western and Chinese elements, and to a motley crew of people.
Among them was Zhou Xuan, one of China's earliest music and movie stars. Her performance in the movie "Street Angel," playing an innocent songstress born into poverty, is classic. And with her beauty, elegance, and microphone talents that earned her the nickname "Golden Voice," Zhou Xuan became a legend and synonymous with modern, Shanghai-style haipai culture.
More than 60 years after her death, her songs are still sung, and she remains universally famous in the Chinese world. Nowadays, people reimagine the bustle and glamor of a bygone Shanghai through her. But the romanticization of her legacy obscures the full story. Zhou Xuan and her work are closely interwoven with the twists and turns of China's modern history, and it wasn't always glamorous.
Zhou Xuan was born in 1920 in Changzhou, a city close to Shanghai. Abducted and sold as a child by her uncle, an opium addict, she was eventually adopted by a Shanghainese family surnamed Zhou. In 1931, she joined the Bright Moon Dance Ensemble under Li Jinhui, a pioneer in Chinese pop music. From there, she gradually made a name for herself in musical theater, singing, and film.
Three years later, Zhou entered a singing competition hosted by several Shanghai radio channels, which kick-started her steep ascent to stardom. Despite an arguably unfortunate childhood, she burst onto the scene at an opportune time: Culturally, materially, and otherwise, Shanghai had all the right characteristics in place to embrace a rising class of female stars.
The city's cultural life was flourishing, and as it became home to China's maturing publishing, music, and film industries, intellectuals from all walks of life flocked to Shanghai. By the time Zhou launched her career in the 1930s, the cultural entertainment industry was reaching its zenith.
More importantly, female stars had just gained their own legitimacy. Women were traditionally kept out of public view, and were largely excluded from stage performances or film productions, where they were usually portrayed by men, as per the traditional method of Chinese opera.
Films featuring Hollywood actresses were already presenting a challenge to this ideology, but it was the rhetoric of female liberation during the May Fourth Movement in 1919 that really shook the foundations of these ancient traditions. The 1920s saw the emergence of Chinese actresses who, as participants in the new technology of film, represented fashion and modernity; they were the pathfinders of urban trends and cultures. Yet, sadly, socially and in public discussion, actresses were still often seen as no better than prostitutes, relegated to society's underclass as if no traditions had changed at all.
Their circumstances saw improvements by the 1930s. The growing influence of domestic films brought progressive political and cultural elites into the industry, who hoped to turn the medium into a tool for disseminating their ideologies and values. Actresses became more than just pinups; they were writers and artists called on not only to entertain the masses but also to rouse interest in political and social issues. They held the power to influence the production and consumption of popular culture.
Such favorable conditions enabled Zhou Xuan's rise to enormous fame — in the 1940s, she was known as one of the "Seven Great Singing Stars" — as well as that of many other female stars of her time. This elevated social status and the societal expectations that came with it turned out to be a double-edged sword, however, when they found themselves and their work swept up in the era's ferocious ideological and political tides.
China's many upheavals in the first half of the 20th century had precipitated an existential crisis: the chaotic fighting of regional warlords, national weakness and subsequent subjugation at the hands of the West, and the Japanese invasion. Chinese politics radicalized as elites, but wanting to save the nation, thought a renaissance was urgent.
Works of popular culture — stories, songs, films, and the like — became seen as tools for propagating revolutionary ideas, as well as educating and uniting the people. The great author Lu Xun offers a case in point: He chose to write, rather than study medicine, because he wanted to shake the masses out of their stupor through the power of the pen.
Consequently, left-wing intellectuals came to regard popular urban culture and entertainment — often focused on romance — as vulgar, decadent music that only poisons and corrupts the people. Ironically, in so radically rejecting and renouncing Chinese tradition, they actually upheld Confucian tradition, which regards music and painting as means for improving one's character – not entertainment.
This disdain for the popular in times of crisis is mirrored in a line from a classical Chinese poem: "The courtesans still sing 'The Song of Courtyard Flowers' from across the river / Unperceiving the eternal regret of a vanquished nation contained within its lyrics." Under the looming threat of national extinction, "decadent" music about passionate love or sorrow over the passing of the seasons faces more scrutiny and criticism.
The history behind Zhou Xuan's best-known song, "When Will the Gentleman Come Back Again," exemplifies this perfectly.
The song first appeared in a 1937 movie in which Zhou starred. Touching and tragic, the song tells the story of a young woman's brokenhearted reluctance to part with her beloved and her hopeful expectations of meeting again. Zhou's soft voice led to an emotional reaction to the song, which spread across the country to near-universal praise. As the sinologist Andreas Steen said, the song consoled people who were facing war, revolution, and great uncertainty.
Some social elites thought otherwise. In 1940, the prominent Shanghainese newspaper The Shun Pao Daily derided the song as decadent music that took over people's minds, and called for it to be banned in Shanghai.
Most people are unaware that Zhou Xuan's original name was Zhou Xiaohong. Zhou Xuan is a homonym of a word meaning "contending," as used in one of her lyrics: "contending with the enemy in the battlefields." This showed another side to her: While she used her soft, sweet voice and her image to portray love, joys, and sorrows, they coexisted with a fervent patriotism that was rarely acknowledged by her critics.
Despite this, the national government banned "When Will the Gentleman Come Back Again," citing the immoral popularity of decadent songs among young people, in spite of four years of war, pointing to the twisted morals in the song as evidence of decadence. Many of Zhou Xuan's songs ended up blacklisted.
Across the sea in Japan, a Japanese version of the song also became popular, but the authorities there also censored it, reprimanding it as weak and disruptive to moral standards. They also interpreted it as an expression of hope for the return of Chinese troops and thus anti-Japanese.
Despite such intense criticism, the mainstream of urban art continued to focus on love, and these remained popular among the masses. That changed, however, after the Community Party emerged victorious in 1949, and denounced such works as the spiritual opiate of the corrupt bourgeoisie. "When Will the Gentleman Come Back Again" was labeled "yellow music," meaning vulgar or sexually indecent, and it remained banned.
The Communist Party elevated entertainers into the role of artists of the people, in service of the masses and the revolution. Female entertainers were, in a sense, freed from being pinups, but they also had to bid farewell to the urban culture and trends they had once created.
Zhou Xuan's career was to end in the Communist era. She was hospitalized after a mental breakdown while filming a movie in 1951, after which she vanished from the public eye, and six years later, she died at the age of 37. Official discourse describes her as "a victim of the old era and lucky to experience the new era."
That lasted until the 1980s, when China's transition into the reform era ushered in a departure from radical revolutionary ideology. Taiwanese singer Teresa Teng's cover of Zhou Xuan's "When Will the Gentleman Come Back Again" led to a resurgence of the song and other sounds of Old Shanghai, as well as a wave of nostalgia.
In the rush to modernize after decades of revolutionary art and literature, the art of Old Shanghai gave Chinese people an avenue to rediscover fashion, modernity, and that everlasting topic of mass appeal: romance. Or perhaps the resurgence of Old Shanghai was an act of rectification, removing the label of decadence that had long haunted the works of Zhou Xuan and her contemporaries.
Historian Jiang Jin described the phenomenon well, arguing that the discourse of saving a nation and revolution centers on national righteousness, which all but rejects popular culture and young love. But those stories actually support people, psychologically and emotionally, helping them cope with drastic changes around them. The era of Zhou Xuan was pivotal to the construction of Chinese modernity. Its popular culture sprang from the everyday issues — such as love and affection, marriage and family — that people had to understand and adjust to within a new moral and ideological framework. The modernity expressed in food, relationships, and trivialities points to a historical process more fundamental than revolution and war.
Zhou Xuan's image today is one of innovation, style, and charm — not unlike the way her fans in the 1930s beheld her. The shifting political winds impacting her and her work are no longer common knowledge, but perhaps her experience is familiar. The majority of female celebrities today still face high moral standards, intense scrutiny, and sharp public criticism.
At last, so many years later, we can almost look past the imposed ideological haze that hangs over Zhou's songs, and simply allow the beauty of her voice to take over our minds.
Lyrics of When Will the Gentleman Come Back Again?
Lovely flowers do not blossom very often, a wonderful view does not exist very long.
Sorrow covers my smiling brow, missing you brings tears to my eyes.
After we have parted today, when will you come back again?
When you have emptied your cup, please eat a little, life has few opportunities for intoxication, without pleasure everything is even harder to bear.
(Come, come, come, have a drink and talk later!)
If we part today, when will you come back again?
The morning dew has dampened the courtyard, the scent of agarwood adrift.
The jackdaw is lonely, nesting in a tree, the bright moon is shining high in the sky.
After we have parted today, when will you come back again?
When you have emptied your cup, please eat a little, life has few opportunities for intoxication, without pleasure everything is even harder to bear.
(Come, come, come, have a drink and talk later!)
If we part today, when will you come back again?
Time is short, we have to depart very soon, such a wonderful moment will never return.
One second is weighed in gold, drink as much as you like, don't hesitate.
After we have parted today, when will you come back again?
When you have emptied your cup, please eat a little, life has few opportunities for intoxication, without pleasure everything is even harder to bear.
(Come, come, come, have a drink and talk later!)
If we part today, when will you come back again?
Stop singing Yangguan (san) die, raise your white jade cup.
I chat and talk of anything, to ease your troubled mind.
After we have parted today, when will you come back again?
When you have emptied your cup, please eat a little, life has few opportunities for intoxication, without pleasure everything is even harder to bear.
(Hey! Have another cup, drink it dry!)
If we part today, when will you come back again?
(The lyrics are adapted from the translation by Andreas Steen.)
Translator: Katherine Tse; editor: Kevin Schoenmakers; copy editor: Ellie Bouttell.
(Header image: Wang Zhenhao and Ding Yining/Sixth Tone)