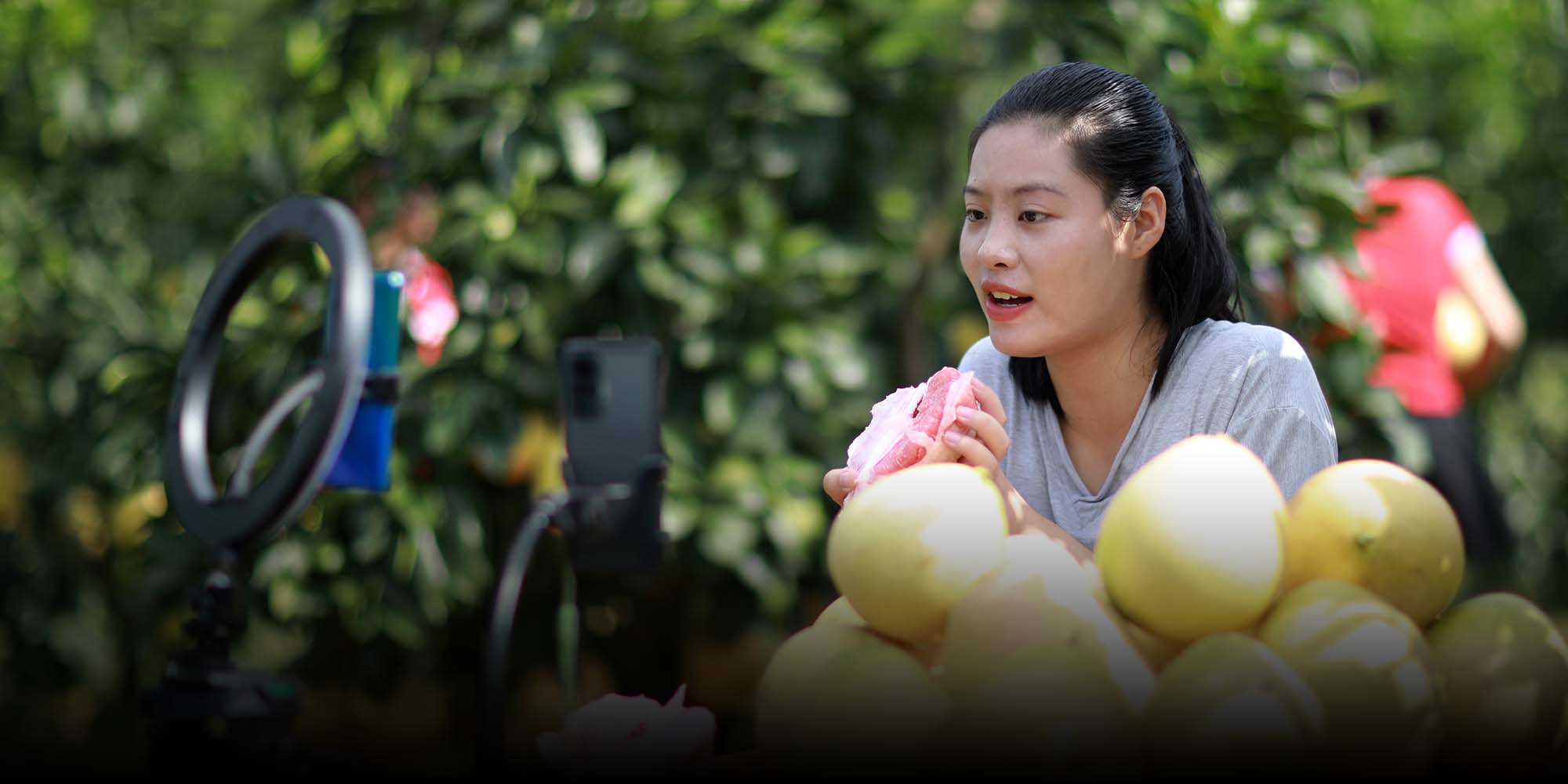 NEWS
Livestreaming's Leap Year
Eight terms summarizing another colorful year in the world of Chinese livestreaming.
In 2019, livestreaming was already ubiquitous in China. With hundreds of millions of viewers using countless apps and spending lavishly, it seemed like an industry at its peak.
But following the outbreak of COVID-19, livestreaming took on greater significance in China as lockdowns, social distancing, and indoor living became the norm. Livestreaming viewership is estimated to jump by over 60 million this year to 524 million.
The boom has also exacerbated existing issues in the sector, however, such as fake products, which a raft of new regulations aims to fix.
Below are the eight words that captured a year in livestreaming.
Pioneer
Boldly going where many have gone before
Faced with financial pressures from forced closures, limited opening times, restricted travel, and reduced foot traffic due to COVID-19 in the early months of the year, many businesses gave commercial livestreaming a first try.
Struggling bookstores livestreamed literary readings and salon events while selling books through food-delivery apps, cosmetics stores turned their sales staff into commercial livestreamers, and real estate agents broadcast from within properties because frightened homeowners were afraid of letting strangers into their homes. Chefs even livestreamed advice on how to have restaurant experiences at home while selling products such as "self-heating hot pots."
Other commercial livestreaming ventures included those for car sales, financial investments (which raised some consternation), banking, and even the space industry. In April, celebrity livestreamer Weiya sold a 6 million yuan ($920,000) commercial rocket launch for the first time, which attracted 500 prospective buyers within just five minutes.
Women make up the majority of commercial livestream viewers, but even the male-dominated game livestreaming app Douyu started selling wares to its user base in March.
Disruptions to traditional sales channels abroad also led Chinese businesses to test the successful commercial livestreaming formula on platforms outside of China such as Facebook and Instagram, using English-speaking Chinese anchors and even foreigners.
The result of all this on-camera activity? Total commercial livestream sales are estimated to double this year and surpass the 1 trillion yuan mark for the first time.
CEOs
Take us to your leader
Livestreaming is viewed as fairly unglamorous, lowbrow work in China, with "web stars" seen as a cut below bone fide celebrities, even after they've accrued tens of millions of followers.
But for some businesses, the pandemic posed such an existential threat that even corporate C-suites gave it a go in front of the camera.
Likely the most successful boss-livestreamer was Luo Yonghao, a financially troubled maverick tech founder with a cult following who in March sold products worth 110 million yuan on his first commercial livestream on Douyin, as TikTok is known in China. Over three hours, the irreverent comic ate snacks, shaved using a Gillette razor, and even ironically sold the flagship smartphone of rival Xiaomi.
Other founders and leaders who became online salespeople included those from top brands Gree Electric, Xiaomi, Lenovo, Sogou, Huawei, NetEase, and Baidu. In May, Alibaba's online marketplace Tmall even announced a plan to get another 600 company CEOs into livestreaming salerooms.
Mayors
Serving the people
In China, government leaders are directly responsible for the economic growth of their jurisdictions. So when, in early spring, flagging demand meant large amounts of unsold agricultural produce were at risk of going bad, hundreds of leaders from village heads to city mayors decided to boost local sales through livestreams.
In a nod of approval to the trend, President Xi Jinping even joined in one livestream promoting locally grown black fungus, a common ingredient in Chinese cuisine, during a tour of the northwestern Shaanxi province.
Some leaders took to the medium like ducks to water. In the eastern Shandong province, one rural politician entertained viewers by eating copious amounts of food, and throwing down eating challenges for his viewers. In April, a mayor in the southern Guangdong province sold 150,000 eggs after showing off his omelet cooking skills live.
While some critics argued that such salesmanship wasn't befitting of government leaders and risked tarnishing their reputations if the products turned out to be faulty, many viewers found the attempt at helping local constituents touching.
"I feel they're so cute, serving the people," a user of the social app WeChat commented under an article about this new wave of leader-livestreamers in March. "Keep it up!"
Entertainment
The show must go on
From "bedroom" karaoke sessions to video game broadcasts, livestreaming has always been used for entertainment.
But after COVID-19 led to canceled shows — 20,000-odd performances worth 2 billion yuan were cut or delayed from January to March — many dabbled with livestreaming for the first time.
In February, "cloud clubbing" — marathon techno sessions livestreamed from empty nightclubs or the living rooms of DJs — became exceptionally popular on Douyin. A single charity stream by Shanghai nightclub Taxx raised 700,000 yuan for Wuhan relief efforts.
Music labels and livehouses deprived of regular sources of income organized livestreamed music festivals for their scattered indie artists, while stage actors performed entire plays in live, open-to-join performances via Zoom. Reality TV shows also had to adapt, filming shows inside celebrity homes and connecting contestant singers with judges over conference call split screens.
Nearly all sporting events were canceled in 2020, but China's national basketball league resumed in a bubble-like format and broadcast online in June. The League of Legends World Championship, which assembled esports professionals in China from across the world, was also livestreamed, with fans only brought in for the final.
Restrictions across China have since relaxed considerably, and the livehouses that didn't close for good have now resumed performances.
Tourism
Wish you were here
Travel restrictions, closures, and coronavirus fears made domestic tourism all but doomed in the first half of the year — and outbound tourism remains a near impossibility for most. During such times, what could popular destinations do?
Enter tourism livestreams: guided tours taking viewers on far-flung adventures from the comfort of their homes, also doubling as commercial livestreams selling products such as souvenirs.
On March 1, over a million viewers watched a tour of the Potala Palace in Lhasa, Tibet Autonomous Region, and 5.8 million viewed the first two online tours of Suzhou Museum in the eastern Jiangsu province.
Charity
You've got a friend
In March, livestreaming came to the rescue of the central Hubei province, where businesses were suffering due to the region's strict lockdown in place since January.
A number of celebrities — such as "lipstick prince" Li Jiaqi — took part in charity livestream specials that put a spotlight on Hubei brands. In one two-hour livestream attended by 13 million viewers, Li and another host sold over 40 million yuan in products, including "hot and dry noodles," a Wuhanese specialty.
"This is really yummy — it's so good!" Li said as he devoured the snack. A spokesperson from the Wuhan noodle brand told Sixth Tone at the time that it and other Hubei brands were "fighting to save ourselves," and that they hoped to "cheer Hubei up" through the livestream.
A month later, another big charity livestream featuring over 70 celebrities, news anchors, and influencers also took place to bolster Hubei's recovery.
Farmers around China hit by low demand, especially those in far-off regions, needed livestream-powered help, too. Responding to this need, numerous e-commerce platforms organized campaigns to help farmers in struggling or remote agricultural regions.
Fake
You can barely tell the difference
In 2019, commercial livestreaming was plagued by issues including falsified sales and viewers — with the intent of tricking viewers into thinking a product is popular and selling fast — as well as fabricated products, substandard after-sales service, and misleading advertising.
In 2020, nothing changed.
A consumer rights program from state broadcaster China Central Television highlighted the issues in June, but scandals continued to make headlines throughout the year.
In November, celebrity livestreamer Xinba got himself into a sticky situation after a nutritional snack he'd advertised as having bird saliva — which is believed to have medicinal properties in traditional Chinese medicine — was found to just contain water and sugar.
More recently, the above-mentioned tech founder Luo got in trouble after sweaters advertised as being Pierre Cardin wool originals on his livestream were found to be synthetic fakes. In a statement, Luo blamed the issue on his suppliers and said his duped customers would be reimbursed triple the amount they'd paid.
Regulation
Reining it in
With great issues come great amounts of guidelines, and in this respect, 2020 did not disappoint.
In May, regulations enabled parents to have full refunds if their underage children spent money on livestreams without their consent. This came after several high-profile cases in which children spent their parents' life savings on in-app gifts to livestreamers.
Then in July, new regulations required livestreamers and viewers to register with their real names and livestreams to present their products in a way that is "comprehensive, truthful, and accurate," while avoiding "vulgar content."
Finally, in November, new guidelines called on platforms to better self-regulate and enforce rules such as real-name registration. They also banned platforms from broadcasting "illegal and immoral artists" — a likely reference to disgraced stars such as actress Fan Bingbing.
Editor: Kevin Schoenmakers.
(In-text GIFs: All found online and re-edited by Ding Yining/Sixth Tone)
(Header image: A woman livestreams to sell pomelos in Jishui County, Jiangxi province, Sept. 16, 2020. People Visual)