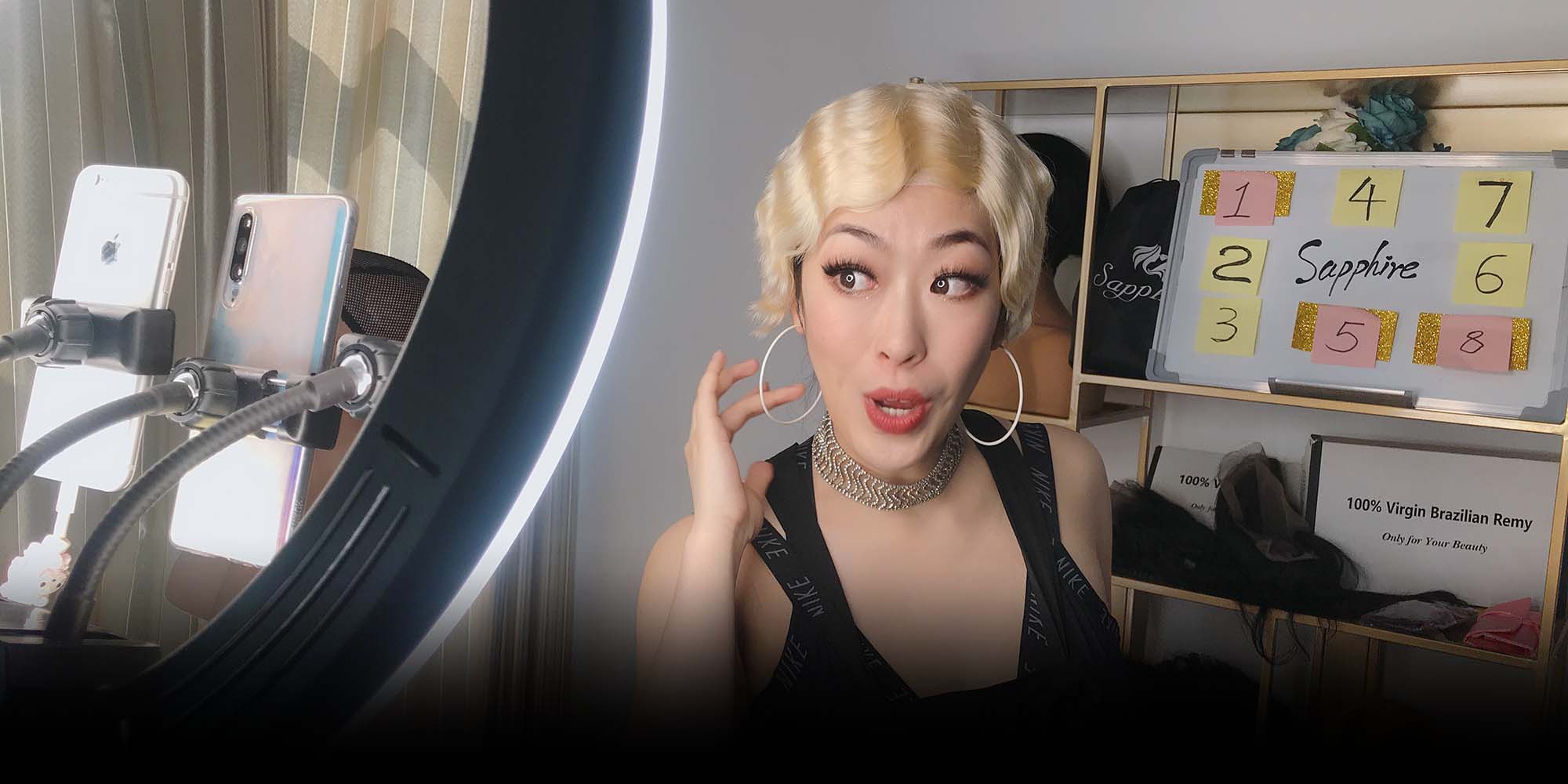 FEATURES
From Factory Towns to Facebook, China's Livestreamers Take On Exports
With COVID-19 disrupting traditional sales channels, Chinese producers of everything from wigs to wireless headphones are hiring livestreamers to hawk goods directly to global buyers.
In a drab factory in central China, Liu Qiang is trying her best to sprinkle in a bit of stardust.
Dressed in baggy pants, a crop top, and a flowing straw-colored wig, the 29-year-old is standing in front of a bright pink screen in one of the building's sample rooms. Holding up her smartphone, she presents a string of colorful toupees in fluent, chirpy English.
"Honey, leave my name in the comments and you'll get an extra gift package," she says. "It's a super deal code. That's amazing."
Liu is helping her Chinese employer — a hairpiece manufacturer named Sapphire — make inroads in an alien new marketplace: the live channels of global social media sites Facebook and Instagram, as well as e-commerce platforms Amazon and AliExpress.
With COVID-19 disrupting traditional sales channels, Chinese exporters are scrambling to find alternative ways to reach overseas buyers. And that's leading many companies to try and replicate China's commercial livestreaming revolution in the international arena.
Producers of all kinds of made-in-China products are recruiting young people with foreign language skills to host online shows, hoping they might stumble upon an English-speaking version of China's "lipstick prince" Li Jiaqi — the superstar livestreamer whose shows drive millions of yuan in sales.
The trend is particularly visible in Liu's adopted home: the city of Xuchang in the central Henan province.
The industrial town is known as China's wig capital, home to hundreds of factories and thousands of small workshops producing toupees, weaves, extensions, and other hair-related products — mostly for consumers in Africa, Europe, and the United States.
Xuchang's wig exports reached 6.7 billion yuan ($1 billion) in 2018, and the city even received a visit from George Weah, the Liberian president and former AC Milan soccer star, during his trip to China.
But the city's hairpiece industry has had a tangled few years, with the U.S.-China trade war and now the COVID-19 pandemic hitting exporters hard. Rebecca, Xuchang's biggest wig manufacturer, saw sales revenue drop 3.3% in 2019, before plunging 47% year-over-year during the first half of 2020.
Amid a stagnant job market, livestreamers are one type of staff that's in demand in Xuchang. Zhang Yang, founder of wig maker Modern Hair Show, tells Sixth Tone he's urgently looking for confident applicants that can speak fluent English, French, or Spanish, ideally with experience living abroad.
"Such candidates would better understand our customers' living environment and culture, which could help them have a better sales performance," says Zhang.
Modern Hair Show decided to expand its livestreaming services after seeing its offline sales networks in the U.S. grind to a near halt over recent months. "Even now, our stores in the United States can't operate normally," says Zhang. "Livestreaming could be a new breakthrough."
The company isn't the only business thinking this way. Though livestreaming to consumers outside China is completely new to most firms in Xuchang, Zhang says a growing number of companies have decided to give it a try.
"At least 10% of the top wig manufacturers are trying this new business model," he says, adding that he also knows of companies in the clothing, handbag, and electronics industries doing the same thing.
The businesses' turn to livestreaming is being accelerated by the efforts of AliExpress — a branch of tech giant Alibaba that aims to rival Amazon in the cross-border e-commerce market.
Alibaba is a major player in China's vast domestic commercial livestreaming market, which is worth an estimated $66 billion. Now, the company aims to repeat this success in the global market, hoping it can gain an advantage by investing early, Wang Peng, director of social commerce and innovation partnerships at AliExpress, tells Sixth Tone.
"There's a good chance that it (cross-border commercial livestreaming) will thrive," says Wang. "We need proper technology and products in place, as well as a diversity of livestreamers."
There are already signs that commercial livestreaming is taking off in the West. On Friday, U.S. retail giant WalMart hosted a live show on TikTok, where users could make purchases without exiting the video platform.
AliExpress launched an updated in-app livestreaming channel in July 2019, and the platform has hosted a total of 37,000 livestreams in 13 languages. To help companies reach overseas audiences, the channel offers real-time translation from Chinese to English, Russian, and Spanish, as well as from English to Russian and Spanish.
In September, AliExpress opened its first livestreaming base in Xuchang, which provides companies and content creators with training, studio space, and support to host live shows on the platform. The firm plans to launch another nine bases in China, and aims to attract 1 million content creators worldwide within three years.
According to AliExpress, around 30 livestreamers have used the base in Xuchang so far. Sapphire's Liu is among the most regular visitors.
Before she began livestreaming, Liu had already been working for the wig manufacturer for over three years, moving to the United States as a sales executive in August 2019.
Liu spent four months visiting hair salons and wig shops in New York, where she discovered that demand for wigs is strongest in predominantly Black neighborhoods in Harlem and Brooklyn.
"Many of the Black women you see in TV dramas and movies, their hair is not their own," Liu says, adding that many who buy weaves could consider her products since "we're capable of making such authentic ones."
After traveling to China to celebrate the Lunar New Year holiday, however, Liu found herself unable to return to the United States as the country had imposed a travel ban in response to the coronavirus pandemic.
In late March, she decided to try livestreaming for the first time. At first, her shows barely attracted any views or orders, but things have improved dramatically as she's learned how to connect with her mostly American viewers.
Liu — who's known to her fans as Queenie — has now hosted over 200 livestreams on AliExpress, a platform she prefers for sales because of its more direct client support. In each show, she sells around $5,000 worth of hairpieces. In New York, her sales team would typically generate only about $500 per week in sales.
That's one reason sales via livestreaming might outlast the pandemic, as cutting out stores and resellers leaves more profit for manufacturers. In Thailand, local importers are concerned about the rising number of Chinese companies reaching buyers directly by livestreaming on e-commerce platforms Shopee and Lazada, says Apiradee Wongkitrungrueng, a lecturer at Thailand's Mahidol University International College.
"Chinese sellers can sell directly to Thai consumers at a lower price," she says.
The Chinese companies, however, often struggle to connect with Thai audiences due to their lack of Thai-language hosts. "The English proficiency of Thais is quite low compared with other Asian countries, let alone Chinese proficiency," says Wongkitrungrueng.
Language is no barrier for Liu, who spends hours studying English slang and pop culture, and she has gamely attempted to master freestyle rapping, street dance, and skateboarding. During the shows, she'll often perform challenges, such as trying on 20 different wigs in one minute, or prepare special gifts and games.
Over recent weeks, Liu has been focused on the Christmas sales period — a good time to sell warm-brown hair products with fuzzy waves. The livestreamer has taken to appearing with a magic wand as she offers her fans holiday giveaways. "I hope we'll reach over $6,000 in sales," she says.
Talents like Liu, however, are thin on the ground in Xuchang. For the factories, attracting millennials with valuable language skills to move to their unfashionable manufacturing base can be a challenge.
Online, Modern Hair Show's recruitment page shows it's prepared to pay the right candidates up to 8,000 yuan per month, an attractive wage in Henan province, where the average per capita disposable income is only 24,000 yuan per year.
It's a similar story in Donghai County — another manufacturing center over 500 kilometers from Xuchang, on China's eastern coast.
The county — which is home to over 3,000 crystal-processing factories that produce billions of dollars worth of crystal jewelry and ornaments each year — opened a cross-border e-commerce trade center last year.
Around 100 livestreamers host shows at the facility every day, but as in Xuchang, companies are struggling to find English-speaking hosts.
"Most of the livestreamers can make at least 10,000 yuan per month, which is incredibly high compared with what many local people earn," says Feng Fei, deputy manager of the trade center.
The center organizes regular lectures to introduce new livestreamers to Facebook. "We tell them how to manage the Facebook accounts, how to attract followers, and how to prevent their accounts being blocked," says Feng.
The center's top tips include: Don't talk about politics; don't send too many friend requests; do share content about crystals; and do join lots of groups.
For counties like Donghai, the hope is that the fledgling cross-border livestreaming industry can eventually help mitigate the outflow of college-educated young people to China's major cities, persuading some to return to their hometowns.
One recent returnee is Wang Weiquan, who had previously moved from a nearby district to Nanjing, a much larger city 300 kilometers to the south. For him, the main attraction of Donghai is the lower cost of living.
In Nanjing, the 28-year-old earned a monthly salary of 6,000 yuan and barely accumulated any savings, but since he moved to Donghai he's been saving around 7,000 yuan every month, he says.
Wang, who isn't related to Wang Peng, says he's excited about the potential of the livestreaming industry. His clients are interested in him moving to Yiwu — the world's largest emporium for wholesale goods — but he says he wants to take things slow and just focus on selling crystals for now.
"I'm not capable of managing a diverse range of product lines alone right now," Wang says. "The most urgent thing is that I should attract as many followers as I can, so one day I can have my own team and brand."
Liu, meanwhile, has her own livestreaming dream. "I hope one day Beyoncé and Rihanna will purchase their wigs and weaves from my livestreams," she says. "And if that day comes, I'll definitely deliver the products to their doors myself."
Contributions: Tina Yin; editor: Dominic Morgan.
(Header image: Liu Qiang sells wigs during a livestream in Xuchang, Henan province, 2020. Courtesy of Liu)